This post may contain affiliate links. This means that if you click an affiliate link and buy something, that website will give me a tiny bit of money to say thanks for sending you to them. There is NO extra cost to you at all.
Last Updated on
Get off the sofa this Christmas and go have some adventures!
Here's one for all of you who don't live in London. While there are plenty of festive things going on in the capital, there's also plenty going on outside of London. The amount of lists for London is endless, so in an effort to include everyone this festive season, here's one for the rest of you. And Londoners? How about we remember there's more to England than just our beloved capital?
Visit A Christmas Market
I'm not talking about Winter Wonderland, or Southbank here. Move away from the city and visit Christmas markets that aren't packed and sell mulled wine at a more reasonable price.
The rest of the UK has charming log huts with artisan produce and room to move. Take Bath for example, which is home to more than 170 wooden chalets in the centre of the historic town.
Further North, the Liverpool Christmas market is home to gifts from around the world; perfect for travel lovers! You can find more of the UK's Christmas markets here.
Or, if you want to go further afield, check out my post from the Christmas Market in Gothenburg! 
Perfect Your Mulled Wine Recipe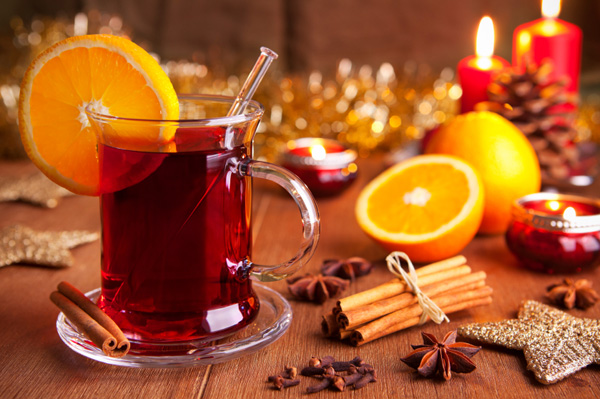 I know what you're thinking; "this doesn't seem like an adventure!"
Bear with me, perfecting your own mulled wine recipe can definitely be an adventure. Everyone has their own recipe and they all differ. Some have star anise, nutmeg and cinnamon, some all three, some none at all.
When I lived in Grenoble an evening out from November to January always involved a Thermos flask of mulled wine. We perfected our mulled wine over several outings and it always seemed to get better.
If you're trying out a lot of recipes then the "Christmas spirit" is sure to turn cooking up your own mulled wine into an adventure!
Don't like mulled wine? Try these alternative Christmas drinks!
Go Ice Skating
What could be more Christmassy than ice skating in the open air? There's plenty of rinks in London and you can find other rinks all over the UK this December. Take Winchester, which has the old cathedral as its backdrop, or Norwich.
Don't forget to wrap up warm (and maybe take a Thermos of your perfected mulled wine?)!
Take A Long Walk With A Flask of Hot Chocolate
Eaten one too many mince pies then a wintry walk is the adventure you need. Your flask could also contain tea, coffee, mulled wine, whatever takes your fancy!
Pick somewhere you've never been before, or haven't been in a while, wrap up warm and just walk. My favourite place is Old Hunstanton's beach. It stretches for miles and is pretty much always empty.
Ideally you'll come home to an open log fire, but if not a duvet and warm pyjamas work a treat too.
Take A Train Ride With Father Christmas
Have children, niece or nephews? Or just fancy being a big kid? Take a ride on a traditional steam train this year with Father Christmas. They're bound to love it and be amazed by seeing the jolly man in red. Some companies also have 'mince pie specials'. Relax in the old carriages and stare out at the (hopefully) snowy country landscapes.