Are you starting to think about where to spend your summer break? If you're anything like me then you'll want to do something a bit different, a bit adventurous and daring. It's easy to thing these sorts of adventures are only available in a land far, far away. But, you don't have to look far from England to fulfil your desire of getting away from it all. You simply need to pack a bag, get on to a train or load up the car, and head to Snowdonia! You'll see there are plenty of things to do in Snowdonia!
There's plenty of adventures in Snowdonia and there's also some pretty luxurious places too.
When I visited in January my weekend was more about relaxing and having a chilled out birthday. We went for a few walks and strolls along the beach but here's five adventurous things to do in Snowdonia that I'm dying to try!
Oh, and you needn't worry about the rain, the UK is supposed to be expecting a heatwave (the one the tabloids claim we'll have every year). But even if the sun fails to shine Snowdonia is the perfect place for an adventurous holiday this year!
Mount Snowdon
Mount Snowdon, the highest point in Wales at an elevation of 1,085m, is located in the Snowdonia National Park. An area of outstanding beauty, the Snowdonia National Park is home to many rare flora and fauna.
Mount Snowdon offers some of the best views in Britain. The unspoilt Welsh landscape that stretches for miles in front, behind, left and right once you've reached the summit by taking one of several paths, will leave you wondering why you're never spent much time in Wales before.
If you're not feeling energetic, or like taking your holidays at a slower pace, then you can take the Snowdon Mountain Railway which climbs 4.7 miles from Llanberis to the summit of Snowdon. Book your tickets in advance if you're planning to visit in July or August as the railway can get a little busy!
Trampoline Underground
Blaenau Ffestiniog's slate mine has been turned into a theme park, and not just any old theme park. A trampoline theme park! Far removed from your average cave tour, Bounce Below has taken over the old mines and turned them into a vibrant mass of trampolines. Bounce your way through the caves in this unusual experience.
Go Below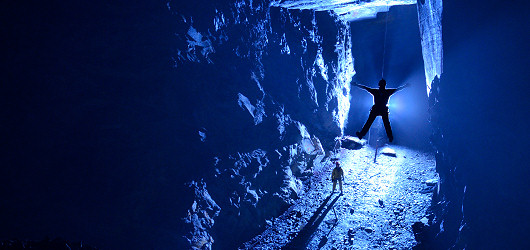 source: Go Below.co.uk
If the rain is still falling then there's another adventure to try in Snowdonia: Go below. Go below is more extreme than Bounce Below and tests your nerves as you travel underground taking on a series of adventurous challenges. Try zip-lining, boating across a lake, traversing an abyss and abseiling a waterfall until you reach the lowest point in the UK! When I visited Snowdonia for my birthday earlier this year, Go Below was fully booked so make sure to book in advance!
Tree Top Adventure
Home to the Tree Top Tower, the highest Powerfan Plummet in the world, Tree Top Adventure is the perfect place to overcome your fear of heights. Take on the Sky Ride or Europe's highest and first 5 seater Giant Swing if you dare! Not your standard swing, this swing hoists adventurers 80ft into the air before one of you pulls the release cord and your catapulted 120ft above the Conwy Valley!
Canolfan Tryweryn, White Water Rafting
Source: Visit Wales
The National White Water Centre near Bala is the place to head to for some water based adrenaline-fuelled adventures. The Tryweryn is a dam released river so water often flows even though other nearby rivers may be dry. There's taster sessions, full rafting sessions and the intriguingly named Tryweryn Safari!
Are you tempted? Which adventure would you try?
Looking for more Wales travel ideas?