This post may contain affiliate links. This means that if you click an affiliate link and buy something, that website will give me a tiny bit of money to say thanks for sending you to them. There is NO extra cost to you at all.
Last Updated on
[Img credit]
The Cape Verde islands, around 500km off the coast of Senegal, remain relatively untouched. Their natural beauty; creamy white beaches, clear blue seas and year-round, golden sunshine make it the perfect place for an adventurous getaway. Whether you're looking for diving, trekking, off-roading or horse riding, there's something for every adventurer in the Cape Verde islands. First Choice has a whole host of stunning beach-side resorts that will make the perfect base for your adventure packed days.
---
Boa Vista Quad Experience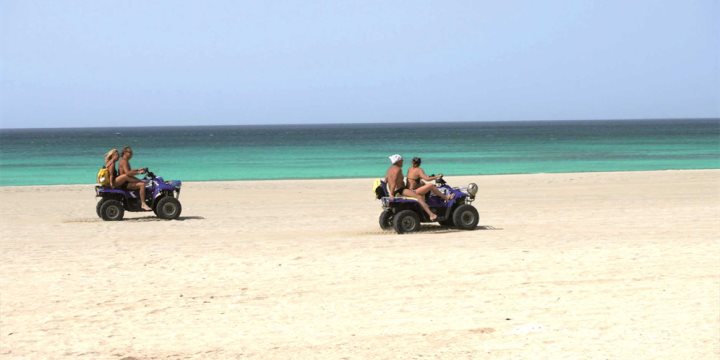 [Img credit]
Pack your sunglasses, sun cream and plenty of water you're going to need them. If you're on the island of Boa Vista hire yourself a quad bike and drive across rocky terrain towards the beach. With 55km of glistening beaches quad biking experiences don't get much better than this! You can choose a 4 hour trip, or a 2 hours trip. I just know you're going to want to do the 4 hour one!
---
Turtle Watching
[img credit]
If you plan on visiting the Cape Verde Islands from July to September then this is a must do adventure. Ervatão beach is the third most important nesting site in the world for loggerhead turtles. At this time of year they start laying their eggs in the sand. Book an excursion to go see this unique site one evening and you definitely won't regret it!
---
Trekking
[img credit]
A small plane journey takes you to Sao Nicolau which is the perfect island if you're a lover of mountains. The highest point on the island stands at 1,312 metres tall. Monte Gordo, as the peak is known, is a welcome resting place after hiking through green valleys and past tropical plantations.
---
Watersports
[img credit]
The Cape Verde islands are the perfect location to indulge in some water sports. There's windsurfing, kite surfing, surfing and diving to keep you entertained. Sal is the island with the most easily accessible diving but all dive sites are only a small boat ride away. Prepare yourself for an underwater world like no other, with ship wrecks, reefs and cave diving. Spot turtles and all sorts of coloured fish.
A windsurfing pro? Or a complete novice? Either way Cape Verde is perfect for you. The trade winds belt means that windsurfing conditions couldn't be better. If cold British seas have put you off in the past, then the warm sun and seas of Cape Verde leave you with no excuse. The more experienced should head to Tortuga beach for some exhilarating, adrenaline fuelled fun on the water, whilst novices should give Santa Monica beach a try, here you'll find plenty of opportunities to take up some lessons.
---
Try Local Food
[Img Credit]
Any adventurer likes to try local cuisine. In Cape Verde the cuisine is a hearty fare. Give the national dish, cachupa, a taste. Made from maize, vegetables, beans and fish this slow cooked stew is a delight. Wash it down with the local drink 'grogue' – rum made from sugar cane. For a lighter lunch you simply can't beat fresh fish, straight from the sea, in large quantities whilst staring out on to the horizon.
The Cape Verde Islands are a wonderful place to seek out adventure make your holiday happen with First Choice today!
*This post was sponsored by First Choice, but all words and opinions are my own