On a clear day you can see Mt Baker in Washington State from Vancouver. That sight still blows my mind. Since we've recently got some new Canadian visas, we decided to head down on a weekend road trip to the US to get a bit closer to Mt Baker.
On the itinerary: do an artist point snowshoe hike and then spend the following day skiing at Mt Baker ski resort. The Artist Point snowshoe trail is absolutely stunning with beautiful mountain views the whole way, if you want to plan your own snowshoe trip in Mt Baker then be sure to check out the details about the Artist Point, Mt Baker below. I know I'll definitely be back in the future for more Mt Baker hikes if this one was anything to go on! (Check out my Heliotrope Ridge trail guide).
About the Artist Point Snowshoe Trail
Artist Point marks the end of the Mt Baker Highway (WA State Route 542 East from Bellingham) and it's very easy to see where this destination gets its name from. In the summer months you can drive the Artist Point road as it winds up the mountains, inching closer to Mt Baker and Mt Shuksan. In the winter, however, you're going to have to snowshoe to Artist Point for the last 3km.
There are incredible views the entire way along the trail and they only get better as you get closer to Artist Point.
Along the way you'll pass alongside some ski runs from neighbouring Mt Baker Ski Resort and see Mt Shuksan and Mt Baker as well as hundreds of other mountain peaks as far as the eye can see. If you look closely you'll be able to make out where the switchbacks of the road are when not covered in metres of snow.
It's a busy trail since it's neither too hard nor too long. But you'll still be able to find a spot near the top of Artist Point to enjoy the views in peace.
Whilst you park by the Mt Baker ski area this trail is out of the ski resort boundary and is part of the Baker-Snoqualmie National Forest.
Artist Point, Mt Baker hike – snowshoe trail stats
If you're looking for some relatively easy Mt Baker hiking then be sure to check out the Artist Point, Washington trail. This is one of the best 'bang for your buck' Mt Baker snowshoe trails in the area.
Distance: 6.3km round trip
Elevation: 294m
Duration:2-3 hours
Artist Point Trailhead, Washington: Heather Meadows parking lot in Mount Baker Ski Area (near Upper Lodge)
Avalanche Rating: Recommended not to hike if avalanche rating is above 2/moderate. Check here
Mt Baker Artist Point trail map. You should strongly consider taking an AST1 course before snowshoeing in areas like this.
Getting to Mt Baker and the Artist Point snowshoe trailhead
You must carry snow chains for your vehicle in winter as required by law.
If you too are coming from Vancouver then the journey is about 2.5 hours (depending on how long you get stuck at the border!). Luckily you'll cross the border at Sumas which tends to be a bit quieter than Peach Arch to the west.
From Vancouver head east on the TransCanada Hwy towards Abbotsford. Take exit 92 for USA Border toward British Columbia 11 S. Once past the border take the WA-547S/Front Street and then the WA-542 E (Mt Baker Highway) until you reach the Upper Lodge/Heather Meadows area of Mt Baker Ski Resort.
There's ample free parking. If you're staying overnight you must pay $10 for overnight parking.
Trip report: Artist Point Snowshoe adventure
We began our snowshoe to Artist Point in Washington State just after lunchtime. Whilst there were plenty of other people on the trail it wasn't too crowded.
You begin by snowshoeing pretty close to the ski runs of the Mt Baker ski resort with a gentle climb that soon gets a lot steeper. Luckily there are plenty of beautiful mountain views to distract you!
The day we did it (end of March) it was super hot and sunny but snowshoes were very much still needed.
The trail steepens considerably once you pass the visitor's centre to your right. After about 1.6km of hiking, you'll reach Austin Pass and at this point, you're on the last of the big climbs already!
You can sometimes make out the switchbacks of the Mt Baker Highway here as it climbs up to Artist Point.
You'll then start snowshoeing west for the final ascent and the amazing views! We stopped part way along this final climb to take in the views of Baker in front of us and Mt Shuksan behind. If you want some privacy to take in the views I'd recommend stopping along here too as the 'summit' gets pretty crowded!
Before you go
ALWAYS check the Check here before you go snowshoeing at Mt Baker
Be aware of the weather (this is nicer on a clear day!) but know that Mt Baker weather changes quickly
Check the Mt Baker snow report to gauge the snow conditions. You can see a Mt Baker snow forecast here.
This road is ploughed in the summer season, you can see Artist Point road conditions here.
Where to hire snowshoes near Mt Baker, Washington
The closest Mt Baker snowshoe rental is in the town of Glacier as Mt Baker ski resort doesn't offer snowshoe rentals.
If you're coming from Vancouver you can either rent some from downtown before heading to the US or you can pick some up in the small town of Glacier along the Mt Baker highway. The Glacier Ski Shop rents snowshoes for $20US ($26CAD) a day (returned before 9 am the following day). This is slightly more expensive than renting in Vancouver but it's a lot more convenient.
What to pack for snowshoeing Artist Point Snowshoe
Before you go snowshoeing it's important to make sure you're prepared. The following items should be on you or in your pack.
See my day hiking packing list here
Where to stay near Mt Baker Ski Resort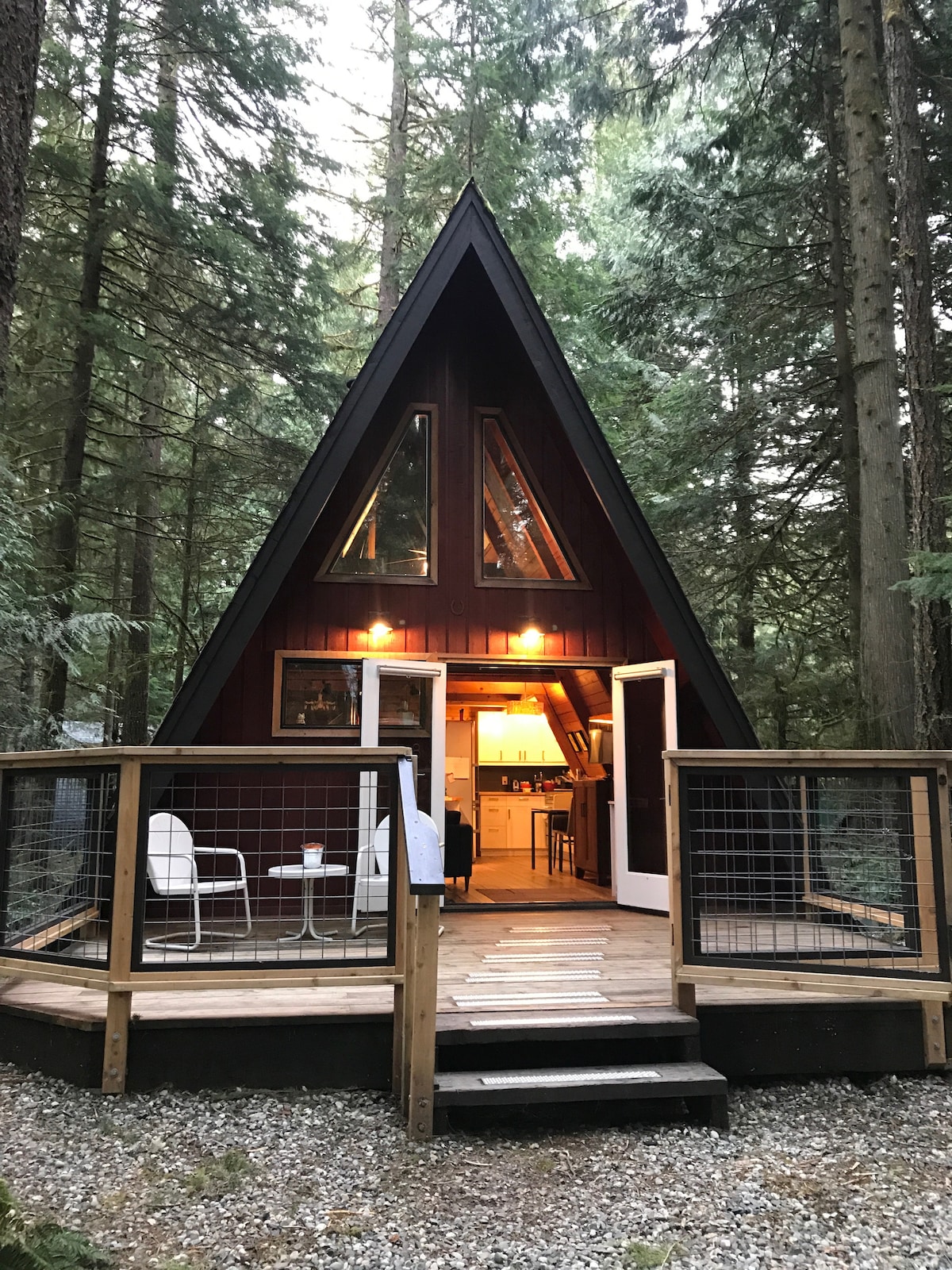 Mt Baker Ski Resort is surrounded by National Forest. If you've read my post about where to camp for free in the US & Canada, you'll know you can camp for free in US National Forests for up to 14 days. The forest roads are ideal for Mt Baker camping!
In the winter it can be harder to find a spot in National Forests depending on your vehicle and snow conditions. Especially since forest roads are usually full of potholes and not cleared of snow! Therefore, I've listed a couple of other options if you're not a camper or there's too much snow to go journeying down a dirt road! Honestly, these gorgeous cabins near Mt Baker have me rethinking our choice to camp down a forest road!
Want more snowshoeing posts?