Portland is one of the world's cool cities. I didn't know anything about Portland before we went apart from it was where the 'hipsters' lived and I only knew that based on numerous articles I read. To be honest I don't think it was that hipster which is a good thing (I still associate hipster with London's Shoreditch and for that reason I'm not a fan of super hipster places).
Looking for Portland, Oregon treehouses to rent? Check out this post!
Portland had cool coffee shops sure, great food, plenty of street art and there are a lot of Tiny House Hotels nearby too. However, there were also lots of outdoor shops, you can see mount Hood in the distance and the vibe was more relaxed. It's a little like Vancouver – only it's lacking in beaches!
It's also surprisingly affordable to stay there if you know where to look. And, lucky for you, I know where to look so that you don't have to spend hours researching for yourselves! Check out the list below for the best budget hotels in Portland (and a few Airbnbs too!). All are under £100 a night for two, so less than £50 per person and you can't say too much better than that!
Best budget hotels in Portland
The Doctor's House in Portland ranks highly for customer service and its price is a complete steal. It's in walking distance from most of Portland's attractions so you don't need a car. The owners of the B&B cook freshly baked goods and breakfast is included if you don't feel like venturing out first thing in the morning. It may not be the most hip looking accommodation in Portland (or on this list) but it's definitely one of the best value for money!
Price per night: £46 for a King Deluxe Room
Book it on Booking.com
Since I stay in a lot of budget places I'm always excited by free bathrobes and toiletries in a hotel. The McMenamins Crystal Hotel in Portland is not only budget friendly but has both those things! There's also an onsite restaurant and bar.
Perhaps the best part though it the unique room themes and the fact that you're slap bang in the middle of one of the coolest areas in Portland!
Price: Queen room £95 per night
Book it
The Staypineapple hotel is in downtown Portland and whilst it feels a little too much like a chain hotel (especially compared to those above) you can't beat the price for this location. The waterfront Queen room comes with a view of the Willamette River which runs through the city centre. Plus, you also get bicycle rental to make it even easier to explore the city.
Price: £91 for a queen waterfront room per night
Book it
If you love music then you'll want to stay at the White Eagle Rock & Roll Hotel. There's live music practically every night but it's not so loud as it'll stop you from sleeping up in your room. One of the best things about this hotel is its location. It's in the the super cool Mississippi neighbourhood of Portland which has a tonne of unique and independent shops and eateries.
Price: £57 for a double room per night
Book it
This one is slightly over the budget of £100 a night but it's worth it if you've got a special reason for visiting the city.
It's a super casual, yet stylish, hotel. Think neutral colours and wood finishings. It's also well known for its great coffee bar downstairs so even if you don't book a room here you should pop in for a cup of coffee!
Price: £111 per night, per room
Book it
Best budget Airbnb's in Portland
Eco City Cabin by Mississippi/N Williams Ave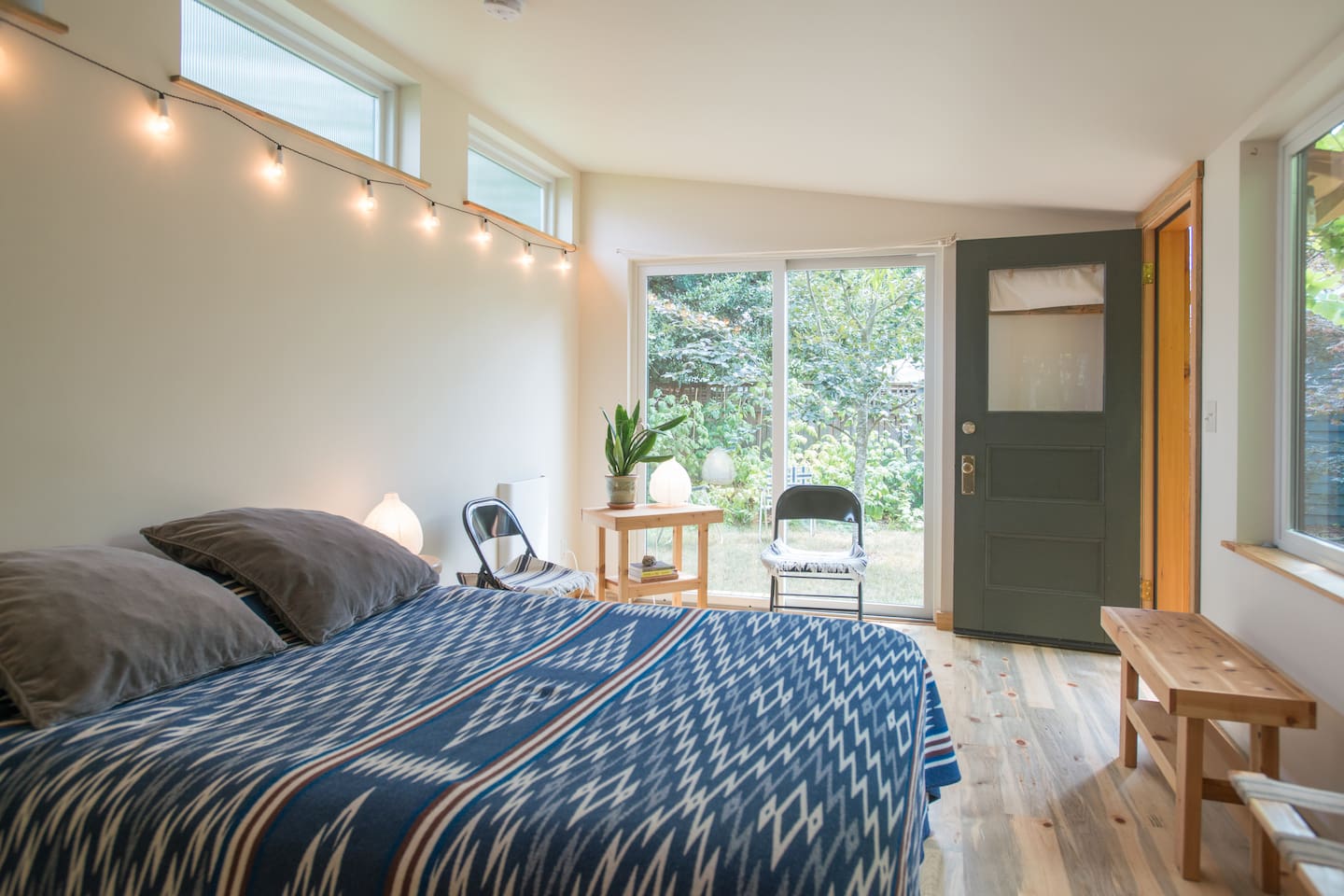 You can't get much more Portland than staying in a tiny cabin in the Mississippi district of the city. This all white interior with blues, greens and wood is pretty calming and it'll definitely make you wish you lived in a tiny house.
Price: £55 per night
Book it
Alberta Rustic Modern Tiny House
Um, can I move in please? How cute is this tiny house in Portland. It is pretty tiny, but then again it's bigger than a hotel room and delightfully cheap too! As an extra bonus you'll also open your doors on to the owners' edible garden which sounds pretty nice – especially in summer!
Price: £49 per night
Book it
Earthen Cob Cottage
This cob cottage looks super cute and easily sleeps two on your trip to Portland. The cottage itself was actually hand built using sand, straw, water and mud which is pretty cool!
Price: £59 per night
Book it
Magic Barn
How about staying in a magic barn on your trip to Portland? This budget friendly accommodation even has its own claw-footed bath tub!
Price: £62 per night
Book it
Rustic Modern Tiny House
This tiny house even made it on to TV! It was on the show "Tiny House Nation" on CNN and has been in several magazines. It's just 350 sq ft but includes everything you need for a Portland getaway. The hosts built the house themselves with some friends and I'd say they did an amazing job!
Price: £56 per night
Book it
Tiny rotating house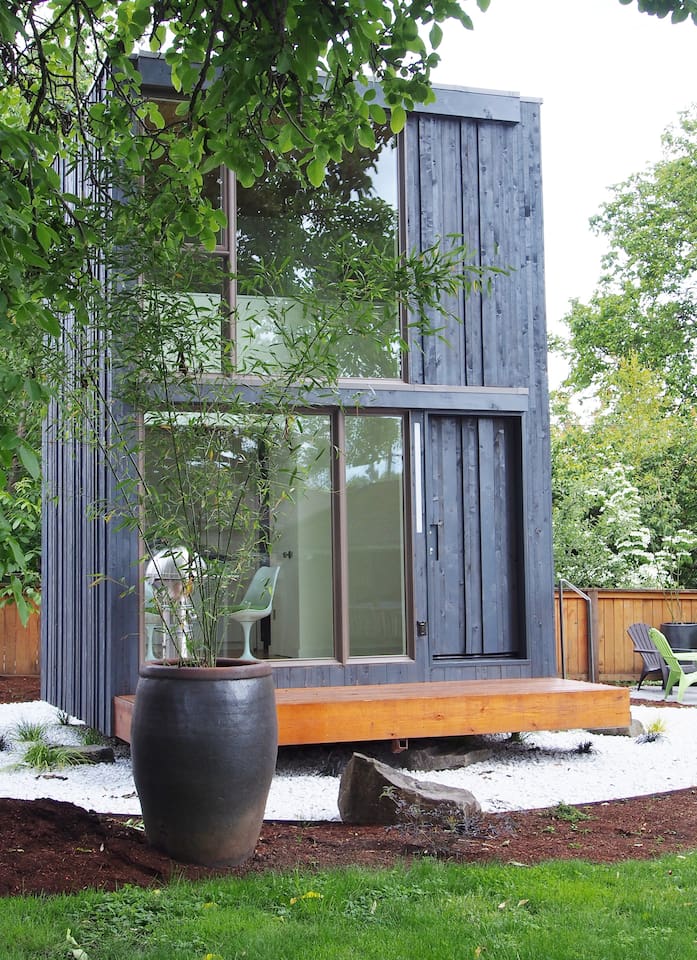 Another option in the Mississippi neighbourhood of Portland is this rotating tiny house. I swear that isn't a typo! The whole house can rotate 359 degrees so that the windows can point towards, or away from, theb sun. Perfect for catching that sunset or avoiding the sun's glare when you need to.
Price: £84 per night
Book it
Which budget hotel option would you go for in Portland?