I've probably said it before but I LOVED Portland. It was my second favourite city of our trip (Vancouver may have been the end of our trip but it's my favourite). What helped me love Portland wasn't just the quirky attractions or the huuuuge second hand bookshop. It definitely had something to do with the delicious food we ate during our few days there. I really think we found some of the best food in Portland.
I'd highly recommend spending a few days in Portland (or more if you have the time). Not only are there plenty of things to do in Portland, but there is so much good food in the city. Here's some of the best food we ate in Portland.
Shalom Y'all!
Thom found this place for our first night in Portland and it was probably up there with the best food we ate on our entire road trip across the USA. We had to wait a while for a table (about 30 minutes) but it was SO worth it.
Shalom Y'all is all about Mediterranean flavours. Expect vegetable-centric dishes such as falafel, hummus and house-made pita, a variety of salads, and the classic Israeli morning meal shakshuka. Plus some rather eccentric and tasty cocktails.
We feasted on an assortment of plates including houmous, SO many homemade pita breads, and labneh. I could eat this kind of food all day, everyday.
Details:
1128 SW Alder St
shalomyallpdx.com
+1 503-333-6123
BUNK
When the hunger struck during our first full day exploring Portland we needed somewhere to eat and pronto (and somewhere we could sit down too!). A quick Google search suggested BUNK which got rave reviews for it's filling sandwiches.
We can both attest to how good they are. They were so, SO tasty! I opted for chicken, bacon and avocado on a black sesame bun and Thom went for a meatball sub. Filling, quick and tasty.
Details:
211 SW 6th Ave
bunksandwiches.com

Blue Star Donuts
We'd be told that we had to check out Blue Star Donuts while in Portland so that we did! Blue Star Donuts was founded in Portland back in 2012 and they make their donuts based on a brioche recipe. They've been given the nickname "Donuts for Grownups" and have some seriously different flavours.
We turned up thinking we'd share, but once we got there we ended up getting one each. The raspberry buttermilk donuts was delicious and I'd definitely be up for trying their other flavours!
There's a few outlets throughout Portland but the one we went to was on Mississippi Avenue which has some very cool shops.
Details:
3753 N Mississippi Ave
bluestardonuts.com
971-254-4575
Reverend's BBQ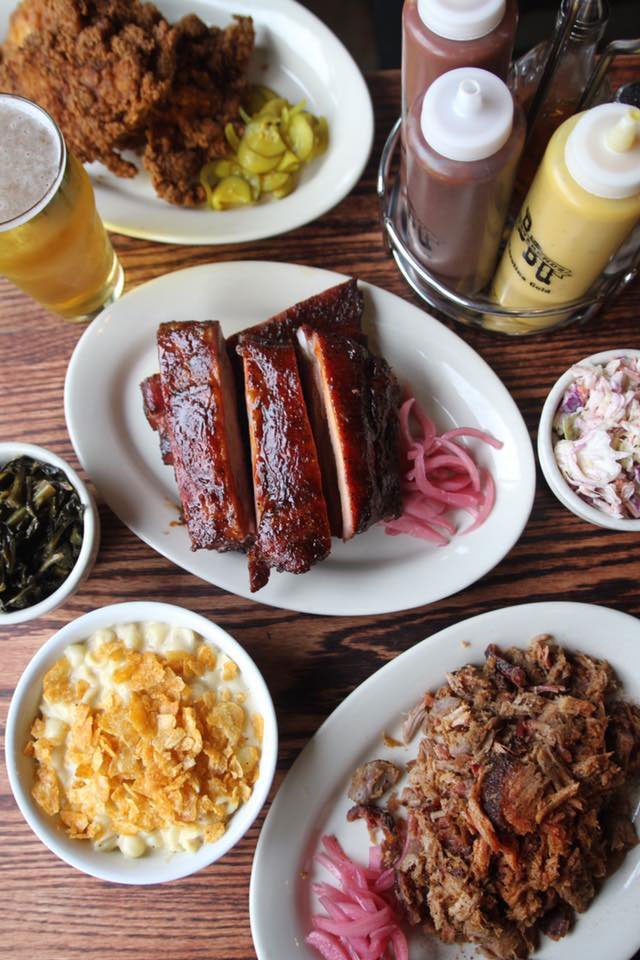 Keen to relive our BBQ dreams from our road trip through Texas we ended up in Reverend's BBQ in Portland. We both chose sliced BBQ Brisket plates with mac & cheese (but unfortunately no creamed corn like the BBQ in Houston which was the best of our trip).
The interior was very laid back with booths and, of course, televisions showing a mixture of sports games that were currently on.
Details:
7712 SE 13th Ave
reverendsbbq.com
Luc Lac Vietnamese Kitchen
For dinner on our second night we went to Luc Lac Vietnamese kitchen. There was a bit of a queue but it moved quickly. The plates of food here were huge – to the point that neither of us managed to finish our food. They were also pretty cheap and we had two mains, two drinks (a very tasty coconut water & ginger beer drink!) and a starter for under $30 including tax and tips.
It wasn't the best Vietnamese (that goes to some of the restaurants here in Vancouver!) I've ever had but it was still very good.
Details:
835 SW 2nd Ave
luclackitchen.com
+1 503-222-0047
Kahveology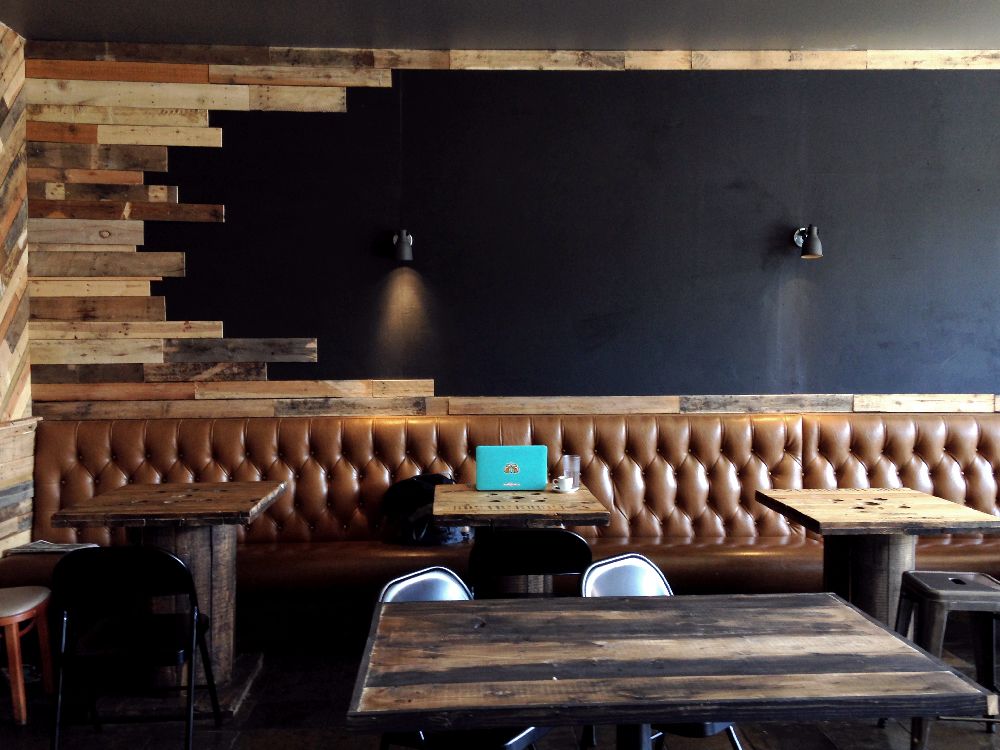 Whilst we didn't actually eat at Portland's Kahveology we did both have delicious chai lattes which deserved being mentioned. They were perfectly spiced and the ambience of the cafe was very chilled out. There was even a man there performing on his acoustic guitar while we were there!
Details:
1625 Southeast Bybee Boulevard
kahveology.com
503-232-0000
Where to find the best food in Portland