This post may contain affiliate links. This means that if you click an affiliate link and buy something, that website will give me a tiny bit of money to say thanks for sending you to them. There is NO extra cost to you at all.
Back in 2013 Thom and I visited Oslo on a whim. We'd basically gone on to Skyscanner and put the destination as 'everywhere' then clicked on the cheapest flight outside of the UK and booked it. This is actually one of my favourite things to do because who doesn't love a cheap holiday somewhere?
That was probably one of the few things about Oslo that was cheap. It's renowned for being an expensive city, and yes that's true. But you can also see and do a whole lot there without breaking the bank. That's even more true if you purchase an Oslo City Pass which I'd recommend every visitor to Oslo to do. I don't always think city passes are great value, but the Oslo one really is.
If you're planning a trip to Oslo, here are some great things to do in Oslo.
About Oslo
Oslo is the capital of Norway and is a very modern and diverse city. It's very easy to get around Oslo on foot, or by bike in the summer and the public transport is good too (and free with the Oslo city pass!). It's one of the world's greenest cities and has been named European Green Capital for 2019.
There's mountains, fjords, sea, history, food, coffee, culture. Basically, Oslo has everything a city should.
Top things to do in Oslo
1. Oslo Opera House
The Oslo Opera House is at the centre of Oslo's rapidly developing waterfront. It cost around €500 million to build and opened in 2008. It's right next to the main train station so it was one of the first things we saw in Oslo. Take a wander all the way around the building and admire the views!
2. Delicatessen
In the hip Grünerløkka area of Oslo is some of the city's best tapas. There's all the dishes you'd expect such as croquettes, meatballs, plenty of ham and manchego cheese. It's delicious and popular with locals.
3. Frognerseteren Restaurant
If you're hungry during your visit to the Holmenkollen Ski Jump then make sure to pop in to Frognerseteren. It's a little bit of a tourist trap but it's also a great place to try some reindeer and other Norwegian delicacies. Go to the self-serve cafeteria area for a more affordable meal! If you can, try and grab a seat upstairs overlooking the woods. However, you'll have to visit at a strange time, or be prepared to wait it out, as these seats always seem to be full!
4. Slottsparken
Towards the west of central Oslo is the sloping park of Slottsparken. It was one of Oslo's first public parks and is filled with hills, meadows, a few ponds and plenty of trees. It's home to one of the Norwegian Royal Family's houses and is a great place to take a wander, or picnic on a nice day.
5. Liebling
Thom and I visited Liebling one morning for brunch during our visit to Oslo and I still remember it perfectly to this day. It's a Berlin style cafe which means that the food on the menu is more Germanic than Norwegian but tasty either way!
There are pastries, cakes, great coffee and wine for later on in the day. Plus there are board games and a swinging chair just for fun!
6. Oslo Camping
If you like doing something while you drink then you'll love Oslo Camping. Here you can play the 18-hole minigolf course while you drink cheap beer and hang with the locals.
7. Ekebergparken
Opened in 2013, Ekebergparken is a vast forested park which overlooks the city. It's full of art and is an interesting place to explore.
8. Astruup Fearnley Museet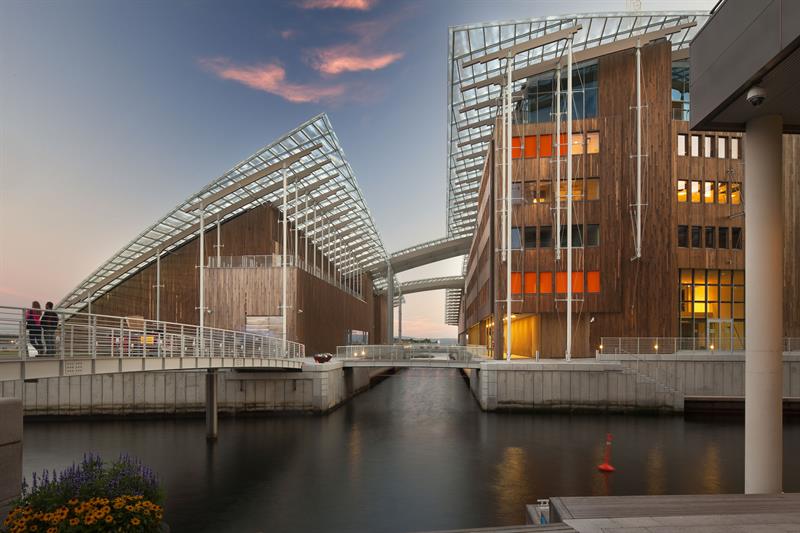 This museum is housed in a building that looks like a sail which fits in perfectly with the Oslofjord landscapes that surrounds it. Even if you're not a big art fan, it's worth heading over this way just to admire the architecture of the building.
I remember there being some very, very strange artworks in here!
9. Walk along the Akerselva river
Wear your comfy shoes and head out along the Akerselva river. This 8km long river goes from the Maridalsvannet lake and out into the Oslo Fjord. There's a path right along the river and it's one of the most beautiful spots in the city (especially at sunset!).
10. Akershus Festning
The castle of Akershus Festning was constructed centuries ago in order to protect the city from invaders. Nowadays it still dominates the harbourfront and offers an interesting look into the history of the city.
11. Holmenkollen Ski Jump
Perched on top of a hill overlooking Oslo, the Holmenkollen Ski Jump is one of the best things to see in Oslo. It's just 20-30 minutes from the centre and iup here you get a great view of the city and the fjords.
The ski jump plays host to some of the world's best ski jumpers in March for Oslo's annual ski festival. There's also a ski museum and a few other things to do here. The best part is entry is free to the museum with the Oslo City Pass!
12. Mathallen Oslo
A former industrial area has been turned into a big food court: Mathallen Oslo. Inside you'll find Norwegian regional cuisine sold at delis, restaurants and cafes. It's a great spot for lunch and dinner and the atmosphere is great no matter what time of day you visit.
13. Nordmarka
The beloved woodland of Oslo locals is Nordmarka. It sits to the north of the Holmenkollen Ski Jump and is the go-to spot for hiking, biking, sledding and skiing. To get there take the train to the end of the line at Frognerseteren and follow the signposted walking route.
14. Chillout Travel Centre
This shop sells coffee, food from around the world and travel essentials such as bags and books (in English too). If you're a keen traveller you're going to love it here!
15. Fuglen
Fuglen is one of the city's best coffee shops. There's a great choice of coffee blends and tea too. At night this place turns into a cocktail bar – what more could you want?!
16. Grab a cocktail in Grünerløkka
Grünerløkka is renowned for being the hipster area of Oslo. It has a great nightlife and is packed with bars, restaurants and places to dance!
17. Oslo Cathedral
The Oslo Cathedral has very impressive stained glass windows and an incredible painting ceiling too. It's worth a visit just to gaze in awe at the decoration.
18. Øya Festival
The Øya Festival is the largest rock and indie music festival in Norway. It's also super green! All four festival stages are powered with renewable energy, rubbish is recycled, and all sewage generated is converted into bio-fuel to fuel the buses taking people between central Oslo and the festival grounds. AMAZING!
19. Frognerparken
Frognerparken has big lawns, ponds, and plenty of space to chill out. There's also Vigelandsanlegget which is a big sculpture park.
20. Supreme Roastworks
This cafe is run by an award winning barista, Odd-Steinar Tøllefsenis, who was named the World Brewers Cup Champion in Sweden in 2015. It's a welcoming place that serves espresso-based coffees, drip or hand-filters (J60 or Chemex), and you can watch the beans being roasted while you drink if that's the way you roll.
21. Royal Palace
The Norwegian royal family's home is in Slottsparken and is relatively modest (for a palace!). Still, with 173 rooms it's not exactly your every day building. You can play and pose just metres from the main entrance and in the summer there are guided tours available too for a closer look. However, make sure to book in advance.
22. Munch Museum
Everyone knows at least one Edvard Munch painting. 'Scream' is perhaps his most famous and you can see more of Munch's paintings at the Munch Museum. The exhibitions are constantly changing and there are guided tours in English every day in July and August at 9pm.
23. Tim Wendelboe
Another popular coffee roaster in Oslo is Tim Wendelboe. This micro roastery is run by World Barista Champion and World Cup Tasters Champion Tim Wendelboe. I think it's fair to say you're in safe hands when it comes to your daily caffeine fix.
24. Aker Brygge
Aker Brygge is a melting pot where people meet, mingle and visit. People come to shop, eat and drink, catch a boat to the islands or eat very fresh seafood!
25. Blå
Bla is a very cool area of Oslo to visit. It's a small area just on the river and has a great arts vibe to it. There's a Sunday arts & crafts market with vintage clothes, live music, cool grafitti and more.
It's a great place to spend a Sunday in Oslo.
Why you should get the Oslo City pass
Whilst some city passes don't give you much for the price, the Oslo Pass is completely different. We bought the Oslo Pass for 48 hours and found it great value.
With the Oslo Pass you get free entry to 30 museums and attractions (including many on this list), free entry to outdoor swimming pools (when open), discounts on tonnes of tickets and restaurants and – the best part – free travel on all public transport!
Find out how to buy your Oslo Pass here.
How to get to Oslo
You can find super cheap flights from London to Oslo. BUT be careful! Most of these 'cheap' flights actually land quite far out of Oslo and the train into Oslo is expensive. In fact, it can often end up costing you more than just booking the flight directly to Oslo airport.
Check which airport you're flying to and then book the train online to see if it's worth the cheapest flight + train or not.
Where to stay in Oslo
I always use Booking.com or Airbnb to book my accommodation while travelling. I tend to open them both us and then search to find the nicest place for the least amount of money.
Here's the hotel I stayed at in Oslo which I remember being very nice (and surprisingly cheap!). It had just opened that year so I think perhaps there was a special price and everything was super duper clean.
Here's a few other hotels in Oslo I'd recommend:
Want to read more about my trip to Oslo?