Vancouver loves going out for brunch. All you have to do is walk down west 4th avenue on a weekend morning and you'll see lines outside some of the most popular breakfast restaurants in Vancouver. If you're vegetarian or vegan and are travelling to Vancouver, you don't need to worry, you won't find it hard to find great vegan food in Vancouver. In fact, you'll find you're spoilt for choice! When it comes to vegan breakfast in Vancouver you've got plenty of choices and I've picked out the best vegetarian and vegan breakfast restaurants in Vancouver, BC right here.
Best vegetarian and vegan breakfast, Vancouver
All these restaurants and cafes listed below are either fully vegetarian or vegan restaurants or they have plenty of options on the menu. They also happen to include some of my favourite places to eat in Vancouver.
Nuba
Nuba is one of my favourite places for a middle eastern style dinner. However, they also do tasty vegetarian brunch in Vancouver too at their Kitsilano and Yaletown locations. It's a great choice for breakfast in Vancouver, downtown.
The brunch menu is pretty small but at least half of it is vegetarian and you can wash it down with a made-to-order fruit and veggie drink from the juice bar or a Turkish coffee which smells delicious! The Healthy Wake-Up is made up of mjadra, avocado, sautéed spinach, onions, mushrooms, and peppers served with roasted potatoes and cherry tomatoes. Definitely a yummy Vancouver breakfast!
The Naam
A Vancouver institution, The Naam has been around since 1968 and has a fully vegetarian menu. It's also open 24 hours a day, 7 days a week so there's never a bad time to get tasty vegetarian food. Breakfast is served from 6 am to 11:30 pm and later on weekends.
Expect vegan pancakes and veggie sausages for an American style breakfast, or opt for scrambled tofu. The portions are huge so it'll keep you going well into late morning or afternoon at this 24h Vancouver restaurant.
Tractor
An extremely popular lunch spot, Tractor makes delicious salads and healthy treats throughout the day. Their Pender Street location also offers a tasty vegetarian breakfast for Vancouverites.
You can get overnight oats or muesli, avocado on toast and a great vegetarian breakfast sandwich too.
The Juice Truck
The Juice Truck has the BEST juices and smoothies which are perfect for breakfast or an in-between breakfast snack too. There are also vegan yoghurt parfaits to take out or eat-in in their Main Street and Yaletown locations.
Bandidas Taqueria
Bandidas Taqueria does hearty portions with an explosion of flavour which sounds like the perfect vegetarian breakfast to me!
Bandidas Taqueria is on Commercial Drive and serves vegetarian breakfast plates full of pinto beans, salsa, handmade corn tortillas and more. You can also get vegan options too.
Oh, and breakfast is available all day every day!
Turf
Not only is Turf a plant-based cafe and one of the most delicious breakfast restaurants in Vancouver, but it's an exercise studio and store too.
The "ricotta" toast is great as are their walnut milk lattes! The brunch menu includes gluten-free toasts and vegan bowls or opt for the banana bread French toast for something sweet.
Heirloom
Heirloom vegetarian restaurant is in a beautifully restored heritage building just off Granville and 12th but there are other locations across the city.
The brunch menu is half vegan half vegetarian and the avocado benedict and the brassica hash with broccolini, brussels sprouts and cauliflower are always crowd-pleasers. But the real start of the show are the buckwheat pancakes which are layered and topped with house-made seasonal compote and cashew coconut cream.
There's also the Heirloom Juicery just across the street if you want something lighter.
Chickpea
Lover of chickpeas and all the wonderful meals they create or substantially add to? You'll love Chickpea! Order the Shakshuka Boker for a pile of warm chickpeas with sauteed vegetables in a tangy tomato sauce, and your choice of toppings: veggie sausage or crispy eggplant and falafel. Or enjoy the gluten-free blueberry pancakes.
Chickpea is the place to go for family-friendly vegetarian breakfasts in Vancouver!
MeeT
With a few locations across Vancouver, MeeT is the ultimate go to for a big vegetarian brunch. It serves vegan comfort food and it does it so well.
You can get incredible veggie burgers and vibrant bowls. You definitely won't leave hungry at this downtown Vancouver breakfast stop.
Eternal Abundance
A cute little cafe and grocery on Commercial Drive, Eternal Abundance has smoothies, breakfast, sandwiches and so much more. It's a great plant-based cafe in Vancouver whatever time of day you're visiting. The Hippie's Breakfast is a raw bowl with spiced buckwheat "grawnola" and topped with nuts, seeds, and seasonal fruit. Delicious!
There's also a grocery part of the cafe so you can stock up on goodies to make your own plant based meals back home.
The Acorn
Regarded as one of the leaders of the pack when it comes to plant focused cuisine in Vancouver, The Acorn also does brunch at the weekend from 10 am to 2.30 pm. There are mushrooms on waffles, a seasonal brunch platter and pancakes. Whatever you get you can trust it's going to be great!
Kokomo
This vegan cafe in Chinatown and Kitsilano, Vancouver not only has a beautiful beachy interior, but the food here is great too. You can get acai and smoothie bowls inspired by the East Coast of Australia, adaptogen lattes and lunch bowls too all at Kokomo.
La Mezcaleria
Like your brunch with a side of Mariachi music? Head on down to La Mezcaleria for brunch cocktails and vegetarian Mexican options. The hash browns are a Vancouver favourite and the Migas Vegetarianas are delicious!
Bonus Bakery
Prefer to get pastries or sweet treats for breakfast? Head to Bonus Bakery in Vancouver for 100% plant-based baked goods at one of the top breakfast places in Vancouver for vegans. This Vancouver bakery is run by the people behind Virtuous Pie (a famous vegan pizza restaurant in Vancouver), so you know they're gonna be good – find them in Coal Harbour.
The Wallflower
The Wallflower specialises in offering veganised classic comfort food. There are scrambles for brunch and all the typical diner breakfast food you'd expect only plant-based. The vegan peanut butter banana French toast goes down very well!
Aleph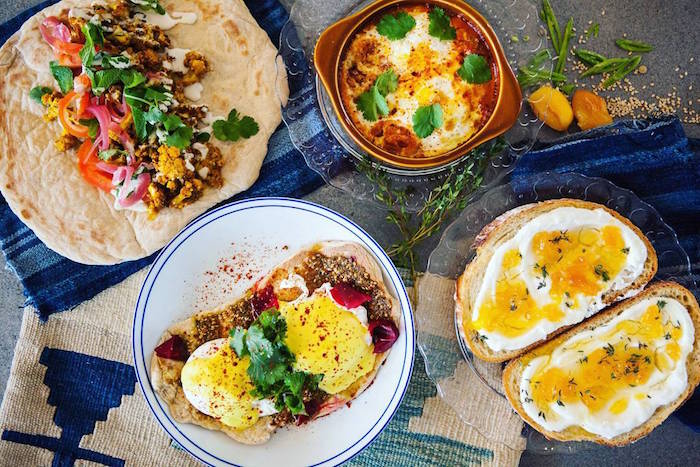 If you're a fan of Nuba and looking to expand on Middle Eastern brunch options, be sure to check out Aleph. Pretty new to the Vancouver veggie scene, this restaurant in East Van serves a delicious Mediterranean brunch.
There are the classics and the vegetarian feast for 2 with rosemary crispy potatoes, watermelon halloumi salad, honey labneh, fresh tomato, pickles, in-house jam, dates, choice of hummus, baba ganouj or muhammara and fresh saj bread is perfect! Fill up at this breakfast place in Vancouver next time you're looking for a vegan breakfast in Vancouver.
Red Umbrella Cafe
My favourite local cafe and the place you'll most likely find us on a weekend if we're out getting brunch. Red Umbrella Cafe in the West End, doesn't have loads of vegetarian options, but you won't feel like you're missing out if you order the vegetarian breakfast. This comes with eggs, veggie sausage, your choice of bread, tomatoes and spinach making it one of my best breakfast in Vancouver suggestions for vegetarians. Plus you get unlimited coffee refills too!
Kind Cafe
Vancouver's zero-waste, vegan only cafe, Kind Cafe, is run by a father-daughter duo and not only does great food but is a beautiful space inside.
There are twinkly fairy lights, plenty of plants and hanging basked and booths which are great for breakfast and brunch dates in Vancouver.
When it comes to food, the carrot lox is a winner or opt for a smoothie bowl for something even more refreshing. Oh, and the lattes come in all sorts of pretty colours! A very strong contender for Vancouver's best breakfast.
SMAK
Another great choice when it comes to vegetarian and vegan breakfast in Vancouver is SMAK. There's a vegan brekky bowl with avocados, mushrooms, tomatoes and hash and smoothie bowls like the Monkey Bowl.
Edible Flours
Vegan pastries? Yes, please! Edible Flours is an all-natural vegan bakery with tonnes of gluten and soy-free options. Some of the best treats are their cinnamon rolls which makes a great mid-morning treat.