As much as I love exploring a city on foot, sometimes it's nice to pick the pace up a little bit and see more of your destination. I'm not talking about running – don't be crazy- but, rather, cycling!
A cycle ride (especially when there's not too many hills) can actually beuite relaxing. You can breathe in the fresh air and get your heart racing but not too much so as to knacker you out (like when I run).
Now that my old, rickety bike is back with me in London I've been going for a few more cycling rides and it's got me thinking about other palces I can explore by bike. Somewhere with some sunshine…
That led me to the island of Mallorca which is pretty perfect for cyclists!
Best known for its beaches and sheltered coves, Majorca is also known for its year round sunshine. With an average of 300 days of sunshine a year, a cycle in the rain while  there is pretty unlikely!
There's so much beautiful scenery to explore in Mallorca that a cycling adventure on the island seems the best way to discover as much as possible while on holiday.
From clocking up the miles on some serious road cycling routes to taking it easy on the cycle paths along the coast, Mallorca is a great palce to cycle. And, with BookMallorca, your cycling holiday in Mallorca will be all the more enjoyable as you'll come home to a luxurious villa for the night!
The cycling route for serious cyclists
If you're a serious cyclist looking for a challenge then THE cycling route to try in Mallorca is from Pollenca to Sa Calobra. For many this cycling route alone is the reason people come to the island.
With an average gradient of 7% (the maximum gradient is 12%) and a climb of 668m over 9.4km this cycling route will put those thigh muscles to the test!
The road takes you through some of the best scenery and starts with a resonably gentle incline from Pollenca and up into the Tramuntana Mountains. As you continue you'll pass through tiny hamlets, and upon reaching the summit of you cycle you'll descend hairpins all the way down to Sa Calobra.
Sa Calobra has a lovely restaurant and a short walk to stretch out those legs takes you down to a small beach in which to cool off in.
If you're planning on doing the round trip (all 92km of!) then gather your strength over a leisurely lunch and prepare yourself for the return climb! Rumour has it that Sir Bradley Wiggins climbing to the top from Sa Calobra in just 22.30 minutes – can you beat him?!
Where to stay:
If you're staying in Pollenca then Book Mallorca's gorgeous villa, La Creveta, is the perfect place for you and a few friends to spend the week as you cycle in the challenging Tramuntana Mountains. Complete with a pool and open air TV and lounge area I can imagine myself whiling away the evenings after a great day of cycling adventures here.
Cycling routes for keen cyclists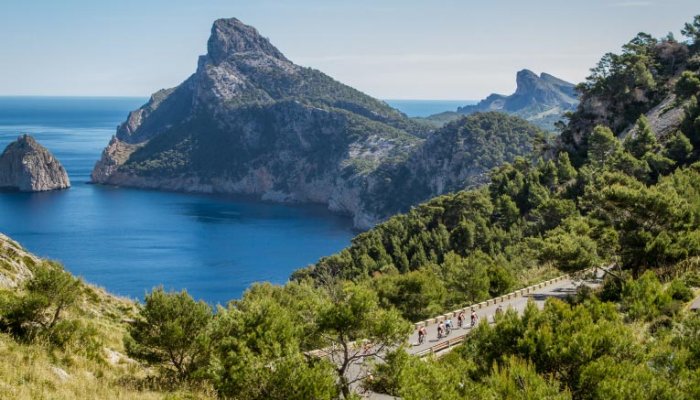 If you enjoy cycling but don't want to go crazy then the intermediate level cycling route from Puerto Pollensa to Campanet is a great ride for you. There's still some hills to challenge you, but nothing too insane!
Beginning in Puerto Pollenca you'll take the cycle path on the MA-2200 all the way to Pollenca town. This road to the first roundabout at Pollenca can sometimes be busy but the cycle path is nice and wide so it's not like cycling here in London!
The ride takes you towards the village of Campanet where there's a few small slopes to climb and a nice smooth road. The caves of Campanet are well worth stopping off at when in the area. They  cover a surface are of about 3,200 square meters and at their deepest are 50m deep! They're really expansive and very impressive!
Where to stay:
This villa in Puerto Pollensa is just a short walk from the beach with a communal pool and plenty of space to relax in!
An easy cycling ride
This easy, flat cycling ride is just 25km long and uses the cycling paths along the coast.  Starting in the Port of Pollenca you'll head towards Alcudia and follow the 8km of cycle path that runs around the Bay of Pollenca.
If you're up for more of a challenge then take a diversion up to Cap Formentor which is a fairly challenging and hilly road with amazing views of the hills and the sea. However, you can just choose to stick to the cycle paths if you wish!
When you arrive in Alcudia take a look at the Roman ruins of Pollentia and the Roman amphitheatre if you're a history buff. Or, take a picnic on the beach!
Where to stay:
Get a group of friends together and stay in this gorgeous villa for a week with your own private pool and close proximity to the beach.