Take a bus five hours south of Marrakech and you'll find yourself in Ouarzazate; the gateway city to the Sahara.
Historically used as a small crossing point for African traders on their way to northern morocco and Europe, Ouarzazate is now a popular stopping off point for travellers heading to the Sahara desert to ride camels and sleep under the stars.
Ouarzazate is commonly known as the door of the desert and sits at an elevation of 1,160 metres just south of the high Atlas mountains. Indeed from the streets and rooftops alike you'll catch glimpses of the Atlas mountains in the distance. To the south of the town the Sahara desert awaits keen adventurers.
However, there's plenty of reasons to keep you in Ouarzazate. And, if you're a fan of films such as Gladiator, The Mummy, Salmon Fishing in the Yemen, or popular television series Game of Thrones, you'll definitely find plenty to keep you entertained. You may even recognise some of the city itself.
Why?
Well, because Ouarzazate is also known as the Hollywood of Morocco. All the aforementioned films and television show, amongst many more, have, at some point, been filmed in Ouarzazate.
Where is Ouarzazate?
Ouarzazate (pronounced Warzazat) is in the the Souss-Massa-Drâa of southern-central Morocco, 200km south of Marrakesh. It's the starting point, or mid-way point if coming from Marrakech, of many desert tours in the Sahara and it's also on the route of 1001 Kasbahs. The region around Ouarzazate offers lush landscape, mud-brick built kasbas and hidden oases covered in palm trees.
How do I get to Ouarzazate?
Getting to Ouarzazate is simple. Whilst there is an airport in Ouarzazate with direct flights from Paris, Casablanca and Zagora, it's probably easier (and no doubt cheaper) to take the bus from whichever area of Morocco you're coming from. For most of you this will be from Marrakech.
A bus ticket with CTM from Marrakech to Ouarzazate costs 75 dirhams (around £5) each way and leaves several times a day. We found it cheaper to buy tickets at the CTM bus station in Marrakech as the website quoted 85 dirhams for the same journey. You can see the full timetable on the CTM website here.
The journey takes around 5 hours as you cross over the atmospheric Atlas mountains and towards the Sahara desert. There's one stop along the way for lunch or dinner and a much needed toilet break! If you tend to get travel sick I'd highly recommend taking some tablets or whichever form of prevention you usually take as the five hours of travel consists of hairpin bend after hairpin bend.
An alternative bus company that takes you to Ouarzazate is Supratours.
If you prefer to get to Ouarzazate under your own steam and take your time crossing the High Atlas mountains, you could of course hire a car and make the journey that way. There's all the usual suspects when it comes to car hire to be found in Marrakech.
Where should I stay in Ouarzazate?
Whilst there are several different options for accommodation when it comes to Ouarzazate I highly recommend staying in Dar Rita; a seven room guest house in the Tassoumaat area of Ouarzazate.
Designed in the style of a Marrakech Riad, Dar Rita is owned by Joao and Rita and has been running since 2010.
Dar Rita is well signposted from the main road and a taxi from the bus station should cost you no more than 20 dirhams. You will send you information after you've booked your stay to make finding this lovely guest house as easy as possible!
What's the Tassoumaat area of Ouarzazate like?
The Tassoumaat area of Ouarzazate was one of the town's first districts and it remains much the same as it ever was. Walking through to Dar Rita from the main road you'll be greeted by bonjours, comment tu t'appelles and glances from the doorways of the shops and boys playing football on the street. But don't let it make you feel uncomfortable; it's simply a sign of an area untouched by tourism.
On Thursdays and Saturdays there is a small market set up by the water fountain in the square where villagers head to trade and gossip just a minute's walk away from Dar Rita.
What's Dar Rita like?
Dar Rita is a true home away from home. Upon arriving you'll be met with mint tea and Moroccan biscuits and given as long as you need to relax after your journey in the big open living room area.
Dar Rita is perfectly peaceful with the only sounds you'll hear being the occasional bleating of sheep and the distant sound of the call to prayer.
The guest house is set across three floors with each one offering lots of space for relaxing.
The ground floor is where you'll tuck in to a delicious Moroccan breakfast or dinner (more on which later) or relax near the fireplace in winter.
The second floor has games, a small library and a free to use computer. Five of the seven guest rooms are found on this floor.
Saving the best until last, the third floor is home to the roof terrace. Here you can relax with a pot of mint tea under the Caidal tent while listening to the sounds below or children playing. There's also a fantastic view out over the Atlas mountains when the sun shines.
What are the rooms like at Dar Rita
All of the seven available rooms at Dar Rita come with private bathrooms and plenty of space and all necessary amenities (towels, shampoo…). There's air conditioning to keep you cool during the summer and speedy Wi-Fi for making friends jealous on Facebook.
Eco Friendly Tourism
Staying at Dar Rita is as good for you soul as your conscience as the guest house does everything possible to be eco friendly as a member of It's a Green, Green World. As part of its commitment to eco friendly tourism, Dar Rita heats all its water by solar energy, is dedicated to recycling and reducing waste and is dedicated to improving the lives of surrounding families.
Breakfast at Dar Rita
A Moroccan feast greets you for breakfast time at Dar Rita. Breakfast comprises of much more than bread and jam as you'll find in other guest houses. Instead you'll be served up cereals, fresh bread with jams and honey, eggs, pancakes, coffee and orange juice.
Dinner at Dar Rita
If you choose to take dinner at Dar Rita you'll be in for a treat. A three course dinner costs 150 dirhams and must be reserved.
How much is Dar Rita?
One night at Dar Rita in a double or twin rooms costs from as little as 440 Dirhams or £29. Exclusivity and large group deals are also available. Find out more about prices here.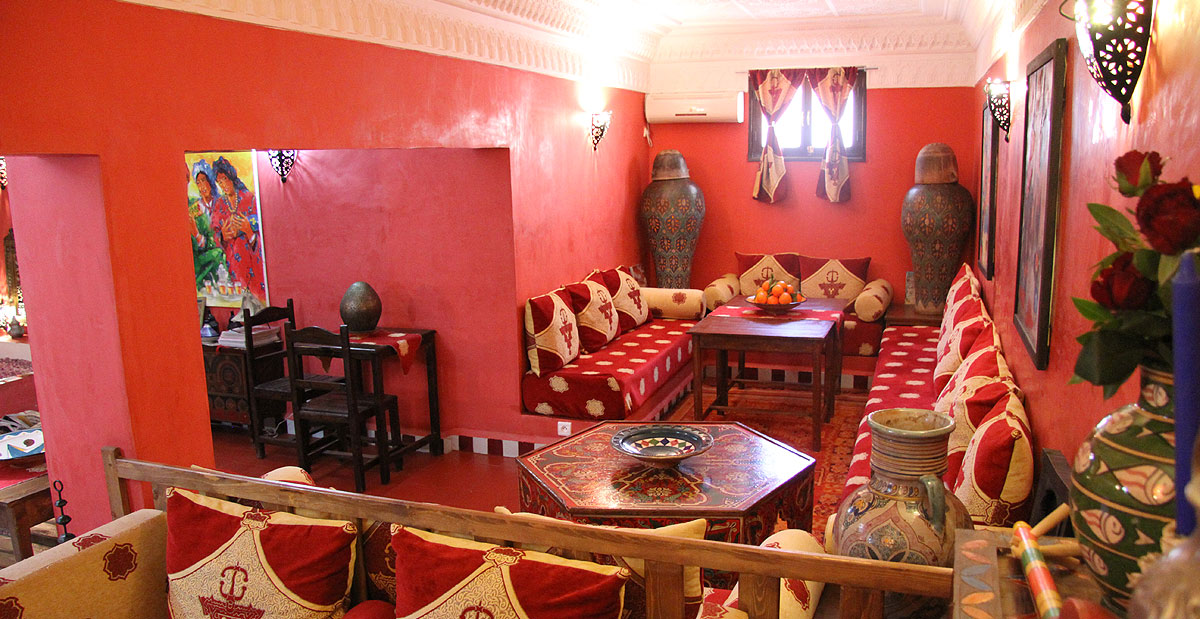 What is there to do in Ouarzazate?
As previously mentioned Ouarzazate is the Hollywood of Morocco so you can the Atlas film studios and musée cinématographique are well worth a visit to see where some of your favourite films have been made. However that's not all there is to see as there's plenty of history just waiting to be discovered.
Taourirt District Kasbah
You'll feel a million miles from home (and as though you've just gone back in time, whilst walking around this ancient mud-brick Kasbah.
Tifoultoute Kasbah
On the way to Zagora in the desert you'll come across an 18th Century Kasbah: Tifoultoute. This Kasbah has an amazing view of the valley below from the top terrace making it a fantastic place to sip on Moroccan whisky (mint tea).
Atlas Cinema Studios
These huge studios just outside the town of Ouarzazate allow you to walk inside several giant film sets of well known movies including Gladiator. They're well worth a visit during your time in the town.
Ouarzazate Cinema Museum
Bigger than you';d think, this museum located just in front of the Taourirt Kasbah has some film sets and objects used in movies such as Asterix and Obelix.
Ouarzazate Center Market
Ouarzazate's most lively market starts at 6 o'clock in the evening. Browse all sorts of goods including; clothes, handicrafts and shoes. It's a lot easier to navigate than Marrakech's Souks that's for sure!
Al-Mansour Ad-Dahbi Lake
You can view the lake from the cinema museum and the Taourirt kasbah but that isn't quite the same as getting right down to the water's edge. This artificial lake transforms the dry landscape of Ouarzazate and it a great place for a shortish hike around the area or fisherman watching.
Where should I eat in Ouarzazate?
If you decide to explore Ouarzazate's culinary offerings rather than eating in at Dar Rita there are plenty of places to choose from ranging in prices.
Just a short walk away from Dar Rita you'll find a small café serving barbecued meats. It's possible to sit with the locals and have a meal for just 10 dirhams (less than £1!). There's also various cafes and restaurants where you can get a traditional Moroccan tagine from around 30 dirhams (£2), pizza from about 20 dirhams or, for a lighter lunch, a sandwich (from 15 dirhams) in the centre of Ouarzazate.
One of our favourite cheap eats with the locals was at El Bahja where we had enough food to feel stuffed for less than £4.
For a plusher, more expensive meal then head to Jardin des Aromes on the main road into Ouarzazate (not as Trip Advisor says on the way to Marrakech). Prices here are more similar to those found back home but the portions are very large with it. The speciality Moroccan soup as a starter was a winner for us although the couscous main was lacking in flavour. The tagines get better reviews!
Another more luxurious meal can be found at restaurant Douyria near the Taourirt Kasbah. You don't make it to number one on Trip Advisor for nothing! Douyria serves up Moroccan cuisine with Mediterranean influences and even serves camel if you're that way inclined.
What can I do further afield
As the gateway to the Sahara desert, many of the activities further afield from Ouarzazate feature trips into the desert with one of the most popular being a 1 night/2 day trip out to Merzouga with a night spent sleeping under the stars and a sunrise camel ride out over the sand dunes. If you're short on time of don't fancy the heat of the desert you can also visit attractions closer to the town's centre.
Ait benhaddou
One of the more famous kasbahs and a UNESCO World Heritage site since 1987, Ait Benhaddou is a short 30km away from Ouarzazate. Made entirely from clay many films and series have been shot here and you can easily while away half a day exploring the maze that is the city's walls.
A taxi from Ouarzazate to Ait Benhaddou and back with a couple of hours to explore the area shouldn't cost you any more than 250 dirhams – so get your haggling skills out!
Flint Oasis
Scenes from the third series of Game of Thrones were shot at the Oasis de Flint; a small town just south of Ouarzazate. This is the perfect place for a relaxing afternoon and, if visiting in October you'll be able to eat the season's fruits (pomegranates and dates) straight from the trees. Rumour has it this is Brad and Angelina's favourite place to relax too!
Day Trips
In the centre of Ouarzazate you'll find several tour companies offering similar trips out to the desert or the nearby gorges; Todrha and Dades. These trips range in duration from one day to 3 or 4 and are similar to those offered from Marrakech but with the bonus of you already having crossed the Atlas mountains!
We used Desert Majesty for our day trip to Zagora which included transport from Dar Rita to the dessert, lunch, a camel trek, English speaking guide and return transport.
Thanks to Joao for letting us stay at his lovely riad!