Notting Hill Carnival is crazy. It's a mass of people, bright colours and loud music. And, it's SO much fun! If you've never been to Notting Hill Carnival before it can be a bit daunting. I remember that I'd heard so much about it (both go0d and bad) that I wasn't really sure what to expect. Make sure you're prepared for a day at the Carnival in London with this guide to Notting Hill Carnival.
The ultimate guide to Notting Hill Carnival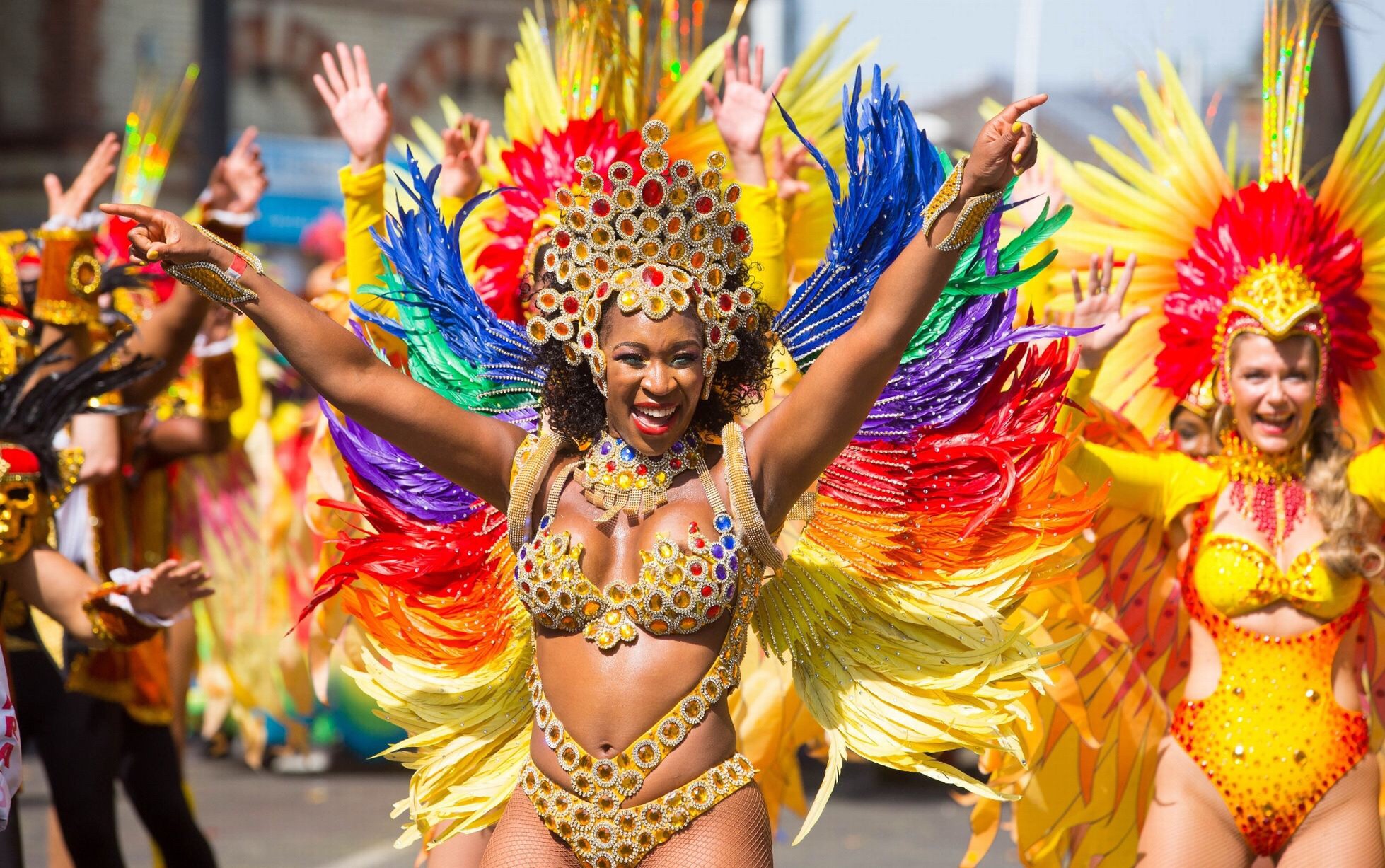 What is Notting Hill Carnival?
Notting Hill Carnival is London's annual celebration of all things Caribbean. It attracts several million people each year and is one of the world's largest street parties. Apparently only Rio de Janeiro's carnival is bigger!
It's been taking place since 1966 and is full of loud music, people, street food, incredible costumes, parade processions and fun.
It's estimated that every year there are around 15,000 costumes on show, using 30 million sequins, 15,000 feathers and 30 litres of body paint!
Where is Notting Hill Carnival?
Unsurprisingly Notting Hill Carnival is in Notting Hill. It also carries over to Ladbroke Grove, Westbourne Park and Westbourne Grove which are all nearby. Most of the streets in the area are pedestrianised (thank God).
Just follow the crowds, music and jerk chicken scents and you'll find it. Failing that, there's a handy map below.
When is Notting Carnival Held?
Notting Hill Carnival runs on both Sunday and Monday of the August bank holiday. This is the last weekend in August (usually around 25-27th of the month).
Sunday tends to be designated as Children's Day. Whilst there isn't much difference really the Sunday parade aims to be more family friendly and there's a special children's parade.
Monday's parade has the most magnificent and colourful costumes with 60 bands joining in the procession.
The best things to do at carnival in Notting Hill
Join the parade
As the parade winds its way through the streets of Notting Hill and the surrounding areas, you can jump in and join the fun. Dance along, sing and hop out when you feel like it!
Watch the parade
If dancing isn't your thing then stand on the sidelines and watch the parade go past. This is one of the best ways to see all the magnificent costumes.
Eat jerk chicken
There are around 300 food stalls at the carnival. They dish up classic meals from across the Caribbean Islands and a carnival favourite is jerk chicken. If it's your first time at Notting Hill Carnival make sure to grab some jerk chicken!
Drink fresh coconut water
Wash down that tasty street food with a sip of coconut water straight from the coconut itself!
Party at a sound stage
Throughout Notting Hill there are sound stages that have been set up. In total there are about 40 static stages and 70 performing stages. These play music all day and are a surefire place to find the party. They play everything form reggae to jazz, swing and drum 'n' base.
Check the map above to get an idea as to where the sound stages are.
Find the after party
Notting Hill Carnival is also known for its after parties. There are plenty going on at pubs and houses after the parade dies down so a quick wander and you're bound to find one.
What time should I get there?
On both days of carnival the parades start between 9 and 10am. They tend to wind their way around the streets of northwest London until about 8.30pm.
It's a good idea to get to Notting Hill Carnival early so you can enjoy the sights and sounds and then leave early. There are reports every year of trouble at carnival and this is normally once the sun goes down. You can avoid it by leaving earlier.
What should I wear to Notting Hill Carnival?
You'll be on your feet all day and probably dancing too so you'll want to be comfortable. Wear comfy shoes and avoid open-toed sandals so that your toes aren't completely crushed in the crowds.
You'll find most people tend to go with shorts, trainers and a nice top. However your top shouldn't be so nice that you'll be upset if it's ruined. Oh, and don't forget to put some glitter on too!
What should I take to the carnival with me?
Cash
Make sure to take cash with you. Most of the stalls won't accept debit or credit cards and it just makes things easier. Especially since any cash points near by will have ginormous queues or no more cash.
Plus, if you get caught short and just can't face queuing for the porta-loos again then you can usually find someone who's renting out their toilets in their house at £5 a go. You'll be grateful for that cash then I promise you!
Hand sanitiser
Clean up those jerk chicken juices and keep your hands clean after those (bound to be) horrible porta-loos.
Credit cards aren't the only 21st century amenity rendered a bit useless by Carnival. You won't have much luck with mobile phones either — with so many people in such a confined area, the struggle for signal is real. We repeat: do not try and meet up with anyone at carnival itself, it's not worth it.
Ear plugs
If you have sensitive ears then take some ear plugs. This is recommended if you're visiting Notting Hill Carnival with children too. Carnival is LOUD.
How to get to Notting Hill Carnival
Getting to and from Notting Hill Carnival can be a bit of a pain. Stations are often closed due to overcrowding. Expect it to be busy and expect to have to wait for several tubes to leave the platform before you can get on one.
The best way to get to and away from the carnival is to be prepared to walk to one of the quieter stations outside of Notting Hill. These include Kensington and Shepherd's Bush. You'll come across some carnival action within a 30 minute walk.
How much does Notting Hill Carnival cost?
The cost of spectating is free but you'll want to budget some money for drinks and food. You can usually buy some beer or other drinks at the shops in the area to cut down on costs. Having said that it's best to take some drinks with you as there's bound to be lengthy queues at the corner shops near the carnival!
You could also eat before, or take your own food to save further. However there's nothing quite like chomping down on some jerk chicken from one of the stalls right in the midst of the carnival.
Budget about £50 for food and drinks although you may spend a lot less than this.