There's just something about staying in a treehouse that's so cool and the Oregon treehouses for rent are some of the coolest airbnbs in Oregon I've come across.
I think it's usually because they're surrounded by trees and forest rather than standalone and because they have a cool cabin vibe.
Whatever it is, staying in a treehouse makes for an awesome weekend getaway! I mean who hasn't wanted to spend the night in a treehouse? Whether you're from Oregon or just passing through, check out these Oregon treehouse rentals for your next trip away.
Best Treehouse in Oregon to Rent
These treehouse rentals in Oregon are all over the state so there's bound to be one not too far away from you. Some of them are more like treehouse hotels in Oregon, and others are self-catering and pretty remote. There's even a treehouse resort in Oregon!
Most of these are Oregon airbnb treehouses, but a few are available on other booking platforms too.
Choose the one that best fits what you're looking for!
Heartland Treehouse Oregon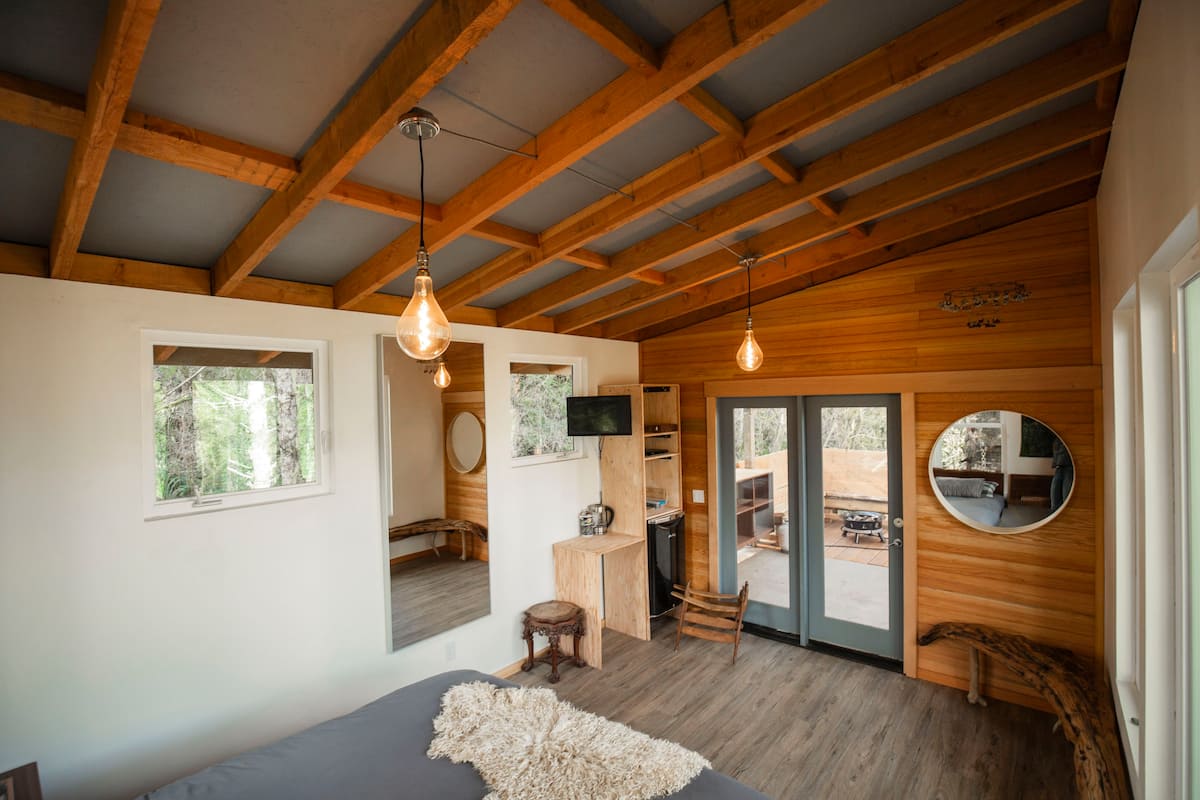 The Heartland Treehouse gets booked up quickly like all the best cabin rentals and treehouse rentals! That means you'll need to do a bit of advanced planning, but I promise it'll be worth it.
Staying at the Heartland Treehouse in Oregon means you'll be staying between two fir trees that overlook a steep river canyon. There's a waterfall nearby, a sauna and two side-by-side outdoor bathtubs so you can soak up the forest atmosphere while you soak!
It's the ideal place for a digital detox.
Location: Langlois
Sleeps: 2
Mt Hood Magical Treehouse
This glamping treehouse in Oregon offers a quiet woodland getaway. Sit inside and watch the rain fall or cosy up inside with a fire. If you're a fan of cold dips or wild swimming, you can swim in the nearby pond or stay try and go out in the paddleboat.
You're just 30 minutes from Mt. Hood which has loads of hiking trails and places to explore! Making this Oregon treehouse ideal for couples who love to adventure!
Location: Mt Hood
Sleeps: 2
Oregon Treehouse Resort: Out 'n' About Treehouses (Peacock Perch, Tokin Tree, Forestree Treehouse)
What's better than one treehouse rental? A tree house resort in Oregon! A treesort in Oregon if you will!
There are 15 treehouse rooms to rent at Out 'n' About treehouse resort and plenty of activities to keep you busy, from ziplining to arts and crafts and horseback riding.
The treehouses can sleep between 3 to 5 people and sit far off the ground accessed by stairs and suspension bridges for added fun.
There's a treehouse schoolroom, the Forestree Treehouse, Peacock Perch, the TokinTree (which is 4/20 friendly) and more. They're not the most lavish inside, but you'll likely be spending more time outside exploring if you stay here anyway.
Location: Cave Junction, Oregon
Sleeps: 3-5 guests per treehouse
Savage Cabin Treehouse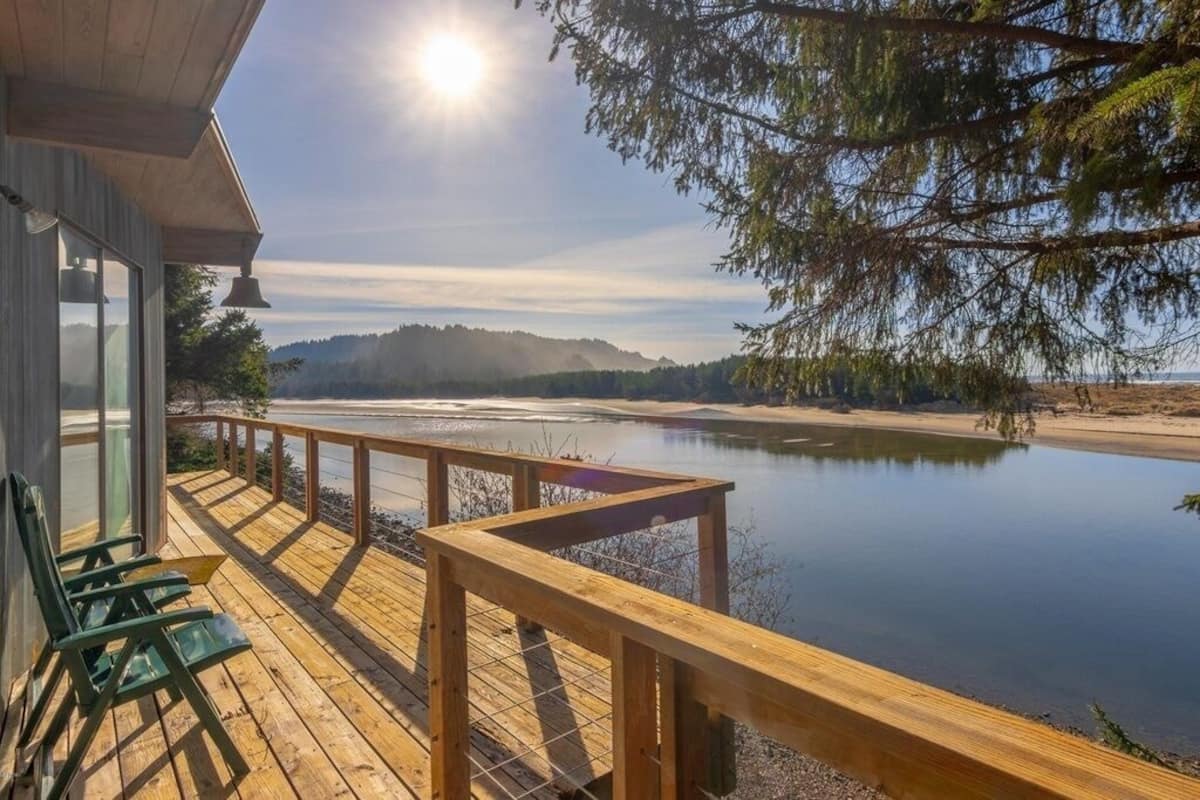 I'm not convinced this is the best name for a treehouse, but the Savage Cabin treehouse is beautiful.
This treehouse Airbnb in Oregon is in an incredible location along the Oregon Coastline and you'll get great views from the treehouse cabin during your stay. In fact, I'd argue it's one of the best airbnbs on the Oregon Coast.
You can fish for crab right outside the cabin and will have access to kayaks and canoes to explore even further. Previous guests have seen all sorts of ocean wildlife.
Plus, this Oregon treehouse has a hot tub and an outdoor shower!
Location: Otis, Oregon
Sleeps: 8
Deer Haven Treehouse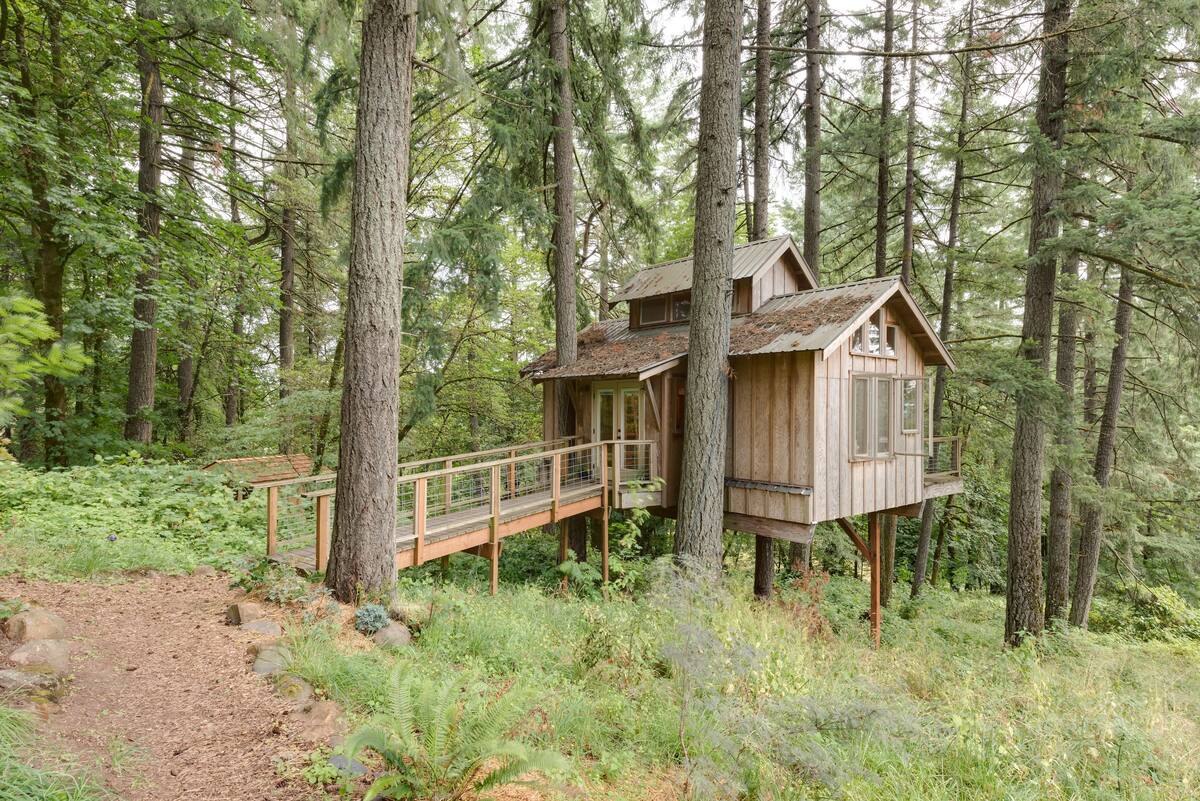 This Oregon Treehouse was built by Pete Nelson of Animal Planet's TreeHouse Master so you know it's going to be good! Deer Haven Treehouse has been featured in magazines and books, and it's easy to see why.
During your stay, you can enjoy the outside sitting area and the Spiral Labyrinth. The labyrinth is a mini food forest of fruit trees, berry bushes, flowers for birds and pollinators and medicinal herbs. You're sure to love the cosy feel of this treehouse in Oregon and it'll be hard to leave for sure!
Location: Newberg, Oregon
Sleeps: 5 guests
Cozy Cottage Treehouse Oregon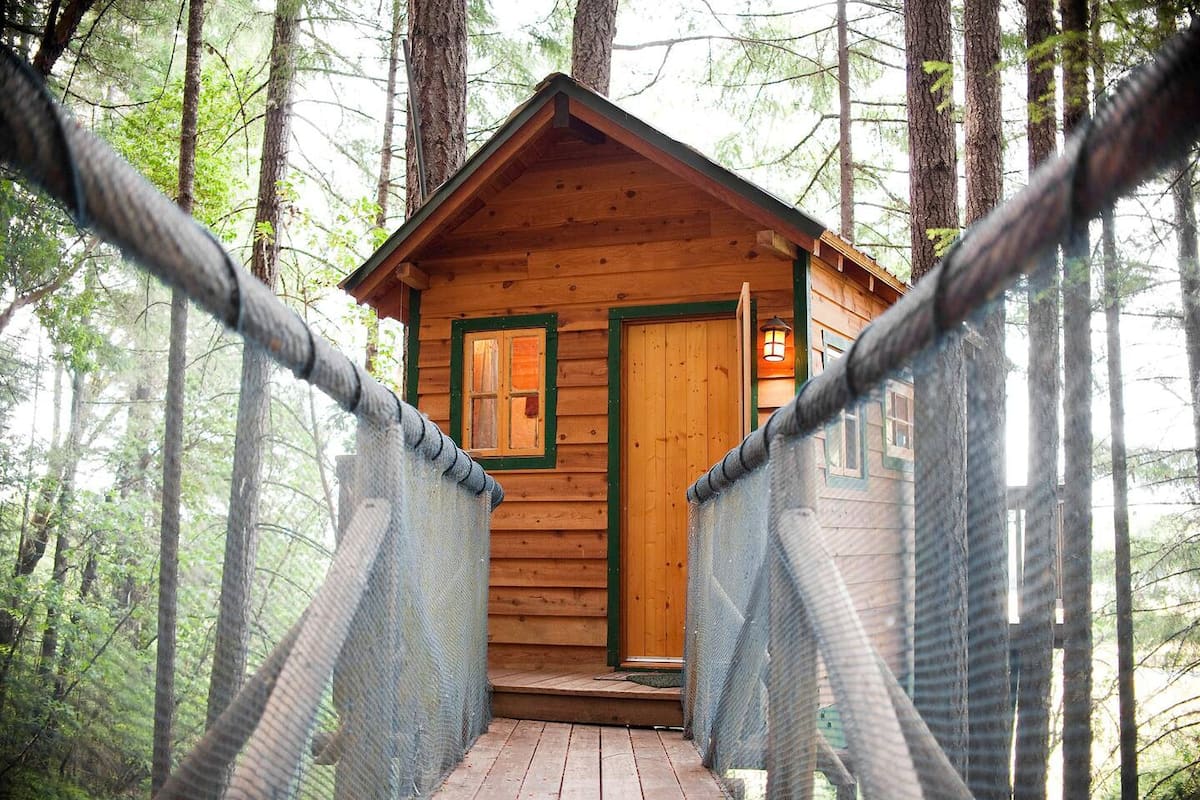 The Cozy Cottage Treehouse is a basic wooden treehouse with a bed and washroom but it's definitely cute and cozy! If you're looking to do some treehouse camping in Oregon, this could be the right place for you.
This Cave Junction Oregon treehouse has a gas grill and showers in the main house nearby and a seasonal pool. Its location is great for river swimming, mountain biking trails and viewing the giant redwoods! Location: Cave Junction
Sleeps: 4 guests
The Bluebird House
With no wifi or TV, this beautiful secluded Oregon treehouse is ideal for a peaceful getaway and chance to disconnect.
You can enjoy storm watching from inside the treehouse as waves crash along the famous Samuel Boardman Corridor.
The Bluebird House is on seven acres of farm, forest and beach with gardens year-round and twinkling lights in winter. there are also dogs and donkeys to greet not far away from your treehouse!
Wald House PDX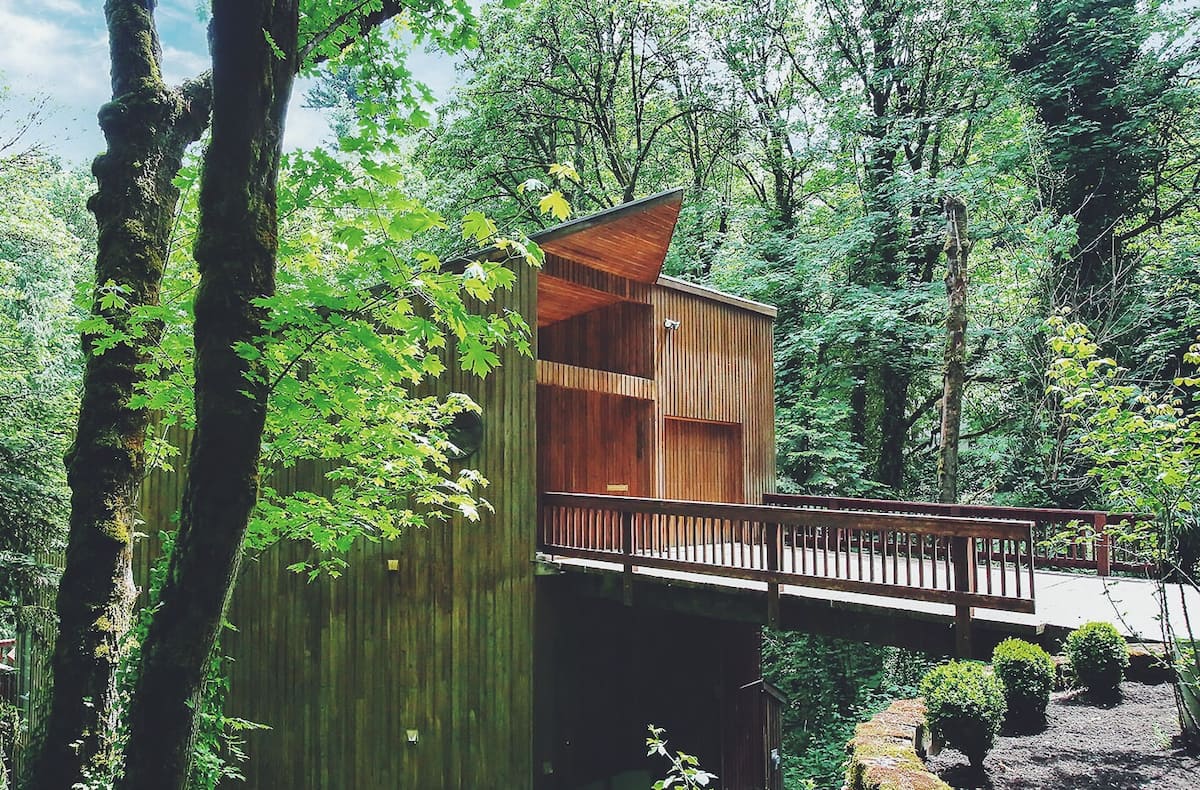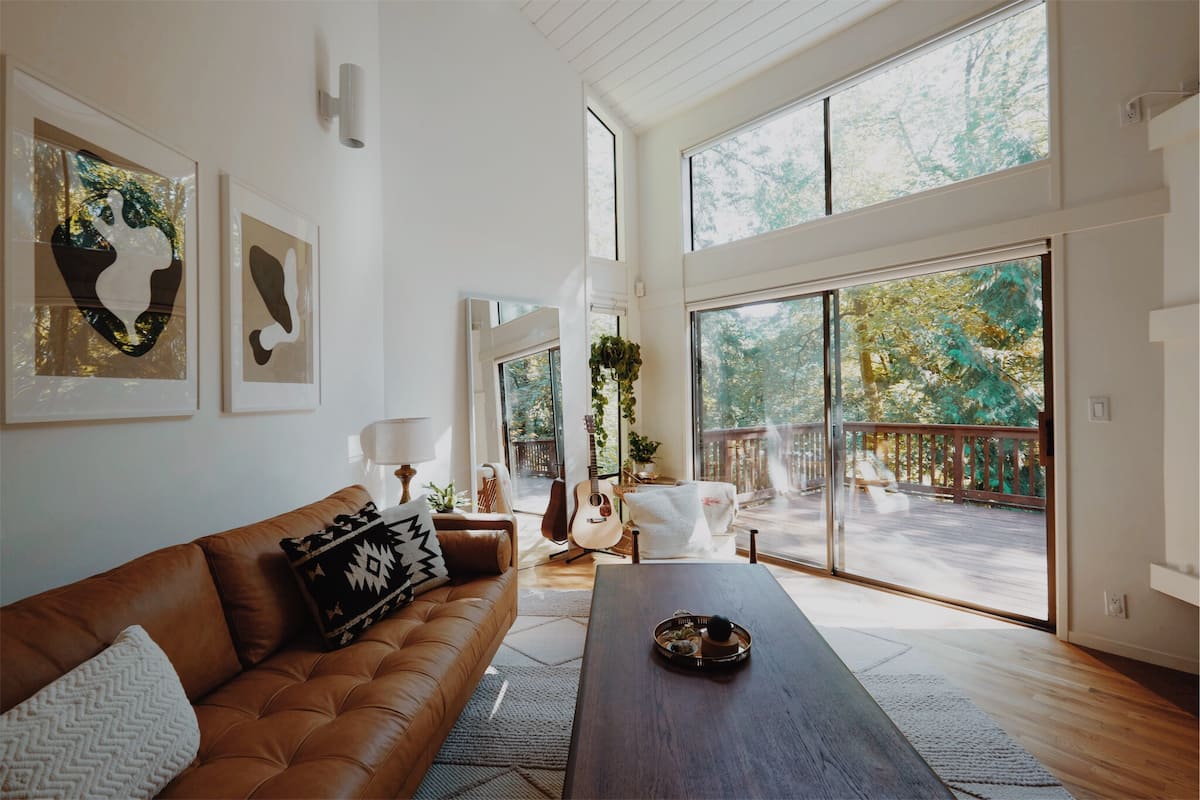 One of the more luxurious Oregon treehouses on this list, the Wald House just 10 minutes outside of Portland gives you the best of both worlds. Featured in Dwell, you know this treehouse is something special.
You can spend d a day exploring the city of Portland and then come back to your calm and peaceful treehouse in the forest.
You're right next to Marquam Nature Park too which has 9 hiking trails and there's a 5.5-mile bike loop on the property to explore. Book this treehouse in Portland, Oregon and you won't regret it.
Location: Portland, Oregon
Sleeps: 6 guests
The Klickitat Treehouse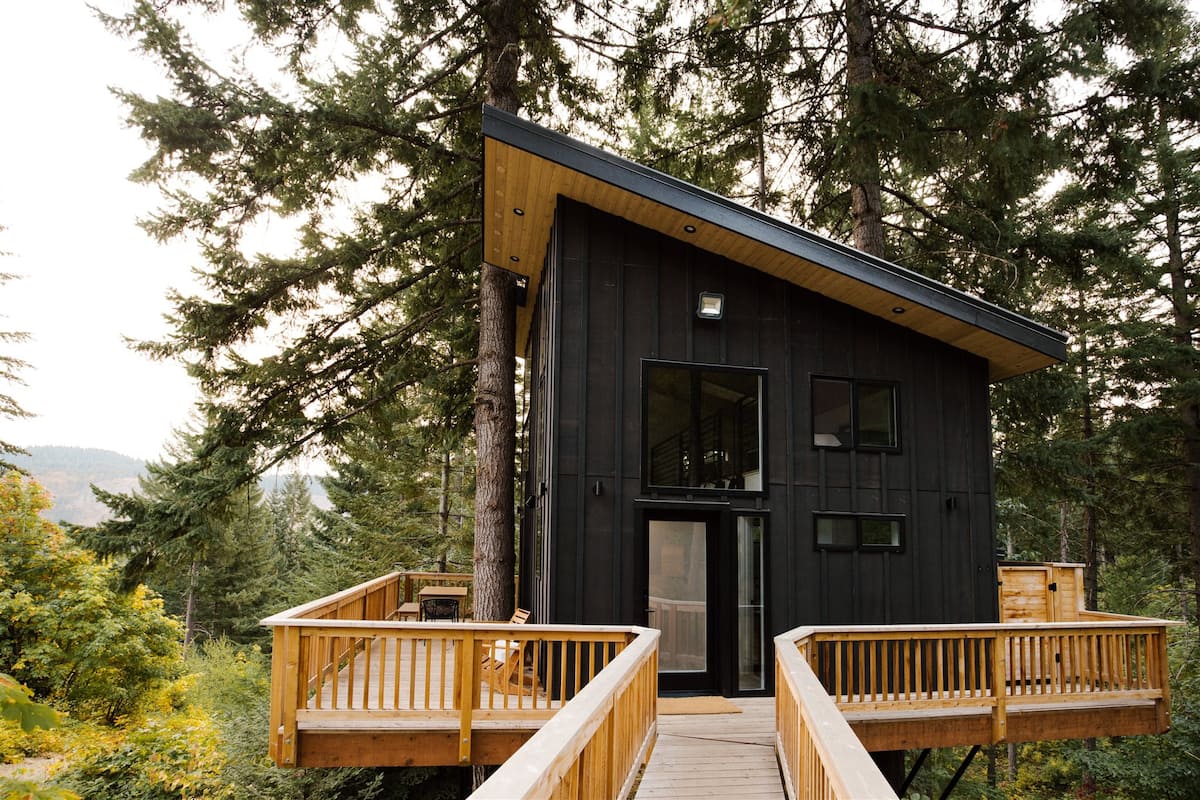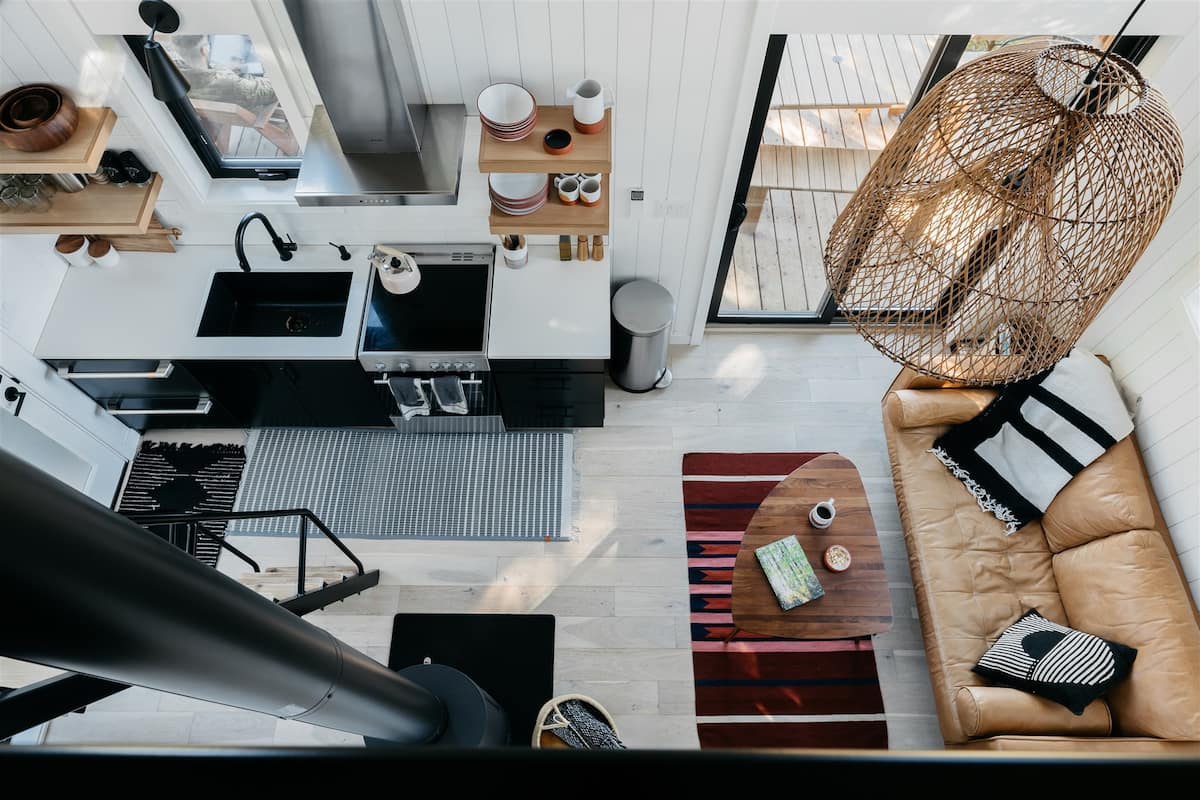 Another gorgeous treehouse is the Klickitat Treehouse. Inspired by a mountain lifestyle and Scandinavian architecture, this treehouse has floor-to-ceiling windows, skylights and incredible views of the neighbouring forest.
Technically this is a Washington treehouse, but it looks onto the Columbia River Gorge in Oregon and is so close to Oregon that I had to include it.
Soak up the views of Mount Adam from the deck with a morning coffee and cozy up with games by the fire indoors.
Next time I'm looking for a treehouse rental in Oregon, I think this will be top of my list.
Location: White Salmon, Washington
Sleeps: 6 guests
Izer Treehouse Glamping Adventure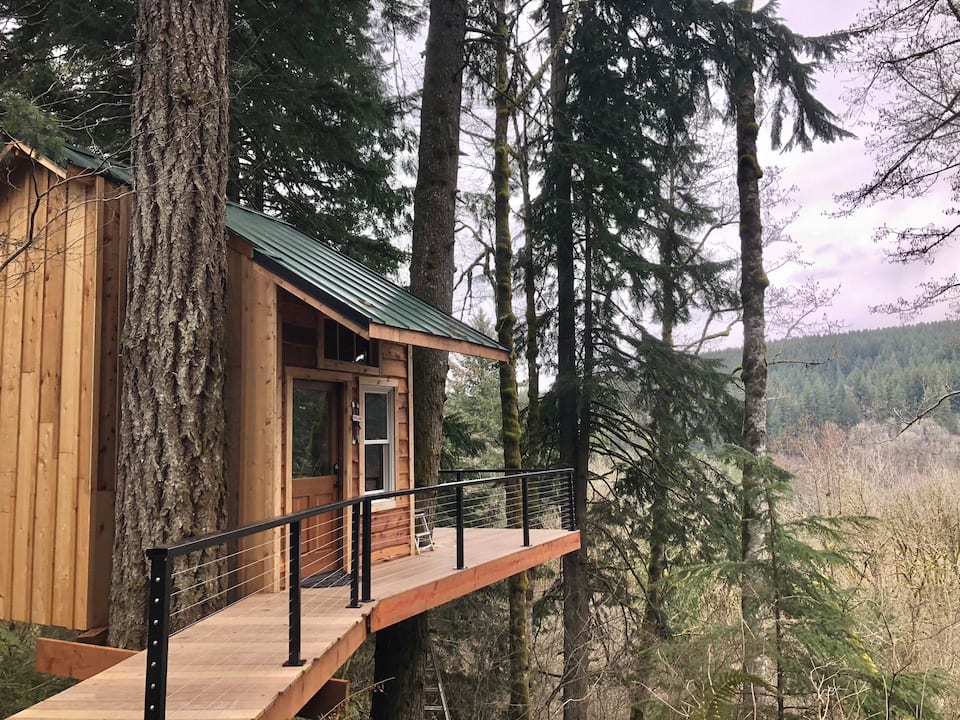 The Izer Treehouse in Oregon overlooks the Bull Run River Canyon near to Mt. Hood. It's perfect for adventure seekers due to the nearby activities such as kayaking and hiking.
You'll spend the night 30ft off the ground and, without wifi or TV, it's an opportunity to stop, relax, and breathe in the fresh canyon air.
Location: Sandy, Oregon
Sleeps: 2
Osprey Treehouse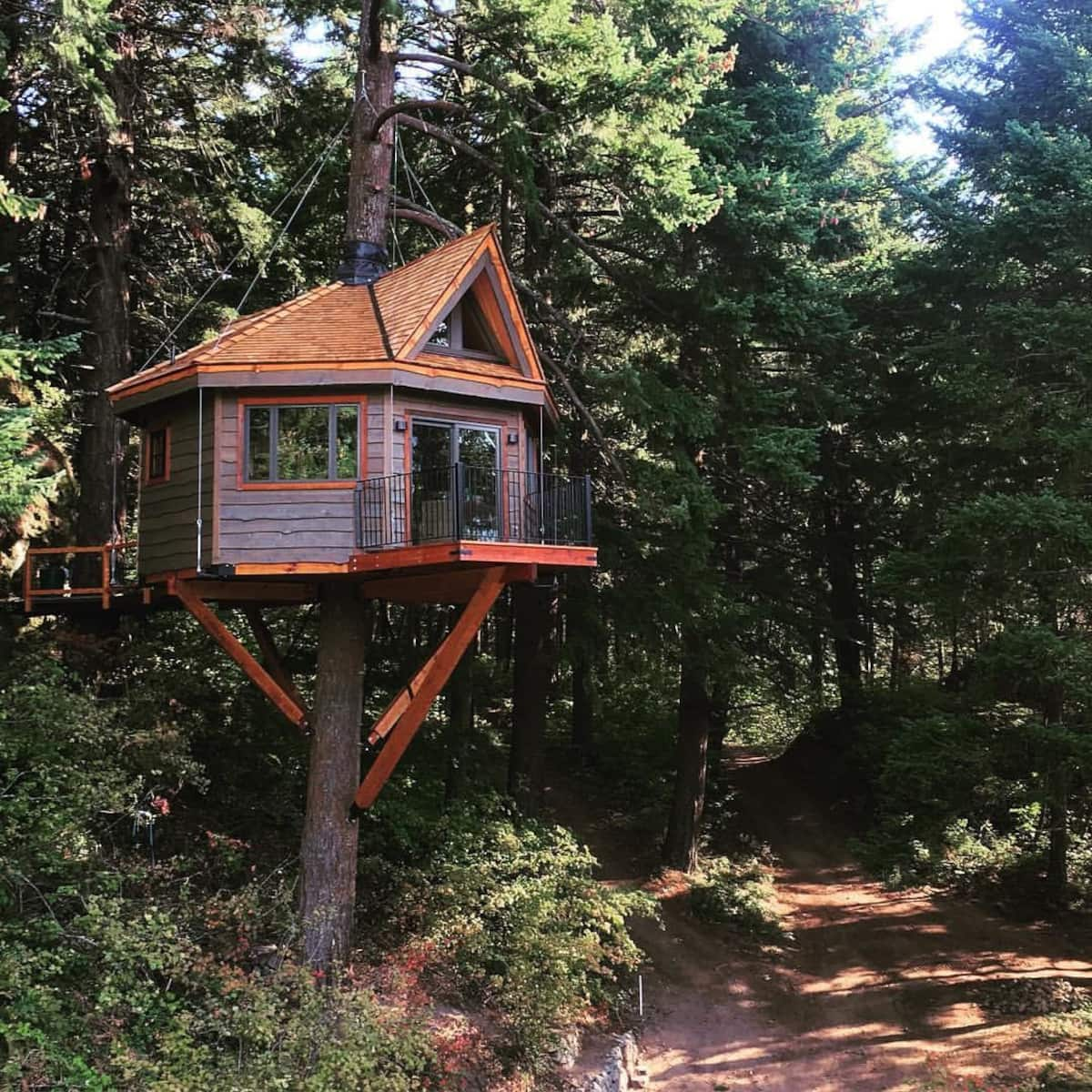 Nestled in the trees and 30 acres of waterfront property, the Osprey Treehouse is a gravity-defying on the Washington border.
The treehouse was built around a single grand old Douglas fir with a 42″ diameter! There are huge windows and a sliding door that will allow you to let the outside in and make you feel like you're really up in the trees (or with the Ospreys!).
Location: Stevenson, Washington
Sleeps: 2 guests
Artistic and Whimsical Treehouse by the Beach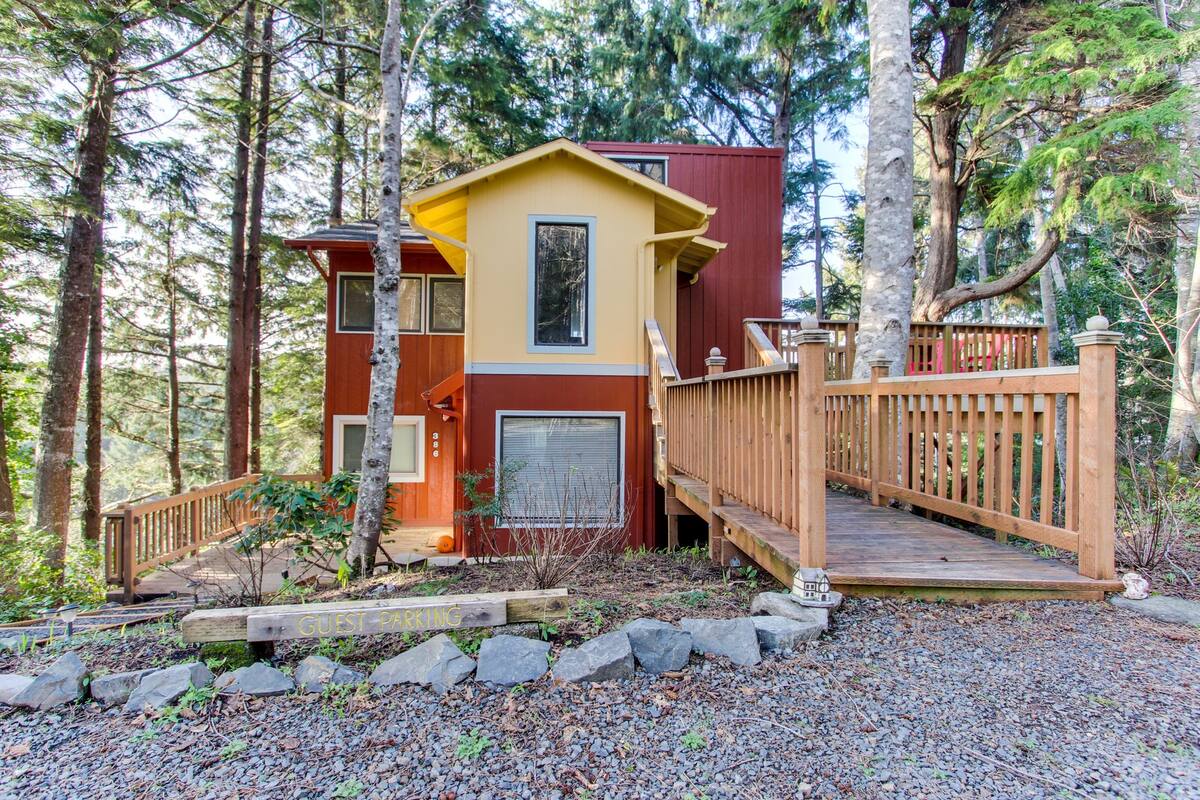 Just a 10-minute walk from the beach, this cool Cannon Beach treehouse was featured on the HGTV show "Beachfront Bargain Hunt" and is a perfect place for a couple's weekend getaway in Oregon.
With a whimsical, laid-back vibe and ocean views, this stunning Artistic and Whimsical Treehouse by the Beach in Oregon is one of the most popular tree houses in Oregon.
Staying here, you're away from the crowds, but only four blocks from Sleepy Monk for coffee and pastries in the morning, art galleries for afternoon browsing, and just a few steps further to the beach and views of iconic Haystack Rock.
Location: Cannon Beach, Oregon
Sleeps: 4
Tabor Treehouse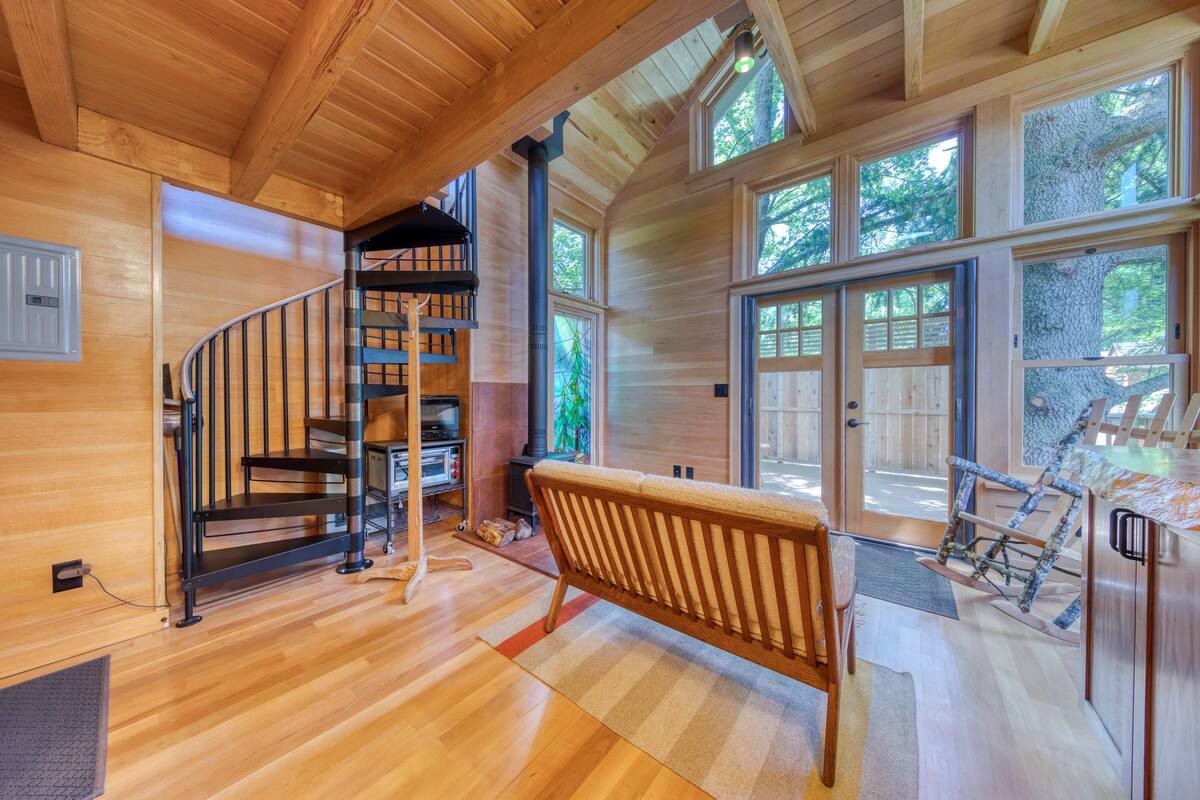 Live above it all at this one-of-a-kind Portland treehouse! The Tabor Treehouse has a wood stove, and cozy, modern furnishings. Enjoy the surrounding nature, spend a warm summer evening on the deck and just take some time out to relax!
Location: Portland, Oregon
Sleeps: 2 guests
Summit Prairie Lookout Tower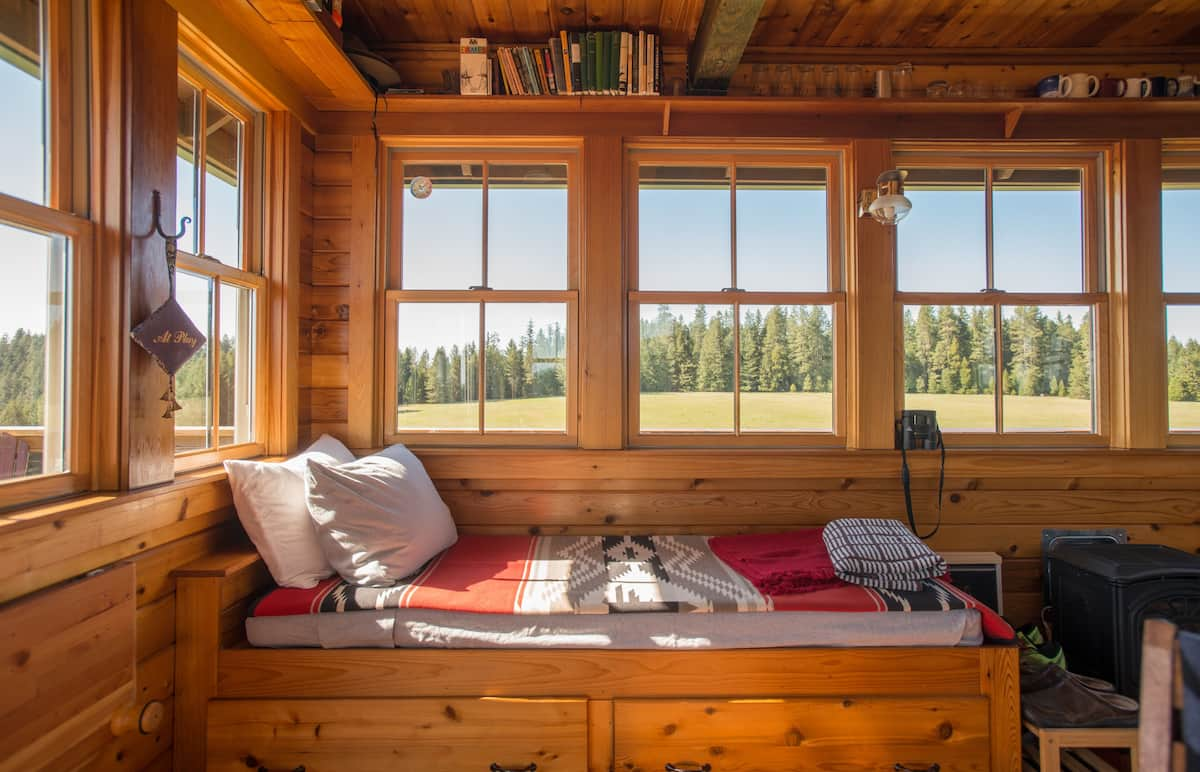 This lookout tower treehouse in Oregon's Umpqua National Forest books up almost instantly. An entire year's booking window has been known to get booked up in 2 minutes at Summit Prairie Lookout Tower!
Bookings are open from late March to mid-November and you'll have to be prepared to book and stay in the know to secure your stay. If you do get a booking you'll get to experience this unique Oregon treehouse.
The treehouse is modelled after fire lookout towers that were built by the US Forest Service. Unlike those towers today, this has a full kitchen, an outside shower a toilet and running hot water.
Day-dream in the hammocks, or relax in a secluded wood-fired, spring-fed hot tub while gazing at the view.
Location: Tiller, Oregon
Sleeps: 4
Eagles nest Tree House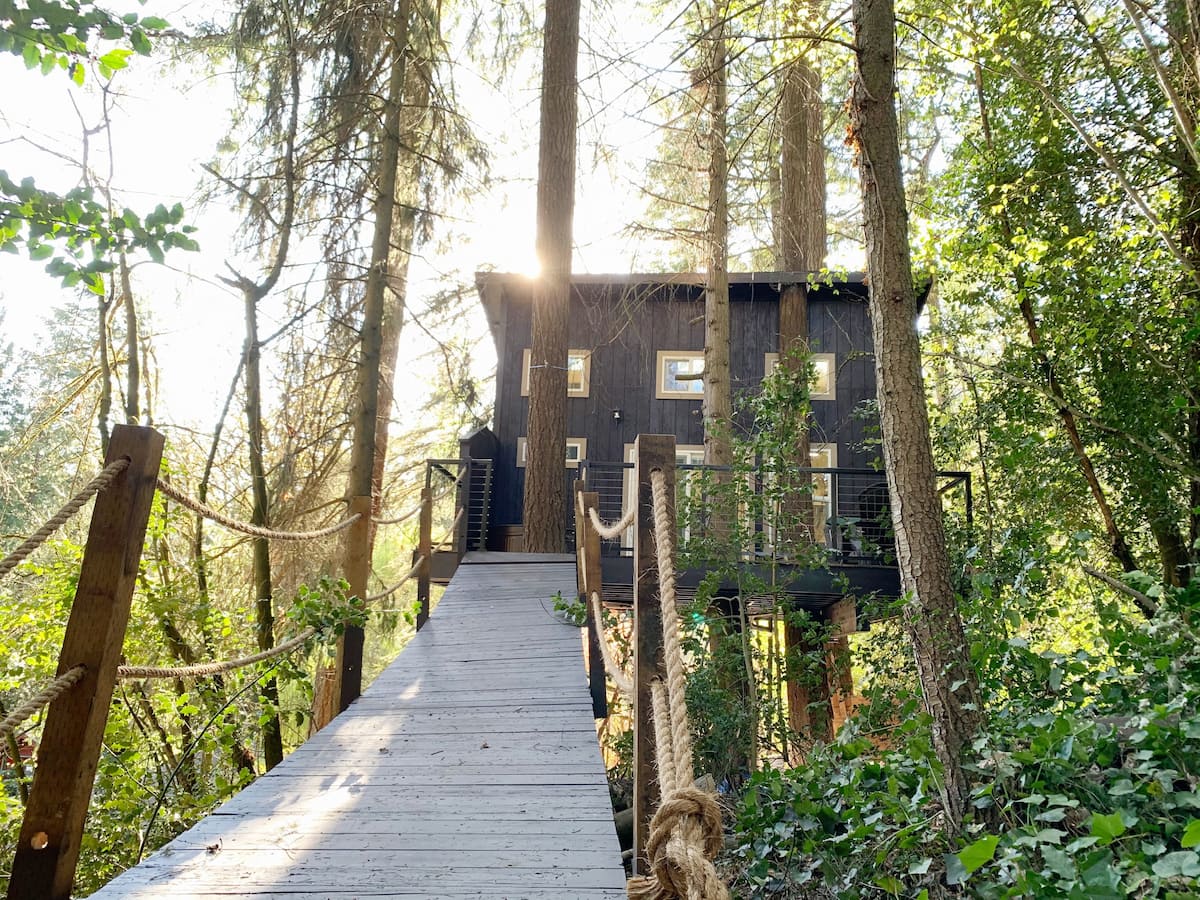 Let the kid in you come and play at the Eagles Nest Treehouse just outside of downtown Portland.
Held up by four separate trees, this Oregon treehouse is 18 feet off the ground! Zip line (yes, really) down or chill out in the giant soaking "hot tub," no chemicals so you don't have to rinse off getting in. Enjoy a magical stroll through the woods to a suspension bridge or swing in the large hammock.
Location: Portland, Oregon
Sleeps: 6
So now that you're familiar with some of the best tree houses for rent in Oregon, which one will you be picking?