There are plenty of fun things to do in Cleveland in the winter. Whereas previously you may have asked "What is there to do in Cleveland, Ohio?" nowadays the list of Cleveland attractions is almost never-ending. Visitors during a Cleveland winter can gaze at modern art inside a turn-of-the-century transformer station or listen to an orchestra perform live inside a local hot dog joint! And that's just a couple of unique things to do in Cleveland, Ohio! It doesn't matter what time of year you visit, as Cleveland has plenty to offer, even in the depths of winter.
Cleveland might have a working-class history, but in recent years, the city has gone through something of a transformation. Since its days as a manufacturing centre at the turn of the 20th century, Cleveland has worked hard to show that grit and sophistication can go together. The city has cleaned up its river and built some top Cleveland, Ohio attractions. See why I think Cleveland is one of the best places to visit in Ohio in winter!
How much snow in a Cleveland winter?
Annually, Cleveland gets about 60 inches of snow! Most of the snow on the main routes throughout the city is cleared of snow quickly. Chances are if you're visiting Cleveland in winter it's going to be snowy. This is the same for most cities in Ohio so if you're worried about there being limited things to do in Ohio in winter then don't worry!
Fun things to do in Cleveland, Ohio in winter
Tobogganing in the Mill Stream Run Reservation

Image via Flickr by EDrost88
You might associate tobogganing with childhood, but it's time to see this activity differently. This is one of the most fun winter things to do in Cleveland in winter!
The toboggan run at The Chalet in the Mill has two 1,000-foot refrigerated ice chutes that run with or without snow. They stay open throughout winter, from November to mid-March. These are the only public toboggan chutes in all of Ohio, so make sure you stop by when staying in Cleveland in winter.
A single trip costs $6, or you can buy a day pass for $12 per person. Shooting down these runs is sure to make you scream with laughter!
Snowshoeing at Penitentiary Glen Reservation
When it comes to winter activities in Ohio, all you really need are some snowshoes. Hitting the trails with snowshoes is one of my favourite Ohio winter activities for sure.
Just 30 minutes outside the centre of Cleveland is Penitentiary Glen Reserve, where you can explore almost 7 miles of snowshoeing trails. There are trails for people of all ability levels, and the Peppermint Trail is the easiest, at just under a quarter-mile long. Rent your shoes from Chapin Forest or bring your own, and you'll be good to go.
Play some pinball
Another of the fun things to do in Ohio during winter is to head inside to a unique Cleveland venue.
For fun in Cleveland opt for this great Cleveland activity is to head to a pinball venue. There are themed ones, obscure ones and just plain fun ones. Head to Superelectric Pinball Parlor for a pinball filled evening.
Visit the Christmas Story house
Visiting near Christmas and looking for Christmas things to do in Cleveland? Check out this idea for things to do in Cleveland during winter.
The Christmas Story house is the actual house from the film A Christmas Story and it's become one of the best things to see in Cleveland. It's open all year round too.
Outdoor Ice Skating
Ice skating outdoors always tends to be more enjoyable than skating indoors and it's one of the top winter activities in Cleveland. So, if you're heading to Cleveland this winter, then make sure you get the full ice skating experience by heading to the outdoor ice rink at Wade Oval. Ice skating is one of the more romantic things to do in Cleveland, so great for a date!
Admission is just $2, and you can rent skates for $3. This rink is open until the middle of February.
Alpine Valley Ski Resort
Didn't know skiing was one of the things to do near Cleveland, Ohio? Well, it is! Add it to your list of things to do in Cleveland this winter.
Ten miles outside of Cleveland is Alpine Valley Ski Resort, which takes the average ski lodge to a whole new level. Thanks to the park's snow cannons, the resort is covered in white powder all winter, whether or not it's snowed.
You can enjoy downhill skiing and snowboarding on open slopes and wooded trails. If you dare, visit the XTreme park, which is home to Ohio's largest half-pipe and a rail trail.
Feast on doughnuts and beer
Need more Cleveland, Ohio things to do suggestions? Make your way to Brewnuts in Gordon Square (one of the coolest places in Cleveland) and enjoy doughnuts AND bacon. Festive flavours include maple bacon; yum! Honestly, eating has to be one of the best fun winter activities in Ohio and Cleveland.
Visit Brite Winter Festival
One of the top festivals in Cleveland is on every year and showcases music from the best local and regional bands.
Sure, it might be cold at Brite Winter Festival, but no one seems to care. Bundle up, grab a warm beverage, and stand by the fire while enjoying the tunes. This year promises to be one of the best, so don't miss it.
Go on a hike
Cleveland isn't know as the Forest City for no reason. Cleveland Metroparks are great for exploring. Try Rocky River Reservation, Edgewater Park, and Squire's Castle at the North Chagrin Reservation for some Cleveland sightseeing.
Indulge in Fondue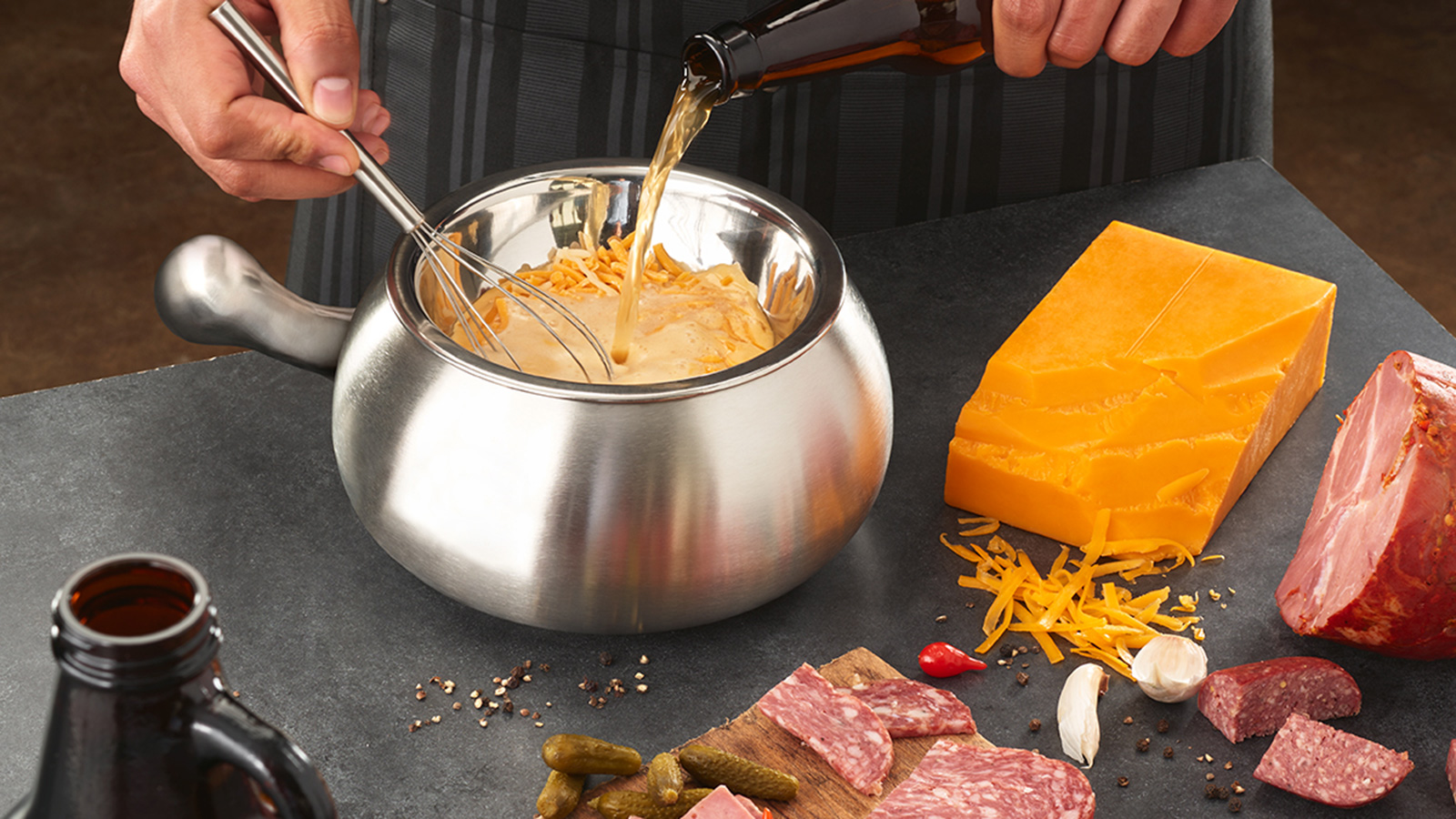 When the weather outside is too cold for you to bear, then head toward the Melting Pot for a warming fondue. There's nothing quite like filling your belly with melted cheese and it's such a great addition to things to do in Cleveland during the winter to warm you up. Make sure this is amongst the stuff you do in Cleveland.
Watch the Cleveland Cavaliers
Whether or not you're a basketball fan, you'll want to catch a Cleveland Cavaliers game since its one of the best regular Cleveland, Ohio events. In addition to the star-studded roster, there's an in-game show and plenty of culinary classics to enjoy inside the arena. The team still has several home games to play this season, so make sure you nab some tickets this winter.
Head to the Cleveland Museum of Art
Warm up inside the Cleveland Museum of Art. This art museum was recently ranked one of the best in America. Admission is free and once a month you can enjoy live music in the Ames Atrium at MIX parties ($10).
Enjoy jazz in Cleveland
Some of Cleveland's best bars are jazz bars and make for pretty cool stuff to do in Cleveland. Head to Speakeasy in Cleveland Heights for Prohibition-era atmosphere. There's a secret entrance and delicious cocktails, what more could you need? However, if you do need more then make your way over to Velvet Tango Room where you can hear live jazz and drink awesome cocktails.
Ride the Cuyahoga Valley Scenic Railway
All aboard the Cuyahoga Valley Scenic Railway, which winds through 33,000 acres of the Cuyahoga Valley National Park. A ride on this train is one of the top things to do in Cleveland and this park is the 11th most visited national park in America. The 12,000-year-old forest is bound to impress so make sure it's on your list of things to see in Ohio.
Lookout at the scenery while staying warm inside or take a themed trip where you can play murder mysteries on board, taste local beers, or enjoy a hearty brunch.
Walkthrough the new Public Square
If you're looking for things to do in downtown Cleveland then look no further than the brand new Public Square. This new are is one of the new Cleveland points of interest and has been a part of the city since 1796. In 2016 it received a big revamp by the same guy that created New York City's High Line. Grab a warm drink and do a spot of people watching.
Take a spooky tour of the city
One of the best free things to do in Cleveland is to take a spooky tour. There's lots of spooky Cleveland things to do. Head to the Buckland Museum of Witchcraft or head to Franklin Castle. There's also the House of Wills owned by the Church of Satan!
Watch a cult classic in a cool Cleveland cinema
Still looking for what to do in Cleveland in winter? One of the best answers to the question "what to do in Cleveland, Ohio' is head to Cleveland Cinema! This cinema has kept the old school theatre alive and shows everything from arty indies to blockbusters. You can also catch some midnight and late-night cult classics screening at these cinemas. Oh and enjoy a beer while you watch too! Catching a film here is one of the best things to do in Cleveland whatever the weather.
Where to stay in Cleveland
If you're looking for a Cleveland hotel then check out these suggestions for hotels in Cleveland to suit every budget.