Mention the word "poutine" to someone who hasn't been to Quebec in Canada and you'll probably hear "poo-what?!". What is this poutine people are speaking of? Poutine is the signature dish of Canada's Quebec region and is a point of culinary pride. It's been over 50 years since poutine first made its way in to the stomachs of hungry diners and restaurants through Quebec and Canada are still finding ways to create original recipes.
But what exactly is poutine? Where does it come from and, most importantly, where should you eat it? Well I'm here to help you out a little bit.
What is poutine?
A traditional poutine is a dish consisting of fries, cheese curds and brown gravy. Sometimes you'll see it with other toppings such as; sliced hot dogs, vegetables, pulled port or even lobster if you're going somewhere a bit fancier!
It's pretty much the Canadian version of cheesy chips with gravy which are popular with university students after a night out. For anyone that happened to go to Warwick University then just think of it as a nicer version of the cheesy chips from Viallis in Leamington Spa!
What are cheese curds? They're little chunks of white cheese that have a squeaky, rubbery texture (a little bit like halloumi but squidgier). They tend to be the bits that don't quite go into the mould when a block of cheddar is being made. They don't sound that great but they work perfectly with poutine!
Sure, it's far from healthy but you simply can't not try it!
Where did poutine come from?
There isn't really one straight answer to this question although most will agree that the dish started in the Quebec region. Some say it was invented in the Bois Francs area of Quebec in the 1950s or 1960s. Others say it came to light in Warwick or Drummondville; both in Quebec.
One story cited in several places is that a trucker asked a restauranteur, Fernand Lachance, to add cheese curds to his fried back in 1957. Fernand exclaimed "It will make a damn mess!", hence the name "poutine" which is Quebec slang for "a mess".
What makes a good poutine?
The ideal poutine should have perfectly crispy chips that are fluffy on the inside and squeaky, cheddar cheese curds. The curds should be throughout the poutine and not just dumped on top and, in my opinion, they should melt a little.
The gravy is what can make or break a poutine and the best ones serve their gravy not too hot so as to disintegrate the chips, nor too cold so as to make everything else cold (a bit Goldilocks, I know). It shouldn't be too watery, nor too think. Just a nice meaty, or veggies, flavoured gravy.
Where can I get my hands on some poutine?
You can find poutine in shacks, food trucks, fast food outlets and fancier restaurants all over the Quebec region and most cities in Canada.
If you're going to do things properly though, you've really got to try your first one in Quebec. Apparently the best ones are outside of Montreal but I reckon you'll find some pretty good ones in Montreal too.
The best poutine outside of Montreal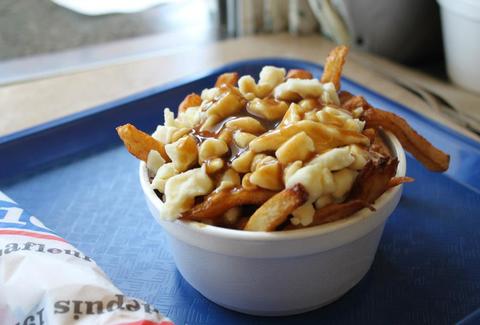 Patate Mallette: Patate Mallette is a small eatery in Beauharnois which has gained a reputation for some of the best poutine in Quebec. It's managed to uphold this reputation since it opened in 1956 so you know it's gotta be good! Only downside is that it's closed during the winter so time your visit in the summer.
Details: 41 Rue Saint Laurent, Beauharnois
Le Roy Jucep: Some people claim that Le Roy Jucep is the birthplace of poutine. While this is arguable, the diner definitely lives up to the legend and serves up a delicious poutine with a sweet gravy that is loved by regulars.
Details: 1050 Boulevard Saint-Joseph, Drummondville
Casse-Croute Du Vieux-Moulin: Cheese lovers know there's nothing better than more cheese on any dish. Casse-Croute Du Vieux-Moulin serves an epic amount of cheese curds on every single poutine so you'll never be short on cheese here. The gravy is said to be like a tangy BBQ sauce which some love.
Details: 240 Rue Dupont, Pont-Rouge, QC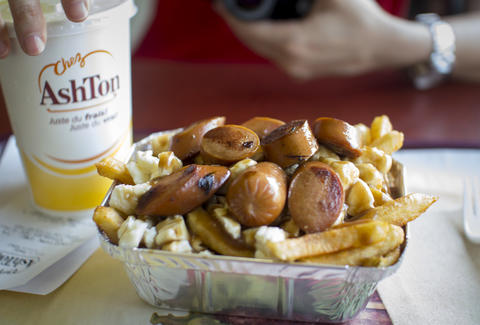 Chez Ashton: Chez Ashton is a popular chain that you'll find in most cities and towns throughout Quebec. There are several in Quebec City alone.
It's nothing fancy but it's reliable and makes a great place for a late night bite after a few drinks. If you want to kick things up a notch opt for spicy sauce and throw on some sausage too!
Details: Various incl. 1540, Route des Rivières, Saint-Nicolas QC
Le Chic Shack: Le Chic Shack is there for you when you want to go a little bit more upmarket, but still get your chops round some comforting poutine.
They make their poutine with large potato wedges rather than chips and toppings include such delights as; braised beef in red wine, parmesan, cheese curds and horseradish aioli or wild mushroom ragout with parmesan, curds and shallots.
Details: 15 Rue du Fort, Ville de Québec, QC
Best poutine eateries in Montreal
Poutineville: Trendy looking chain Poutineville has branches in Quebec City as well as Montreal and offers you the chance to get inventive and make your own, or try one of their creations. They specialise in 'crushed potatoes' which are basically fried potatoes rather than regular cut chips.
They have monthly specials such as a Mexican poutine with guacamole, or you can add pretty much anything from sweetcorn to courgette or Italian sausage to blue cheese.
We went to Poutineville during our stay in Montreal and I tucked into a plate of tasty poutine with sweetcorn and hot dog – sounds weird, tastes great.
Details: 348 Beaubien East & 1365 Rue Ontario East
Garde Manger: The head chef at Garde Manger, Chuck Hughes, loves lobster so much that he even has one tattooed on his arm. He even added lobster to his poutine and it's this dish that won him Iron Chef America in 2011. Foodies around the world apparently plan their trips to Montreal around the lobster poutine so you better add it to your list!
Details: 408 Saint-François-Xavier
La Banquise: One of the most classic poutine restaurants in Montreal is La Banquise. The restaurant is open 24/7 although most people tend to visit between 1am and 5am after some drinks! You can't go wrong here!
994 Rue Rachel East)
Details: 994 Rue Rachel E
Au Pied de Cochon: If you've got a bit of cash to splash then head to Au Pied de Cochon, a high end restaurant which adds foie gras to its poutine. It's every bit as delicious as you'd think, but it doesn't come cheap at $24 per portion!
Details: 536 Duluth East
Juke Box: Juke Box may be more of a burger joint but they also serve up some tasty sounding poutine. You can add some smoked meat, Philly steak or Buffalo chicken to your poutine here. PLUS they put poutine in one of their mouth watering burgers.
Details: 11798 Boulevard de Salaberry
Want more Quebec adventures & travel ideas?