This post may contain affiliate links. This means that if you click an affiliate link and buy something, that website will give me a tiny bit of money to say thanks for sending you to them. There is NO extra cost to you at all.
Tokyo: unique style, impressive architecture and world renowned cuisine. Tokyo is on many traveller's bucket lists. This busy and bustling city is an eclectic mix of historic tradition and the ultra modern.
Stunning pink cherry blossoms, towering skyscrapers, classic and traditional temples and large public gardens. Despite being a hectic city at times, Tokyo offers areas for quiet contemplation amid the chaotic crowds and noisy streets.
While visiting Tokyo there is one thing you can be sure of; your taste buds will be delighted! The food offerings are plentiful, cultural and innovative. From Sushi to Ramen, Tokyo offers a wide range of traditional Japanese cuisine, and has been influenced international cuisine too.
Looking for the best way to explore the Tokyo food scene, with the help of a knowledgeable guide who will help you order and recommend the best things to taste? Check out Tourist Japan, and their Tokyo Food Tour which will introduce you to some of the best bites in Tokyo. It runs everyday and perfectly combines street food, hip bars and traditional eateries with an affordable price point.
Where to eat in Tokyo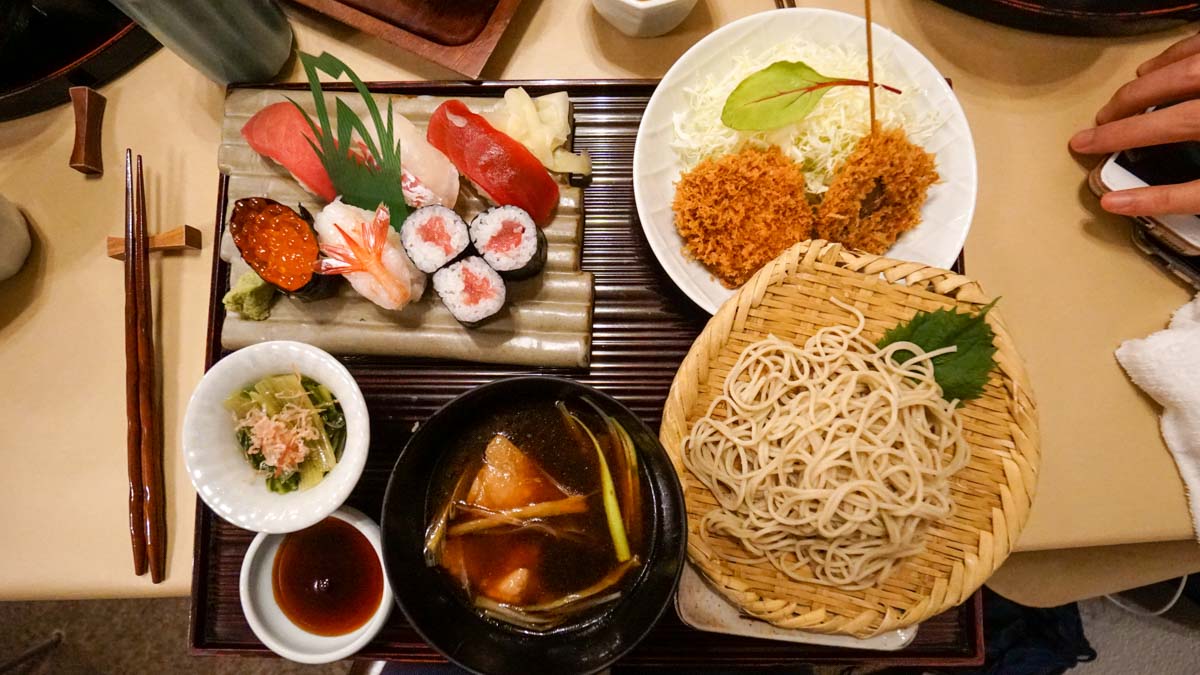 If you're looking for some inspiration on where to eat in Tokyo, make sure to check out these places.
Cheap eats in Tokyo
Eating street food is one of the best ways to indulge in the local cuisine and satisfy your appetite on a budget. The choice is endless but here are a few things you must taste while exploring Tokyo:
Croquettes
Head to Togoshi Ginza Shotengai; a 1.3 km long shopping street is filled with shops and many tasty street food treats. Be sure to come hungry and taste croquettes, known in Japan as 'Korokke'.
There are many varieties and it's fun to sample them all (or as many as you can!). Korokke can be filled with meat, vegetables or seafood or some form of potato. It's usually in a flat shape and coated in Japanese style breadcrumbs then deep fried to perfection. Korokke are delicious!
At Nakamura Tadeshi Shoten, you will find a classic, creamy potato croquette, while at Oden Croquette down the street, you will taste a different variety, filled with Oden – which is a traditional hot pot dish. Taste as many as you can and compare to try and your favorite.
Cheese Hanpen
Also in Shotengai are cheese hanpen. This is a Japanese fish cake, filled with melted cheese. This might seem like a strange pairing but it makes for the perfect snack!
Xiaolongbao
For a something a little lighter, try a particular style of dumpling, known as xiaolongbao. Usually these are steamed in a bamboo basket and stuffed with meat such as minced pork or vegetables. These delicious bites are very satisfying but make sure you leave room for a few different varieties. In the Togoshi Ginza, you will find some excellent xiaolongbao at Ryuuki
International foods
Another area to visit is the Ameya Yokocho. This is a flea market under the railway tracks near Okachimachi Station.
Directly under these raised tracks, this open-air market offers not just Japanese treats, but an international selection including Thai and Turkish foods. You'll find excellent and cheap fresh fruit, in case you need a light snack as well as Seafood bowls, or Korean street food.
Sweet treats
To satisfy your sweet tooth, visit the Instagram famous Totti Candy Factory. You will see why these treats are so Instagrammable, the bright pink and oversized cotton candy are sure to satisfy.
For the Vegan Foodie in Tokyo
While much of Japanese cuisine is centered around seafood and meat, there are many wonderful options for those vegan travelers looking to enjoy plant-based delicacies.
Cori (previously called Commune246)
This is a noteworthy vegan restaurant offering traditional Japanese style dishes with international influences. Cori is an excellent option for non-vegans too. Some of the vegan broths are so flavourful, a meat eater may not even detect the difference!
Deva Deva Cafe
Near Inokashira Park you'll find the sweet vegetarian restaurant Deva Deva Cafe. This cafe serves up fresh flavors, and burgers suited to satisfy vegans and meateaters alike.
Traditional Japanese Deliciousness – Sushi and Sake
Every visitor to Japan has to give sushi a try. The list of sushi options is endless. You can grab cheap quick bites, or sit for a lengthy meal over countless bottles of Sake. It's a controversial debate among foodies where are the best sushi options in Tokyo, so here are just a few of the upscale Sushi options to debate about and taste.
Sushi Yoshitake: in the Ginza District
Harutaka: be sure to make reservations in advance
Sushi Iwa:  excellent lunch option
Sawada: small in size but big in flavour
Other must try bites in Tokyo
Wagu Beef: this thinly cut meat and served with piping hot broth and vegetables, this meat will dazzle your tastebuds. Check out Kisoji Shinjuku
Japanese Tea: Sit back relax, shoes off, and indulge in the unique experience of a traditional Japanese Tea. The taste is fresh, and can be strong or subtle. Visiting the Hamarikyu Gardens will certainly not disappoint
Ramen: the slurpy noodle bowl that heals your soul, and can be dressed up any number of ways, the options in Tokyo are plentiful. A few noteworthy options include Mugitooribu, Ramen Yamaguchi and Kokaibo
Chicken Karaage: a Japanese cooking technique in which the meat is fried in oil. Usually chicken, but other meat can be done, this mouth-watering treat and sometimes also have a light batter, similar to tempura. Think Japanese fried chicken and visit Karaage Kotobukiya