This post may contain affiliate links. This means that if you click an affiliate link and buy something, that website will give me a tiny bit of money to say thanks for sending you to them. There is NO extra cost to you at all.
Our world is a wonderful place but it's also a bit of a strange place at times. Visit another country on any given day and you may just stumble across a devil dance, a cheese race or the Saints' race. Wondering what I'm talking about or how much coffee I've had to drink today? Believe me, those are all real events and they're not even the strangest festivals in the world either. To find out more about the world's craziest festivals and how you can celebrate them, read on.
Devil Dance, Bolivia
Bolivia's largest annual celebration', Dance of the Devils' (La Diablada), is an extraordinary procession that takes place on the Saturday before Ash Wednesday every year. The dance features 20,000 dancers and 10,000 musicians who tell the story of the battle between good and evil.
Cheer on the Iditarod, USA
This is an amazing endurance event lasting about 10 days from 7th March. This strange festival has been happening since 1973.
It's a 1850km long race along the Iditarod National Trail from Anchorage to Nome and puts mushers (and their huskies) to the test.
Show your support from the start or finish line, the braver amongst you may even try and follow the route!
Walpurgisnacht, Germany
Local mythology has it that witches and warlocks gathered on Walpurgisnacht in the Harz mountains and then flew off to the 1142m high Brocken on broomsticks or goats where they recount tales of the year's evil deeds.
To experience for yourselves head to Thale and dance round fires with others dressed as witches on 30th April.
Saints' Race at Corsa dei Ceri, Italy
In the Italian region of Umbria hundreds gather to commemorate the patron saint in this strongman competition.
Three teams race through the streets carrying pillars weighing 400kg representing three rival saints. They run up the steep slope towards Basilica St Ubaldo.
Cheese Racing, England
Cheese racing? This bizarre yearly event takes place on the Spring bank holiday in the UK. Mad men and women climb to the top of a hill and race after a 7lb circle of Double Gloucester cheese.
The event is so much about running as it is falling and tumbling. Expect plenty of injuries if you're taking part.
Baby Jumping Festival, Spain
In early June every year, grown men dress up in red and yellow costumes and leap over babies.
This tradition has been happening since 1620 and the men represent the devil. When the devil leaps over the baby all evil follows the devil and is cleansed from the babies.
Stampede, Canada
The first Friday in July in Calgary, AB sees the beginning of a whole host of rodeo events. World class Cowboys are invited to take part and spectators can take part in festivities around the arena.
Wife Carrying, Finland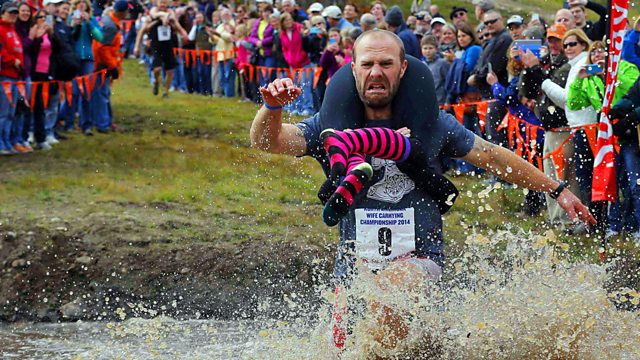 This custom has its roots in pillaging neighbouring villages for womenfolk. Nowadays men and women can take part in the 253.5m long course which includes sand, grass, gravel, obstacles and a section of water. The wife must be aged 17+ and weigh over 49kg.
Winners receive the woman's weight in beer. Worth a shot, hey?
Turnip Festival, Switzerland
In Richterswil the second Saturday in November is dedicated to the turnip. A vegetable that doesn't usually gain much attention has a whole festival in its honour.
26 tonnes of turnips are carved into elephants, flowers and other fantastic shapes for the parade.
There are also 50,000 candles and 10,000 latter a used to make this bizarre festival more atmospheric. Maybe we should give this root veg a second chance?
National Toilet Day, Worldwide
It seems there really is a national day for pretty much everything. At least National Toilet Day (3rd November) has an important message behind it. The World Toilet Organisation is dedicated to lobbying governments across the World to improve sanitation. Perhaps the best place to celebrate the day is in New Delhi's Sulabh International Museum of toilets.
International Hair Freezing Contest, Canada
Up in the Yukon, an area known for its chilly temperatures in Canada, is the International Hair Freezing Contest. This festival happens every February at the Takhini Hot Pools and sees contestants dip their heads in the hot water and then create frosty hairdos by shaping their hair before it freezes in the open air.
Temperatures in the area can reach below -30° Celsius during this contest. Winners win a small amount of money and bragging rights.
Monkey Buffet Festival, Thailand
The monkeys living in Lopburi in Thailand are lucky as every November the locals throw a buffet festival for them!
There are about 2,000-3,000 monkeys in the Lopburi Province north of Bangkok and they're gifted with a feast of 4,000 kilograms of fruits, vegetables, cakes, and candies during this festival.
After they're fed, they're treated to dance performances too. The festival first happened in 1989, run by a local businessman who thought of this unique way to drive up tourism in Lopburi. Luckily for him and the monkeys, it worked.
World Toe Wrestling Championships, England
The location of the World Toe Wrestling Championships changes but it first happened in Wetton in Staffordshire in the 1970s.
It came from a desire for the UK to have its own championship in some type of sport. In this toe wrestling event it's the best of three and players can only take part in the tournament after a thorough toe examination by a qualified nurse.
World Bog Snorkeling Championships, Wales, UK
I bet you've never tried bog snorkeling which originated as a sport in Llanwrtyd Wells in 1976. The annual August championship has been running since 1985 at Waen Rhydd bog.
Participants are armed with a snorkel and flippers, participants must do 2 consecutive lengths in a 60-yard trench of water cut through a peat bog. They must use only their flippers to push them through. Hundreds travel to Wales from around the world to take part in one of the world's craziest festivals.
Air Guitar World Championship, Finland
What started as a joke has turned into a serious draw for the Oulu Music Video Festival. The Air Guitar World Championships started in 1996 and has become one of the highlights.
You must play air guitar on stage in 2 rounds with each lasting at least 1 minute (one song is chosen by the participant and one by the organiser). You're then given a score out of 6.0.
Underwater Music Festival, Florida
The Underwater Music Festival has been running for 31 years and a local radio station sponsors the event to promote environmental sustainability and responsible diving.
During the event participants play their sea-themed music underwater through speakers that are suspended under boats situated above the reef. You should also wear costumes and play "underwater instruments" to compete for prizes.
Yorkshire Pudding Boat Race, England
The Yorkshire Puddings at this festival in Yorkshire are made especially for racing across Bob Pond's in the village of Brawby. To reduce sogginess, the giant Yorkshire puds are first coated in yacht varnish.
Gilroy Garlic Festival, California
The Gilroy Garlic Festival in California is the largest, and arguably smelliest, food festival in the world. Make sure you try the free garlic ice cream and maybe don't go here on a date…