This post may contain affiliate links. This means that if you click an affiliate link and buy something, that website will give me a tiny bit of money to say thanks for sending you to them. There is NO extra cost to you at all.
If you've never been to London before then Borough Market should be on your list of places to visit. It's a bustling market filled with stalls selling produce from all over the UK and beyond. It's London's most well known market and, because of that, it's also super busy (especially around lunchtime!). However, don't let that put you off visiting Borough Market. To help you get the most out of your trip, I've put together this guide to Borough Market. Go hungry, and enjoy!
What is Borough Market?
Unsurprisingly, Borough Market is a big market. It's London's oldest food market and has been around for over a thousand years; just not always in the same form! The revival of artisan food in the 1990's helped transform Borough Market into the bustling place it is today. Nowadays it's not just the UK's best known market but one of the most famous food markets in the world!
The market is a owned by a charitable trust and prides itself on a commitment to transparency in food production and works with the Slow Food movement. Borough Market also aims to be as environmentally friendly as possible.
Where is Borough Market?
Borough Market is in the Southwark area of London. It's pretty much opposite the Shard and borders the Thames. It's a great area to explore with The Hinde ship, Clink Prison Museum and Shakespeare's Globe all within walking distance.
How to get to Borough Market
The best way to get to Borough Market is to take The London Underground to London Bridge. London Bridge is on the Northern and Jubilee lines as well as mainland rail. The market is signposted from this station.
There is no customer parking at Borough Market. It's also worth noting that Borough Market is located in the congestion zone of London where you'll have to pay extra in advance to drive here. There's not really much point to driving in London as public transport is really good.
What are the best stalls at Borough Market?
That really depends on what type of food you like, but here's some suggestions to get you started. Just remember, the best way to experience Borough Market is walks, smells, taste and talk to the producers!
Bread Ahead
Bread Ahead are famous for their delicious doughnuts! They're packed with filling and often topped with something tasty too. My parents bought myself and Thom a doughnut cookery class there a few years ago and it was a great experience.
They also make great bread to buy and take home with you too.
Rabot 1745
Rabot 1745 is another firm favourite with sweet tooths. It's a restaurant, bar and shop dedicated to cocoa and every dish on their restaurant menu uses cacao beans for both savoury and sweet purposes. If you just want to sample something quickly then opt for a rich hot chocolate.
Spice Mountain
Spice Mountain is home to over 100 herbs, spices and blends. It's owned by Magali Russie who sources her spices from all over the world include Goa and Kerala in India, Mauritius and Spain. You'll find some super rare spices here so it's a great place to come if you've been trying to track down a spice for a recipe you want to make!
The Flour Station
At The Flour Station you'll be able to buy sourdough breads, cakes and pastries. They're all handmade using traditional techniques and natural ingredients.
The Flour Station actually began in Jamie Oliver's Fifteen restaurant and came to Borough Market back in 2004
The Ginger Pig
The Ginger Pig has three farms in Yorkshire which are home to some British rare breed animals. They're all reared outdoors and the meat sold here covers all cuts with offal turned into pies and sausages so that nothing is wasted!
Neal's Yard Dairy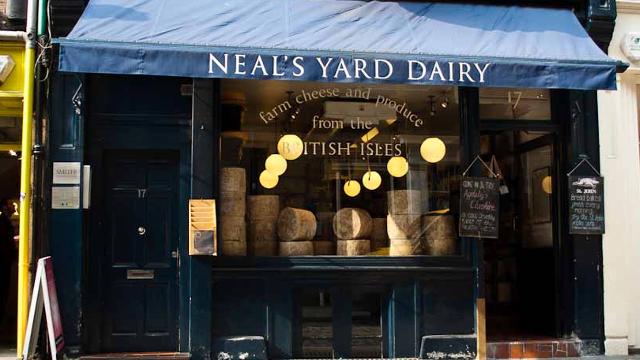 Founded in 1979, Neal's Yard Dairy was one of the first retailers to set up in the empty warehouse spaces around Borough Market in the '90s. Cheeses sold here are sourced from around 70 specialist cheesemakers in the UK and Ireland and many are aged in nearby Bermondsey.
Kappacasein
Another popular cheese producer is Kappacasein. The Ogleshield cheese is made in Bermondsey and has one of the best smells to it. It works great as a raclette cheese with potatoes, gherkins, pickled onions and some charcuterie.
Brindisa
Brindisa was one of the first places to start introducing high quality Spanish ingredients to the UK. Here you'll find world famous ibérico bellota ham and manchego cheese. If you're visiting Borough Market around lunchtime make sure to get a hot chorizo and rocket roll from outside the shop!
Cool Chile Co
Cool Chile Co has all you need to create a delicious Mexican dish at home. There are herbs, spices, corn and dried chillies which are usually pretty difficult to find in London! You can also get preservative and gluten-free corn tortillas at Cool Chile Co as well as authentic Mexican sauces like mole, all freshly made in north London.
Gastronomica
Gastronomica arrived in Borough Market in 2000 with the aim of importing only the finest quality ingredients from Italy. At Gastronomica you'll be able to buy pulses, sauces, jam, mustard, balsamic vinegar, charcuterie and cheese from all over Italy.
Karaway Bakery
Karaway is a family run London bakery that specialises in rye bread. Using a long fermentation process and natural ingredients these loaves are some of the best you'll ever come across. You can also get more unusual types of loaf such as Lithuanian scalded rye and Russian borodinsky.
Gujarati Rasoi
If you love Indian cuisine then swing by Gujarati Rasoi where Urvesh Parvais and his mother, Lalita, recreate recipes that have been passed down through generations. Browse the range of cooking sauces, chutneys and chai spices and leave with plenty of new ingredients for your home cooking.
Monmouth Coffee
There's always a queue outside Monmouth Coffee. Personally I think you'll find a better coffee without the queue not too far away, but hey, it's popular for a reason, right?
Monmouth Coffee was one of the first retailers at Borough Market along with Neal's Yard. They import a range of single origin coffee beans from farms, estates and roast them in Bermondsey.
Horn OK Please
"Horn OK Please" is a slogan commonly found emblazoned across the back end of vehicles in India and the pair behind this stall are determined to bring the best of Indian vegetarian street food to Borough Market. Grab a lunch of moong dal dosa, aloo tikki chaat and pani puri the moment you get hungry.
Ethiopian Flavours
Ethiopian food is becoming more present throughout London and it's delicious. There's usually a queue at this stall but you'll soon know why once you've tasted missir, ye kik alich'a, gomen, fasolia or dubba.
Make sure to get your with an ingera. This is a spongy, sour, crepe-like bread that acts as both a platter and a wrap.
Portena
Porteña (meaning 'girl from Buenos Aires') sells traditional Argentine street food. Specialities include empanadas, yerba mate (a South American drink) and alfajores which are homemade biscuits filled with the stall's famously sweet and gooey dulce de leche.
Local Honey Man
The Local Honey Man is only open on Saturdays so make sure you visit Borough Market on a Saturday to try some pure, raw and local London and British honey. You can also buy fresh pollen granules here. You'll be surprised at just how many types of honey there are!
Elsey and Bent
One of Borough Market's bigger fruit and veg stalls is Elsey and Bent. You'll find a great selection of fresh, seasonal produce here and even if you don't need anything, go to gaze at the colours!
Butternut
If you're a nut butter lover then you'll love Butternut. It began at a home in Tooting, South London, and includes a range of nut butters including a cashew, maple and turmeric butter with many, many other varieties.
Alsop & Walker
Alsop and Walker are self taught cheesemakers. They use milk from a local farmer in Sussex (where they're from) to make their cheeses with the most successful being the Lord London. This is a semi-soft, cow's milk cheese which received a silver medal at the World Cheese Awards and ended up on the breakfast table at a royal wedding!
Tartufaia
Named after the Italian word for a woodland in which truffles are found, Tartufaia imports truffles from all over Italy. It's a great stall to visit as you can also smell the different truffles before you buy and find all kinds of truffle infused products.
When is Borough Market open?
Borough Market is open from Monday to Saturday all year round. However, on Monday's and Tuesdays not all the stores will be open. Therefore, Wednesday to Saturday are the best days to visit the market to get the full experience.
Stalls are open from 10am to 5pm Monday to Thursday, 10am to 6pm on Friday and 8am to 5pm on Saturday.
If you're visiting London over Christmas then Borough Market is open 7 days a week in December.
Tips for visiting Borough Market
If you can visit on a week day and just either side of lunch, then do. The market will be super busy on Saturday and also at lunchtimes during the week with workers nearby.
DID YOU KNOW?: If you're a fan of Bridget Jones you might recognise Borough Market as the area just outside Bridget's super nice flat!
Don't forget to check out the special events that go on throughout the year. I visited during Apple Day once and there's lots of extra things going on.
Go BEFORE you're hungry. That way you won't be annoyed if you have to queue at a stall before being fed.
Do at least one lap of the market trying samples and getting your bearings before choosing what to buy.
Take a canvas bag (or three) so you have plenty of space to carry all your foodie treats home.
Want more Borough Market posts?