Have you ever heard of Hay on Wye? If you're literary-minded the chances that you've heard of this town are pretty high. It's known as a book town in part due to the number of amazing bookshops there, but also because it hosts the Hay Festival, a literature and art festival that runs for 10 days at the end of May and early June. A few years ago I spent some time exploring Hay and have put together this Hay on Wye travel guide so you too can enjoy some of the best things to do in Hay on Wye.
On the border between England and Wales, Hay on Wye is known as the UK's top destination for bibliophiles the world over. It's a small town but, despite this, Hay on Wye is home to over 30 bookstores!
Given its location on the border, Hay on Wye is a bit easier to get to than Snowdonia, and as it's so close to the Brecon Beacons you don't have to compromise on outdoors adventures either. In my eye, this makes it pretty perfect for a weekend getaway.
The best things to do in Hay on Wye
Hay on Wye, or 'Hay', is a small market town with over 20 bookshops. For this reason, it's often described as the "town of books". It's the National Book Town of Wales and also hosts a very popular literature and arts festival every year.
Many of the bookshops at Hay on Wye sell specialist and second-hand books, with others also selling antiques too. If you're someone who loves exploring second-hand book stores (um, me), then you'll love travelling to Hay on Wye!
Where is Hay on Wye?
Hay on Wye is in Wales. More specifically it's in the county of Powys in Southern Wales. It's also very close to the England-Wales border and the beautiful Brecon Beacons National Park in Wales.
A bit easier to get to than Snowdonia National Park if you're coming from the south of England or London, a trip to Hay on Wye will not only provide the opportunity for adventure but culture too.
How to get to Hay on Wye
Hay on Wye is easy to reach from London and most major cities thanks to good public transport options.
Driving
When I visited, my parents drove to Hay on Wye. Directions obviously vary depending on where you're coming from. From London to Hay on Wye, the drive is roughly 3.5 hours depending on traffic. You'll take the M4 westbound towards Bristol and Newport and then head north towards Abergavenny and Hay on Wye.
If you need to rent a car for your weekend in Hay on Wye, check out RentalCars.com as they make it super easy to compare and find cheap car hire deals.
Trains
There's isn't a Hay on Wye train station, the nearest train station to Hay on Wye is Hereford. Trains run regularly between London and Hereford as well as other major cities.
Hereford is just over 20 miles away from Hay on Wye and, from there, you can catch a bus that will take you from Hereford to Hay on Wye.
During the Hay Festival, there are extra bus services put on to make getting to Hay on Wye from Hereford and other towns easier. You can find more information about getting to the Hay Festival here.
Try Omio.com to find great deals on rail tickets. And, if you're under 30, consider getting a railcard to save up to 1/3 on train fares for a whole year.
Bus
Getting the bus to Hereford often works out to be cheaper than getting the train. The bus leaves from London Victoria Coach Station and takes about 4.5 hours to get to Hereford.
Then you'll need to get the Hereford to Hay on Wye bus (T14 towards Brecon), which takes about 1 hour.
You can find great deals on bus tickets to Hereford from any major city here.
Where to stay in Hay on Wye
If you're planning to spend more than one day in Hay on Wye check out these cute cottages and Hay on Wye hotels for your literary-focused retreat.
This open plan lodge looks out on to picturesque Hay Bluff (see below) and has a log burner for cosy winter evenings as well as bicycle storage, a garage and a huge kingsize bed. It's also dog-friendly so you can bring your furry pal with you too making it one of the top places to stay in Hay on Wye.
The Smithy is one of the top rated bed and breakfasts in Hay on Wye on Booking.com. Rooms here come with a patio or balcony, free wifi and a TV. The B&B also has a garden and lounge for some chilled out evenings.
The Kilverts, Hay on Wye has a garden and a bar and is only 600 m away from Hay Castle. It also gets great reviews and is without a doubt one of the top hotels near Hay on Wye.
This beautiful guest house, Seven Stars, has an indoor pool and sauna as well as many of the original features such as oak beams and stone walls. It's close to the centre of Hay and offers everything you need for a relaxing weekend away in Hay on Wye.
Best time to go to Hay on Wye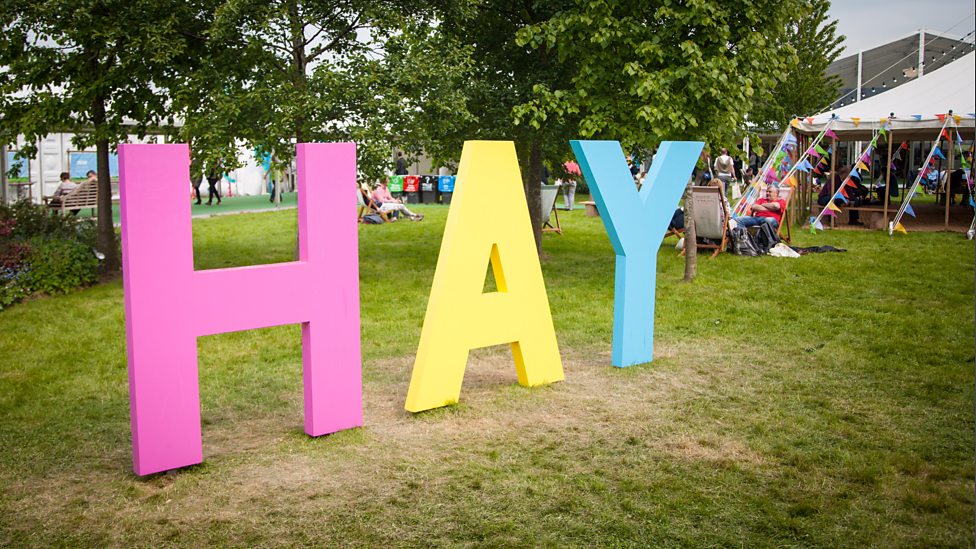 Any time of the year is a great time to visit Hay on Wye, but if you want to experience the town in its element then time your visit with the Hay Festival which runs every year from the end of May to beginning of June.
Hay Festival has been going for over 30 years. The Hay on Wye book festival brings together writers, speakers, lyricists and poets from around the world. The people behind the festival believe that the exchanging of views and meeting of minds inspires political, personal and education revelations.
I visited the festival for a day several years ago and was amazed at the number of different talks going on. There's something for everyone too so don't think you have to be a poetry lover to enjoy the festival!
Best things to do in Hay on Wye
While the town is famous for its bookshops, it's not all about the books in Hay on Wye. The town is close to beautiful outdoors spaces including hills and rivers and is full of antiques to browse and shop too! If you're planning a trip and are wondering what to do in Hay on Wye then be sure to check out these best things to in Hay on Wye, Wales!
Go hiking in the Brecon Beacons
With the Beacon Beacons just a stone's throw away from Hay on Wye, it'd almost be rude not to go and explore.
There is tonnes to do but a few suggestions of things to do near Hay in the Brecon Beacons are:
The Warren, Hay on Wye
When it comes to Hay on Wye walks, this is one of the more popular ones. This walk takes you to the meadow and river beach just outside of Hay and Wye.
The area is locally known as The Warren and it's a great place for a summer picnic. It's easy to get to, just follow the path along the side of St Mary's Church.
Hiking Hay Bluff
For something longer, head to Hay Bluff. Hiking Hay Bluff will give you gorgeous views out over the Welsh Hills!
Canoeing and kayaking near Hay on Wye
If a water-based adventure is more your thing then hire a canoe or kayak from Wye Valley Canoes and head downstream from Glasbury to Hay. This is a particularly idyllic stretch of the river, with small beaches to stop at on the way when you're in need of a break.
Shop for Hay on Wye antiques
Over the years some of the bookshops have pivoted and become antique stores rather than bookstores. They're fun to wander around as you browse furniture, jewels and more.
Visit Hay Castle
Hay Castle stands tall above the rest of the small town. Once a medieval stronghold, the castle ruin tell a story of a period of time when the area was full of battles and people fought for control of the area.
At the moment the castle is undergoing massive repairs with the aim of making visiting safer and more informative. It's expected to reopen in 2020.
The Thursday market at Hay on Wye
If you're not visiting during the Hay Festival, then make sure to visit on a Thursday at least! The Hay on Wye market is held in the centre of town every week. It's not just a fruit and veg market but a flea market with books, locally produced produce, vintage items and more. It's a weekly highlight of living in, or near, Hay!
Browse the many Hay on Wye bookshops
Hay on Wye has over 20 bookshops which makes it the perfect destination for book lovers. Some of the book shops specialise in second-hand books or books of particular genres. One thing's for sure, you can spend hours trawling through the books here (which sounds like a pretty fun way to while away a day to me!).
5 Best bookshops in Hay on Wye
Richard Booth's Bookshop, 44 Lion St
Richard Booth's bookstore is huge with books spread across three levels. Some say it's one of the most beautiful bookstores in the world and Richard Booth is often given credit for being the person who introduced the idea of Hay on Wye as a book town!
You could easily spend a few hours flicking through the pages of numerous books. I recommend making the most of the bookshop's cafe.
This Hay on Wye Bookseller is also sometimes referred to as the Hay on Wye cinema bookshop since it has a cinema screen where they place independent and popular films. Buy a book, sit down with a pot of tea and enjoy a couple of hours to yourself, or catch a film!
The Poetry Bookshop in Hay on Wye
This bookshop is the only second-hand bookstore in the UK dedicated entirely to poetry. Filled with hundreds of books on, and around the subject of poetry, this is a must visit in Hay on Wye for poetry lovers!
Hay on Wye Booksellers, 13-14 High Town
This Hay on Wye bookshop is one of the most iconic in town. It has a timber-framed façade, two floors of wooden shelving and a vintage sign outside too.
If you feel like wandering inside, then make sure to set aside plenty of time to peruse the shelves, sit in the comfortable armchairs and bring a bit of cash to buy a book or two. We ended up staying in this cosy store for well over an hour during our visit to Hay! And you may well find that you will as well…
Murder and Mayhem, 5 Lion St
Murder and Mayhem in Hay on Wye sells books of the horror, true crime and detective genres. If you love a good murder mystery then you'll find plenty to entertain you in here!
Addyman Books, 39 Lion St
Owned by the same people as Murder and Mayhem, Addyman Books specialises in rare, vintage and unique finds. This is one of my favourite types of book shop to browse, as I love seeing if there's a dedication in the front of the book and seeing just how old the copies are!
Attend the Hay on Wye festival
Each year, an annual Hay on Wye literary festival is held to celebrate books, as well as the town itself. Bill Clinton once called it the 'Woodstock of the Mind' and the festival has been held for two weeks each year for over thirty years.
Cut off from the rest of the world by a dismal phone signal and lacking in chain stores, a wander through Hay on Wye is a step back into the past and an adventure of literary proportions.
Usually, the festival is held at the end of May/beginning of June. It attracts book lovers, writers, artists, among others.
A normally tiny population of around 1500 permanent residents increases to up to half a million during the festival season.
Live performances are held in the evenings (typically costing around £10 per event), plenty of food stalls serve freshly made food, and the festival itself is free to enter.
Top Hay on Wye restaurants
Check out some of the best places to eat in Hay on Wye below.
Shepherds Parlour
For an afternoon snack, head over to Shepherd's for some sheep's milk ice cream. There are 16 flavours to choose from each day. These vary from the classics to the slightly unusual with seasonal ingredients.
Depending on when you visit this Hay on Wye cafe, you could try lavender, damson or rhubarb crumble flavoured ice cream! Plus, sheep's milk ice cream has less than 7% fat. That makes it healthy, right?
St John's Place
For dinner give St John's in Hay on Wye a try. It's a fairly new restaurant in an old chapel where each dish and ingredient has been carefully selected to ensure the best flavour and presentation.
The menu changes every week and St John's is open Thursday, Friday and Saturday evenings. If you're keen to visit make sure you book as it's always busy!
The River Cafe
Just out of the town along The River Wye is the village of Glasbury. Here there's a very good cafe, the River Cafe. It's a great spot for coffee next to the river.
This is also the place for canoe hire in Hay on Wye. You can launch into the river here for some Hay on Wye canoeing or get mountain bikes and Vespa scooters to explore the trails!