This post may contain affiliate links. This means that if you click an affiliate link and buy something, that website will give me a tiny bit of money to say thanks for sending you to them. There is NO extra cost to you at all.
Finding budget Hong Kong hotels and hostels is tough. I know I found it tough when I was hunting for somewhere for the two of us to stay. It seemed as though everywhere was either super expensive or unbearably small. Eventually we found somewhere that was affordable and big enough for the two of us. I'm not saying it was huge, but there was room enough and the room had everything you'd need and more.
If there's one thing I've learnt from travelling in China it's not to judge a hotel by the building. Many of the buildings looked sketchy and to be honest I didn't think the room was going to be much good but everywhere we stayed was perfectly comfortable and clean.
I thought I'd take the pain out of your own Hong Kong hostel or hotel search and have put together my top picks for budget hotels in Hong Kong. The majority of the Hong Kong hostels and hotels below are less than £50 for too and get over 8 out of 10 on booking.com – I'd only show you the best!

Budget hotel rooms in Hong Kong
Hang Ho Hostel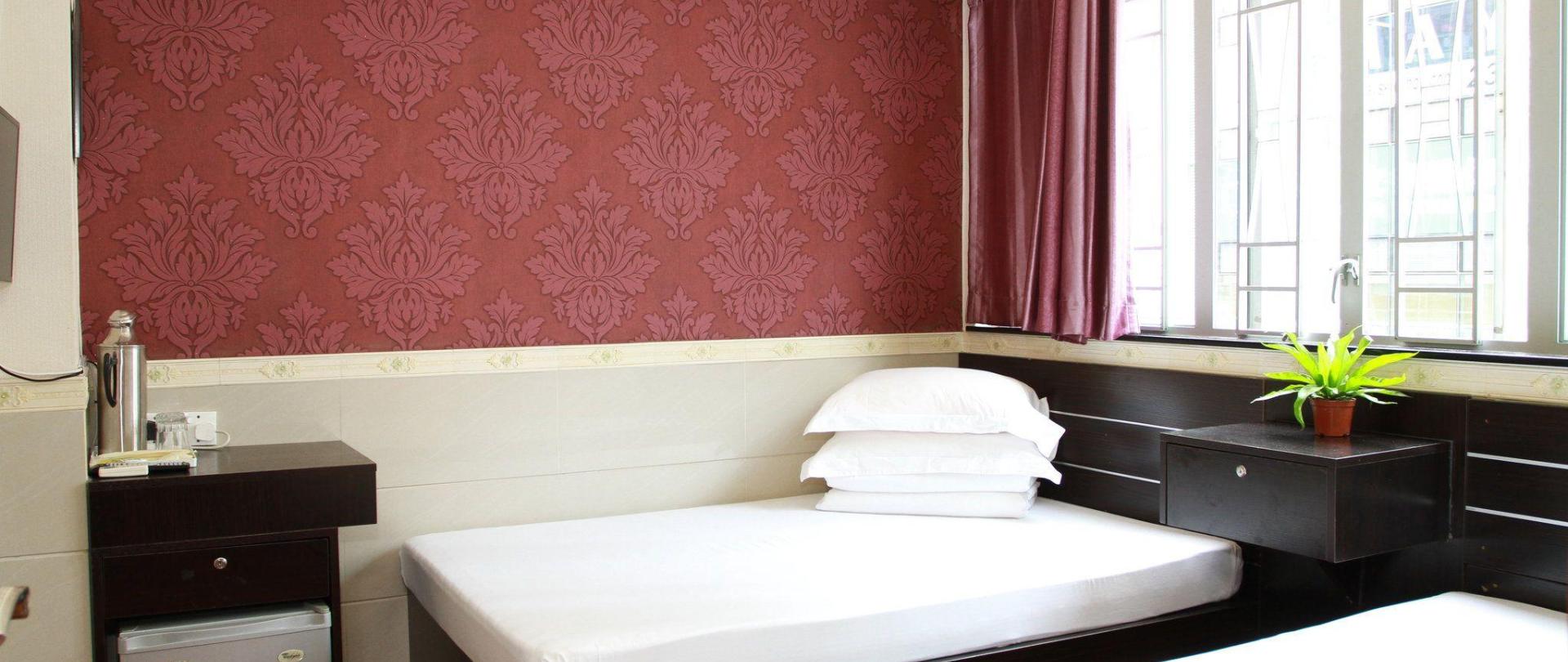 Hang Ho Hostel was the hostel we stayed in for the first three nights of our trip to China and it had everything we needed and more – it was pretty much the ideal budget Hong Kong hotel for us.
The rooms are small but there was still enough space for us and our two huge backpacks. There's a private bathroom (again, small but not the smallest out of all the hotels we stayed in), a TV, kettle and a fridge/freezer in the corridor to store any food you've bought. Oh, plus super fast WiFi, I uploaded a YouTube video in about 2 minutes compared to the 30 minutes or more it takes back home.
The other plus of Hang Ho Hostel besides the cost is the location. The hostel is right next to the Jordan MTR and only a 20 minutes walk down to Victoria Harbour. You're less than 5 minute's away from Temple Street Market and there's plenty of shops, cafes and restaurants too. Basically, there's not many better locations for this price.
Location: Jordan MTR, Hong Kong
Price: Private double room with ensuite from £38 although they always seem to have a deal on so usually less than this!
Full Details
Tempo Inn
Hong Kong's Tempo Inn is located right next to Temple Street Market which, if you've seen my top 12 things to do in Hong Kong on a budget video, you'll know is a great place to pick up souvenirs for yourself, family and friends. The hostel is super close to lots of street food options and restaurants too.
Tempo Inn is a themed hostel and the clue is in the name. Every room has a distinct musical theme. There's classical, tropical, English rock and the Hong Kong special: Canto Pop! All rooms have air conditioning, a TV, kettle, slippers and private bathrooms come with toiletries.
Location: Yau Ma Tei
Price: £28 standard double room
Full details
Grand Motel
The rooms at Hong Kong's Grand Motel are much like the rooms at Hang Ho Hostel. They're small but well-equipped – it's as if China has hired an Ikea designer to come and do all their rooms but I doubt that.
All rooms have free WiFi, a private bathroom with hairdryer and slippers, kettle and air conditioning.
The hotel is just a few seconds from Yau Ma Tei MTR, a few minutes from Mong Kok MTR and super close to Ladies Market for some souvenir shopping! Some rooms have a city view although they seem to be the slightly more expensive ones.
Location: Yau Ma Tei MTR
Price: £45 for a twin bed room
Full details
Hong Kong Inn
Hong Kong Inn is on Hong Kong island in the bustling area of Causeway Bay. It has simply furnished rooms, free WiFi and a 24 hour supermarket just across the road. Plus there's a branch of the famous (and ultra cheap) Tim Ho Wan dim Sum nearby too!
Each room in this budget Hong Kong hotel comes with air conditioning which you'll need even in November – it was super hot when we were in Hong Kong and you'll also be given toiletries and a hair dryer.
Once you're done with exploring for the day there's a shared chill-out lounge with room to plan the next day's adventures!
Location: Causeway Bay MTR
Price: £36 for double or twin room
Full details
Budget hostels in Hong Kong
Yesinn
If you don't mind sharing a room with quite a lot of people then Yesinn could be the Hong Kong hostel for you. It's cheap and cheerful with bright blue and yellow colours in the common areas and bedrooms.
One big selling point of Yesinn is the rooftop garden which is a great place to chill out and soak up some rays or enjoy a BBQ.
As you'd expect there's free WiFi and each room has air conditioning, individual reading lights so you can stay up late without worrying about keeping others up and your own locker too.
Causeway Bay is great for gourmet food and there's plenty of shopping too – what else would you expect? It is Hong Kong!
Location: Causeway Bay
Price: £14 for a single bed in mixed dorm room
Full details
Rainbow Lodge HK
Rainbow Lodge is just seconds from Tsim Sha Tsui MTR station which is right near Hong Kong's Victoria Harbour so perfect for watching the light show or getting the Star Ferry. Or if you're interested in Disneyland it won't take long to get to from here.
Each room at Rainbow Lodge even has a computer! The common area includes comfy seating, a DVD player and a CD player should you fancy some impromptu Karaoke.
The hostel has a fully equipped kitchen which will help you stick to your budget too.
Location: MTR Tsim Sha Tsui Station
Price: From £17 for single bed in mixed dorm
Full details
Cue Hotel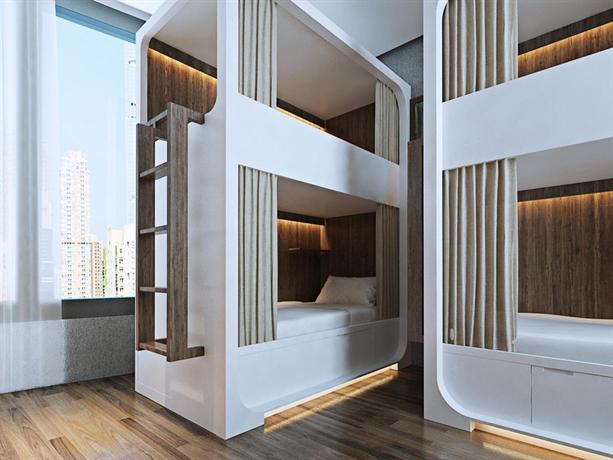 Whilst the hotel rooms aren't what I'd call budget (they're over £100), the hostel beds in this super stylish hostel are much more affordable. At £35 for a single bed in a 6 bed mixed dormitory, they're towards the pricer end of budget, but for Hong Kong this isn't bad at all.
Cue Hotel is just 5 minute's away from Wan Chai MTR station and seems pretty newly refurbished. Nearby to the hostel is Hong Kong Jockey Club Park, and Pacific Place plus you're only a few stops from Central Hong Kong and hundreds of cool eateries. Although, if you're not feeling like going out, the hostel has its own restaurant too which gets pretty good reviews.
Location: Wan Chait MTR
Price: £35pp
Full details
The Mahjong
The Mahjong is a super stylish hostel near Mong Kok MTR that'll make you feel right at home. It's about a 15 minute drive or metro ride to the harbour and super close to the Mong Kok markets such as the goldfish market and Ladies market. You can rest assured there's plenty of food nearby too as Hong Kong's Mong Kok district is one of the main shopping and food areas!
Each room at The Mahjong comes with an individual safe and air conditioning to keep you cool even when the humidity is at a high. There's also a kitchenette, microwave and fridge at the hostel. Rooms have a private bathroom too and you'll also get a view of the city from your window!
The common area is really cosy and there's plenty of space to meet fellow travellers and talk travel plans.
Location: Mong Kok MTR
Price: Single bed in mixed or single sex dorm from £26
Full details
Beepackers – New Comfort Hotel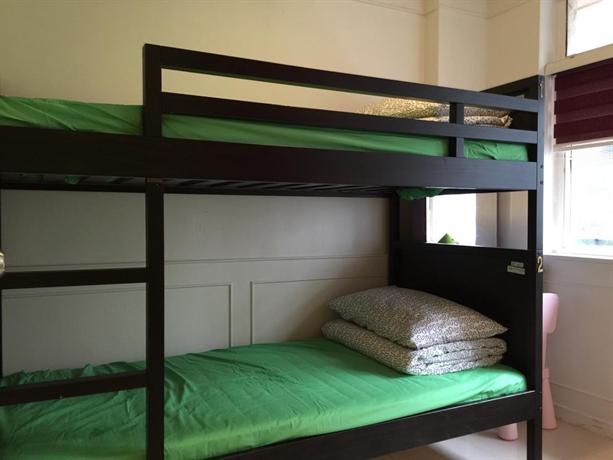 Right next to Hong Kong's lovely Kowloon Park and just minute's from some of the biggest shopping centres I'm sure you'll ever have seen, is Beepackers Hostel.
The Hostel opened towards the end of 2015 so it's fairly new and everything looks clean and in good condition. There's a kettle in each room and the usual toiletries you'll find throughout China; toothbrush and toothpaste, soap and perhaps some shampoo and conditioner.
With all the money you've saved on the room you could splash out on the designer shops nearby which include Tiffany's, Gucci and much more!
Location: Tsim Sha Tsui MTR
Price: £15 for single dorm bed
Full details
Ruby Hostel
Ruby Hostel is also just minute's away from Temple Street Night Market and Kowloon Park making it a great location. Kowloon Park is extremeley relaxing and if you get up early enough you'll be able to watch locals doing Tai Chi in the park!
All rooms come with their own bathroom and they're brightly decorated giving the hostel a modern feel. There's WiFi in all areas and kitchen facilities too with a shared lounge area. However the lounge area isn't the biggest on the list and feels more like someone's home than a hotel or hostel so bear that in mind!
Location: Few minutes walk from Jordan MTR
Price: Single bed in all female 4 person dorm from £17
Full details
What are your favourite budget hostels and hotels in Hong Kong?
*This post contains affiliate links. This means if you book a hotel using this link
I get a small percentage but this comes at NO extra cost to you.
Prices correct as of 4th December 2016