Despite the fact that our main plan when travelling to Mongolia on the Trans Mongolian railway was to experience Naadam in Ulaanbaatar, I knew that I wanted to stay in a ger camp in Mongolia too.
Keen to get out into the fresh mountain air and away from the air pollution in Ulaanbaatar, the capital of Mongolia, we headed out to Bert's Eco Ger Camp in Gorkhi-Terelj National Park.
If you want to head out to the pristine Mongolian countryside too, the chances are you'll be planning on camping in Mongolia.
And, in that case, you may be wondering what staying in a ger is like, or even what on earth a ger is, to begin with, then be sure to read this post about ger camps in Mongolia.
Useful resources and articles for planning your Trans Mongolia Railway trip
What is a Ger?
A ger is a traditional Mongolian home and is pretty similar to a yurt. The difference between a ger and a yurt is that a ger is the older, traditional style of yurt. The word "ger" actually just means "home" and if it's easier you can just think of gers as a Mongolian yurt.
Gers have been a distinctive feature of life in Central Asia for over 3,000 years. They were (and still are) the Mongolian houses of nomadic Mongolians and because of this, they're portable and easy to construct and deconstruct. They're also made from materials that nomads have easy access to such as sheep wool, camel, yak or horse.
These ger dwellings are round-shaped, white and consists of felt covers, wooden columns, a small round window at the top through which the stove goes through, a wall made from animal hide and some flooring.
Staying in a Mongolian ger
When you leave Ulaanbaatar, you'll most likely be staying in a ger since there aren't a lot of big hotels outside of the city.
The ger camps across Mongolia vary greatly. Some are smaller, family-owned camps that have around 4-5 gers, others are larger ones catering for tourism with 35 gers.
Some have restaurants, internet and western-style bathrooms, while others have pit toilets and limited facilities.
Your ger camp experience will depend on picking the right ger camp for you. If you're someone who's used to backpacking and camping then you'll love the authentic, family-run ger camps.
But, if you're used to luxury hotels then a luxury ger camp is going to be more your style.
More traditional ger camps
These camps are more authentic in that they're sparsely furnished, have very limited or (more often) no electricity and pit toilets. For the 'real' ger experience these are the camps you'll want to stay at.
Bert's Eco Ger camp
We stayed at Bert's Eco Ger Camp (what is eco camping?) just outside of Terelj in Gorkhi-Terelj National Park which is one of the best places to visit in Mongolia. Bert is a dutch ex-pat and he lives in the camp with his Mongolian wife and children. They also live in a ger although theirs is a little big bigger and one of them has a television.
For tourists, there are only about 6 gers and they're very sparsely furnished. You can expect two single beds, a stove for fires to warm up the ger, some candles for light in the evening and a small table. Facilities in the camp are limited; there are pit toilets, no electricity and your shower is the river a couple of minute's walk away from the camp.
What to do at Bert's Eco Camp
At this Terelj National Park ger camp your host, Bert, can arrange pretty much any activity you can think of while you stay at his camp in your Mongolian tent.
He told us about guests that'd wanted to kayak one of the nearby rivers, helped us out with hiking ideas, and can arrange horse riding in Gorkhi Terelj too.
Plus, it's the perfect place to just relax with a good book!
How to get to Bert's Eco Camp
The ger would be difficult to find if travelling there on your own since it's away from the main road that runs through Gorkhi-Terelj National Park where most of the gers are.
To get to Bert's Eco Ger Camp you'll need to cross a river too so if you've hired a car make sure it's a good 4×4.
Bert will also come and pick you up from Ulaanbaatar or the bus stop in Terelj if you've arranged to catch the bus from Ulaanbaatar.
Cost of Bert's Eco Ger Camp
Bert's Eco Terelj Ger Camp includes 3 meals a day in the price and they're delicious. We ate meatballs, salads, bread, pastries and more during our two-night stay. Bert's Eco Ger Camp costs 55USD per person per night because you're fed for all three meals, the cost is a little bit more expensive than some of the other basic ger camps but it's still reasonable.
Book Bert's Eco Ger Mongolian Camp by sending an email to bergroo@hotmail.com
Ursa Major Ger Camp
Ursa Major Ger Camp has beautiful views of the Orkhon Valley in Mongolia. The camp prides itself on working with the environment and local communities to reduce the negative impacts of tourism.
There isn't a toilet or shower block here like you'll find at some of the more luxurious ger camps. Instead, the toilets are made from wood and use a composting method. And, while there aren't showers, you'll have a hot towel brought to your ger in the evening and morning as a way to freshen up.
At this ger camp, there's a mixture of both double bed gers and those with twin beds. You'll also find extras such as a sink and a stove inside. There's no electricity but you'll be provided with a torch and candles so you can still get around in the dark.
On nights you choose not to use the ger's stove, there are a bar and a restaurant on site which makes traditional Mongolian food. Bear in mind that this is usually pretty pricey.
Sweet Gobi
This geo-lodge gives you the chance to stay in a ger in the Gobi desert, Mongolia. You'll have a view of the sand dunes of Elsen Tasarhai and be near the sacred Khogno Khan mountain.
There are no showers here either but you'll have towels delivered to your ger to wash of that Mongolian desert sand.
Comfortable ger camps in Mongolia
These ger camps tend to have slightly more luxurious interiors or have better bathroom facilities. They're usually also larger and are more of a tourist camp in Mongolia than those above.
Gorkhi Eco Family Resort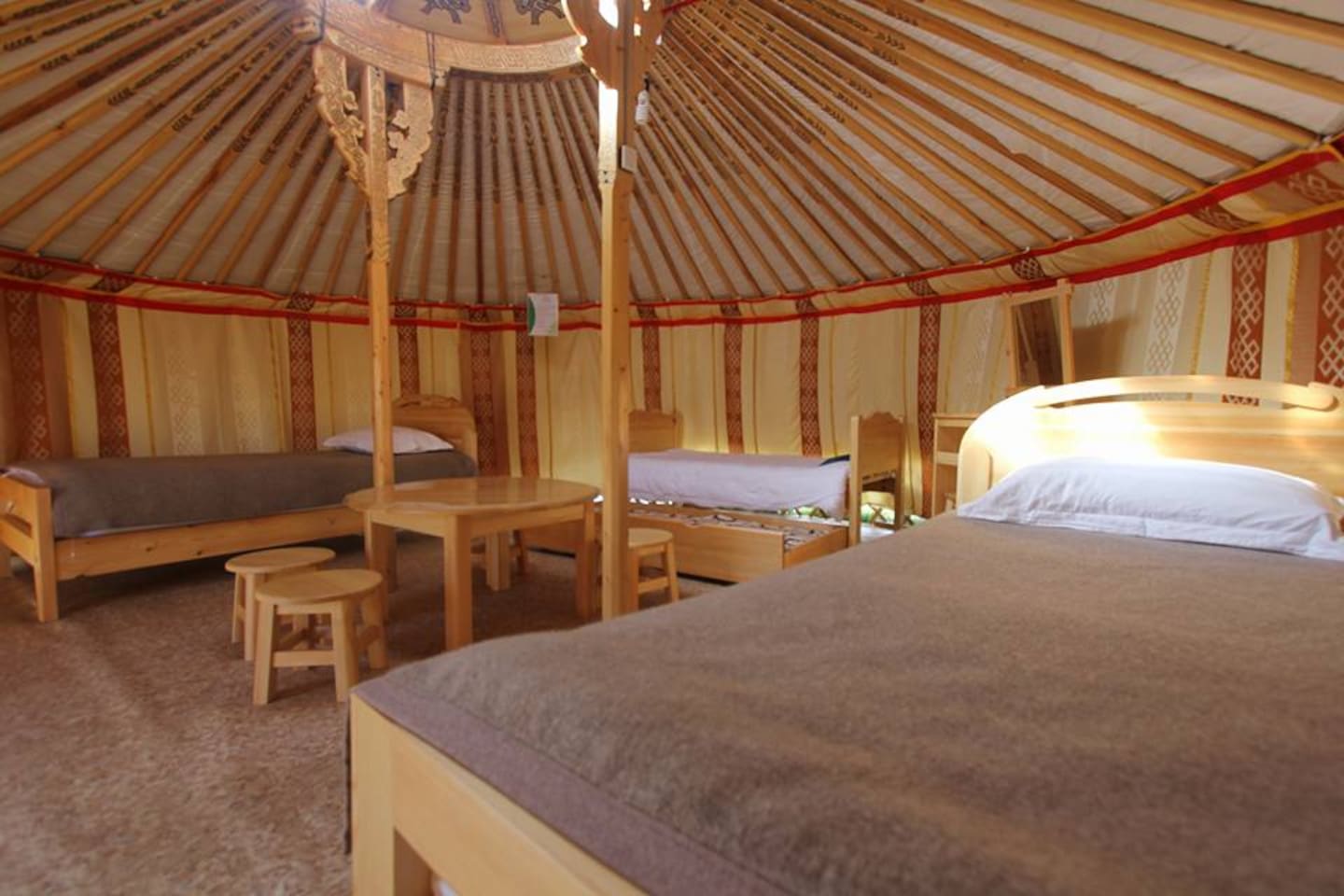 Not to be confused with Bert's eco lodge, Gorkhi Eco Family Resort is a bit more luxurious and tourist-focused.
There's room service available, a restaurant on-site, a terrace for all gers, a shared lounge and a more westernised bathroom. Boasting room service, this property also has a restaurant and a children's playground. The price includes breakfast and you can request an American or Asian breakfast depending on your preferences.
Unlike Bert's this camp is more in the middle of Terelj National Park which has the benefit of being closer to some more popular hiking areas and closer to Ulaanbaatar.
Ar Davkhar
Ar Davhkar is a small eco-camp on the Eastern shore of Lake Khovsgol in northern Mongolia. To get to this camp you have the option of taking a speedboat from Khatgal village or the longer (bumpier) overland route.
This ger camp uses eco-toilets and there are showers that are heated with a stove. There's no mains electricity but there's a generator which is switched on each evening and the gers have solar panels for the lights.
Khorgo Ger Camp
Khorgo Ger Camp is in the Terskiin Tsagaan Nuur National Park and is surrounded by mountains. You can also see the Khorgo extinct volcano from the camp!
The camp is to the east of the White Lake and just 6km from the small village of Tariat. It's a bit of a bigger, well-equipped camp.
There are 70 guest ger tents, a well for fresh spring water and food prepared in a large restaurant ger with locally sourced ingredients.
Luxury gers in Mongolia
Luxury ger camps in Mongolia tend to have westernised toilets, bigger gers with more comfortable beds and overall better facilities such as wifi and terraces.
Terelj Star Resort
Terelj Star Resort has a restaurant, garden and terrace area as well as wifi. The luxury gers have been upgraded to include a terrace area on the front, as well as big glass doors and windows at the entrance to maximise your view of the beautiful surroundings.
There are a fairly big toilet and shower block as well as lighting and a wooden path on which to walk from ger to ger. Each ger also comes with tea and coffee making facilities.
Red Rock Hotel & Resort
Another luxury ger resort in Gorkhi-Terelj is Red Rock Hotel and Resort Ger Camp. This resort has luxury 4 person gers as well as bedrooms and bungalows to book.
The gers here have a big outside dining area, lighting, hardwood floors and free wifi!
Three Camel Lodge
Three Camels is a luxury ger camp in the South Gobi province of Mongolia. It has a restaurant ger, a spa ger and a bar. The bathroom also comes with robes and slippers for that extra touch of luxury.
Each ger comes with an en-suite bathroom as well as beautiful views across the Mongolian Steppe.
Jalman Meadows luxury ger camp
This luxury ger camp, Jalman Meadows, is one of the closest ger camps to Ulaanbaatar.
It's in the Khan Khentii wilderness and includes a fine dining restaurant ger, a bathing ger and a library ger in which you can play ankle bones or relax with a drink from the bar.
If somewhere has a dedicated library ger you know it's a little fancy!
What to pack for staying in a ger camp
The following items are especially important if you're staying in one of the more traditional ger camps with limited facilities, but they'll also be useful if you're staying in a more luxurious ger camp. You shouldn't need camping gear since the beds come with sheets and blankets.
Bug spray – so many bugs down by the rivers!
Warm clothes – especially in the winter. Also, at night in summer as it gets surprisingly cool.
Cool clothes – summers are pretty toasty!
A book (or more)
Sun cream
Battery pack for phones – we had two battery packs with us which kept our phones charged even though there was no electricity
Cash – most places in these remote parts of Mongolia won't be able to take card
Want more Mongolia travel ideas?
Last Updated on March 13, 2023 by Hannah
Hannah started That Adventurer after graduating back in 2013 and has documented all of her adventures since then. From backpacking South America to city breaks in Europe, a 3 month road trip across the USA in a self-converted van and 6 years living in Canada, you'll find posts on all of this.
Hannah specialises in active travel and on That Adventurer you'll find hiking, walking, biking, skiing and all sorts of active travel guides to allow you to see a destination in an adventurous way.
Now back in Europe, you'll find new guides as Hannah and her husband spend the next year 'digital nomading' from Norway to Portugal, Switzerland to Scotland and places in between.