Tuscany. Just the word alone conjures up images of gorgeous rolling hills, great wine and food and beautiful hilltop towns in Tuscany.
I was lucky enough to visit Tuscany on several family holidays growing up and so it'll always have a place in my heart. I have many memories of eating my bodyweight in soft Italian ice cream and working our way through many a wine seller and parmesan shop in Tuscany.
It's these, the best hilltop towns of Tuscany, that really sums up the region with their beautiful, narrow, cobbled streets, piazzas full of old men just chilling and, of course, magnificent Duomo. These Tuscany hill towns have something magical about them and they're definitely some of the prettiest towns in Tuscany.
Below are some of the most beautiful hilltop towns in Tuscany. A visit to one of these towns in one of the best things to do in Tuscany. If you're wondering where to go in Tuscany then make sure you add one (or more!) of these Tuscany hilltop towns to your itinerary.
Looking for more Italy travel ideas?
Getting to and around Tuscany
The easiest airport to fly to from the UK for travelling around these hilltop towns in Tuscany is Florence.
I always check flight prices with Skyscanner as they reliably show cheap flights.
Getting around Tuscany is easiest with a car. If you're flying to Italy and need to rent a car then check RentalCars.com for cheap car hire deals.
Map of Italian hilltop towns
Where to stay in Tuscany
This obviously depends on your budget. You might like to rent a Tuscan villa if visiting with a larger group of friends and family. Or, if you're planning more of a city break then check out these options. Booking.com is a great place to look first for hotels in Tuscany.
Italy's best hilltop towns
Get to know these beautiful Italian hilltop towns, in Tuscany and nearby, in a little more detail.
1. Civita di Bagnoregio
You'll find the ancient town of Civita sat atop a volcanic rock. The Etruscans founded the town more than 2,500 years ago but then town risked becoming a ghost town due to earthquakes and erosion.
Civita became a town of just 6 residents but thankfully it's seen a resurgence of tourism and has been brought back to life!
2. Poppi
Found between Florence and Arezzo, the charming town of Poppi is considered to be one of the most beautiful towns in Italy.
The town helps make up the National Park of the Casentinesi Forests, Monte Falterona and Campigna and is crowned by a 13th-century castle.
The Conti Guidi castle has a beautiful courtyard, staircase and even a library full of medieval manuscripts. There's also a chapel with frescoes by Taddeo Gaddi which are well worth visiting.
3. Pienza
Pienza, not to be confused with Pisa, is a tiny Renaissance gem nestled in the scenic hilly landscape of the Val d'Orcia, in southern Tuscany.
The town was designed as a utopian city by Pope Pius II and the town was given UNESCO World Heritage Site status in 1996 thanks to both its spectacular scenery and typical Tuscan homes.
The town is centred around the Piazza Pio II, dating back to 1459. which is also where you'll find the cathedral.
Take a stroll around the town's walls and gaze at Mount Amiata in the distance. Head east and you'll discover a series of lanes leading you back to the centre all with sweet names. Track down Via dell'Amore (street of love) and Via del Bacio (street of the kiss) to warm your heart.
The narrow, crooked streets which are typical of small Tuscan towns are home to tiny shops, cafes and restaurants. Take the time to explore and discover them for yourself.
One local speciality to search out is pecorino sheep's cheese – with a buttery yet nutty flavour, it's perfect for grating over steaming pasta dishes!
4. San Gimignano
Forget the Seven Hills of Rome, San Gimignano's 15 towers are just as handsome, breath-taking and worthy of the camera-toting tourists from nearby Florence. One of the best small towns in Tuscany, San Gimignano, started life as an Etruscan village back in the 1150s.
Nowadays the 14 towers of this Medieval walled community are one of the main reasons tourists visit. They seek history, atmosphere and a taste of traditional rural Italian life.
Escape the hordes and walk the town's entire circumference around the protective walls, taking you through quiet woods and past locals' homes, showcasing the quieter side to San Gimignano.
5. Rocca d'Orcia
Blink and you'll miss the tiny town of Rocca d'Orcia a deserving contender on the list of Tuscany's most beautiful hilltop towns.
Make the climb to the town's highest point next to the 13th-century fort for breathtaking views over the entire Val d'Orcia – a UNESCO World Cultural Landscape since 2004.
Rocca D'Orcia played an important part in the relentless conflicts between rival cities Florence and Siena centuries ago but today life is calmer. Today it's where you'll find some welcoming locals, a few tourists and a maze of narrow, cobbled, steep streets.
6. Siena
Not technically a town but a Tuscan city, the rugged terrain of Siena leaves visitors with constant surprises. One minute you're lost in a warren of narrow backstreets, the next you're high on a hill-top gazing over a cityscape of red-roofed houses and grand, centuries-old buildings.
There are endless museums and galleries, a striking zebra-striped cathedral, hundreds of tempting restaurants and beautiful surrounding countryside!
7. Anghiari
Anghiari is in the Tiber Valley or Valtiberina, just 30 kilometres from Arezzo. It's another village which is considered to be one of the "most beautiful villages in Italy" and boasts the Orange Flag award from the Italian Touring Club. Admire Anghiari's strong 13th-century walls and get lost in its narrow, quaint streets with flowers on the houses' balconies.
8. Montepulciano
If you only have time to sample one Tuscan town, Montepulciano should be it. Standing on a limestone hill, 605 metres above sea level; it is one of the most beautiful medieval Tuscan towns. It's often called the "jewel of the 1500s" due to its impressive Renaissance art and architecture. So genuine is its architecture, that no major building work has happened here since 1580.
Just a stone's throw from Siena, Montepulciano is a true feast for the senses. At the heart of the town is Piazza Grande where you can enjoy a glass of local Nobile wine and admire the Duomo. There are then a myriad of wine cellars and tastings to experience around the piazza if you're up for it.
The town is car free which means you can wander without worry through the narrow, cobbled streets. You could spend a week strolling and tucking into Tuscan food and still keep discovering new sights.
9. Cortona
When Frances Mayes wrote 'Under The Tuscan Sun' little did she realize that her description of the paradise of Cortona would make it so popular she would feel the need to escape.
Sitting at about 600 metres above sea level, Cortona offers spectacular views over the surrounding valley and Lake Trasimeno. Although the town is small, it's packed with interesting sites to visit, jaw-dropping views, delicious restaurants and independent shops.
The winding alleyways will charm you with their swinging washing lines which give way to hanging baskets full of roses and sage.
10. San Casciano
This beautiful Tuscan hilltop village is just south of Florence and full of local shops and brilliant restaurants. The town is small but is a beautiful place to settle while in Tuscany and finally write that best-seller you've had on your mind for a while!
11. Sorano
Often referred to as the City of Tufa due to its location on a volcanic tufa stone, life in Sorano hasn't changed much over the past few centuries. Visitors to the town will be charmed by the surrounding vineyards, fields of wheat, grazing sheep and olive groves. There are also caves carved into the porous rock which transport you back in time.
12. Bagno Vignoni
Bagno Vignoni is a cute town on a hilltop above Val d'Orcia in Tuscany. The main attraction of the town is its thermal waters which have been used since the Roman times and are still popular today.
At the heart of the village is the "Square of sources", namely a rectangular tank, of 16th-century origin, which contains the original source of water that comes from the subterranean aquifer of volcanic origins.
13. Montalcino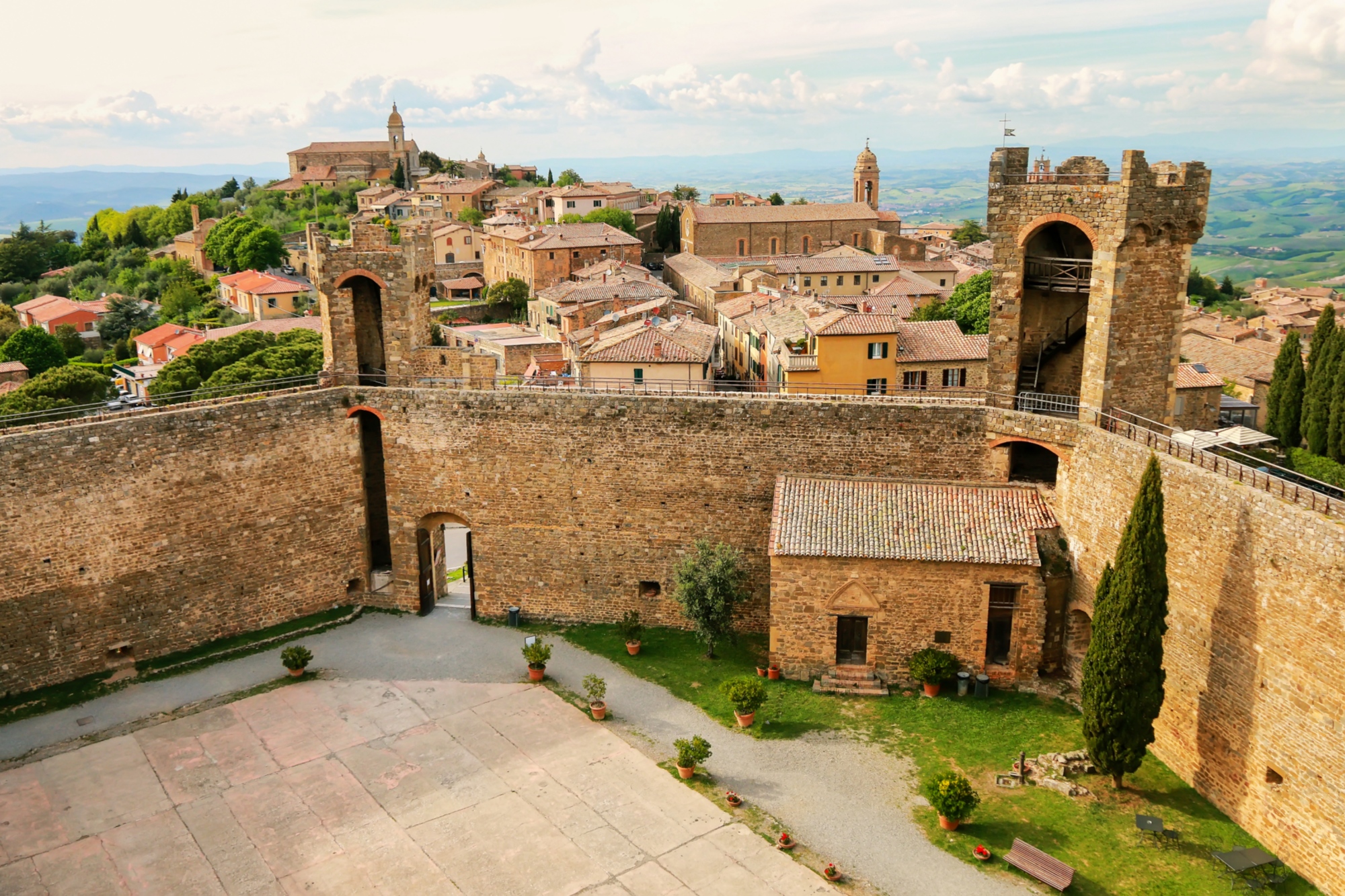 There are only around 1,400 residents but over 220 wineries in the area surrounding Montalcino. Can you guess what this Tuscan hill top town is famous for? Montalcino is a special destination for wine lovers and it's possible to do wine and food tasting in delightful cantinas.
It's not all about the wine though. Montalcino is enclosed by huge 13th-century defensive walls and characterised by a striking, perfectly preserved castle and fortress which also draws visitors. What's more, Montalcino has remained practically unchanged over the centuries making the town an ideal place to get a feel of Tuscan history.
14. Orvieto
Not just on a hill but a cliff, the city of Orvieto presents one of the most dramatic postcard-like images Italian hilltop towns.
Orvieto was a major centre of the Etruscan civilisation and remains a thriving city today. One of it's most famous sites is the Cathedral of Orvieto although, as with any Tuscan villages, a stroll through the narrow streets will be entertaining enough.
15. Suvereto
Set just back from the salty, refreshing rollers of the Mediterranean, little Suvereto reigns as one of Tuscany's most beautiful towns.
Rugged stone buildings dominate the town centre and there's an early-Renaissance castle that is now covered in creeping vines and spotted with lichen above the slim alleyways of the old town below. Amongst it all runs bubbling Via Matteotti, threaded with slow food gourmet joints, cellar doors and fascinating porticos from beginning to end.
16. Barga
Sleepy Barga is in the Garfagnana region and is close to the more well-known town of Lucca. Barga is like a rabbit-warren of very narrow cobbled streets, tiny squares and steep staircases.
The town's Duomo in the centre is ancient and beautiful. So beautiful in fact that it helped the town be awarded the prestigious Orange Flag by the Italian Touring Club. Rustic beauty flows through the close-knit streets and piazzas, while a curious Scottish character is also palpable in the fish and chip Sagra festivities, and the red phone boxes peppering the corners!
17. Fosdinovo
Fosdinovo appears as a dash of brownstone and terracotta against the fir and olive forests of the Apuan Alps. At its heart is the outline of the Malaspina Castle of Fosdinovo, which has dominated the skyline since the early decades of the 12th century.
In the distance, the Tyrrhenian Sea marks the end of the Tuscan lands, while a cascade of stuccoed storeys and stone buildings clutching the rocks all around the ancient citadel represents Fosdinovo itself. A town of pure drama and Italian charm.
18. Pitigliano
Known as "Little Jerusalem", this small Tuscan town near the coast is home to tiered, tile-roofed buildings sitting on top of layers of red volcanic "tufa" stone, giving a distinct look.
While visiting it's recommended you sample some local Jewish delicacies, "Sfratti". Sfratti are stick-shaped biscuits filled with ground walnuts, honey, nutmeg, orange peel and wrapped in dough. They were apparently invented by the Jewish community as a result of police hitting them with sticks to force them into the ghetto.
You should also be sure to visit the underground tunnels and caves dug into the tufa beneath the city. This labyrinth of passages and rooms has been in use since Etruscan times.
19. Monteriggioni
The tiny hamlet of Monteriggioni, near Siena, is uniquely fun to say, but that's not all. To pass under the concentric walls of the town is to journey back in time.
This Tuscan hilltop town may be tiny, but it packs a punch! The entire place is hidden inside a fortified citadel, whose walls and 14 towers conceal its existence entirely. Once inside you'll discover beautiful sun-splashed piazzas and flower-clad trattoria gardens. There's also the olive-dotted hinterland of central Tuscany outside.
Nowadays only a few of the buildings are lived in, the rest of the village is given up to an interesting museum housing Renaissance armour and artefacts, along with a few shops and restaurants.
20. Volterra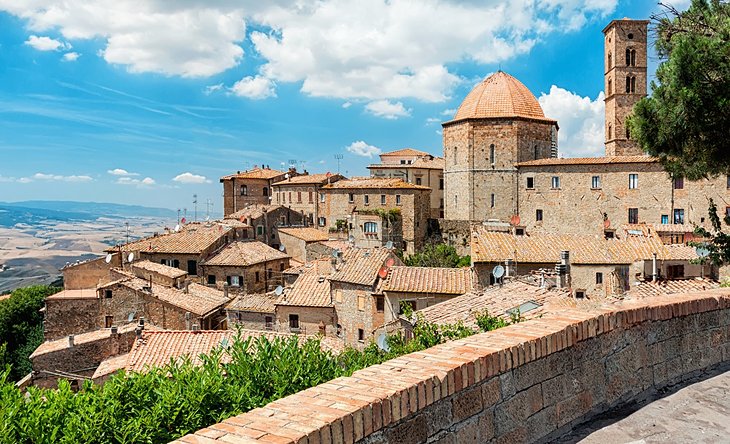 Volterra is slightly off the beaten path and is surrounded by thick walls and hills. The town clings to the highland ridges of western Tuscany and its long Etruscan history affords interesting sightseeing.
More recently known by international travellers thanks to its part in the Twilight series, Volterra's historic centre is a must see. There are the ubiquitous basilicas, cobblestone streets, crumbling gateways and red-tiled roofs, while its sporadic piazzas bubble with Italian chatter from the locals, and the scent of fresh Panzanella salads and fragrant olive oils sourced straight from the surrounding hills.
21. Collodi
Collodi is most famous for being the birthplace of the beloved children's character, Pinocchio. The narrow fairytale village cascades down a hillside in central Tuscany between Florence and Pisa and is the perfect Tuscan experience for storybook fans.
The Park of Pinocchio captures the imagination with bronze sculptures set among beautiful gardens, mazes and fountains. You'll also find the villa and gardens of Garzoni, a beautiful example of Italian Renaissance design.