China may be renowned for its bustling, smog filled cities but look a little further and you'll see that there's plenty of beautiful natural landscapes just waiting to be explored. Many of these landscapes remained undiscovered by Western tourists as they're not the easiest to get too. But, make a little effort to travel off the beaten path and you'll discover some of the the most incredible destinations in China.
1. Jiuzhaigou
Is this China's most impressive lake view? It's certainly up there!
Jiuzhaigou's enormous lake is filled with colour-changing water! Yes, really! It's the crown jewel of Jiuzhaigou, a region full of stunning alpine lakes and waterfalls.
The colour of the lake is created thanks to a combination of algae and calcified rocks found at the bottom. These reflect the surrounding landscape and as the seasons changes does the colour of the water!
Autumn is the best time of year to visit the lake, when it takes on a rainbow of different hues.
2. Zhangye Danxia Landform
Nicknamed the 'painted mountains' of Danxia, this incredible landscape is listed as a UNESCO World Heritage site. Part of the Gobi Desert, the folding of layered oceanic crust created exposed rock layers of different colours and textures.
Their unusual shapes, which resemble strange cones and towers, evolved over centuries of exposure to wind and rain and the colourful sediment layers add unique striped patterns. Magical!
3. Guanyin Statue
This huge statue is dedicated to Guanyin who is the Chinese Buddhist goddess of mercy. It makes up part of the Nanshan Temple Complex and is a whopping 354 feet tall! It's believed this is in fact the tallest statue of Guanyin in the world and the fourth tallest statue overall!
There are three faces to the statue with one looking towards land and the others pointing to the South China Sea, meaning that the bodhisattva blesses not only China, but the whole world.
4. Dongchuan Red Land
The Dongchuan Red Land is a 77,000-square mile area located about 25 miles southwest of Kunming City. This area has a subtropical climate which causes iron to oxidize and deposit in the soil creating a deep red colour. The red soil contrasts against green barley, golden buckwheat, white oil flowers, and the blue sky making it seem an even deeper red.
It's recommended you visit from May to June or September to November when the crops are ripe and colours most distinct.
5. Longji rice terraces
Said to resemble a dragon's back, the Longji Rice Terraces in China's Guangxi region are the largest rice terraces in the whole of China. They're a mighty 700 years old and are 1,100m above ground! Rather extraordinarily they also cover 66km squared of land! That's a lot of rice.
What makes the rice terraces even more special is that they're not just a tourist attraction. They are still in use to this day and you'll see villagers going about the daily tasks of growing rice on your visit whether that's weeding, ploughing or harvesting. It seems there's always something to be done and it looks like a back breaking task!
Read more about my experience of the Longji Rice Terraces and stay in Ping'an.
6. Leshan Giant Buddha
The tallest stone Buddha in the world, the Leshan Giant Buddha stands at 230 feet tall with a shoulder span of 92 meters. With toes at 28 feet long, and ears are 23 feet each this surely is a giant!
Built in 713 AD the Buddha has been carved into a cliff face overlooking the confluence of three raging rivers. The project was started by a monk who wanted to calm the rivers' dangerous currents, and it took more than 90 years to complete well worth a visit.
7. Qinghai Lake
Qinghai Lake is the largest lake in China at 1,616 square miles. You can find the lake in China's northwest and between June and July you'll be treated to a display from migrating birds towards the west of the lake.
The surrounding wilderness is a popular spot for hiking, camping, and cycling – perfect for us adventurers!
8. Echoing Sand Mountain and Crescent Lake
Along the Gobi desert section of the infamous Silk Road you'll find the Echoing Sand Mountain: a series of sand dunes. The dunes stretch for more than 25 miles and are 12 miles wide reaching 800 feet at their peak. If you don't fancy the climb you can get to the top by riding on a camel!
The dunes surround Crescent Lake, a half-mooned shaped lake that offers a pleasing contrast to the sand with the gardens blooming on its shores. Aside from their interesting shapes, the dunes are known for the haunting echoing sound they produce when strong winds blow over the sands. You've really got to visit and keep your ears open!
9. Yangshuo and the Li River
Yangshuo is a popular backpacker town in southern China. Whilst the town has been increasingly modernised to cater for tourists, it's the surrounding landscape that's the real pull.
A haven for adventure travelers, the area is an excellent spot for rock climbing, hiking, caving, and biking. Float down the gorgeous Li River on a bamboo boat, watch the farmers working in the fields and gaze up at the towering karst peaks.
See my recommendations of things to do in Yangshuo
10. Zhangjiajie's Rock Column Forest
If you've watched Avatar and were wondering whether the scenery was completely made up or not, the good news is it wasn't! The extraterrestrial landscape seen in the film was based on the rock column forest of China's Zhangjiajie. An otherworldly landscape!
11. The Southern Great Wall of China
While most people know about the northern Great Wall of China, very few people are aware that there is a Great Wall to the south as well.
The southern Great Wall of China is 190 miles long and was built by rulers during the Ming Dynasty for military usage and defence against the Mio people of the south. It's less crowded than the northern version but still every bit of beautiful.
12. Huangguoshu Falls
The Huangguoshu is China's largest waterfall and crashes down from 74 metres high. The momentum of the falls is incredible and rainbows appearing on a regular basis.
You can even swim beneath the waterfall for one of the most picturesque swims you'll ever have.
13. Dragon Well Tea Garden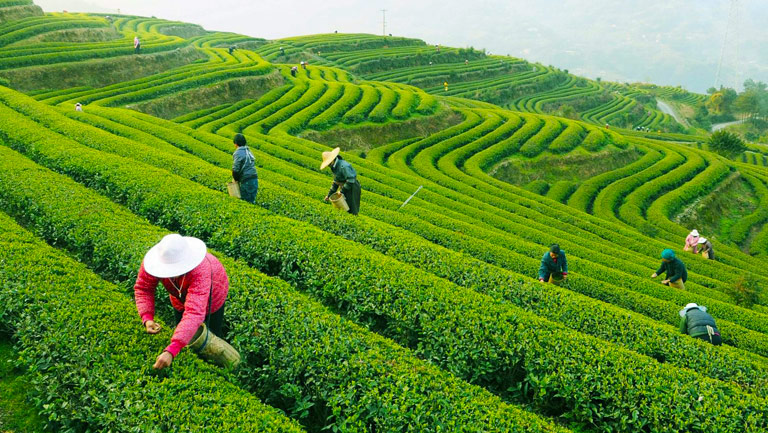 Hangzhou's Dragon Well tea garden is the place to go to sip the world's best green tea. Green tea is known throughout the modern world for the potency of its immune-boosting and weight loss properties and just a sip of high quality green tea can leave you feeling noticeably different.
If you like green tea and want to try the world's best then you'll have to visit the Dragon Well Tea Garden as China ensures the best green tea can only be drunk and bought here.
14. Sanya Coral Reef National Nature Reserve
China may not be known for being environmentally friendly but the Sanya Coral Reef is actually in reasonably good condition. The water is always clear and the reef is full of gorgeous coral, fish, shrimps, shells, seaweeds and more aquatic beauty.
15. Mount Huangshan
A UNESCO World Heritage Site set amidst "the loveliest mountains of China," Mount Huangshan, also known as Mount Yellow, is a once-in-a-lifetime trek.
The mountain is 1,863 metres high and is renowned for its oddly shaped pines, spectacular rock formations, hot springs and seas of misty and melancholy clouds.
16. Mount Wuyi
Mount Wuji, in China's Fuzhou province, is a major landmark in southeast China and also a UNESCO World Heritage Site. The Nine Bend River by the mountain is popular for its bamboo rafts, like those at Yangshuo and is a more relaxing way to exploring the scenery.
You can also take on an 8km hike, which takes about 2 hours, to get even more stunning views of Mount Wuyi. The smooth peaks and clear water are a sight to behold!
Bamboo raft drifting in the Nine Bend River (lower gorge) is a popular activity among visitors.
The two-hour, eight-kilometer trips provide grand views of Mount Wuyi. It's the best way to take in the serene beauty of the smooth peaks and clear water.
17. Yalong Bay
Hainan's Yalong Bay is a haven for beach and water sports lovers and offers the best tropical setting in the whole of China. The beach stretches for 7.5km and although it's rather developed it's still beautiful. If you're after some relaxing, this is where you'll find it! There are luxury hotels and palm trees to give you all those western amenities.
Yalong Bay is also a haven for water sports lovers. Here you'll see plenty of surfers riding the uncrowded waves all day.
If you visit in July, August, October or during Spring Festival, you'll be surrounded by Chinese families, mostly sporting old-school swimsuits.
18. Chengde Mountain Resort
Another Chinese UNESCO World Heritage Site is Chengde Mountain Resort. The mountain resort was once used as a luxury, four-star retreat for Chinese emperors and nowadays it's a great place in which to explore.
Full of landscaped gardens and a 70 metre pagoda which backs onto lush grasslands, marvellous mountains and tranquil valleys you could spend all day gazing at the scenery here.
19. Longtan Valley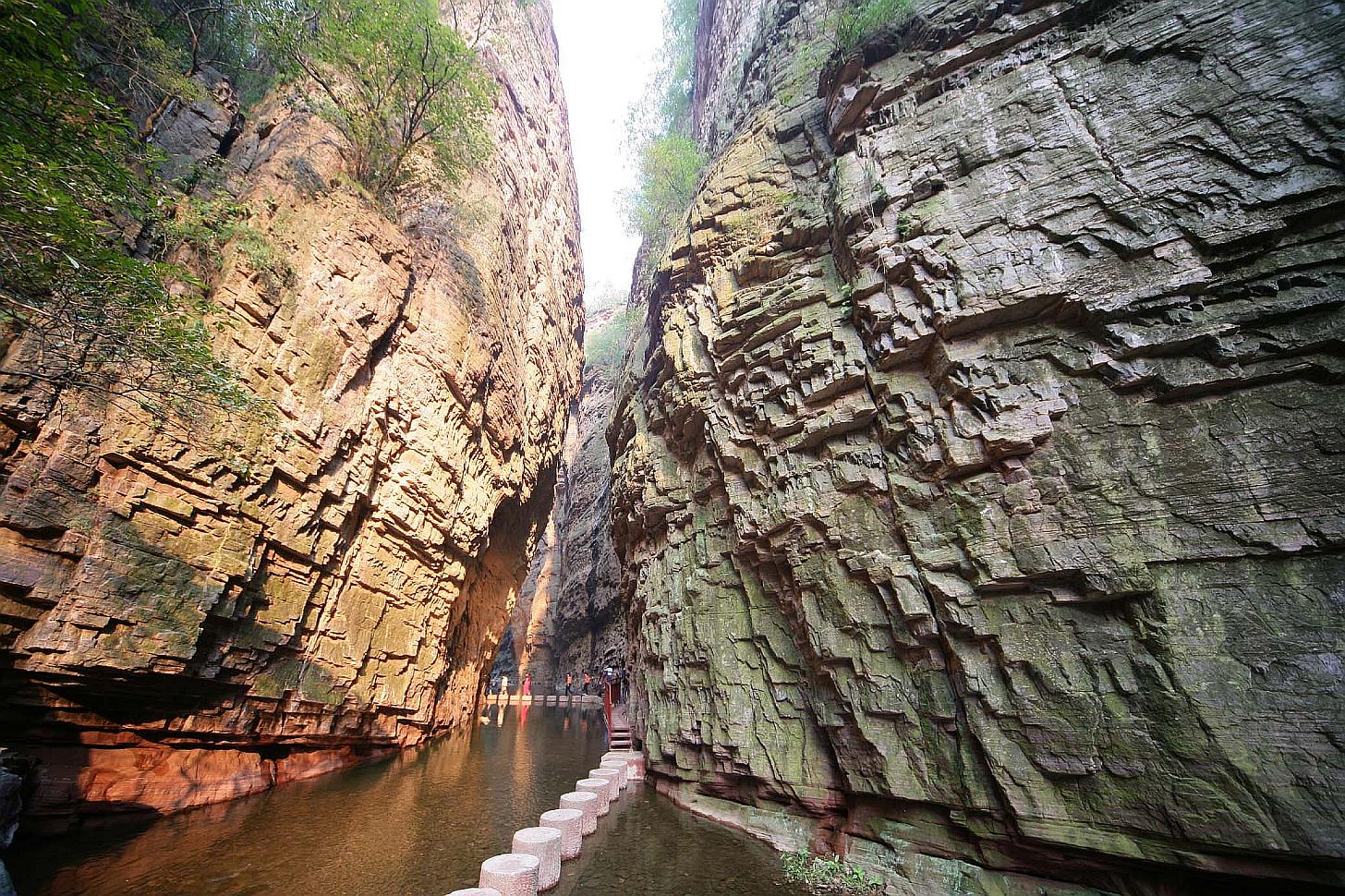 Whilst this may look like some of the scenery found in Utah, this is actually Longtan Valley in China's Henan province. This 12km, U-shaped valley marked by a stripe of purplish red quartz sandstone has earned the title of "The No.1 Valley of Narrow Gorges in China."
Its steep cliffs, lush vegetation and jagged valley attract sightseers from all over China.
20. One Incense Pillar
One Incense Pillar in the Enshi Canyon is a karst pillar which stands alone between the cliffs and peaks of the 108km long Enshi Canyon; China's answer to the Grand Canyon.
The pillar is often likened to an incense stick and rises up to 150 metres. For such a large height you'd think the pillar was wider, but it's only a mere 4 metres wide. It's incredible it manages to stay upright at all, let alone the fact it has survived several major earthquakes!
Local legend holds that the pillar is a piece of incense given by a deity to the ingenious Tujia people. The residents could light it in times of disaster and the deity would descend to help.
21. Shennongjia
More than 400 people claim to have seen a Bigfoot-like creature among the lush vegetation of Shennongjia over the past century. As yet no hard evidence has been found to prove the "yeti's" existence.
This 3,200-square-kilometre nature reserve also claims to be "the only well-preserved subtropical forest ecosystem in the world's mid-latitudes," with more than 5,000 species of animals and plants.
It's home to snub-nosed or golden monkeys, a rare and protected species in China. Spot them if you can!
22. Fenghuang
The stilted houses in Fenghuang are the dream lodgings of Chinese art and literature lovers (and probably instagrammers too!).
Every year you'll find Chinese backpackers flocking to the ancient town of Fenghuang (which literally means "Phoenix") for its rich Miao and Tujia ethnic culture. Many also come to pay homage to celebrated Chinese writer Shen Congwen, whose novel "Frontier City" put the 1,300-year-old town into the limelight.
Fenghuang maintains its original layout and architecture, with around 200 residential buildings, 20 streets and 10 winding alleys, all of which date as far back as the Ming dynasty.
23. Singing Sand Bay
Technically in Inner Mongolia, the Singing Sand Bay is a 110m high dune 50km from Baotou (a major Inner Mongolia city). The dune slides off at a 45-degree angle and the wind here is said to sing in soft whispers hence the name.
24. Mount Lu
Mount Lu swims in a sea of clouds in Lushan National Park. A UNESCO World Heritage Site since 1996, Mount Lu is more than just a tourist attraction: it's a cultural and spiritual symbol.
Upward of 1,500 famed painters and poets from various periods of ancient and modern China – Li Bai of the Tang Dynasty and Xu Zhimo in 1920s, to name two – have traveled here to be inspired by Mount Lu. If you look closely you'll find masterpiece poems engraved in calligraphy on the mountain cliffs.
25. Heaven Lake
Sometimes called the Loch Ness of China thanks to monster fans who have reported spotting lake creatures of 20m long, the crystal clear Heaven Lake is said to resemble a piece of jade. The lake is surrounded by 16 peaks of the Changbai Mountain National Reserve which is near the border of North Korea.
The average depth of the lake is a whopping 204m which makes it the deepest lake in China. Maybe there is a monster hiding in there somewhere!
26. Benxi Water Cave
Exploding with colour, the Benxi Water Cave was formed more than 5 million years ago. A dramatic array of stalagmites and stalactites are covered in vibrant greens, yellows and reds. Today its main sections are a "drought cave" and a "water cave."
The water cave contains the world's longest underground river at 5.8 kilometres and only 2.8 kilometres are accessible by boat. The drought cave is rather small with just 300 metres being kept open for the public.
The temperature in the cave remains a constant 10 C so make sure you pack a jumper!
27. Hailuogou Glacier National Park
Legend holds that only the lucky will be treated to the views seen in Hailuogou Glacier National Park in Sichuan province. Also known as "Conch Gully."
According to legend, the gully was a wasteland until a renowned Tibetan monk played his treasured conch there and attracted many animals, who became so enchanted with the place that they took up residence. To memorialize the monk and his conch, the gully ever after became known as Conch Gully.
The magnificent glacier, which drives through woodlands, cliffs, peaks and gullies, is accessible all year round. It appears at its best in early morning sunshine.
More than 10 hot springs are spread beneath the glacier. Two are open to the public, including one at an elevation of 2,600 metres.
28. Nalati Grassland
This sub-alpine meadow is so distinct in northwest China that, according to legend, one of Genghis Khan's troops was so awed by its colour that he gave the area the name "Nalati" (meaning "place where the sun emerges" in Mongolian).
The prairie is a great place to experience Kazak customs. Locals still play traditional sports, live in yurts and raise falcons to hunt for the family dinners.
29. Pudacuo National Park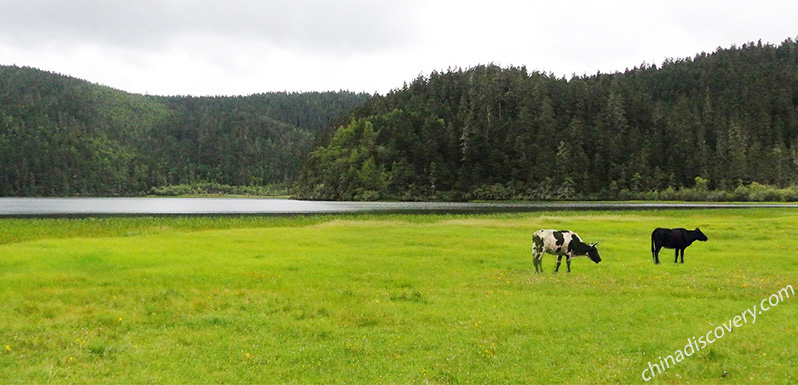 Pudacuo is the first national park in China to meet the criteria set by The World Conservation Union (a major global environmental organization).
More than 20 percent of the country's plant species and around one-third of its mammal and bird species call this wetland plateau home. It's a haven for photographers who love the area's many types of orchids and China's highly endangered black-necked cranes.
30. Nanxi River
Dive, catch and cough 'em up. Cormorant fishing as it's always been done on the Nanxi River.
With its mountain backdrop and shores lined with ancient houses, the Nanxi River inevitably became the cradle of classic Chinese water-and-ink painting.
By drifting down the Nanxi River on a bamboo craft, adventurers can enjoy views of locals doing laundry along the river and fishermen employing traditional methods of using cormorants to catch fish with help from Cormorants. The Cormorants dive, catch and cough up the fish for their owners and it's fascinating to watch.
31. Thousand Island Lake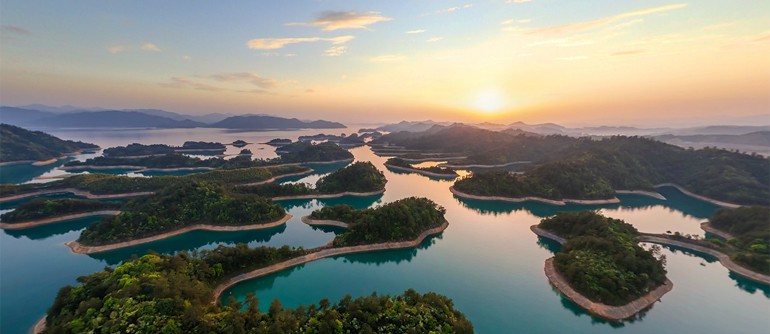 Fancy some Chinese island hopping? Then head to Thousand Island Lake, as the name suggests there is lots of hopping to be done here !
Back in the 1950s, the Chinese government evacuated and flooded and area of 928km squared. Village, plains and hills were covered in water so that a reservoir could be built with the indirect result being this surreal view.
There are around 1,078 islands in the lake and outdoors activities are the main draw to this area. Speed boating, water skiing, wildlife spotting and mountain climbing are popular and you can feast on excellent seafood after a busy day of adventures.
32. Yunhe Rice Terrace
Literally meaning "peaceful clouds," Yunhe and its surrounding rice terraces have been home to farmers for at least 1,000 years. Whilst these rice terraces aren't as big as those at Longji, they're every bit as spectacular.
The terraces wind in a maze up mountainsides from 200 to 1,400 meters and individual terraces can be made up of as many as 700 layers!
Rainy days are the best time to visit, when steam from evaporating river water floats through the terraces, creating a kind of agricultural dreamscape.
33. Huangshan (the Yellow Mountains)
The Yellow Mountains in China's Anhui province are full of scenic features such as strange shaped pines, cloud oceans and curious rocks. It's fair to say the Yellow Mountains are legendary in beauty. Xin'an River is a beautiful hiking route and Tachuan is known for its fall hues.
34. Xiapu Mudflats

Xiapu is one of China's many hidden gems. The area's picturesque mudflats and a simple, laid back lifestyle mean it's deeply loved by those that do visit.
The scenery changes constantly. Sometimes there is sea water, and sometimes just mud, with seaweed drying on bamboo poles. Fishermen and seaweed harvesters make a living here, working, in harmony with the tides..
35. The Yuanyang Terraced Fields
It's up to you which of the three rice terraces on this list are the most beautiful as I couldn't possibly decide! Yuanyang's terraced fields in the Yunnan province in south-eastern China are little visited by outsiders as, until fairly recently, there haven't been great road connections.
The town of Old Yuanyang is atop a ridge of the Ailao mountain range at an elevation of around 1570 metres and is home to the Hani people who have been cultivating the terraces for at least the past 1,300 years.
36. Great Wall of China
The famous Great Wall of China hardly needs an introduction but I'll give you one anyway. The Wall is an assemblage of smaller walls built by various dynasties over many years. Builders erected them for protection from invasions by those from the north and did a pretty good job since The Great Wall has stayed standing for over 2000 years!
At approximately 8,800 km in length this is one vast wall and although some of the sections lie in ruin or have disappeared altogether, it remains one of the longest man-made structures in the Badaling is the most popular section of the wall as it's close to Beijing and easy to access and climb.
37. Hanging Temple
Only 4 hours outside Beijing, the Hanging Temple is one the most impressive temples in China, but also one of the least-visited by international travellers.
Suspended over 100ft above the valley floor, the buildings are connected by a series of wooden walkways with spectacular views. The temple is famous for its mix of Buddhist, Taoist, and Confucian influences making it an interesting historical and spiritual site too.
38. Yungang Grottoes
Whilst you're visiting the Hanging Temple make sure to visit the Yungang Grottoes too. With 50,000 Buddha statues the Yungang Grottoes are one of the highlights of northern China.
Declared a UNESCO World Heritage Site, you'll find dozens of caves and thousands of sculptures carved directly into the cliffs. The grottoes are one of the most popular regional attractions among Chinese tourists and a must see if you're in northern China.
39. Red Beach
The red leaves form a popular attraction during China's autumn, but have you ever seen the season's red waters? In the mud flat of Panjin, northeast Liaoning Province, sea blites start to grow every April or May. When they first start growing they're green at first but they gradually turn red. By September, they will have become a carpet of vivid red, stretching out across the whole beach.
September mornings are the best time to enjoy the spectacular views of Red Beach. Some of the best spots to view this "red carpet" can be found by standing on the bridge which extends into the sea, or by paddling may out into the water.
Want more China travel ideas?