Savary Island is an island off of The Sunshine Coast that takes a little bit more effort to get to, however, it makes for a great weekend adventure! Savary Island is perhaps one of the lesser talked about islands, but if you're looking to go camping then you can't do much better than some Savary Island camping! Get planning those summer adventures with this guide to Savary Island and camping on Savary Island complete with the best things to do there.
About Savary Island, BC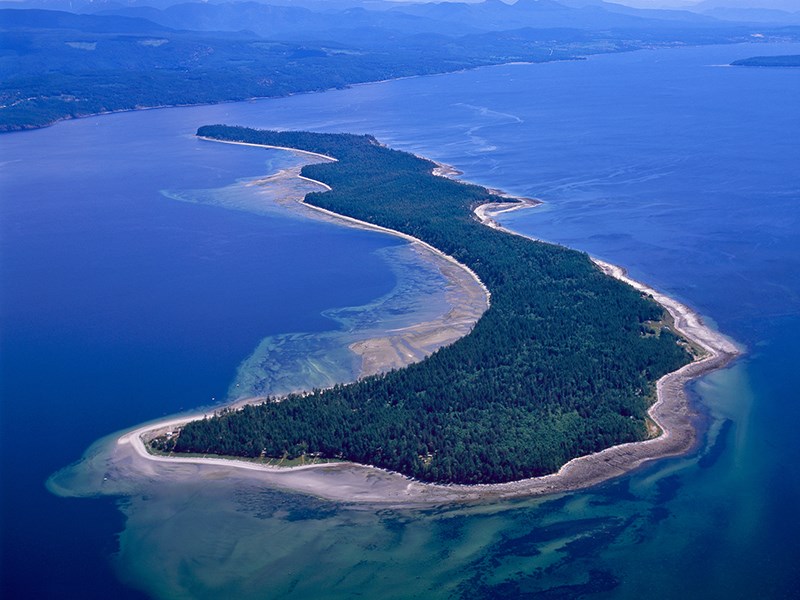 Savary Island, also known as Áyhus, is an island in British Columbia that's in the northern part of the Strait of Georgia. It's a small island that's around 1km wide, and 7.5 km long.
Savary Island water is said to be the warmest water north of Mexico and is renowned for its white-sand beaches. It's almost like a tropical paradise where you'd least expect it!
The island is home to a range of ecosystems from sand cliffs to dune meadows and ancient forested dunes. There's just one designated campsite and the cell service is patchy. So, if you want to get off the grid for a few days, it's perfect!
If that's too much for you, you can also do a Savary Island day trip by being dropped off and picked up at the public wharf on Savary Island from Lund Marina.
When it comes to getting around Savary Island, you'll either be on foot or by bike. Since the island is so small, it's not hard to see most of it in one day!
Other things to know about Savary Island
The wharf for the water taxi to Savary Island is on the eastern side of the island.
How many people live on Savary Island year-round? Around 100 people live there full time. But there are as many as 2,000 during peak summer months.
There are no public washrooms on Savary Island
Remember to practice leave no trace. The island is made up of sensitive, fragile ecosystems. Keep dogs on leash and leave only footprints.
You can view a map of Savary Islands here. Or pick one up in Lund.
Getting around Savary Island: Getting around the island is best done by bike. You can rent one from a bike shop at Vancouver Boulevard and Campbell Way, on the island for around $20/day (cash only). Or, bring your own and pay a small extra charge for taking it on the water taxi.
There is limited data coverage on the island and don't expect to get cell signal everywhere
Savary Island is an off-grid island. If you're camping, bring a light! Some cabins might have generators but packing a headlamp and spare batteries is a good idea just in case.
There is no ATM and businesses typically don't take cards. Bring cash.
Where is Savary Island?
Savary Island is at the entrance to the Desolation Sound off The Sunshine Coast, BC. It's only 140km from Vancouver as the crow flies, but since you'll need to take a few ferries to get there, you're looking at around 4-6 hours of travel time.
How to get to Savary Island
The most common way to get to Savary Island is to take the water taxi from Lund on the northern end of The Sunshine Coast. Alternatively, you can take a floatplane to the island, your own boat, or kayak over there.
By Car and The Lund Water Taxi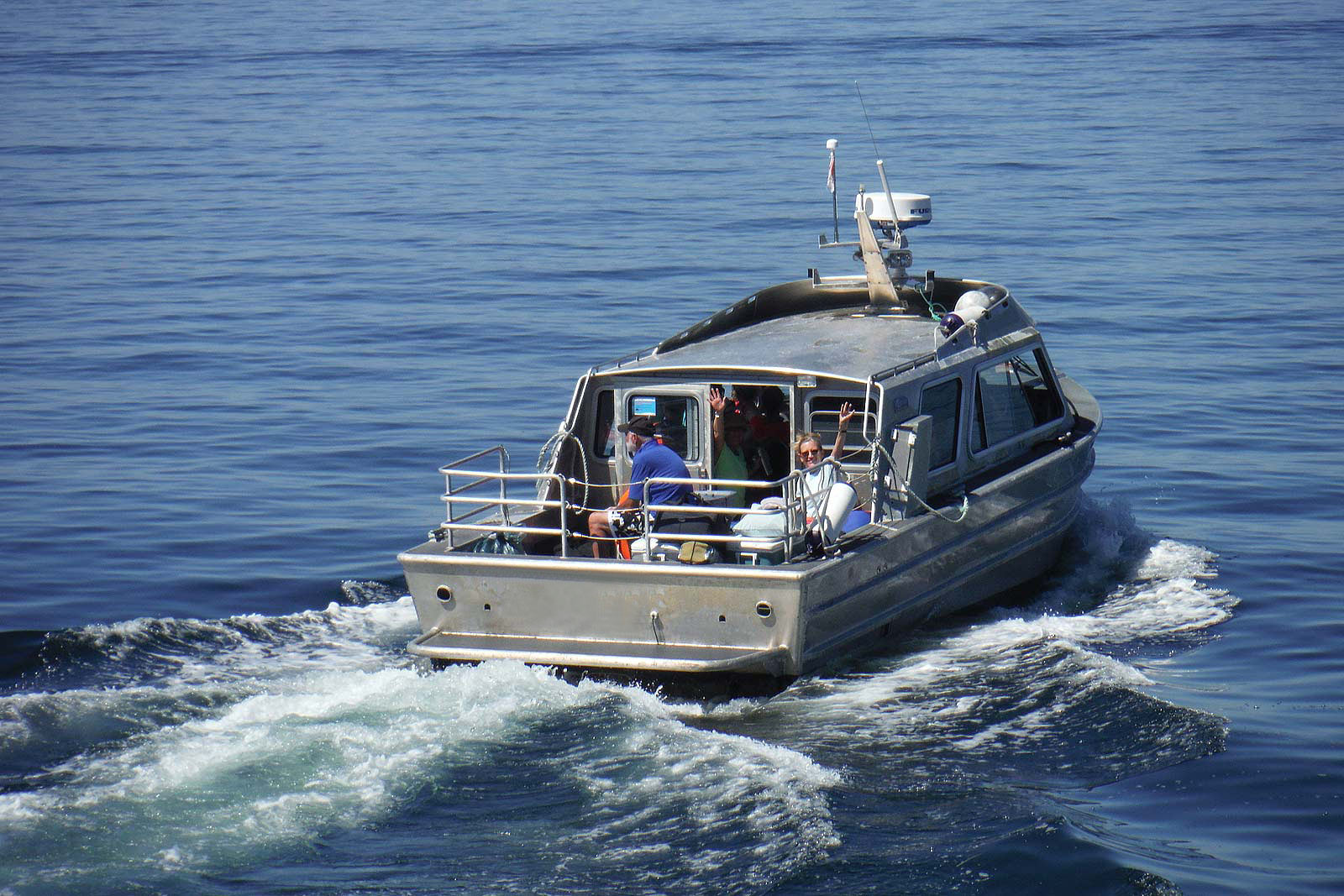 The most common way of getting to Savary Island is by driving from Vancouver to Lund then taking the water taxi.
If you're coming from Vancouver, the first leg of the journey is to take BC Ferries from Horseshoe Bay to Langdale (Gibsons) on the Sunshine Coast (reservations recommended). See the schedule here.
Once you've arrived on the Sunshine Coast, drive to the Earl's Cove ferry terminal which takes around 1.5 hours.
The free ferry from Earl's Cove to Saltery Bay takes around 50 minutes and from there it's another hour-long drive from Saltery Bay to Lund. At Lund, you'll need to take the 15-minute passenger-only (no cars) water taxi to Savary Island.
There are two companies offering transport from Lund to Savary Island. They are:
You should reserve your water taxi trip in advance – especially if you're visiting Savary Island at the weekend. And beware that the last water taxi leaves Lund at 6 pm.
There is parking for your car next to the water taxi dock at 'End of the Road' parking in Lund for around $10/day.
Savary Island by floatplane
Pacific Coastal Airlines and Harbour Air fly to Powell River from Vancouver. From here you can use the BC Transit Bus Service to get a bus from Powell River to Lund on Tuesdays and Fridays, otherwise, a taxi will take you to Lund.
See the Lund – Powell River bus schedule here.
Savary Island Accommodations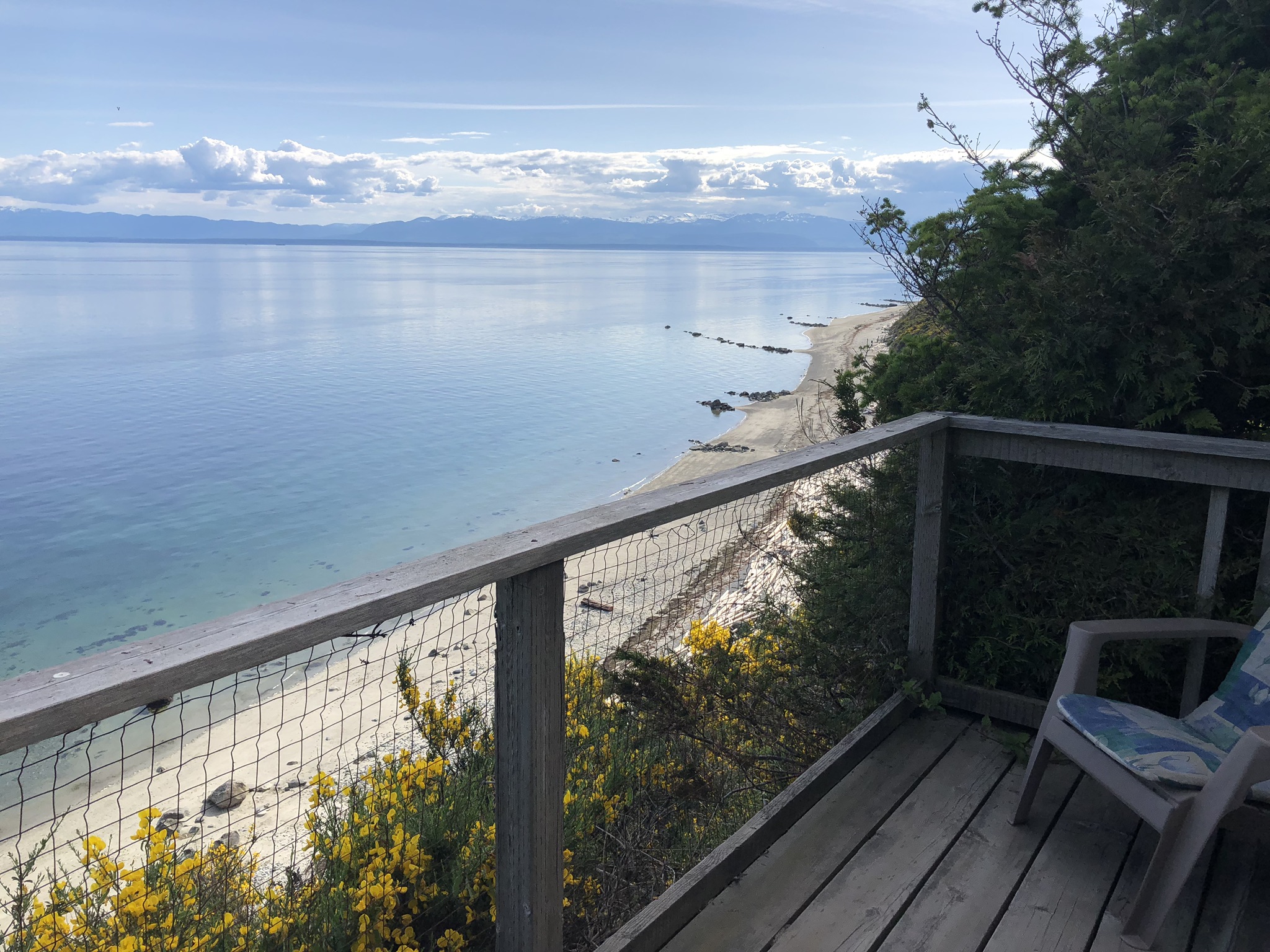 Though you can easily visit Savary Island in one day, it's nice to spend the night there to fully enjoy the peace and quiet and give yourself a chance to switch off. Here are some of the options for staying on Savary Island that are available to you.
Savary Island Camping & Beach Camping
Pascals's Place is the only designated campground on Savary Island and is found at Savary Camping & Cottages. It's around $10 a night and includes bathroom and kitchen facilities. This campground is in the forest and is about 700m from the beach making it a great option if you're hoping to do some Savary Island beach camping!
Some people camp on South Beach on Savary Island. However, there are mixed reviews of doing so with often noisy campers around and police patrols checking for alcohol, etc. Staying at Savary Camping & Cottages would be a less-stressful option.
Savary Island Glamping
There is also a new luxury option available for Savary Island camping. You can book The Orca, a luxury tent that sleeps 4 on two beds included inside the tent and comes with a sea view and kitchen facilities.
Savary Island Rentals
There are lots of Savary Island cabin rentals. Whilst many are privately owned and not rented out, there are lots that are available on VRBO.
Savary Island Resort
Though they no longer do room rentals, you can rent the entire place. Savary Island Resort sleeps a maximum of 20 people and costs $1100 per night with a 3-night minimum. There is also a 250$ cleaning fee added to each reservation.
Best things to do on Savary Island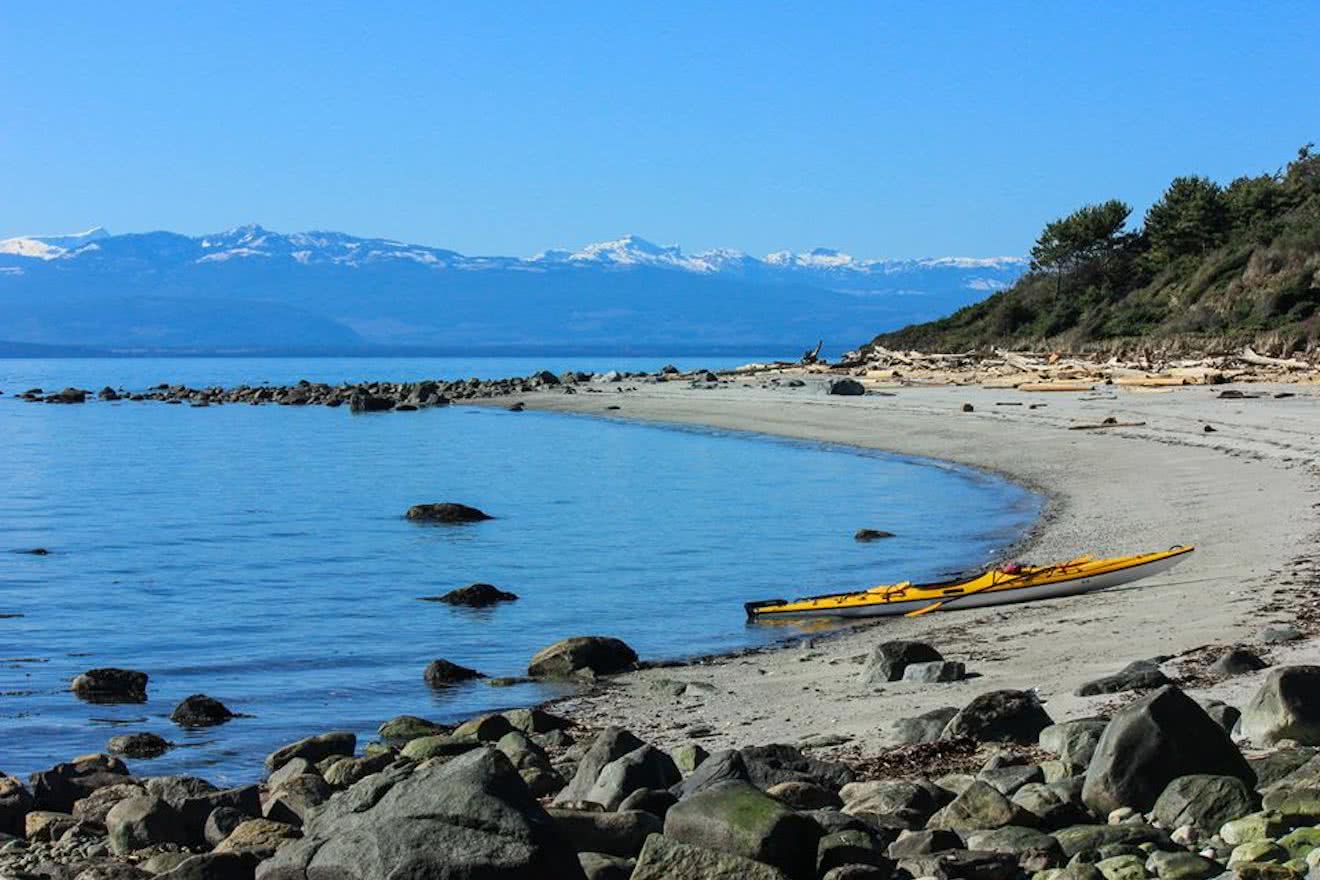 Enjoy the Beaches of Savary Island
Arguably one of the best things about Savary Island is the beaches. There are some of the classic rocky coastlines you find along the west coast, but there are also emerald warm waters and white-sand beaches to be discovered.
Most of the beaches involve a bit of a walk down to them since the core of the island sits on a clifftop. You can find routes down to them by keeping your eye open for a trail, or by using Google Maps.
South Beach is a common favourite for its soft sand and shallow waters that make it great for paddling or floating.
Kayak Savary Island
Exploring the coastline by kayak is one of the best things to do on Savary Island. Whilst there are no kayak rentals available on Savary Island itself, you can kayak over from The Sunshine Coast, or bring your own via water taxi.
Take a Savary Island hike
While there aren't any big hikes on Savary Island there are still plenty of trails to explore. Most trails are not signposted, but it'll be pretty obvious when you come across one and you can find them on Google Maps too. Look for:
Eagle Ridge Trail
Dune Ridge Trail
Hanging Tree Trail
The Sunset Trail
The longest trail is around 1km with less than 100m elevation gain.
Watch the Wildlife on Savary Island
Savary Island and its waters are home to many types of animals including eagles, hummingbirds, whales, porpoises, otters, seals, sea lions, and deer amongst others!
There are no bears on Savary Island.
Visit the Savary Island Farmers Market
The farmers market takes place every Tuesday in July and August from 11 am to 1 pm. It's a great place to pick up some artisan treats and souvenirs while you're on the island.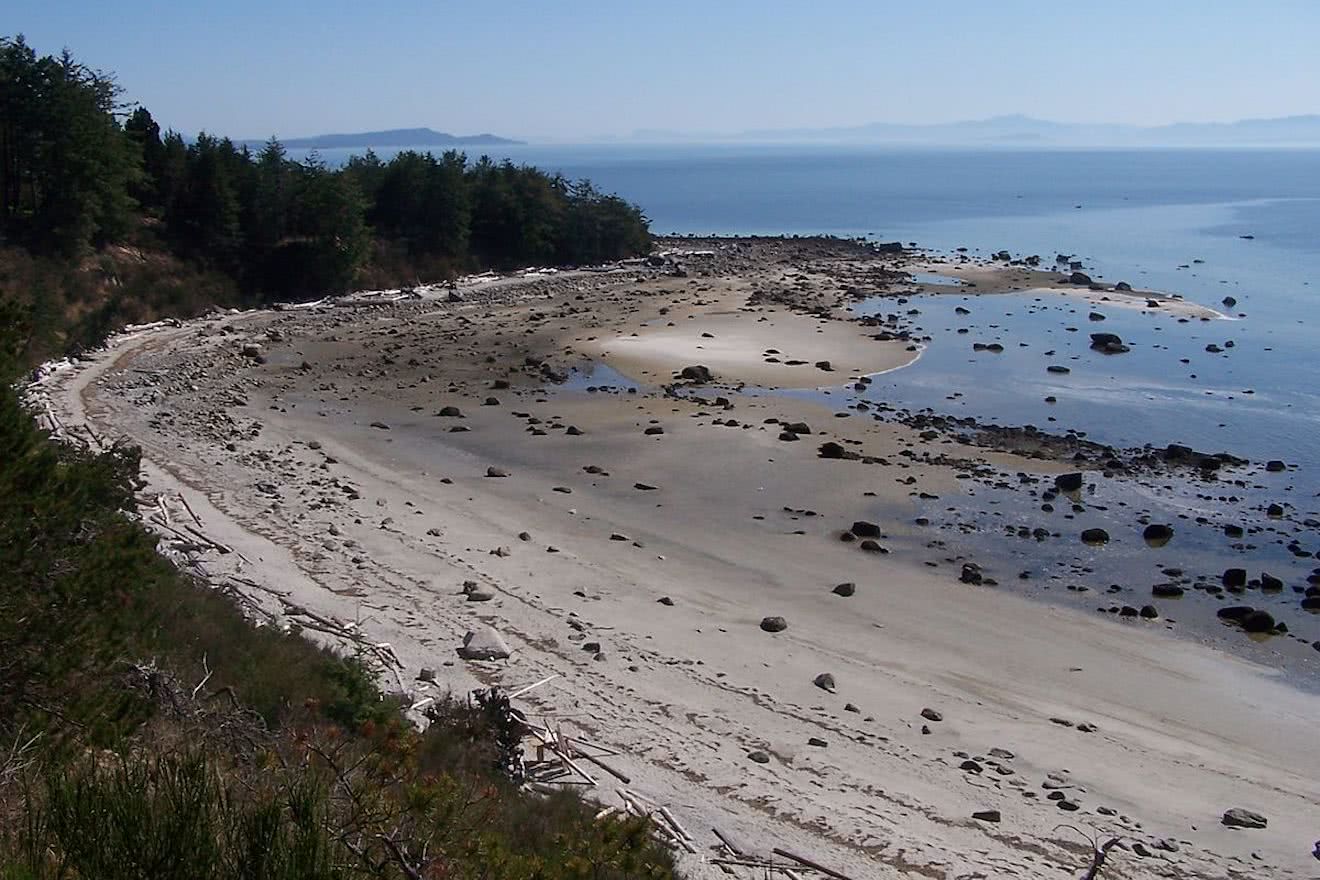 Just Relax!
If you're planning a trip to Savary Island, the chances are you're looking to get away from it all and relax, so make sure you do just that! Take a book (or two), some games, and your friends and enjoy a relaxing getaway.
Watch the Sunset
Get yourself to the western side of Savary Island to watch the sun dip into the ocean!
Where to eat and drink on Savary Island
There are limited places to buy your own food and drinks on the island and there aren't any restaurants with regular hours. However, most cabins and the campsite have drinkable water!
You can find basic food and alcohol at Savary's General Store and there's a pub called Riggers where you can get food. Both of these are on the eastern side of the island. In addition, there's The Sugar Shack on the western side which sells sweet treats such as ice cream and candy.
If you're desperate, you can call the water taxi and pay them to bring over some groceries from Lund.
With all that said, it's best to bring your own supplies for the duration of your stay!