If you're visiting Powell River, BC on the northern part of The Sunshine Coast, chances are you're getting up to something adventurous. And some of the best adventures involve camping! If you're looking for camping in Powell River, this guide will get you in the know with the best spots around from private campgrounds to free places to camp.
This guide to Powell River camping covers paid private sites, recreation sites Provincial Parks in Powell River and free and backcountry camping in the area. If you're looking for another camping idea near Powell River, check out camping at Savary Island near Lund.
Looking for restaurants in Powell River? Check out this guide!
Private Campgrounds
Private campgrounds are usually the most expensive option for camping in Canada. However, they typically come with large sites and more facilities. Many options on this list include showers and some also have laundry.
Willingdon Beach Campsite
Willingdon Beach Campsite is ideal for all types of campers. Whether you're looking for camping in Powell River with your RV, campervan or just a tent.
At Willingdon Beach campground you're both in the forest and at the beach. The campground is also super close to the main street in Powell River where you can find the best restaurants in Powell River.
Steps from your campsite you can explore trails on bike or by foot and you only have to walk a few metres to the beachfront to enjoy a beautiful Powell River sunset.
Nightly Rates: $25.75 for an unserviced tent to $39.25 for full RV hook-up site.
Reservations: Reservations are recommended.
Facilities: Showers, flush toilets, wi-fi, laundry, playground, splash park, beach volleyball.
Open: Year round
Rusty Gate Berry Farm Site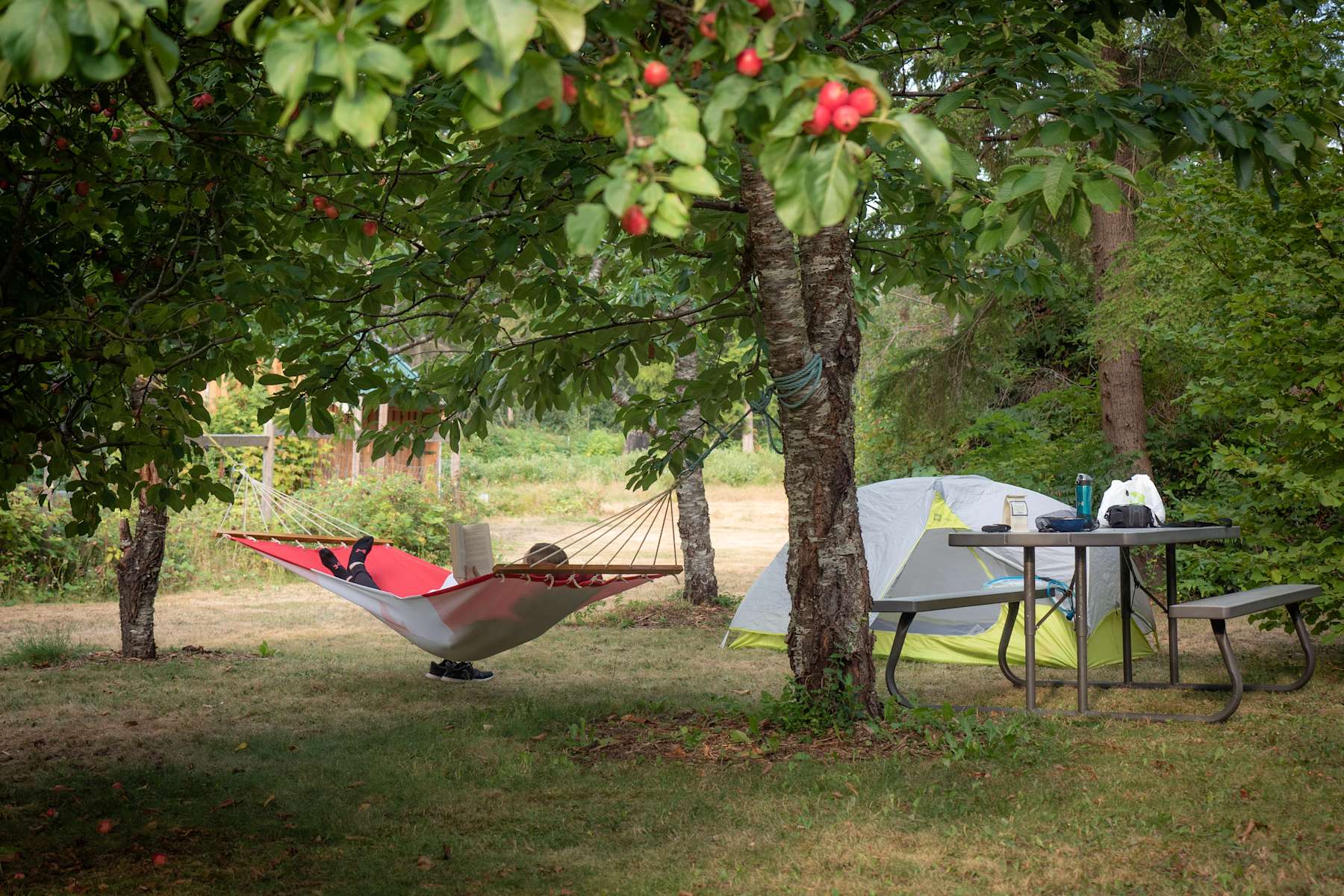 This private campground offers tenting and RV camping in Powell River on a beautiful U-pick berry farm.
There is just one RV site and one tent site up for grabs through HipCamp (save $10 on your first booking!).
Camping at Rusty Gate Berry Farm campground, you're just minutes away from lakes, beaches and hiking, biking and ATV trails as well as The Sunshine Coast Trail and the Powell River Canoe Circuit.
A picnic table and fire pit are supplied, with wood available to purchase as per local fire restrictions in the summer. There's drinking water and access to power to charge phones. There is some wifi, but it won't work too far away from your spot.
We are flexible and can accommodate small group bookings, please message to inquire. Picnic tables and a fire pit are supplied and firewood will be available for purchase. Fires are only allowed as per local regulations during forest fire season.
Potable water is available and there is access to power for charging cell phones etc. Wifi is available but may only work a few steps away from your campsite.
Nightly Rate: $40 for RV, $30 for tent
Reservations: Yes
Facilities: wifi, drinking water, picnic table, fire pit, toilet
Open: Year round
Creekside Crossing Campground
Creekside Crossing Campground is a rustic campground in Powell River. It's family run and you have the choice of being able to camp in an open meadow or amongst the rainforest trees.
The campground is along a forest service road with access to The Sunshine Coast Trail and a multitude of other trails to explore. You'll find lakes for paddling, fishing or swimming or you can relax on the beaches near Powell River.
This campground is on the more rustic side of things and is fully off-grid. There is no power, no potable water, and no showers. Pit toilets are available and each site has a picnic table.
Nightly Rate: $30
Reservations: Required for winter season camping, drop-ins welcome at other times.
Facilities: Pit toilets, fire rings
Open: Year round
Kent's Beach Resort Cabins & Campsite
Kent's Beach Campsite and Cabins is 30 minutes outside of Powell River and offers oceanview camping and comfortable cabins.
There are 20 camping spots that are suitable for both tents and RVs with partial hook-up (water and hydro).
In addition, there are 8 cabins sleeping between 4 and 10 people. The cabins are furnished with their own bathrooms and kitchens with everything you need for cooking. However, they do not include bedding or towels though these can be rented for an additional fee.
ll cabins are furnished, have bathrooms with showers, and fully equipped kitchens with microwaves and coffee makers, fridge, stove, pots, pans and dishes.
Prices do NOT include bedding or towels; these items are available at an extra charge.
There are no phones, radios, or TVs in cabins.
Nightly Rate: $27 – $40 depending on site location and season. Cabins from $105 in low season.
Reservations: Cabins can be booked online. Contact for campsites.
Facilities: Laundry, flushing toilets, showers
Open: Year round
Sea Breeze Resort
Sea Breeze Resort offers both tent and RV camping in Powell River with electric hookup available. From this Powell River campground you can enjoy swimming and beach comb on Lang Bay's beautiful sandy beach or take a hike on scenic trails to any of the nearby lakes.
Nightly Rate: From $30
Reservations: Yes
Facilities: Flushing toilets, showers, picnic tables, campers kitchen, laundry, drinking water.
Open Year round for RVs. Tents are not permitted November – Easter.
Haywire Bay Regional Park Campground
Haywire Bay Regional Park is a popular seasonal day-use park and campground in the qathet Regional District. It's family-friendly and has 48 individual RV and tent sites.
Nightly Rate: From $25
Reservations: Yes. See here.
Facilities: Showers, pit toilets, firewood for sale, picnic tables, grill, playground, boat ramp, swimming beach
Open: May – September
Powell River Rec sites and Provincial Parks
Rec sites in BC offer free or very cheap camping. Facilities are often quite basic but they're usually in beautiful locations. You can stay in Rec Sites for up to 14 consecutive nights unless otherwise stated.
Provincial Parks are similar but there's usually a fee and they're more managed with more regularly cleaned pit toilets, sometimes showers and a manager on site to deal with guest questions or sell firewood.
Dinner Rock Rec Site
*Currently Closed.*
Dinner Rock is where we stayed for a night while in the Powell River area. It's around 30 minutes north of the town but offers free camping near the ocean.
There are 15 spots all with picnic tables and fire pits set in amongst the forest. A few spots have ocean views but these tend to be full pretty regularly.
There's no forestry road to get to it making it accessible to all vehicles.
Nightly Rate: Free
Reservations: No, first come first served
Facilities: Pinic tables, pit toilets
Open: Year round (currently closed)
Inland Lake Provincial Park
Inland lake Provincial Park has 22 Powell River campsites located on the beautiful Inland Lake. It's just 12km from Powell River and there is also a water pump, fishing floats and a boat launch.
Most years there is an accessible 13km trail around the lake though as of 2021 this is closed and in the process of being rebuilt.
Nightly Fee: $18
Reservations: Yes
Facilities: Firewood for sale, toilets
Open: Year round
Lois Lake Rec Site Powell River Campground
Lois Lake is another recreation site near Powell River. This one is harder to get to that Dinner Rock and requires a 4×4 or at the very least a 4WD vehicle with high clearance.
Sites here are free and first come first served. There are 12 spots in total for vehicle camping and another 4 for walk-in tent camping. If you're planning on doing the Powell Forest Canoe Route, this is a great starting point!
Nightly Fee: Free
Reservations: No. First come first served
Facilities: Picnic tables, pit toiler
Open: Year Round
Free camping in Powell River, BC
There is free camping to be found all over the Powell River area. Read this post for how to find free camping in Canada.
Getting a Backroad maps book for Vancouver Coast and Mountains is a great way to find out the locations of rec sites and forestry roads as well as hiking and recreation areas on the Sunshine Coast.
Forest Service Roads are always a great option when looking for free camping. You're allowed to camp down them and many have pullouts or clearings where you can stay in your camper van or pitch a tent. The downside is that they're getting busier than ever and so to find a spot you'll most likely need a good 4WD, especially in this area.
Another thing to note is that there's a lot of live logging on the Sunshine Coast. This means that logging roads can be closed to public access during the week. This is for your own safety as you do not want a head-on collision with a logging truck!
Important things to consider before camping in Powell River
Before you go camping in Powell River, here are some things to bear in mind to ensure you have a fun, safe trip.
Powel River Camping Reservations
Powell River tends to be quieter than destinations such as Squamish, Whistler or those on the lower Sunshine Coast. However, it can still get pretty busy during the summer and at weekends.
Plan in advance and book your campsite where possible. For Provincial Park campgrounds, this means booking 2 months in advance of the date you plan to start camping. For private campgrounds, you can usually book further in advance.
Having Campfires in Powell River
The majority of Whistler campsites above allow campfires. However, campfires may be banned during the summer months if there is a high risk of wildfire in the local area.
Most years you can expect a campfire ban in BC from July/August to late September. You can check the BC Wildfire Service website to see if a ban is in place. There will also be signs up on the drive and at the campsite too.
You cannot chop down trees at the campground to use as your firewood. This damages the ecosystem and live wood doesn't burn well either.
Paid campgrounds will usually have a camp host who goes around the campground in the early evening or collect fees and sell firewood. You can buy wood from them. Alternatively, you can find firewood for sale outside gas stations or supermarkets.
Powell River Wildlife
The Powell River area is home to both black bears and grizzly bears. You're far more likely to see a black bear than a grizzly bear but at campsites near Powell River (except for those down FSRs) you're unlikely to see a bear.
The most common time to see a bear is in Spring and in Fall when the bears are looking for food after and before hibernation. The majority of bears are afraid of humans and stay clear of campgrounds when humans are around.
The most important thing to bear in mind is that you must keep all food, garbage and toiletries/other scented items and cooking equipment in your car or a bear-proof locker (these are usually provided). Never keep them in your tent even when you're in your tent.
There are plenty of stories about campers coming back to their tents only to find a bear has ripped their way through them during a search for food!
Other wildlife you may encounter at the campground include deer and mice and you don't want either of those in your tent or at your food either.
Weather in Powell River BC
June to September is the best time to go camping in Powell River as this is when the weather for Powell River is best with more likelihood of sunshine. Between July and mid-August, daily average highs are above 20 °C.
The cold season is from November to March with an average daily high temperature below 9 °C. Though the city itself doesn't typically get a lot of snowfall, the surrounding mountains will.
RV Sani Dump Stations in Powell River
For RV campers, you can find dump stations in Powell River at the following locations:
Airport Super Shine Carwash: RV and equipment cleaning bay and RV sani dump station.
Kents Beach Resort, Sea Breeze Resort, Willingdon Beach: Registered guests only
Saltery Bay Provincial Park: $5 for dumping
Where to Shower in Powell River
For campers doing a few nights of camping interspersed with hikes or biking, you're going to want to shower.
While a swim in a lake can make you feel a bit cleaner and these tips for showering when you live in a van can also help, there are some other options for showering in Whistler below.
Powell River Recreation Centre: Pay for a swimming pool entrance and use the showers and/or swim
How to get to Powell River, BC
To get to Powell River you need to take at least one ferry. BC Ferries to Powell river run regularly from two locations and you can see ferry schedules for Powell River on BCFerries.com.
Vancouver to Powell River
To get to Powell River from Vancouver, you should take the ferry from Horseshoe Bay to Gibsons and then drive to Egmont and get a second ferry to Saltery Bay. From Saltery Bay its a 20-30 minute drive to Powell River.
Vancouver Island to Powell River
If you're on Vancouver Island, drive up to Courtenay and catch the ferry to Powell River from there.