It's been about 2 years since we bought Elvis the Van (how?!). We've crossed the USA the super long way round (see our USA road trip route here), over three months and then spent another 2 months living in him in Canada. Since we settled in Vancouver, we've taken him on trips all over BC and across the border in Alberta. We've travelled a lot and (touch wood) we've not had to do too many repairs. That's partly because we (well Thom) was very fussy when it came to choosing a van for van life. I was pretty set on getting a decades-old RV that we went to look at, but Thom convinced me that this white Ford Cargo van would be perfect. And you know what? He was right. But just don't tell him that.
If you're planning on converting a van into a camper van, here's what to consider when choosing a van for a campervan conversion.
Want more vanlife inspiration?
My list of essential gear for vanlife
Vanlife: How to stay clean whilst living in a van without a shower
How to find places to sleep for free when living in a van
Where to find water when you live in a van
Where to shower when living in a van
How to make a stealthy camper van and sleep for free every night!
How to survive vanlife in WINTER
Easiest Solar Panel installation for your van
10 ways to make your van feel like home
Tips for parking overnight for FREE in urban areas
8 things I learnt from living in a van
Best FREE road trip apps from US road trips
Our three month, cross USA road trip route
Vanlife inspiration
Buy already converted or to do a self-conversion?
First things first, you should decide whether you want to convert a van into a camper yourself, or whether you want something that's already converted.
We had a quick look at both options and the already converted campervans weren't right for us. They tended to be much, much older (Elvis is 2008 which made him one of the newest vans we saw), rusty, and a bit dirty looking inside. Starting with a cargo van meant we had more work to do but it meant we could make him look how we wanted (skill permitting).
What's your budget?
Perhaps the main thing to consider is your budget! How much money can you actually afford to spend on buying a van?
Remember to factor in the cost of conversion, insurance, any taxes and repairs you might have to do and, if you're buying in Canada make sure to check the status of the vehicle's safety certificate.
I'd recommend buying a vehicle that has already passed its safety test. This way you know it's good to go and won't need anything major done to it right away. The dealer we bought from tried to sell Elvis to us without it, we made him safety Elvis and found that he needed new tyres, which were then changed before we ended up completing the purchase.
The equivalent of a safety check in the UK is an MOT and in the US it's called a vehicle safety inspection.
What make of van to buy for vanlife?
I think one of the main things to consider is the brand of your campervan. You may be tempted to go for an old Volkswagen camper but I'd reconsider this. Yes, they look nice but they're not exactly known for their reliability. Reliability is key if you're planning to live in your travel van.
Another thing to consider with regards to make of van is whether you'll be able to easily get repairs. You don't want to be in need of repairs and have to wait week or months before the closest dealers can get hold of the part.
That's one of the main reasons we chose to get a Ford Econoline van. We were travelling in America and so knew we'd have no problem finding someone who could fix a Ford. Ford's are also known to be quite reliable too.
Colour of conversion vans
This might seem like it's not an important thing to consider before buying your conversion van but stick with me.
The colour of your van can make it easier to find places to sleep for free while living in a van without getting asked to move on. The right colour can make your van a whole lot more stealthy.
Elvis the van is white and mostly looks like your typical white cargo van. While we were travelling he looked a bit more like a campervan due to the roof box, but nowadays you'd probably just think he was a standard van.
If your van is bright orange, pink or blue it's going to look more like a campervan and stand out a whole lot more.
Most of the time it won't cause you issues but if you are concerned with keeping your conversion van stealthy then stick with white, black, silver or other 'normal van colours'.
How many miles has the van done?
The more miles your van has done, the more likely you are to run into problems.
But you knew that. Back home in the UK, cars pretty much aren't used when they reach 100,000 miles. Over in the US and Canada however, it's really not unusual. Elvis is currently sitting at just under 300,000km and still runs pretty well.
We didn't have any problems while travelling across the USA but have had a few more expensive repairs to make recently (alternator, new battery and brakes).
The number of miles your potential new home has done will, of course, relate to the cost. The fewer miles = the higher the cost.
It's down to you whether you go for a cheaper van with more miles or a more expensive one with fewer.
We went somewhere in the middle – Elvis had around 250,000km on him when we bought him for about $7.000CAD.
Has your conversion van had any recent repairs?
Another thing to consider is whether your van has undergone any recent repairs.
How long ago were the brakes last changes? The wheels? What about the batter? How old is it? Has the body ever had any work done to it?
The person you're buying from should be able to tell you the answer to all these questions. If not, then I'd be a bit suspicious.
Parts get everyday wear and tear but if your brakes or battery haven't been done in a while then that's something to bear in mind as it might be something that needs replacing very soon and you find yourself incurring even more cost.
If the van is a really, really good price and everything else looks good then it might be worth buying even if you have to make some repairs a few months down the line, if not then you might be better off if you keep looking.
Where you shop for a new van matters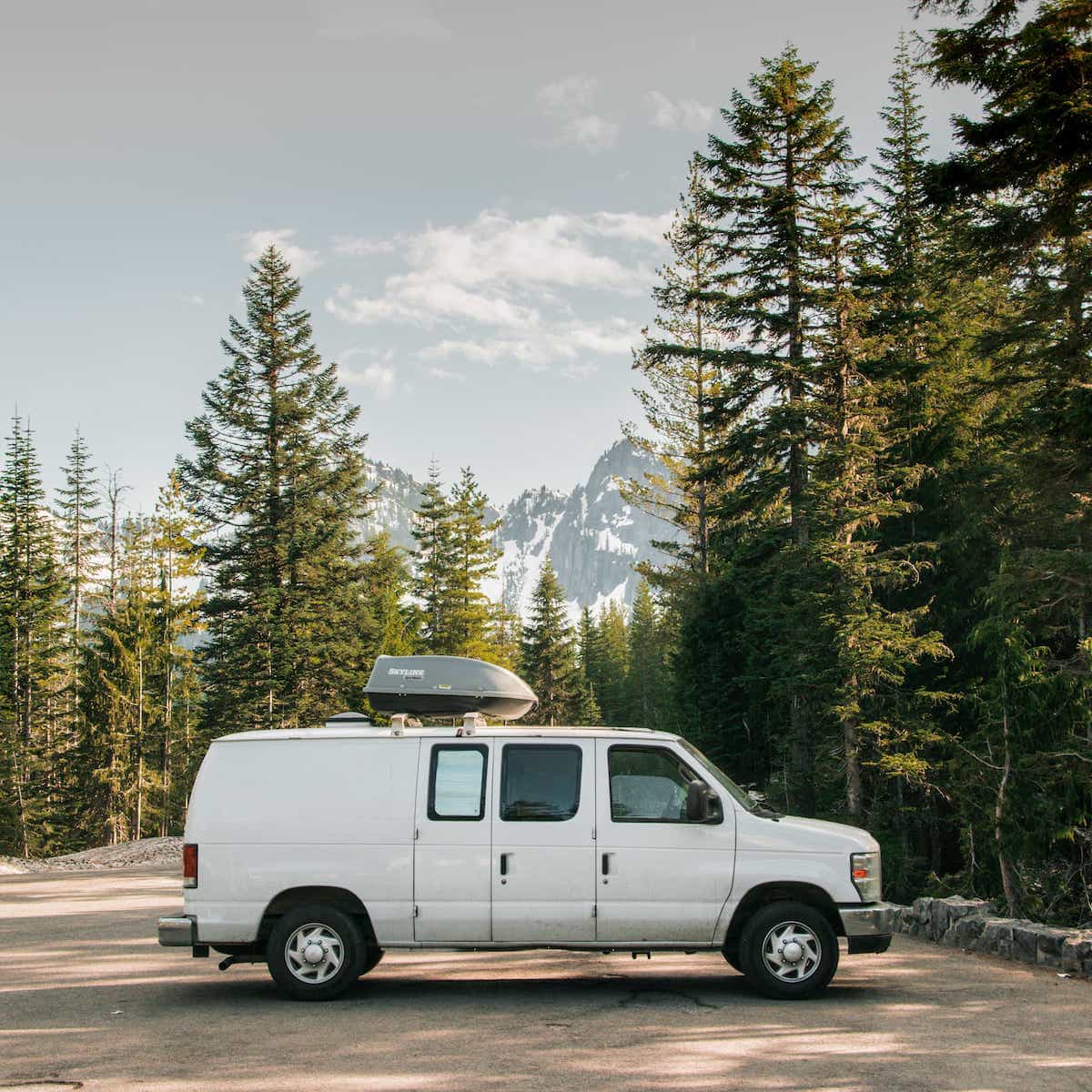 We didn't have a whole lot of choice when it came to where we bought our van, it had to be Toronto, ON.
This wasn't great for several reasons. Firstly, Toronto gets cold and snowy which means there's a lot of salt on the roads. When this isn't washed off quickly then it causes rust. Thom saw a few vans with actual holes in them.
In Toronto most of the cars seemed to have rust all over, here in Vancouver I rarely see it. Elvis has a little bit of rust but he's really not too bad compared to what we'd seen!
Toronto turned out to also be one of the more expensive places we could have bought a van. It may have been worth us looking further afield, but since we were on time, budget and transport restraints that wasn't much of an option.
If you are able to head further afield, to a small town for example, or further out dealerships, you might find a cheap camper for sale.
Look for rust
As mentioned earlier, rust isn't great. Left untreated it can erose the metal and leave holes in your van. Getting one without rust saves you a lot of hassle.
Thom checked all the vans he saw for big rust issues and Elvis was by far the best of the bunch.
Remember to check underneath of used camper vans as this is where there's most likely to be rust hiding.
How big a van do you want and need?
It's important to consider size before you buy a conversion van.
Small camper vans like VWs look cute but they're actually tiny inside. This might work if you're planning on a weekend or week-long road trips, and sure people do live in them, but it'll be a whole lot more enjoyable if you have something bigger. This is even truer if you're moving around a lot and don't have a storage locker you can go back to each season
However, I'm not saying to go out and buy the biggest van in your budget.
If you're planning on visiting cities, national parks or doing some stealth camping, then a big RV, is just going to be a pain. It's going to be hard to park, difficult getting around cities and in some areas of National Parks you're not even allowed to take longer vehicles or trailers…just something to think about!
Ability to stand up
You might also want to consider the height of your van. Elvis is about 7ft high (more with the roof box). This means we can't fit into most underground car parks which can make city travel a pain and means we have to pay more on ferries.
However, it does mean we were able to build a bed with storage underneath and still be able to sit upright. We can't stand up but that's something you get used to over time.
If you want to be able to stand inside your van you may want to consider a taller van such as a Sprinter van, a Ford with a 'roof extension' or a VW with a pop out roof.
Can you fit a bed in it?
It was quite important to us that we be able to fit in a proper sized bed. Neither of us is short (5ft9 and 6ft) and so sleeping sideways at the back of the van allowing for more floor space between the seats and the bed wasn't going to make for a great night's sleep for us. We'd have been all curled up. I'm sure we'd have got used to it, but opting for a Ford E150 meant that we didn't have to compromise much with this.
We have a full sized double bed in our van which can fold away into an 'L' shaped sofa. I honestly sleep better in the van than in the bed in our apartment. And I'd highly recommend making it a priority for your van conversion.
Does it have 4×4 capabilities?
I see buying a 4×4 van as a big luxury but it also depends on where you want to go and what you plan on doing with your van.
In the US not having a 4×4 didn't really cause us too many problems. Sure there were some roads we didn't go down and we didn't do a tonne of dirt road driving, but we still saw what we wanted. Elvis has quite high clearance which helped.
However, in Canada, there are plenty of dirt roads we've wanted to explore and haven't wanted to push Elvis too much by going down them.
What're the typical Miles per Gallon (MPG)
The fuel economy of your van might also play a part in your decision when choosing a van for vanlife. Vans are never going to be super economical compared to smaller cars. They're big and so take more fuel to get moving but some are definitely better than others.
Our Elvis is a gas guzzler. But, coming from the UK, the cost of petrol wasn't a factor in our decision. It's so incredibly cheap in North America compared to Europe!
Environmentally though Elvis been a gas guzzler isn't great. However, we didn't as often as we used to back home, used solar energy and hardly any water. Together this helped to balance out our environmental impact!