After a skiing weekend where you can combine some city culture with skiing adventures? Look no further than Quebec City. There are several places to go downhill skiing near Quebec City and all of them offer something different.
Whilst eastern Canada isn't known for mountains like its western cousins (with the likes of Whistler, Sun Peaks, Revelstoke), that's not to say you can't find good skiing. The elevation might not be as high, but when temperatures plummet to -30 at an elevation of just 500m, I promise you you won't be complaining.
The ski season near Quebec City tend to run from late November to early April and the best times to ski are mid February to mid March.
There are three ski resorts within easy commute of the city, plus a couple of cross country skiing areas if that's more your thing. Since I'm more of a downhill skier (for now at least!) I'll be focusing on the best resorts for downhill skiing near Quebec City.
Best Downhill Skiing near Quebec City 2021/22 Winter Season
For the 2021/2022 ski season in Quebec, most resorts require you show a vaccine passport. Many are also limiting lift ticket sales so you should book in advance. This usually means a slightly cheaper rate too. Happy skiing!
Le Relais
Le Relais is just 15 minutes from Old Quebec when travelling outside of rush hour. It may be small but it's absolutely perfect for new skiers and families.
There is a total of 32 runs here and a whopping 28 of them stay open in the evening; the most of any of the resorts in the Quebec City area. Whilst the whole resort covers only 173, a small fraction of the other resorts for downhill skiing near Quebec City, there's plenty to keep you entertained for a day.
For the 2021/2022 season, only half day tickets are available. You can ski from 8:30-12:30 or 12:30 to 16:30. An adult ticket costs C$41.75. You also need a vaccine passport to access the mountain and lodge.
Stoneham
Stoneham is one of the closest places for downhill skiing near Quebec City. It's just 15 miles north and takes about 20-30 minutes by car – as long as the traffic is moving.
The resort itself is laid out across 326 acres on three mountains (well, I say mountains but if you're used to the Alps then they're more like hills). There are 29 runs for all abilities and 19 of these stay open until 10pm for night skiing which is great fun! The longest run is about 2miles long so even though the mountain isn't that high, you can still get some decent skiing in.
For more advanced skiers there are some double diamond runs and a few off-piste slopes between the trees. However, if you want more then you're better off choosing one of the bigger resorts.
Stoneham has previously played host to the Snow Jamboree; an even which sees the FIS World Cup Freestyle Big Air and Slopestyle, and snowboard Big Air and Slopestyle competitions take place.
The events are free to watch and take place in Stoneham and Quebec City. Worth timing your visit to coincide with the competition if you can!
There aren't many bars and restaurants (in face there's really just one of each) in resort. That being said, you are super close to Quebec City itself so après ski isn't far away.
We stayed an an Airbnb in Stoneham just two minutes from the slopes.
Avoid weekend if you don't like queues but even the queues at Stoneham are nothing compared to Whistler!
A one day pass starts at C$73 rising to C$89 for the 2021/22 winter season. An evening lift ticket at Stoneham costs betweeen C$35-45. Vaccine passport required.
Mont-Sainte-Anne
A bigger resort than Stoneham for downhill skiing near Quebec City is Mont-Sainte-Anne. This resort is slightly further from downtown at about 25 miles so it should take about 45 minutes on a good day. You'll also have the bonus of driving past the Montmorency Falls which are actually higher than Niagara!
There's much more skiing on offer here with 465 skiable acres and 66 runs. 17 of these stay open for nigh skiing so slightly less than in Stoneham.
There's a bigger resort to explore in Mont-Sainte-Anne with hotels, condos and chalets available for rent. There's also an 8 passenger gondola plus 10 other lifts which far outdoes Stoneham's 7 or so ski lifts.
For mogul lovers this is the place to be as Mont-Sainte-Anne's Black Forest serves us 20 acres of double black diamond slops.
You're not limiting to just doing some downhill skiing near Qubec City here either. There is plenty for cross country lovers, mountain bikers and snow-shoers too.
A day's lift pass for adults at Mont-Sainte-Anne is between C$92-112 and night skiing is $35-$45 for the 2021/22 season. Vaccine passport mandatory.
Le Massif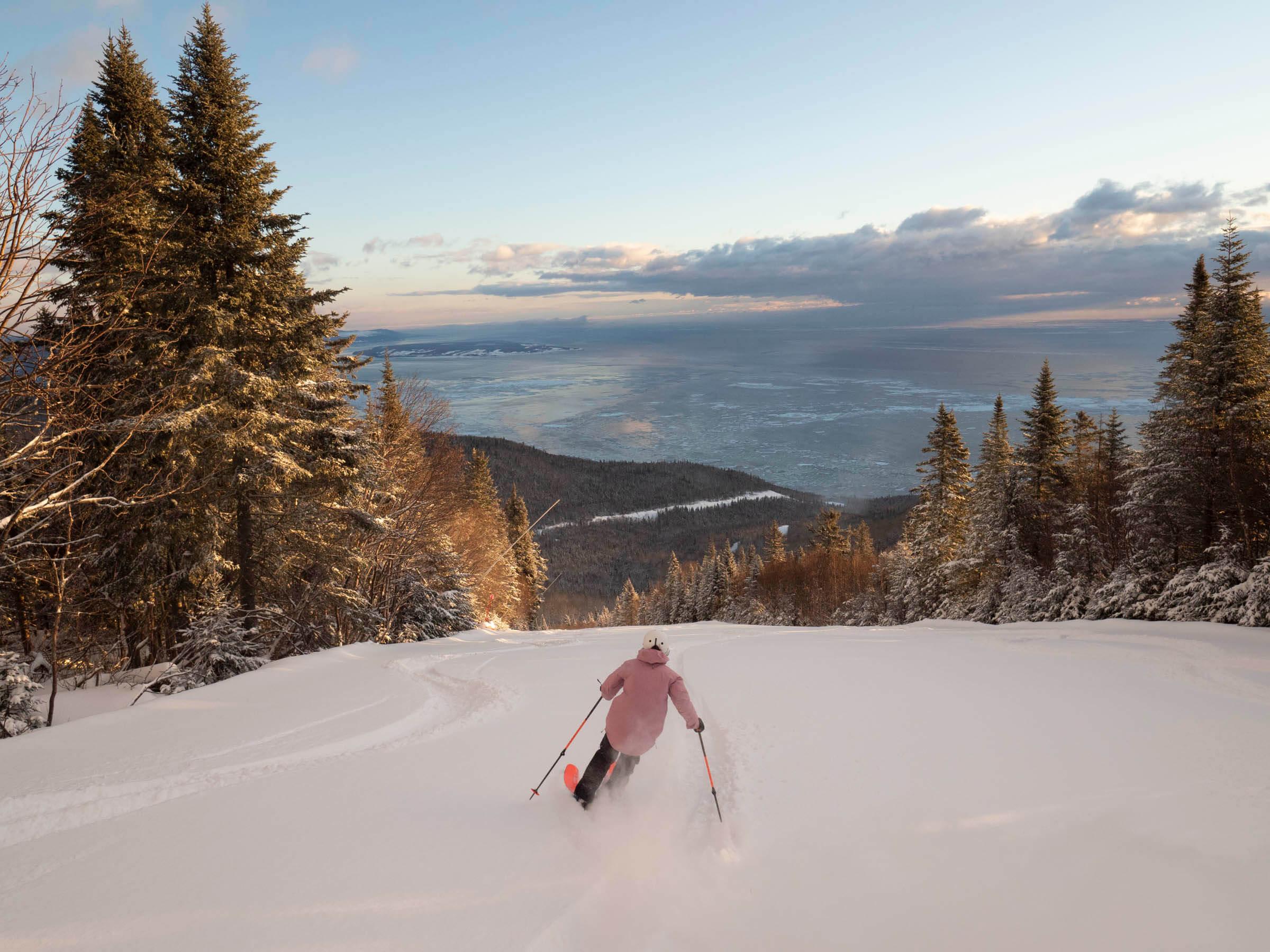 The farthest resort for downhill skiing near Quebec City is Le Massif. This resort sits next to the St. Lawrence River and is about 45 miles northeast of Québec City. During the 70 minute drive there you'll also pass Mont-Sainte-Anne. So, if you need to ski desperately you can always stop off there along the way.
Whilst there is a gondola, high speed chair lifts and button lifts, you can also park near the "base area" close to the summit of the resort. If you arrive into the resort early you may find some keen skiers waiting for a rope to be dropped to pull them up the last section of the hill before the lifts open.
Le Massif lays claim to Canada's highest vertical drop outside of The Rockies and runs here cover 401 acres. There are 52 runs for you to ski and the longest is over 3 miles long!
This is the resort of choice for more advanced skiers as there are plenty of long, steep trails. Beginners would be best of sticking to Stoneham as only 15% of the runs here are easily accessible.
The best part of Le Massif is the view. The resort rises straight above the St. Lawrence River, and nearly every run looks as if it's bound for water. On a cold winter's day, the river's surface takes on a grey colour and you might be able to see the sheets of ice floating in the strong current.
The downside to skiing here is that there is no lodging available. You'll have to head to one of the nearby towns.
Day lift tickets for adults cost C$109.50 for the 2021/22 season.