When we booked our Tulum trip I immediately began looking at where to stay in Tulum and discovered two things. One, Tulum accommodation is insanely expensive, two it's so difficult to try and choose somewhere to stay. I wasn't sure whether to stay by the beach, in the town or somewhere in between, whether I should opt for a Tulum Airbnb, a beach resort in Tulum, a luxury hotel or do what we usually do and find budget accommodation in Tulum. In the end, I'm sure we would've been happy whichever accommodation in Tulum we picked, but I loved our hotel in Aldea Zama, Tulum. If you're facing the same dilemma and looking for places to stay in Tulum, then be sure to carry on reading and hopefully I'll be able to help out!
Where to stay in Tulum
Tulum is growing at a fast pace, some say Tulum's growing too fast, and this means that there are very distinct and different areas to Tulum. If you've never visited before then it's hard to envisage the scale of Tulum and exactly where things lie in relation to others.
The majority of the photos you'll see of Tulum are from the beach road which is about 20 minutes away from Tulum Town (also known as Tulum Pueblo). That's the area which put Tulum on the Instagram feeds of thousands and it's where you'll find the hippy-boho cafes and top Tulum restaurants and it's the more luxury Tulum. It's also where the beach is (kind of a give away given it's called beach road).
Then there's the main road, Avenue Coba, which connects the beach and the main intersection of Tulum. A left (if coming from the beach) takes you into Tulum Centre, right takes you north up the coast, and straight takes you to Coba. And in between Tulum city and the beach district you have the newer area of Aldea Zama which is full of boho looking Airbnbs and new hotels resorts.
Below are the pros and cons of staying along the beach road, Tulum town and Aldea Zama. Ultimately, the best area to stay in Tulum depends on what type of traveller you are.
Travel tips for Tulum
Low season in Tulum is from about May-mid-December and often means much lower prices. If you're travelling to Tulum on a budget it's the best time to go to Tulum. But, while there are still plenty of travellers, you may find that some of the more popular restaurants have yet to open.
  

Tulum hotel map
All the hotels recommended below are included on the map below to give you a better idea of the different districts.
Where to stay in Tulum beach district
The Tulum beach area is the most expensive and popular area of Tulum to stay in. The beach area of Tulum can really be split into two sections. There's the area towards the north where the hotels tend to be a bit cheaper and the public can access the beach more easily, and then there's the southern beach area which is the more expensive part home to Tulum's luxury resorts. Both parts have beautiful beaches (I think the north is home to one of the best beaches in Tulum: Playa Pescadores) and the only real difference is that in the south you'll be spending a lot more money, and be closer to some of the best restaurants in Tulum. If it's the picturesque beaches, private beach access and cabanas in Tulum you're after then the Tulum beach zone is where you'll find that.
But, as I say, this is the expensive part of Tulum. Even when we visited in low season in October, these hotels were a lot more expensive than anything in the town centre or Aldea Zama both of which had significantly lower prices at this time of year. However, if all you plan on doing in Tulum is relaxing on the beach with some good books and money isn't an issue then this is the area to stay in.
Tulum Beach South
This bit is also known as 'Tulum hotel zone" or "Zona Hotelera Tulum".
The best bits: You'll be on the beach and only have to walk from your room to your sunbed if that's all you want to do. This is home to some of the best beach hotels in Tulum and where you'll find plenty of 5 star hotels in Tulum. The best place in Tulum if you're after luxury and want to find the best resorts in Tulum.
Things to think about: It's EXPENSIVE and Tulum beach accommodation gets booked up super far in advance. Some of the fancier places will set you back $500-$1000US per night!
Hotels by the beach in Tulum
The hotel, Be Tulum (above), is a dreamy looking luxury hotel in Tulum. It's situated on the beach and has jungle vibes running throughout too. It was constructed with native materials and you'll find designer furniture and private pools with some rooms. There's also the Yäan Wellness Energy Spa on the jungle side of Be Tulum hotel, Mexico.
This yoga and wellness eco-resort in Tulum is ideal for those travelling solo or looking for a holiday in Tulum full of activity. It's Amansala Hotel that offers the Bikini Bootcamp in Tulum that you may have heard of and they also do daily yoga classes too. Of course, you can totally stay here without joining in on a retreat too and the rooms, as you'd expect, look gorgeous.
Nomade Tulum is another popular hotel with gorgeous rooms and super stylish interiors. Not only does Nomade have rooms and suites but also super cool glamping tents available to book too. Plus, if you're staying here you're only steps away from the tasty food on offer at Nomade Restaurant in Tulum too!
This beachside hotel is a great place for yogis in Tulum too. Not only do they have some of the best yoga classes in Tulum, but they also have inspiring talks and events.
Payapa Playa Project hotel aims to put sustainability first and is found along the beach and nestled in the jungle. The cabanas, casitas and Casas here are simply decorated and this Tulum resort overlooks the beach where the beach club serves drink and food from late morning until well into the evening.
What makes this hotel stand out is it's connected to some of the world's top DJs. Because of this, Papaya Playa puts music at the centre of its guests' experience and holds famous full moon parties making it the best beach club in Tulum.
Nest focus on simplicity and Nest Hotel was one of the original properties on Tulum Beach. The minimalist design here is a shout-out to the Yucatan's history and lifestyle before Tulum was discovered and became the popular Tulum beach resort it is today. There are only 12 guest rooms here and private Tulum villas so you're sure to have a peaceful and relaxing stay at Nest.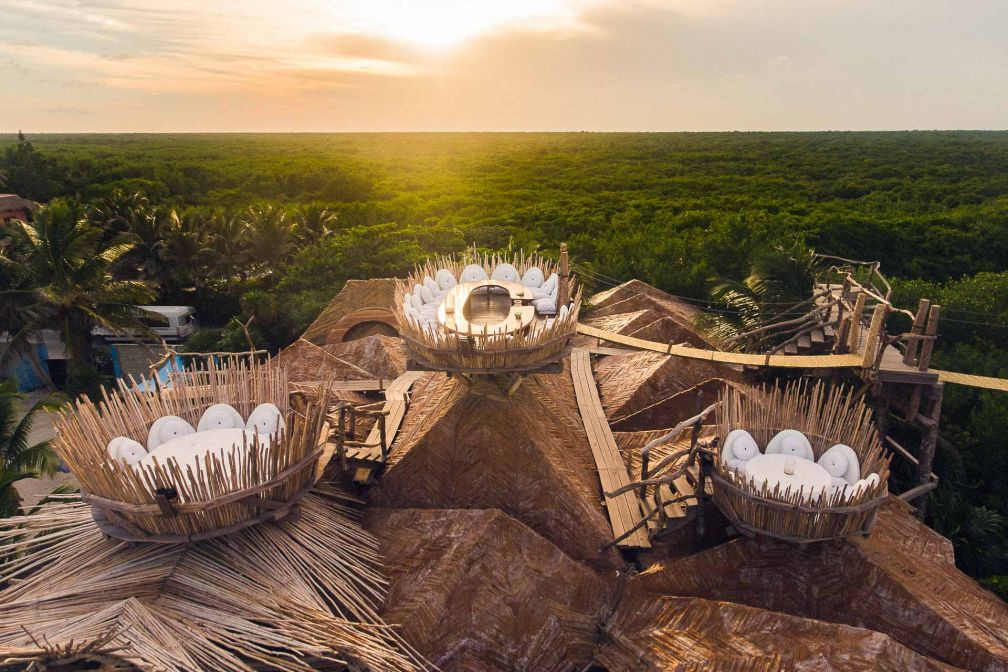 Azulik has 48 villas built in harmony with the Mayan jungle and the Caribbean Sea and is unquestionably one of the best luxury hotels in Tulum. There's no TV in the rooms and so with no distractions, it's perfect for a romantic getaway.
If you've been wondering which of the Tulum hotels is the one with the nets and amazing treetop seating at the bar and restaurant this is the one! You'll have to book a room or buy an expensive drink to see them, but this resort does have some of the best Tulum beach restaurants.
Sanara Tulum is a luxury eco-boutique hotel on Tulum Beach. The word Sanara means "you will heal" in Spanish and the hotel sits on one of Tulum's beautiful beaches. There's a yoga studio where classes are held facing the beach at this Tulum eco resort, as well as one of the best spas in Tulum and the popular Tulum restaurant The Real Coconut.
The rooms are super pretty and some have private pools too. It's unquestionably one of the best boutique hotels in Tulum.
There's not much choice when it comes to good Tulum hostels on the beach, but Punta Piedra Posada offers cheap accommodation in Tulum on the beach to suit your needs. With just 13 accommodations, Punta Piedra Posada is a quiet beach resort in Tulum which uses wind and solar energy to help power the resort.
The rooms aren't quite as stylish and boho as some of the others on this list, but they have everything you need and you're not going to beat the price in this part of Tulum.
Situated towards the end of the Tulum beach zone is Rosa Del Viento which offers beachside luxury accommodation at a more affordable price. You're surrounded by the beach on one side and lush jungle on the other. The hotel has a private beach area with beds and hammocks and a beach restaurant to keep you fuelled.
Tulum Beach North
The best bits: It's quieter this way than in the south and you can usually find better deals.
Things to think about: You're further away from shops and restaurants so you'll have to pay for taxis to town or beach south or ride a bike a lot.
Tulum beach hotels
This boutique, beachfront adults-only hotel in Tulum with gorgeous sea room views and your room includes use of snorkelling equipment too so you can get out into the water. This hotel is right on the beach but has the added benefit of having a pool too so that you can choose where you'd rather be without much effort.
Diamante K is all about rustic elegance and this beach hotel is close to the Tulum ruins and 15 minutes into town. There's an outdoor swimming pool and each room has its own private terrace from which you can take in the spectacular views.
This is the sister hotel of Aluna Hotel where we stayed in Tulum. The beachside cabanas (beach huts) at Villa Pescadores looked super relaxing and they all had balconies so you could gaze out at the sea. There's no need to wear shoes here as the whole hotel is on the sand and you can walk to the beach bar which serves well-priced delicious Mexican food, take a snorkelling tour, or chill out in a hammock. These were some of the best Tulum cabanas on the beach we saw.
Mi Amor is an adults-only hotel in Tulum which combines sensuality, design, nature and style. It's one of the Tulum 5 star hotels by the beach and it's nestled on a small rocky hill. The rooms here have incredible ocean views. You can also choose rooms with private pools for that extra special touch to your stay.
Located on a beautiful beach within Tulum National Park, Zamas Hotel features colourful thatched cabins with balconies that overlook the jungle or the sea. Each bright cabin is stylishly decorated and includes hammocks on the balcony.
Best places to stay in Tulum Pueblo
Tulum town is a world away from the beach area. It has more of a local feel to it and it's here you'll find a lot more of the budget restaurants, taco stands and cheaper hotels and hostels. If you're looking for something more affordable, don't mind renting a bike to or using taxis to get around, or are looking to explore other areas like the cenotes near Tulum or the Coba Mayan ruins and other Tulum attractions then the town is a great place to stay in Tulum.
The best bits: It's got a lot more culture and it's far less pretentious than the beachside of Tulum. It's got a lot more budget-friendly options too so more money for exploring cenotes and eating ALL THE FOOD and cheaper Tulum shopping.
Things to think about: You'll need to hire a bike or a taxi to get down to the beach area as walking will take around an hour.
PS: Wondering what to do in Tulum? Check out my guide to Tulum here!
Best hotels in Tulum town
If you're looking for the best places to stay in Tulum, Mexico's downtown hub the here are some hotels to check out.
This budget-friendly hotel in Tulum jungle has a gorgeous outdoor pool area which is surrounded by the beautiful foliage of the area. Una Vida is one hip hotel in Tulum and is just a few blocks away from downtown. At the same time it also offers peace and quiet within the hotel's space. It's relatively small with just 11 separate villas all of which have jungle and garden views. These Tulum luxury villas are decorated with dream catchers and local artisan craftwork which I personally love.
This gorgeous hotel, Casa Pueblo Tulum, has an on-site restaurant, outdoor pool, bar and a garden in downtown Tulum. The price also includes breakfast (including vegetarian breakfast) which is something you don't tend to find with the more expensive top hotels in Tulum surprisingly!
Rooms at Rancho Tranquilo cost under $50 and include breakfast making it the best value hotel in Tulum. It's close to restaurants, bars, and just a short walk or bike ride to the beach too. It's become quite the hangout spot with solo travellers in Tulum so it's a great place to book if you're looking to meet people.
This cute hostel in Tulum on the road heading north toward Coba has the benefit of being close to town but also to some of the best cenotes in Tulum. It's a 10-minute taxi ride, or 20-minute bike ride from the beach and a short walk to some of the best bars in Tulum.
You can book a private of dorm-style accommodation and there's a great common room for relaxing in and meeting other travellers. It's often praised as being one of the best hostels in Tulum.
If you're a Booking.com Genius member you can get free upgrades at Secret Garden Hotel in Tulum. As the name suggests, this hotel has a beautiful garden with plenty of space to relax in. The rooms are beautifully designed and you can also get accommodation at this hotel with kitchenettes so you can save money on eating out.
The beautiful Coco Hacienda Hotel has an outdoor pool and spa as well as bar and restaurant onsite.
You can book rooms with private patios or hot tubs and there's a coffee machine in the room too (which would've saved me from getting grumpy some mornings when I hadn't yet had mine!). You can also rent bikes and snorkelling gear from the hotel which saves you fro having to find somewhere else to do it.
Howlita – THE ONE WE ALMOST PICKED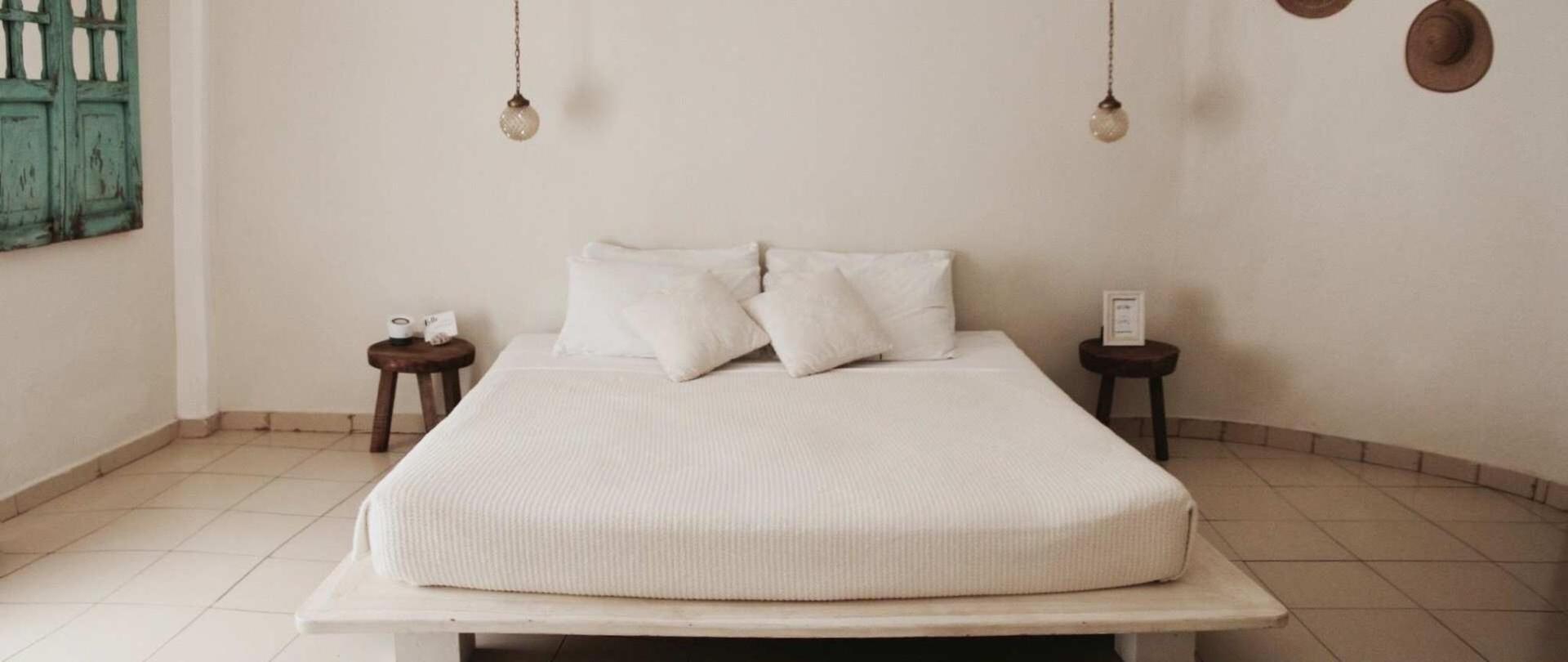 Howlita is one of the hotels we were seriously considering booking for our trip to Tulum. It's a three-star hotel and is located in the heart of Tulum Pueblo. It's close to restaurants and shops and not too far from the beach and Mayan ruins.
There are only 9 rooms here but they're all gorgeous and pretty well sized too. There's on-site bike rental, and outdoor pool and free breakfast included.
Where to stay in Aldea Zama
Aldea Zama is one of the newest areas in Tulum, Mexico. If you've been looking at Tulum Airbnbs the chances are most of them are here and there are also some new hotels here too.
This is the area we stayed in and we picked it as the hotel looked nice, was affordable and had a great deal where you could use the beach resort of their sister hotel too. Having returned, I'm sure this was the best place to stay in Tulum for us.
The best bits: You'll in between beach and town so it doesn't feel like too much effort to get to either. This area is quiet at night as there aren't any bars and there's lots of security so you'll also feel super safe.
Things to think about: If you're planning on partying a lot then you'll need to bike or get a taxi into town as this isn't the area for it. You'll also hear construction noise during the day but since we were mostly at the beach or exploring Tulum cenotes this didn't bother us.
Hotels in Aldea Zama
We stayed at Aluna Hotel in Tulum and had a great stay. The room was absolutely beautiful and we had a private terrace opening out on to the poolside. When we arrived we were greeted with a welcome drink which went down a treat.
While there was work going on in neighbouring buildings, this really wasn't an issue. We spent a couple of afternoons at the pool (which we usually had to ourselves) without feeling too disturbed by construction noise.
The reason we opted for this hotel, in the end, was that staying here meant we could use the beach bar at Villa Pescadores for free. So we got the bonus of staying somewhere cheaper, in an area that's quiet at night, while also being able to use beach bar facilities. Win-win!
Niik Tulum has a garden, terrace and outdoor pool. It's a 4-star hotel in Tulum and each room has a balcony and free toiletries. If being an eco-conscious traveller is important to you, you'll be pleased to hear that Niik Hotel in Tulum uses solar heaters and rainwater collection for their irrigation needs. The rooms here are a bit more basic than other hotels on this list, but for the price and location, it's a steal.
KASA Hotel Paraota has a restaurant, free bikes and outdoor pool and bar as well as a sun terrace. It's an aparthotel in the quieter area of Aldea Zama. However, it still as the advantage of being close to bars and restaurants in Tulum Pueblo.
You can book studios with kitchens here if you prefer to do some cooking while on your Tulum vacation and the room price includes breakfast.
Copal Tulum has an absolutely gorgeous sun terrace with a rooftop pool that looks out onto Tulum and the jungle. The rooms are stunning and very thoughtfully styled. There are also large apartments available which are ideal for families or small groups of travellers.
This hotel has similar facilities and style to Azulik by Tulum beach but for much less money! There is both an outdoor and indoor pool, bar and garden as well as a beautiful terrace at Orchid House Hotel. Most rooms available also include a bathtub on the balcony for some luxurious bathing!
Final Thoughts on Where to Stay in Tulum
Deciding where to stay in Tulum ultimately comes down to two things. How much money you want to spend, and what experience you're looking for. If you're looking for a beach holiday and don't plan on doing much else, then staying in one of the beach resorts in Tulum will be the best option. However, if you don't want to spend a lot on accommodation, and plan on seeing places around Tulum (like these best things to do in Tulum, Mexico), or doing other activities in Tulum, then the town or Aldea Zama is the best option for you.