China has an extraordinarily long history so it shouldn't come as a surprise that with that there are a lot of very, very ancient towns in China. As emperors came and went so did towns either being forgotten of transforming into some of China's bustling cities. Fortunately, there are still some places you can go to experience the old way of Chinese life. China's ancient towns make very interesting places to explore and we visited a couple during our trip to China at the end of 2016. Below are some of the most beautiful ancient towns in China from across the country along with some of the ancient villages in China that we visited during our first China vacation.
31 ancient towns in China you just have to visit!
These ancient Chinese towns and historical places in China are all beautiful and vastly different from the cities of China you'll become accustomed to seeing. Be sure to add them to your list of places to visit in China!
Pingle Ancient Town
Pingle was built over 2,000 years ago making a very old town in China! It was built to serve as a vibrant trade bazaar on the South Silk Road and sits at the bottom of a mountain, clad with refreshing natural scenery and ancient monuments.
Dali Ancient Town
Frequently considered one of the most relaxing places in China, Dali was historically the political and cultural centre of China's Yunnan region. As a result, this is one Chinese old town with lots of cultural and historical heritage sites. The ancient town of Dali is laid out like a chessboard and arranged and designed with streams passing by each household.
The urban planning team makes sure the old town is separated from the new parts so travellers to the town often feel like they've gone back in time.
Lijiang
A UNESCO Heritage Site, the ancient town of Lijiang is over 800 years old and was once a confluence for trade on the old tea horse road. With aged wooden buildings decked with hanging red lanterns and local musicians playing the centuries-old Naxi instruments in the timeworn streets, you'll experience a display of lifestyle and culture that seems lost in time.
Ciqikou Ancient Town
Perched on a hill and overlooking the Jialingjiang River, Ciqikou was built by the old Ming Dynasty. It was founded way back in 998 by Emperor Zhenzong of the Song dynasty making it one the oldest towns in China. After the Song dynasty, Ciqikou was taken over by the Ming dynasty where it became an important land and river port along the west bank of Jialingjiang River.
Pingyao
Pingyao, in Shanxi Province, is a well-preserved Ming Dynasty town which is full of ancient buildings, flagstone streets and villagers still living an ancient way of life.
There are plenty of cultural relics including the city wall that was first built back in 256 BC and expanded in 1370. Due to its location on the trade route between Beijing and Xi'an, Pingyao developed into a business centre with some of China's earliest banks!
Zhouzhuang Water Town
Zhouzhuang Water Town in Jiangsu Province is an enchanting, ancient town full of rivers and lakes. The village features crisscrossing water lanes and plenty of ancient bridges and buildings. Zhouzhuang boasts many cultural and historical relics and is also regarded as the "Venice of the East".
Some of the best places to explore are Zhang Ting – a sprawling, Ming Dynasty era residence home to 6 courtyards and more than 70 rooms! – and Quanfu Temple, a beautiful Buddhist temple nestles on the edges of Baixian Lake.
Widely regarded as the best-preserved water town in China, and with a history of over 900 years, it's well worth adding Zhouzhuang Water Town to your China itinerary.
Tongli Water Town
By the Grand Canal and the Taihu Lake is the ancient Chinese town of Tongli. Just 80km from Shanghai, Tongli has a history of over 1,000 years! It's typical of the water county of southern China and there are 5 lakes circling the town from both inside and out.
Tongli ancient town itself is sectioned into 15 small islands by over 10 rivers and the islands are linked by over 40 stone bridges of various styles.
Wuzhen Water Town
Wuzhen sits at the confluence of four cities; Tongxian, Jiaxing, Huzhou and Wujiang. Its various rivers circle the streets and linked by the traditional ancient stone bridges and pathways. Wuzhen is often referred to as being the "home of celebrities" too as it has nurtured generations of scholars, government officials and Chinese politicians.
In its whole 1,000 years, the town of Wuzhen has never changed its name, address, water system or lifestyle – quite remarkable when you think about it!.
Fenghuang
Fenghuang literally translates as "Phoenix" and is a small ancient city. Several ethnic minority groups still live in Fenghuang including the Miaos and Tujias and their customs and culture live on. The town lies at the foot of lush mountains on the edge of the Tuojiang River and was hailed as the most beautiful town in China by a writer from New Zealand.
On visiting the town you'll see traditional stilted wooden houses and batik printed cloths sold alongside culinary delicacies such as spicy pickled red peppers and ginger candy.
Huangyao

One of the ancient Chinese cities we visited was Huangyao. I loved exploring the narrow streets of this ancient town in China's Guangxi province. "Huang" and "Yao" are the surnames of the people who live here, hence the name of the town "Hangyao".
Chikan Old Town
Chikan ancient town is 12km away from the city centre of Kaiping City in Guangdong province. This old Chinese town was first built in the Qing dynasty, and has a history of over 350 years. Yet, it still retains much of its charm as a former flourishing market town. The Tanjiang river passes by the town with fishing boats and the western-style buildings made up a picturesque view for this ancient town.
Xidi Ancient Village
At the foot of China's Yellow Mountain is the old trading town of Xidi: is a gem of the glorious Hui culture. The overall layout, landscape, architectural form, decoration, and construction techniques all retain the original features of Anhui villages between the 14th and 20th centuries. UNESCO deemed it a World Heritage Site back in 2000 and it's become popular with artists eager to capture images of the village on their canvas.
It's recommended to hire a bike from Xidi and cycle over to Hongcun (a distance of 25km) or of course you could do it the other way around!
Hongcun Village
Hongcun village is just a short distance from Xidi with a history of more than 900 years. Like Xidi, Hongcun is renowned for its peaceful rural scenery, well-kept ancient buildings, unique Anhui style dwellings, and profound culture. Some of the main attractions here are the elaborate web of gravel lanes and the watering system through which water from the outside pool can be directed to every family in the village.
If it looks familiar perhaps you're recognising it from the movie "Crouching Tiger, Hidden Dragon" as some scenes were filmed here.
Sanjiang County
Of the ancient cities in China, Sanjiang is among the prettiest.
In China's Guangxi province is Sanjiang County. The name "Sanjiang" is actually given to the area rather than one specific town. The area is made up of lots of small, ancient villages, connected by rivers and bridges. You can walk through the main villages in a few hours.
The region is renowned for is famously large number of well-preserved wooden drum towers and "wind and rain" bridges. There are 108 "wind and rain" bridges and 159 drum towers in the county, among them, Chengyang Wind and Rain Bridge and Mapang Drum Tower are the most famous.
Shaoxing
Intricate webs of canals, multi-shaped stone bridges and ancient buildings line the canals and small boats make their way up and down the river in Shaoxing. The town has long been a hotbed of Chinese cultural activity, producing such figures as Wang Xizhi, Zhou Enlai, Lu Xun, and Cai Yuanpei. It's also widely known throughout China for Shaoxing wine, meigan cai, and stinky tofu, and was recently featured on the TV show 'A Bite of China'.
Not only is it known for its food and wine, but there is also a special local type of Chinese opera sung in the local dialect and known as Shaoxing opera which is second in popularity only to Peking opera!
Yongding
Yongding in Fujian Province is known for its unusual architecture called Tulou (earth buildings). These large, circular edifices were built by the Hakka, an ethnic group in China. The architectural art of the China ancient town of Tulou still receives much admiration among architects worldwide.
Qing Mu Chuan Ancient Town
Qing Mu Chuan was an important route which allowed people to pass into the ancient Sichuan Province and Shu State. The town was a place of strategic importance and merchants gathered here to do their trade. strategically important place and merchants gathered there to do trade. In 1950, a regiment of People's Liberation Army garrisoned in Qing Mu Chuan village, expelled the Nationalist forces and guarded Qing Mu Chuan, establishing a new government.
Furong Ancient Town
Furong Town, or Hibiscus Town as it's locally known, has more 2000 years of history. It is on the riverside of Youshui River and, thanks to its convenient waterways, visitors can easily arrive travel to Sichuan and Guizhou provinces.
Jingsheng Ancient Town
Jingsheng Ancient Town is just southwest of Pingyao Ancient Town in Shanxi Province, northern China. The beautiful Mianshan Mountain provides a stunning backdrop to the ancient town.
The main sites here are; Old Wang's Family Mansion, country houses, the Red Temple and the Wenbi Pagoda which are built along the small river flowing through the town.
Daxu
20 kilometres from the bustling city of Guilin lies a hidden ancient gem – Daxu Town. The town thrived during China's Middle Ages due to the trade via the Li River.
At over 2,000 years old you might not expect the architecture to still be in one piece. Thankfully the ancient stone streets, temples and historic markets are still well preserved. When visiting make sure you visit Longevity Bridge, where you'll get stunning views to the Li River, Millstone Hill and Snail Hill.
Xi'an
Xi'an was the ancient capital of China and retains vast amounts of character. Perhaps not surprising given that the town descended from one of the earliest civilisations in the world!
Major attractions here include the Terracotta Army, the City Wall, the First Emperor's Tomb, Shaanxi History Museum, and the Forest of Stele Museum.
Kaifeng
Founded on the bank of the Yellow River, Kaifeng is a huge city, with 5 million citizens. Kaifeng is also known as the 'City of Calligraphy' as it's the place where several styles have been developed. With 100s of years of history, one of the best times to visit is during the flower festival in October and November which takes over the streets of Kaifeng.
Luoyang
Luoyang has long been dubbed as one of the cradles of Chinese civilisation. The Longmen Grottoes at Luoyang are now protected by UNESCO and are a signature site of the city; the reliefs of Buddha carved in the rock and thousands of statues in the caves are a major attraction.
Make sure you sit down to feast on the Water Banquet; a traditional Chinese set consisting of 8 cold and 16 warm dishes!
Qibao Ancient Town
Qibao ancient town is a depiction of Shanghai as it used to be. You can find it in the centre of the Minhang District in Shanghai; just 18 km from the downtown area. If you're not keen on travelling a long distance then Qibao will satisfy your curiosity about ancient water townships without the hassle.
Luzhi Ancient Town
Generations of scholars and government officials have visited the ancient town of Luzhi. Besides them, Luzhi is famous for its beautiful waterways and ancient bridges, some of which date back to the Song Dynasty. A walk in the ancient town of Luzhi is said to be a walk into history frozen in time.
Tunxi Village
Another of the popular old towns in China is Tunxi. Tunxi was an old commercial village, which was flooded with merchants from throughout China. It's built around the junction of 2 rivers. Nowadays this small town in China consists of the original part (along the bank of the Xin'an Jiang river) and the new part by the train and bus stations.
Tunxi village is a prime example of the region's classic architecture. Make time to explore the 2 Ming dynasty mansions in the city's backstreets.
Tuvas Village

This ancient city in China has the most incredible surrounding landscape. Tuvas Village is near the mysterious of Lake Kanas and is a small village with only about 80 houses. The houses are (rather strangely) Swiss in style: made out of wood with wooden fences and nestled in between pine and birch trees. Track down the special snacks of; Kumiss, yoghurt, milk tea, and butter to try.
Jiaju Tibetan Village

Also known as the "Tibetan fairyland," Jiaju Tibetan Village is on a slight hill slope, and consists of about 140 houses. It's one of the most unique ancient Chinese villages thanks to the houses which have crown-shaped roofs, red eaves, and white walls. This makes the houses look like little castles amongst the forest.
These charming houses helped the village be named as one of the 6 most beautiful villages of China by Chinese National Geographic in 2005.
Baoshan Stone City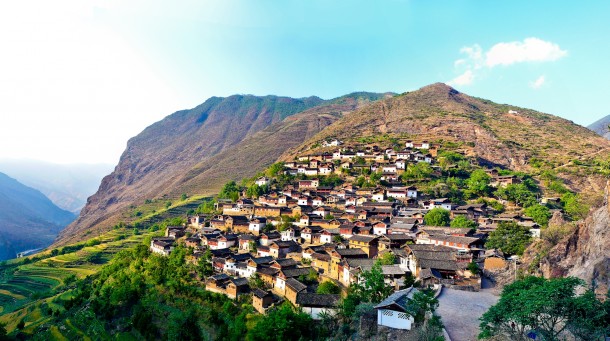 Baoshan Stone City is a Naxi ancient village built on a huge, mushroom-shaped rock and only has about 100 houses. Houses are laid out in an orderly way, built on the rock, and linked by stone steps. The locals often chisel the local rock into stone tables, stone benches, stone hearths, and stone water vats.
As with many traditional Chinese towns, the Naxi people of the village have cut rice terraces and planted crops (such as rice, wheat, and corn). In this village, they're on the hills around the mushroom rock.
Xijiang Qianhu Miao Village
The largest Miao village in China, Xijiang Qianhu Miao Village is a great destination to visit. This is especially true if you'd like to enhance your understanding of the Miao culture.
The village consists of more than 10 natural hamlets. This includes the famous Silversmith Hamlet and all are built on hills. Each town is made up of small wooden houses that follow traditional Chinese architectural features. On top of this, each is set against a breath-taking mountain background.
Wuyuan
Wuyuan is famed for being one of the most beautiful ancient towns in China. Truthfully, Wuyuan is more than just a village, it's actually a county made up of many ancient Ming and Qing style architectural features.
There are said to be 113 ancient ancestral halls, 28 ancient mansions, 36 ancient dwellings, and 187 ancient bridges!
Every village in Wuyuan is built with a river in front, and mountains behind. Given the surrounding scenery, it's no surprise that hiking is a popular activity here.
Do you have a favourite ancient Chinese town from the list above?