For a province with 10 major mountain ranges, it may come as no surprise that BC is home to some beautiful mountain towns. Mountain towns have a special air to them, they're full of people who love outdoor adventure, and usually some great food, beer and coffee!
Stopping off at mountain towns on a road trip in BC is always a good idea and below you'll find the lowdown on the best BC mountain towns.
Golden
Golden in BC is one of my favourite mountain towns of all those we've visited. Staying in Golden means you're just a few hours drive away from several beautiful provincial and national parks including Yoho National Park, Banff and Lake Louise, the Bugaboos Provincial Park, Glacier National Park and more.
Whatever time of year you visit, there are plenty of fun things to do in Golden. You can go skiing at Kicking Horse in the winter or go hiking or rafting in the summer.
Another great thing about Golden is that there's some delicious food! Reposados burritos are our go-to when visiting Golden. We've eaten there multiple times and it's always so good!
There's great coffee from The Handle Bar and plenty of stores to wander around. I love the outdoor shops and a cute second-hand bookstore.
If you're looking for family fun activities, check out the Golden Sky Bridge; Canada's highest suspension bridge. The adventure pass gets you access to a zipline, ropes course and axe throwing as well as the walk to cross the two bridges. The views from up here are amazing too!
Where to stay in Golden
Revelstoke
Many British Columbians will be familiar with Revelstoke known for being the home of the relatively new ski resort, Revelstoke Mountain Resort, which boasts Canada's/North America's longest descent. The town oozes a 'cool' vibe and, like Golden, there's no shortage of things to do here whatever time of year you visit.
Try paddle boarding on Lake Revelstoke in the summer, exploring Mount Revelstoke National Park by driving the Meadow in the Sky(?) route, or go hiking and mountain biking.
In the winter, there's excellent skiing at Revelstoke Mountain Resort and x-country skiing to the west of the town and plenty of hot springs nearby, such as Crazy Creek Pools, Nakusp and Halfway Hot Springs which are some of BC's best hot springs.
La Baguette is a must for a breakfast croissant and Dose Coffee is where you should go for some delicious coffee!
Where to stay in Revelstoke
Kimberley
Kimberley may be smaller than most of the towns on this list but in my view, it's still one of BC's best mountain towns.
We visited Kimberley for the first time on our Eastern BC road trip and have not heard much about it before, were pleasantly surprised.
The town centre is completely pedestrianised and has a Bavarian Theme with their mascot seen at several points around the town. The most notable area is where he comes out of the town clock!
The Bavarian theme, leading to the town being known as the Bavarian city in the Rockies, was created in order to attract motorists to visit the town during their trips through the area. It actually took inspiration from Leavenworth in Washington!
The shops and boutiques here were great with some great gifts and clothing and you're only a few minutes from Kimberly's ski area too which has 80 trails and does weekend night skiing.
Slightly unusual for us, we opted to go to the mining museum while in Kimberley which includes a train ride into a mine and a tour from a miner who used to work there when it was fully operational. The tour was super interesting and a great fun thing to do in Kimberley.
Where to stay in Kimberley
Kaslo
Kaslo is another small mountain town in BC that we loved. We visited in the morning having taken the world's longest free ferry over the Kootenay Lake and spent a chilled morning enjoying the views and the cool breeze around the lake and walking along the River Trail in Kaslo.
The town is perhaps best known for its jazz festival which takes place every year in late July/early August. While we didn't stay for the festival, it was taking place during our visit and there was a fun buzz in the air.
Other Kaslo attractions include the S.S. Moyie and the Japanese museum (the Langham Cultural Centre) which tells the story of the Japanese internment camp at Kaslo, part of Canadian history around WWII that we were completely unfamiliar with.
The River Trail is also well worth doing. It has minimal elevation as you walk alongside the river and cross over two beautiful covered bridges. There are also some fun peekaboo statues in the woods to look out for!
Where to stay in Kaslo
Nelson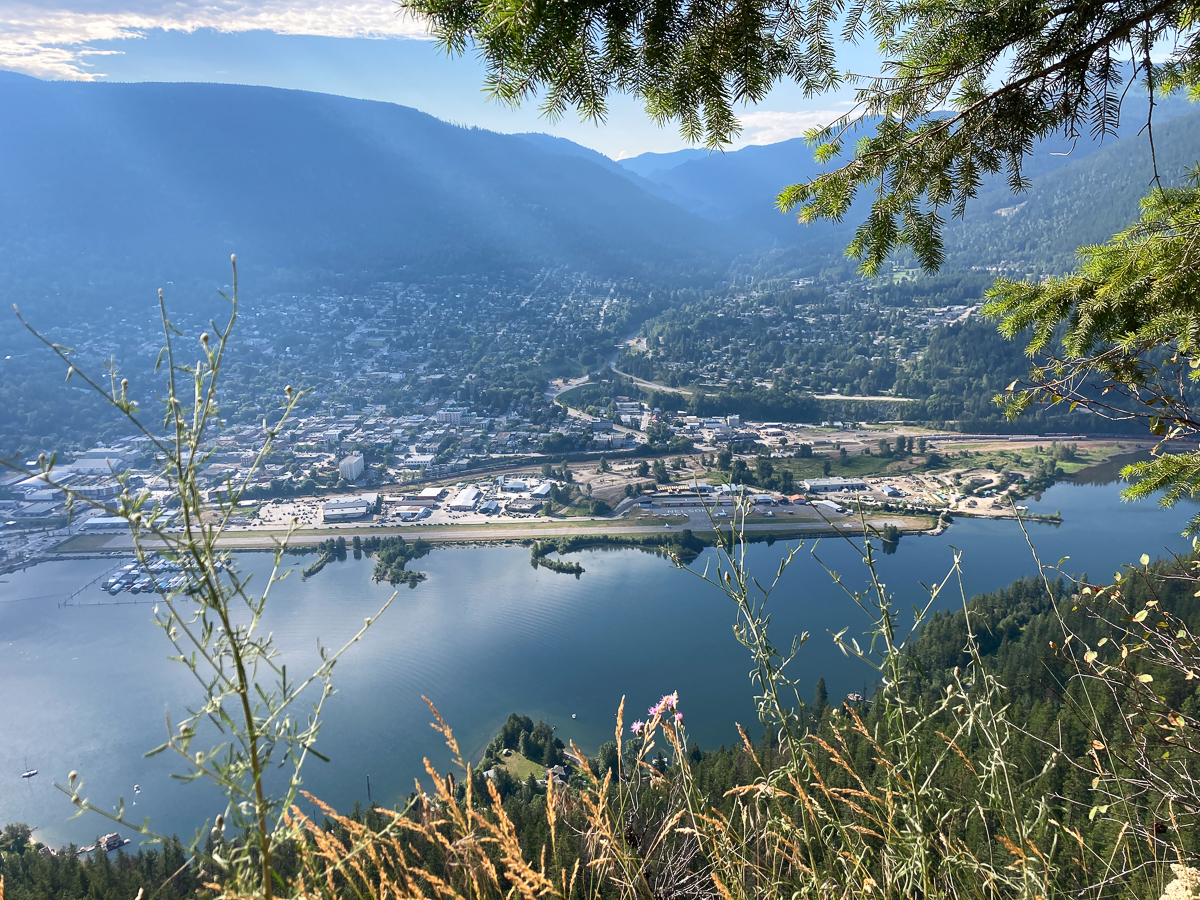 About an hour's drive south of Kaslo is the town of Nelson which is a well-known mountain town and one I was excited to visit. It didn't disappoint! Nelson sits at the mouth of Kootenay Lake and is the main town for Whitewater Ski Resort.
If you're a bit of a foodie you'll love Nelson. There is no shortage of great places to eat here. We enjoyed delicious tacos at Cantina del Centro, celebrated Thom's birthday with BBQ at Broken Hill, and had tasty cocktails at The Black Cauldron and delicious breakfast bagels and coffee at Empire Coffee.
In between all the eating, we managed to fit in some running along the Great Northern Rail Trail and a quick hike up Pulpit Rock.
If you're staying in the area for a while, visit Ainsworth Hot Springs or head into Valhalla Provincial Park for some incredible backcountry hikes.
Where to stay in Nelson
Invermere
I'd not heard much about Invermere before visiting but the town has some cool places to eat and drink and it's close to Panorama Ski Resort and Kootenay National Park, home of the Rockwall Trail. You're also not far from both Fairmont and Radium hot springs.
Some of the best things to do here include going for a float on the Columbia River, hitting the lake, checking out the beers and live music at Arrowhead Brewing and stocking up on tasty, healthy treats or drinks at Circle Market & Cafe.
Also, check out the farmer's markets or the live music at Pothole Park in the summer months. The park is so named as it's a sinkhole that's been turned into something prettier.
Where to stay in Invermere
Squamish
Closer to Vancouver, the town of Squamish is known as Canada's adventure capital and the town most certainly lives up to the title.
Whatever outdoor adventure you can think of, you can do in Squamish. There's rock climbing, mountain biking, ski touring and so many incredible Squamish hikes as well as paddling, cliff jumping and more.
Squamish is home to the Sea to Sky Gondola, the Stawamus Chief (check out the hiking guide here) and is one of the entrances to Garibaldi Provincial Park for hikes such as Elfin Lakes.
Add to that, Squamish's food and drink scene has soared over the last few years. From Oak and Craft donuts to Alice & Brohm ice cream, Purebread Backcountry Brewing, and more you'll find plenty to keep you fuelled for your adventures.
Where to stay in Squamish
Whistler
One of the larger and internationally famous BC mountain towns is Whistler. Two hours north of Vancouver, Whistler is home to North America's largest ski area, Whistler Blackcomb, as well as numerous emerald green lakes, trails, and plenty of non-outdoor activities too.
We've spent many days up at Whistler while living in Vancouver and always have fun. Sure, it's not cheap, and it can be very busy, but if you're on Canada's West Coast, then a trip to Whistler is a must!
Some of my favourite things to do in Whistler include, skiing Whistler Blackcomb, chilling out at Lost Lake or Green Lake, getting morning coffee and breakfast from Lift Coffee, and hitting the mountain biking trails in the summer.
Where to stay in Whistler
Fernie
On the furthest edge of the province is the BC mountain town of Fernie. Pretty much on the border of BC and Alberta, Fernie is another mountain town which super cute boutiques and great hiking, biking and skiing opportunities.
You can see Fernie mountain resort(?) from the town as well as the Three Sisters mountain range which offers excellent overnight hiking opportunities. In the winter the town is full of skiers and mountain boarders who turn into bikers come summer.
We had a great Chinese dinner at the Old Elevator Restaurant, breakfast bagels from Big Bang Bagels and coffee from Rooftop Coffee We also took a fun walk out to Fernie Falls to stretch the legs after all the driving on our road trip.
Where to stay in Fernie