One of the cities we ate out the most in on our American road trip was New Orleans. That shouldn't come as a huge surprise given that it's known as a pretty foodie place.
We made sure to work through my mental list of food you need to eat in New Orleans. We tried a Po boy, a muffaletta and went to the restaurant Cane & Table which was super, super tasty (which is kind of southern food with a Tiki twist! And the cocktails are delicious!).
If you're heading to New Orleans be prepared to eat a lot. Here is some of the food you need to eat in New Orleans. While you might not make it the whole way through the list, promise me you'll eat at least a couple?
If you've been to New Orleans be sure to let me know which of these foods you tried!
Po Boys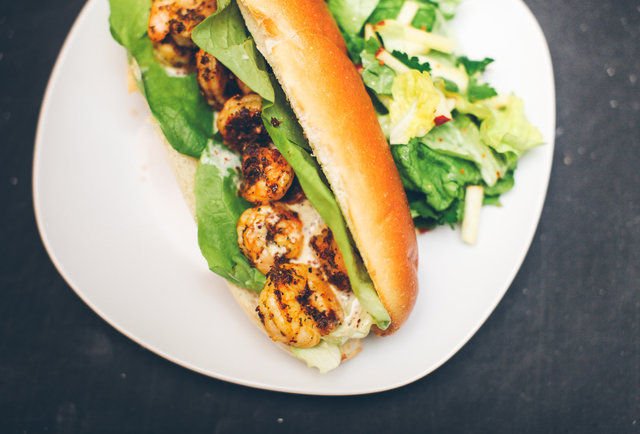 First things first, it's "Po" like the telly-tubby, not "poo" boy…
A Po Boy is basically a sandwich and it's normally a pretty big sandwich at that. Po Boys are made with French bread that sits perfectly in the middle of crunchy and pillowy.
Traditionally, these sandwiches are as long as 15 or 20 inches and come piled high with shrimp, fried chicken and salad. Nowadays you'll find Po Boys with more trendy fillings such as pulled pork, or served on fancier breads. Sourdough Po Boy anyone?
It doesn't really matter what's inside as it's sure to be a damn good sandwich!
Where to find some of the best Po Boys in New Orleans
A Roast Beef Po Boy from R & Os, 216 Metairie-Hammond Hwy (Metairie)
The roast beef Po Boy at R&Os should definitely be on your list of food you need to eat in New Orleans. The beef is chopped, simmered on a low heat for a long time and served in a flavoursome dark gravy. It'll give you all the energy you need for that New Orleans sightseeing.
The half and half po boy at Domilise's, 5240 Annunciation St
Seafood Po Boys are where it's at and the half and half from Domilise's is a winner. At this family run business, every shrimp, catfish or crawfish is battered and baked to order. That means there's no greasy-been-sat-in-the-counter-all-day Po Boy filling here!
There's always a line but it's totally worth waiting for.
Po Boys from Parkway, 538 Hagan Ave
The pictures alone have my stomach rumbling. The Parkway Bakery & Tavern is a legendary stop and their Po Boys are superb. There's plenty of choice for vegetarians too and if you're in New Orleans around Thanksgiving then be sure to try the Thanksgiving special!
Parasol's, 2533 Constance St (Irish Channel)
People flock to Parasol's in the Irish Channel for one thing and one thing only: the roast beef Po Boy. It's the gravy that does it. Wash this hearty Po Boy down with a beer!
Verti Marte, 1201 Royal St (French Quarter)
During your visit to New Orleans you're sure to stroll around the French Quarter. When you do make sure to stop by Verti Marte.
It looks like a convenience store inside but in the back is a group of the finest sandwich creators New Orleans has ever known. Their masterpiece: the shrimp and oyster po-boy.
Killer Po boys, 219 Dauphine St (French Quarter)
Killer PoBoys is the new kid on the block. They've taken the traditional Po Boy and added some hipster flair to it. Expect pork belly, smokey salmon and sweet potato variations of this must eat food in New Orleans.
Muffaletta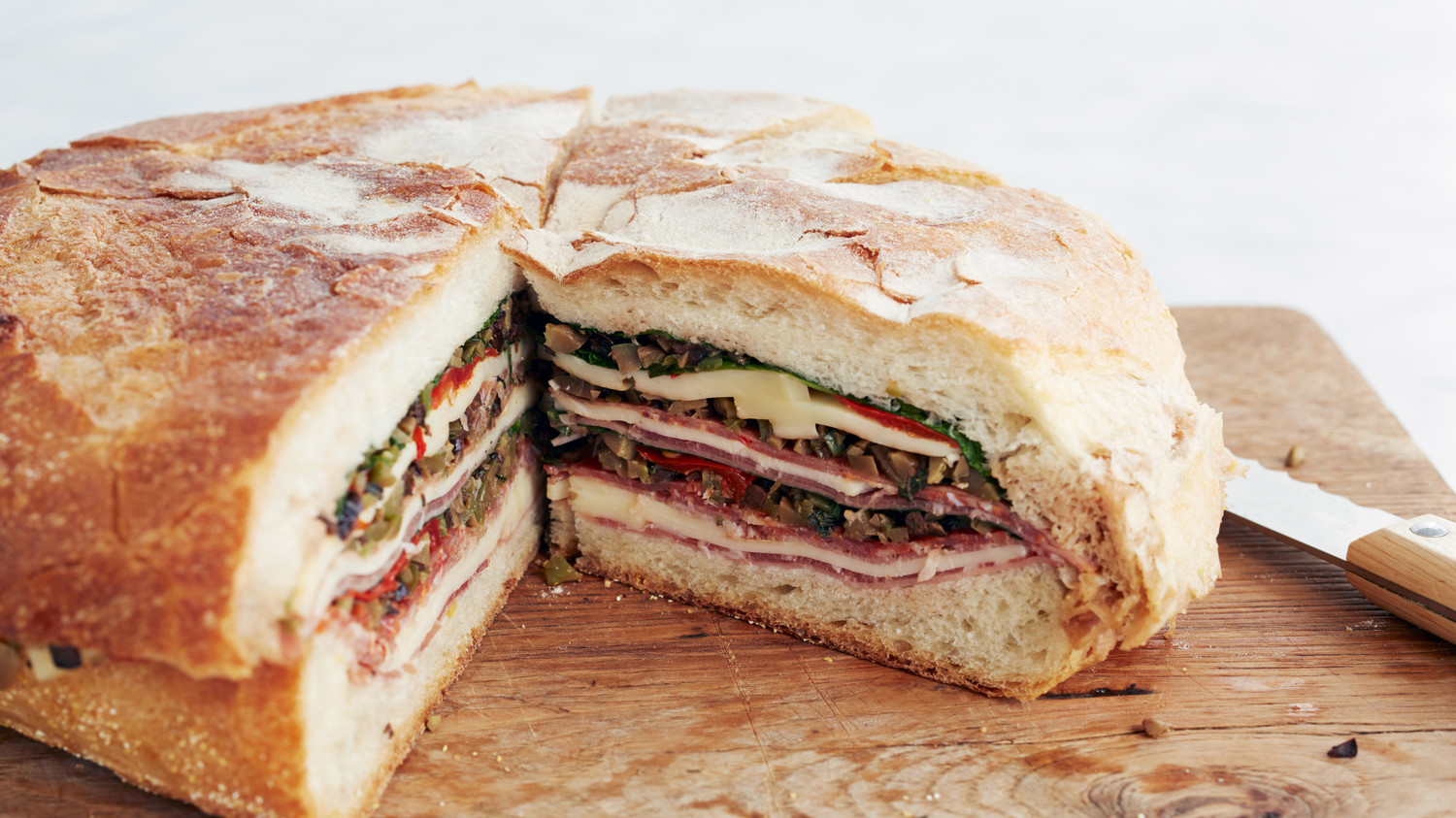 The muffaletta has become something of a National treasure and began in New Orleans. Created by Italian immigrants to New Orleans at the beginning of the 20th century, the muffaletta is a massive sandwich!
It gets its name from the type of Sicilian sesame seed bread, similar to focaccia, that's traditionally used in muffaletta. Inside you'll find a combination of ham, salami, mortadella, mozzarella, and, most distinctively, an olive salad spread.
The olive spread is generally composed of diced and seasoned olives mixed with the carrots, celery, and cauliflower found in giardiniera. It adds a salty, rich flavour that cuts through the fattiness of the meats and cheese.
Varieties of muffaletta might include fried shrimp, oysters, and even sometimes crab in the mix!
Where to find the best muffalettas in New Orleans
Central Grocery, 923 Decatur St (French Quarter)
It's widely believed that the muffaletta sandwich began at Central Grocery on Decatur St back in 1906. If you're looking for an authentic muffaletta in New Orleans then make sure to start here.
It gets very busy with tour groups coming in for a bite of this tasty sandwich. Arrive early or be prepared to wait. And, if you like the olive salad spread you can pick up ajar or two to take home!
Napoleon House, 500 Chartres St (French Quarter)
The Central Grocery might have invented the muffaletta but there's nothing like the singular experience of enjoying one of these wonderful Italian sandwiches topped with plenty of olive salad at the house built for Napoleon Bonaparte! You can do just that at Napoleon House in the French Quarter!
Stein's, 2207 Magazine St (Lower Garden District)
Maybe not the best muffaletta in New Orleans. But if you're exploring the Garden District and need something filling for lunch then try the muffaletta from Stein's. Here the sandwich keeps its traditional filing but the bread if replaced with French bread used in Po Boys.
Gumbo
Of Louisiana's signature dishes, gumbo may be the most emblematic. "Gumbo" comes from the Bantu word for "okra," and represents the region's diverse cultural influences.
Most locals will brag that their mother, grandpa, or mawmaw has the best gumbo recipe, which speaks to the dish's large variance in ingredients and flavours.
The most common gumbos are chicken and andouille, or seafood (itself a vague identifier which could mean crab, shrimp, oyster, or crawfish). Naturally, chefs all over the city have taken this classic and altered it to suite seasonal produce or public desire.
Where to find New Orleans' best gumbo
Dooky Chase's, 2301 Orleans Ave (Treme)
Chef Leah Chase from Dooky Chase's is the celebrated "Queen of Creole Cuisine." She's something of a torch-bearer when it comes to the indigenous food of New Orleans, and nothing shows that better than her seafood gumbo. Enjoy the lunch time buffet but make sure you add a serving of gumbo to your order too!
Galatoire's, 209 Bourbon St (French Quarter)
Somewhat fancier than most of the restaurants on this list is Galatoire's. You'll need to wear a jacket to be allowed in! This restaurant in the heart of the French Quarter offers seafood okra gumbo as well as duck and andouille gumbo, plus a truly iconic New Orleans restaurant experience.
Commander's Palace, Garden District
Commander's Palace offers traditional New Orleans fare in the rather fancy Garden District. You won't be able to miss the building; it's bright blue and has turrets. Head over there for lunch after exploring the cemetery over the road, or go for dinner and tuck into their gumbo.
Beignets
Similar to doughnuts, the tell-tale sign of a good beignet is how fresh it is. You don't want one that's been sat around all day waiting to be eaten. Instead you want it to be deep friend right when you order then covered in icing sugar and handed over to you.
In New Orleans a beignet is often eaten over breakfast with coffee or at the end of a night after a few too many shots. Whatever time of day you eat one, a beignet should be firmly on your list of food you need to eat in New Orleans.
New Orleans' best beignets
Cafe du Monde, 800 Decatur St (French Quarter)
Cafe du Monde is full of visitors to New Orleans and there's pretty much always a queue (even though it's open 24/7). But it's a classic. Plus, given that it's so busy you can trust your beignet will be fresh as they're constantly being made!
Morning Call Coffee Stand, 56 Dreyfous Dr (City Park)
It might seem weird to be recommending a coffee stand in a park but trust me on this. Morning Call Coffee Stand has been a New Orleans institution since 1870 and it's open 24 hours. It's cash only though so make sure you've got some dollars on you and get some chicory coffee too!
Boudin
Pronounced "BOO-dan", Boudin is a pork sausage made with liver and heart and mixed with rice before being stuffed into a pork casing.
It might not sound like the tastiest treat but it's definitely worth a try! Boudin is usually simmered or braised (or in Southern style, fried). There's nothing better than a couple of boudin balls and grainy mustard to break through that queasy alcohol feeling. Add it to your list of foods to try in New Orleans!
The best boudin dishes in New Orleans
Toups' Meatery, 845 N Carrollton Ave (City Park)
Toups' Meatery is a must if you're a meat lover and want to get your chops around some boudin.
The restaurant is run by Isaac Toups, one of the favourites in Top Chef. The cuisine focuses on the best of the Cajun meat and charcuterie.
While you're there get some cracklins and cheese too!
Cochon restaurant, 930 Tchoupitoulas St (Lower Garden District)
Cochon has become a firm favourite in New Orleans and serves up traditional, yet upscale, Cajun dishes. The menu uses fresh, locally sourced pork, produce, and seafood, but most importantly: the tried-and-true techniques that chef Donald Link has resurrected from his childhood.
Cochon Butcher, 930 Tchoupitoulas St (Lower Garden District)
Cochon Butcher is run by the same people behind Cochon Restaurant but has a more relaxed, casual vibe. It's a deli-butcher-wine bar and it focuses mainly on sandwiches rather than main courses.
Accept the challenge of building the ultimate meaty sandwich! Get some house-cured meats, terrines, and sausages. and enjoy a glass of wine for the perfect late lunch or dinner.
Crawfish Étoufée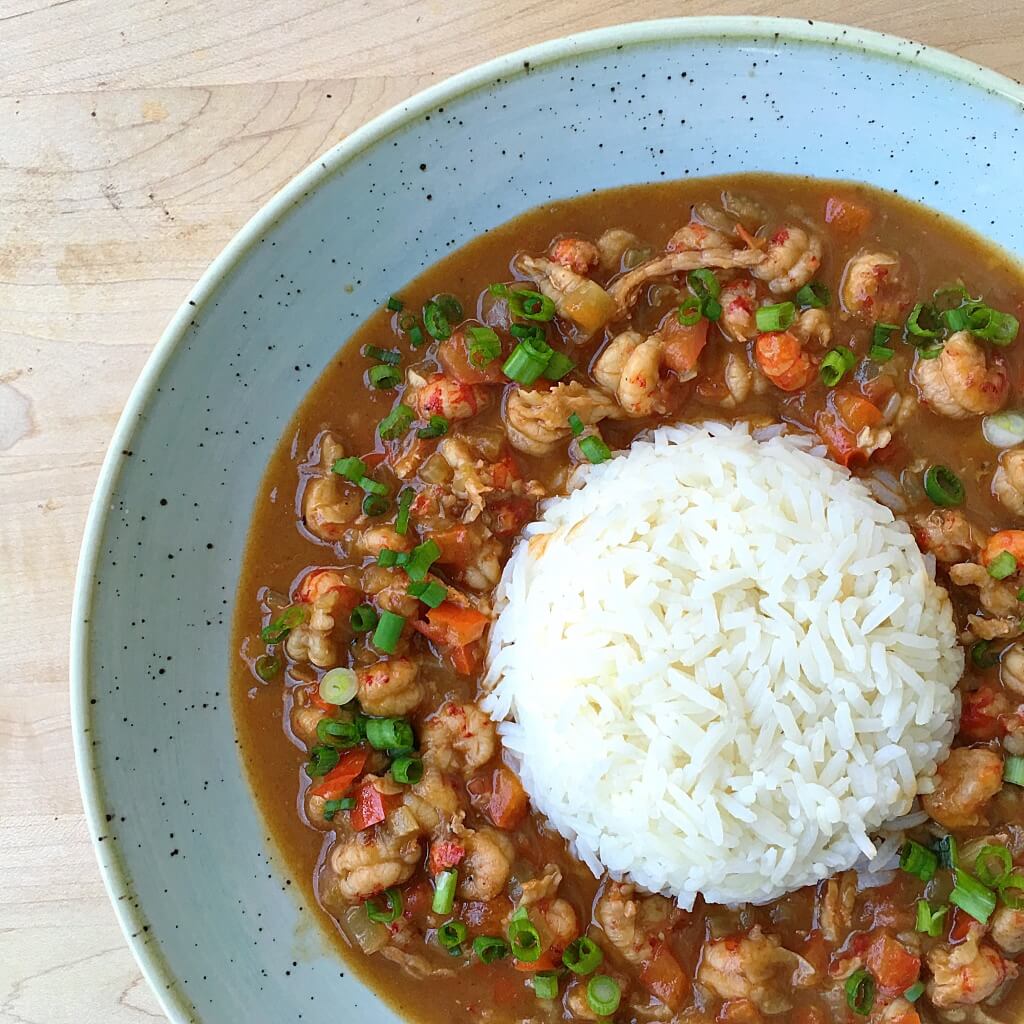 Crawfish Etoufée is best described as a thick stew full of plump, juicy crawfish/langoustine (or shrimp depending on the season).
In some ways, crawfish étoufée is similar to gumbo – same types of Creole seasonings, served over rice, and made with a roux, but unlike gumbo, étoufée is made with a "blonde" roux, giving it a lighter colour and a very different flavour.
You'll find this dish on many restaurant menus throughout New Orleans but make sure to try out the one below!
The best crawfish étoufée dish in New Orleans
Dat Dog, Uptown/Marigny
Dat Dog is a gourmet hot dog place with several outlets in new Orleans. When you visit you've got to try the crawfish sausage smothered in crawfish étoufée! You'll never find a dog like it anywhere else.
Andouille
Like every Creole or Cajun food, andouille sounds French but it came to be thanks to influence from various immigrant groups. The Germans of Louisiana's German Coast brought the strong sausage-making tradition, and the Native Americans, Spaniards, and Africans all brought their own spices and flavours to the local staple.
When it comes to Andouille you'll get shank meat moistened by fat and seasoned with salt, pepper and garlic. Once shaped into a sausage, this meaty treat is then smoked over burning sugar cane and pecan wood for seven or eight hours.
If you've eaten gumbo you've probably already eaten some andouille. Toup's and Cochon are considered two of the best places to eat andouille but here are a few more suggestions.
The best andouille in New Orleans
Atchafalaya, 901 Louisiana Ave (East Riverside)
Atchafalaya is a creative brunch spot with a well-stocked Bloody Mary bar. You'll get to taste some andouille in their gumbo with the shrimp and grits or served just as it is.
Gourmet Butcher Block, Gretna
This one is a little bit of a drive away but the sausage is quality! Gourmet Butcher Block is on the other side of the Mississippi river to downtown New Orleans and serves up a traditional andouille. There's no fancy modernisation here but it is authentic!
Soft shell crab
You can get soft-shell crab a lot of places, but none of them are as good as in New Orleans. You'll also find that in New Orleans the chefs put their own spin on it.
There's the basic fried version which you'll find in a po boy, then there's the fancier rendition – meuniere – where the crab is doused in fine-slivered almonds or toasted pecans. This is a defining New Orleans dish which should be on everyones' food you need to eat in New Orleans list!
Where to find the best soft shell crab in New Orleans
Galatoire's, 209 Bourbon St (French Quarter)
Not only is Galatoire's one of the best for gumbo, it's also great for soft shell crab. Here, crab is king! It's not always on the menu (it depends what the fishermen have caught that day and what's in season), but when it is order it right away!
Clancy's, Audubon
Clancy's serves Creole classics in a homey space and is famous for its cold-smoked soft shell crab. The crab here is. topped with meuniere and extra crabmeat for good measure!
Jambalaya

Jambalaya is probably the result of when Spanish settlers tried to recreate their traditional paella with Louisiana ingredients.
The beauty of jambalaya, like gumbo, is that it is flexible. You don't have to look hard to find slight variations in New Orleans or across The South.
It's often made in a large cast-iron pot for family or group gatherings, church functions or weddings, crawfish boils, or Easter.
The basic flavours include green bell peppers, celery, and onion sautéed with tomato, garlic, and other vegetables, meats, and spices.
Jambalaya in New Orleans: where to find the best
Jacques-Imo's Cafe, 8324 Oak St (Carrollton)
Jacques-Imo's Cafe proudly serves real New Orleans food. The atmosphere is always pretty lively and you might have to wait but ear here for a classic Creole jambalaya.
K-Paul's Louisiana Kitchen, 416 Chartres St (French Quarter)
K-Paul's Louisiana Kitchen has open kitchens a courtyard and is one of New Orleans' legendary restaurants. You'll find a slightly different jambalaya here than in Jacques-Imo's Cafe, K-Paul serves a Cajun jambalaya with tasso sausage, chicken and a jalapeño kick!
Coop's Place, 1109 Decatur St (French Quarter)
A Decatur Street staple since 1983, Coop's Place is the place to go for a true taste of New Orleans cuisine. On the menu is their delicious rabbit and sausage jambalaya. Make it "supreme" by requesting shrimp and tasso sausage in it too!
Which of the above would be on your list of food you need to eat in New Orleans?