So, you've decided to visit the Lost City of the Incas; Machu Picchu. You know you want to see it and get one of those photos in front of Huayna Picchu, perhaps even a #selfie with one of the free-roaming llamas and alpacas? Just don't get tempted to run through the Lost City without your clothes, okay?
BUT once you've looked into it a bit more you find that there's just SO many ways to get to Machu Picchu that you don't know which one to take. Which one's best? Do you really want to hike for four days or more? Have you found out the Inca trail is already booked up? How can you possibly make a decision on how to get to Machu Picchu?
Well, don't worry. Here's your definitive guide on how to get to Machu Picchu. All the options, with clear information and personal experiences from other travel bloggers to help you make your decision. It's a once in a lifetime experience and you don't want to miss a thing!
The different ways to get to Machu Picchu
Here are the various ways to get to Machu Picchu including the different hiking trails or the non-hiking route to Machu Picchu!
The Inca Trail
The most popular and the most well known of the treks to Machu Picchu is the Inca trail. 26 miles long, the Inca trail takes you through some stunning scenery including mountains, cloud-forest, subtropical forest and a stunning mix of ancient Inca paving stones.
The classic route takes four day to complete and can be hiked all year with the exception of February when maintenance is done on the route.The best months to visit, weather wise, are June to August when there's less rain.
If you plan to take the Inca trail you'll need to look at booking your permit about 6 months in advance. No, really. It gets booked up that fast. The Peruvian Government is, quite rightly, keen to keep the crowds manageable which means that permits are issued to make sure there's not too many people walking all over this part of Peru and damaging ancient Inca sites.So just remember: book early.
Pros: The original trail and the one everyone knows about. If you say you've done the Inca trail you won't have to do any additional explaining as you might with the others. It's also the only tour that enters Machu Picchu through the Sun Gate at sunrise (although other tours can get access for sunrise, just not at this entrance).
Cons: It's busy. Really busy. Plus, everyone's done this one so why not be a little different? It's also the most expensive option as it's so high in demand.
The Salkantay Trek
This is the trek I took and admittedly I had been swaying towards the Inca trail before it got booked up. However, the $200 saving on this compared to the Inca trail persuaded me to take the Salkantay trek; a decision I don't regret.
The Salkantay trek is the most popular alternative to the Inca trail. The word 'Salkantay' means 'Savage Mountain' in Quechua (the ancient language of the Incas) and sums up the trail pretty well. Whilst the trail is definitely manageable (you don't have to be super, super fit), it's not easy. It reaches 4,600m above sea level so you'll get tired quicker than you think due to there being less oxygen.
Whilst it may be tricky it's also a beauty.
The Salkantay trail passes glaciers, waterfalls, cloud-forests and rainforest. It's beautiful even when the heavens have opened and rivers form on what are supposed to be paths. It rained a lot on my second day and it was freezing cold (with there even being snow at the end of May!) but there's a huge sense of achievement.
With the Salkantay trek, as with most of the alternative treks to the Inca trail, you'll spend the night in the town of Aguas Calientes. You'll have the chance to grab a shower and sleep in a real bed.
Then, at around 4am something magical happens in Aguas Calientes. Hundreds of hikers rise from their beds, strap on their head torches and start marching towards Machu Picchu. The path up to Machu Picchu is dark and as soon as the gates open at 5am you'll feel the camaraderie as you all hike up in the dark together. It's a spine tingling feeling taking this last part of the trek and I'd highly recommend it; you've walked this far, don't take the bus now!
Pros: $200 cheaper than the Inca trail and you get to sounds really tough when you tell people how high you climbed. Plus there's the chance to zip line and visit hot springs.
Cons: It's a bit tougher than the Inca Trail.
Plan a Do-It-Yourself Trek to Machu Picchu
If you're feeling really adventurous then the do-it-yourself option may be your go to for getting to Machu Picchu. It's definitely not for everyone but it means you can take things at your own pace and it's certainly a lot cheaper.
Here's what 2monkeysTravel had to say about their do-it-yourself route.
"When we arrived in Ollantaytambo in Cusco, Peru to start our volunteering hostel job, we were flat broke. 3 months of travelling around India, becoming Yoga teachers and massage therapists, plus a missed flight to London, had swallowed all of our savings from Vietnam.
We found a massage table we could use and an old rusty wheelbarrow to push it around in, so we could start to earn some cash from the local hotels. Obviously we wanted to see Machu Picchu, but a train ticket was $80 one way and the guided treks were at least $250.
Then our hostel owners told us that we could just walk there ourselves for absolutely nothing except the entrance price.
We took a 50 cent minibus ride to the train station at Km 82, which is also the start of the Inca Trail, then we started walking along the train line – 30 km's of steep valleys, raging rivers and towering mountain peaks.
It was long way and we never want to be that broke ever again, but we're still grateful that our situation pushed us to do something amazing that we'll never forget!"
Pros: A lot cheaper than booking yourself on to a tour and it sounds very impressive!
Cons: When I trekked to Machu Picchu we felt really bad for those without a tour group had to cook their own meals in the pouring rain while our guides cooked up three-course dinners.
Take the train to Machu Picchu
If you're travelling with children, don't fancy the idea of hiking or are short on time in your mission to see all of Peru then the train to Machu Picchu is a great option for you. Trains leave Cusco and reach Aguas Calientes in about 3 ½ hours. There's then a bus you can take from Aguas Calientes to take you to the entrance of the Lost City. Bear in mind that there's qutie a lot of walking to be done in and around Machu Picchu, but nothing compared to the treks that's for sure!
Hear what Vicky from Buddy the Traveling Monkey and Katja from Globetotting.com had to say about taking the train:
Vicky: "Although the Inca Trail is probably the most well-known way to get to Machu Picchu, it might not always be an option. What if you're traveling with kids? Or perhaps you physically can't do the hike? When we went to Machu Picchu in May, we had limited time to do everything we wanted to do so spending days to get to the legendary Inca ruins was not an option. Instead, we took the train from Cusco to Aguas Calientes, the small town at the base of Machu Picchu. The entire experience with Peru Rail was great; from purchasing the tickets to being seated in our train car. Everything was easy and the staff provided great customer service."
Katja: "We visited Peru in April 2015 and despite vague romantic ideas of trekking the Inca Trail, I had no real desire to embark on the four-day trek with an 8- and 6-year old in tow. It was a relief, therefore, to discover that transport is available right up to the entrance gate!
Not only did the rail journey save us from aching feet (and weary children), it was also spectacular. Instead, we took the train from Cusco to Aguas Calientes, the small town at the base of Machu Picchu. The entire experience with Peru Rail was great; from purchasing the tickets to being seated in our train car. Everything was easy and the staff provided great customer service."
Pros: Takes a lot less time so it's a great option if you can't take four days out of your schedule to trek.
Cons: You might miss out on some stunning mountain scenery
The Lares Trek to Machu Picchu
The Lares trek is a three night, four day long trek where you'll pass valleys, tropical forests and waterfalls. During the Lares trek you'll visit authentic Andean communities whilst being surrounded by stunning mountains. Most routes start in the village of Pumahuanca in the Sacred Valley and finishes in the hot springs of Lares. On Day three you'll likely take a bus from Lares to Ollantaytambo and carry on to Machu Picchu by train.
See what Two Scots Abroad had to say about their experience of The Lares Trek:
"Peru was a priority because Craig had devoured so many documentaries on the seventh modern wonder of the world, Machu Picchu. However, we didn't want be restricted by time so the notorious Inca Trek was out. The Lares Trek looked quick but a challenge and that it was. On day three we peaked (literally) at 4650m above sea level and it snowed so it's not for the faint hearted. We recommend taking waterproofs, booking with a quality company AND acclimatising! Our tip – 'voluntary tips' are not voluntary! Build it into your budget."
Pros: A little bit shorter if you're tight on time!
Cons: The hike on the third day is tough if you're not acclimatised before the trek.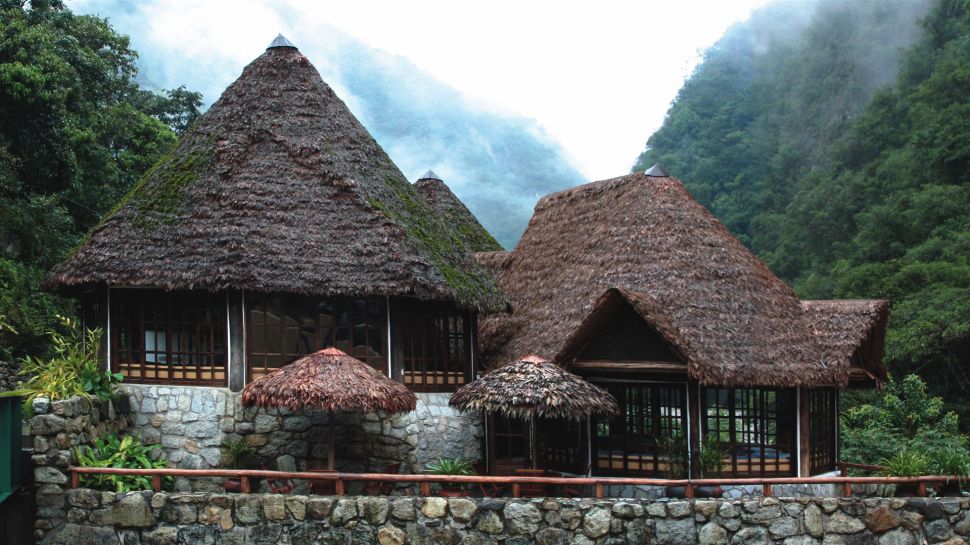 The Luxury Lodge Trek
If you prefer your route to Machu Picchu to be free of tents and more of the hot showers, gourmet meals and clean white bed linen variety then the luxurious lodge treks are for you. Whilst they are the most expensive option on the list you still get the satisfaction that comes with trekking. Just without the sleeping bags and cramped conditions.
The Lodge treks take a similar route to the Salkanty trail to Machu Picchu: you'll climb to similar altitudes. This trek is also spread out over severn to 11 days rather than just four or five as is the case for other treks.
Pros: Hot showers, gourmet meals and a real bed at the end of every day. Some lodges on the route even have hot tubs to relax in and watch the stars after a day of trekking
Cons: The price. Luxury doesn't come cheap!
The Inca Jungle Trek to Machu Picchu
This four day long trek takes adventure to the next level. Far from your standard hiking trek, the Inca Jungle trek take is full of extreme sports to get that adrenaline pumping. There's downhill mountain biking, zip lines, raging rivers and of course some hiking in the deep jungle following in the paths of the Incas before reaching those famous ruins.
Pros: It's a pretty unique way to reach Machu Picchu
Cons: Perhaps not the right choice if you're afraid of heights!
If you've been to Machu Picchu I'd love to know which route you took, or if you're planning on going, which route would you take?