Planning a trip to Vancouver and wondering where to stay in Vancouver? Well let me help you! I've been living here for over a year now and love it more than ever. I spend my days walking dogs around the city and so know each area pretty darn well. If you're wondering which part of Vancouver might be right for you then take a look at this guide on where to stay in Vancouver.
This guide is also super handy if you're looking to move to Vancouver and can't decide which area you want to be in. Although cost may play a bigger factor in that decision!
Where to stay in Vancouver | The best places to stay in Vancouver
Compared to a lot of cities, Vancouver is really quite small. In the end, it won't matter too much where you stay. But, if you want the real Vancouver experience complete with the city's beaches, mountain views, coffee culture and seawall strolls, then the below districts are some of the best places to base yourself in Vancouver. These Vancouver neighbourhoods are some of the most popular places to visit in Vancouver due to their attractions, history and places to eat.
Below, I've listed some of the best Vancouver hotels and airbnbs in Vancouver, making it slightly easier to choose where to stay in Vancouver for your upcoming trip.
Have an early/late flight and looking for Vancouver airport hotels? There isn't a lot of choice when it comes to Vancouver airport accommodation, however, there is the Coast Vancouver Airpot Hotel which is definitely the best for a place to stay by Vancouver airport. This hotel has a 24-hour on-call airport shuttle so you can arrive at the airport with minimal stress.
The West End
Let's start with the best part of Vancouver and, in my view, the best place to stay in Vancouver!
The West End is the area of Vancouver that borders Stanley Park. It's also home to some of the cities most popular beaches; Sunset Beach & English Bay so it's perfect for Vancouver sightseeing!
The streets are leafy and pretty traffic-free and there are some great places to eat nearby too. Vancouver's main shopping district and other areas, such as Yaletown, are in walking distance.
Who's it best for?
Everyone! Honestly, this is the best area to stay in Vancouver, but probably even more enjoyable for couples and families with older children. If you like walking then the West End is great.
Maybe the only downside is that public transport isn't so great here. There are buses, but you're about a 15-20 minute walk from the nearest Sky Train station.
Where to stay in the West End
As one of the best areas to stay in Vancouver, there are quite a few options for West End hotels and Airbnbs.
Just 2 minute's walk from the beach with its own onsite restaurants and 2 bars.
Address: 1755 Davie Street
Book it
This bed and breakfast in Vancouver is in one of my favourite areas of the West End. Staying at Barclay House you'll be very well situated for your Vancouver vacation and you'll even be welcomed with freshly baked cookies! Here you're close about a 10 minutes walk from the beaches, Stanley Park, the shopping heart of Vancouver and Coal Harbour.
Address: 1351 Barclay Street
Book it
*Recently renovated*
Under 10 minute's walk from the beach and on Denman Street with great food and drink, these suites are fully furnished suites with fully equipped kitchens and gas fireplaces.
This is one of the best hotels in Vancouver, BC for location, as it's super close to Stanley Park, great shops & restaurants and Lions Gate Bridge with access to North Vancouver, Whistler and Squamish.
Price: from CAD $139 p/night
Address: 1821 Robson Street
Book it
When it comes to cheap hotels in Vancouver, there are not a lot of choices. BUT Hostelling International is your best bet.
Just on the edge of the West End is this Vancouver hostel which is ideal for budget travellers who want to be close to the beaches. There are plenty of cafes nearby for your morning coffee too!
Address: 1114 Burnaby St
Book it
Yaletown
The city of Vancouver's newest area is Yaletown.
If you can't go more than a few days without a spin class or a green juice and want to eat out every night then Yaletown is for you. Yaletown is one of Vancouver's newer districts and is full of juice bars, barre and spin studios and organic supermarkets.
It's also got a tonne of restaurants and bars which are a bit fancier than what you'll find in the West End.
This section of the seawall is also one of the most popular areas and there are lots of dog parks so it's great for some dog spotting!
Who's it best for
Those who can't function without a spin class to wake them up! Better for couples, solo travellers or groups of friends than families.
Where to stay in Yaletown
Yaletown is a bit more upmarket than other parts of Vancouver. Whilst Vancouver is pretty expensive all over, it's perhaps even more so here.
The DOUGLAS is a new hotel in the Parq Casino. It's very luxurious and there's also a massive rooftop patio which you can use.
Price: $460 p/night
Address: 45 Smithe Street
Book it
Level Living offer luxurious suites fully equipped with everything you'd need including kitchen supplies, TV and wifi. They're by far the best choice if you're looking for an extended stay in Vancouver with monthly rates available.
There's also a swimming pool and onsite gym. It's super close to shops and the bars and restaurants of Yaletown.
Address: One on Seymour Street and a new one opening soon on Richards Street
Book it
Stunning bright central loft in Yaletown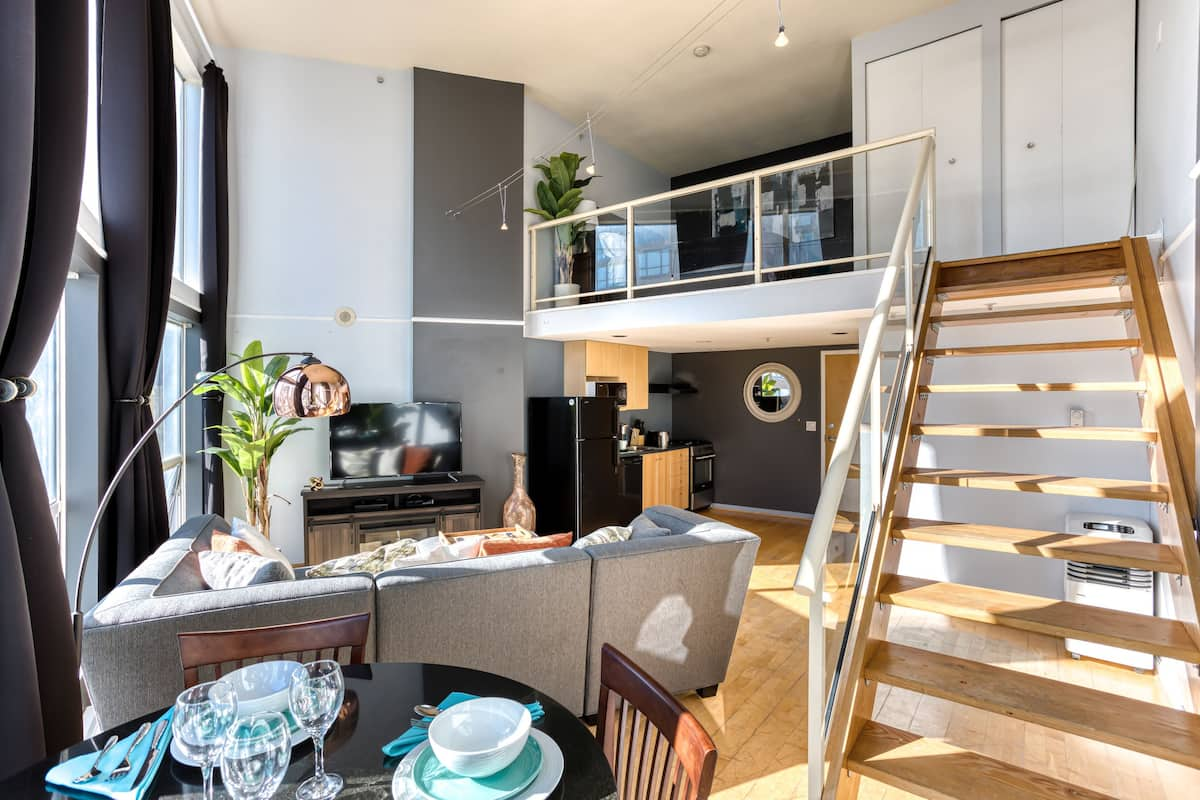 This Airbnb has the most beautiful natural light. It's a one-bedroom loft with plenty of space of a couple and is super central to some of the top things to do in Vancouver.
Address: 933 Seymour St
Book it
Gastown
Gastown is the oldest part of Vancouver and charms visitors with its cobbled streets. There are plenty of bars and restaurants here too, many of which offer fantastic happy hour deals. And, since you're on holiday, you'll be able to get there before the locals clock off work for the evening! The history of this area and the boutique shops make this one of the best places to visit in Vancouver.
Whilst you're further from the beaches at this end of town, you're super close to the main train station and you're never really that far from a beach in Vancouver!
See what there is to do in Gastown.
Who's it best for
Couples, solo travellers and groups of friends who are sightseeing in Vancouver for a few days.
Where to stay in Gastown
Vintage Guest Loft in Converted Warehouse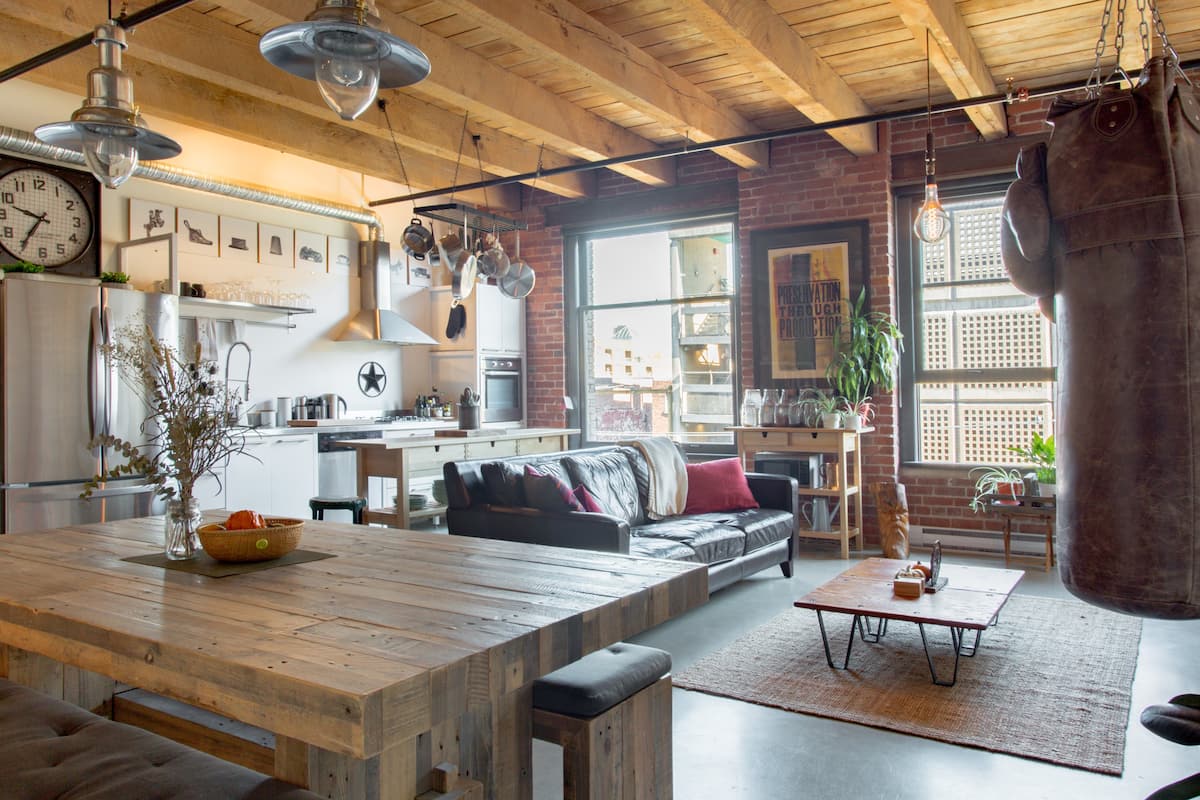 This converted Vancouver guest house in Gastown is absolutely gorgeous and one of the best Airbnbs in Vancouver. As an Airbnb Plus rental, you know you're going to get all the amenities you need and more!
Listen to some music on the gramophone or record player and bask in the solitude of a rustic space with wood beam ceilings, repointed brick, and an industrial atmosphere.
Where: Gastown
More photo and book it here
Stay in historic Gastown!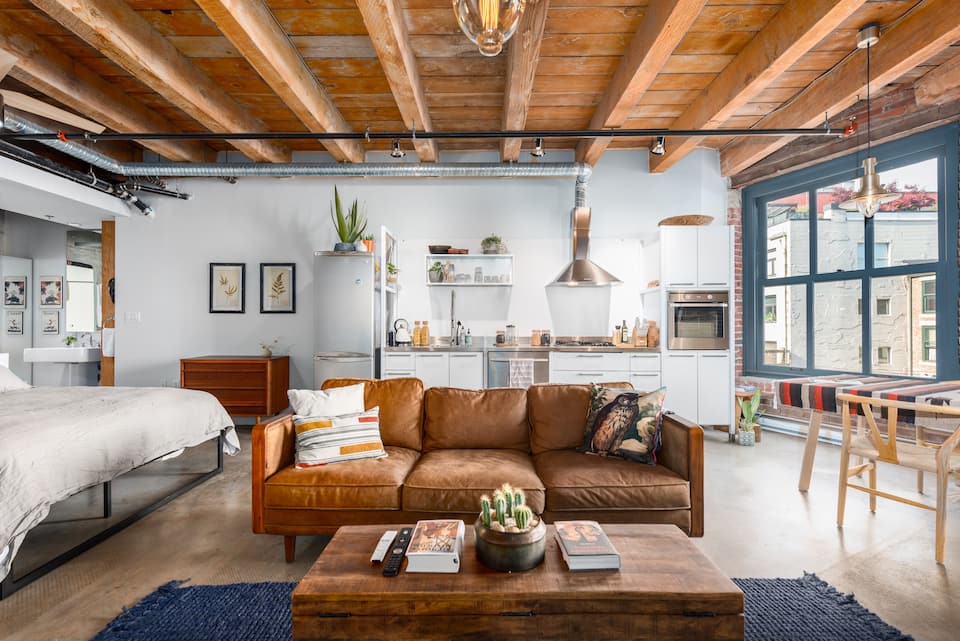 Another great Airbnb option in Vancouver is this beautiful Gastown apartment. With exposed brick and beams, you'll never want to leave this beautifully styled studio apartment.
Where: Gastown
More photo and book it here
This hotel seems to be one of the few that includes breakfast with your room. It's also very centrally located not too expensive for a 3-star hotel in downtown Vancouver.
Price: CAD$300
Address: 435 West Pender Street
Book it
Kitsilano
Heading south over Burrard Bridge is Kitsilano. Kitsilano is a pretty area with some of the city's best beaches and plenty of juice bars (like Yaletown) but also with more of a family feel.
If you're looking for things to do in Kitsilano be sure to check out this post.
Who's it best for?
Families, couples, older travellers. It's quieter over here and there's even more green space. Whilst there's no Sky Train station there are plenty of buses that will connect you with downtown Vancouver. Or just walk 20 minutes or so over one of the bridges.
Where to stay in Kitsilano
There are fewer hotels here but you may be able to find some Airbnbs www.airbnb.ca/c/hkacary . Here are a few options you can try if you'd like to stay in Kitsilano.
These apartments sit within a converted heritage home in the Point Grey area of Kitsilano. During your stay you'll easily be able to imagine living in Vancouver with any one of these gorgeous suites.
Price: CAD$200+ p/night (minimum night stay may apply)
Address: 2814 West 3rd Ave
Book it
Private suite in the heart of Kitsilano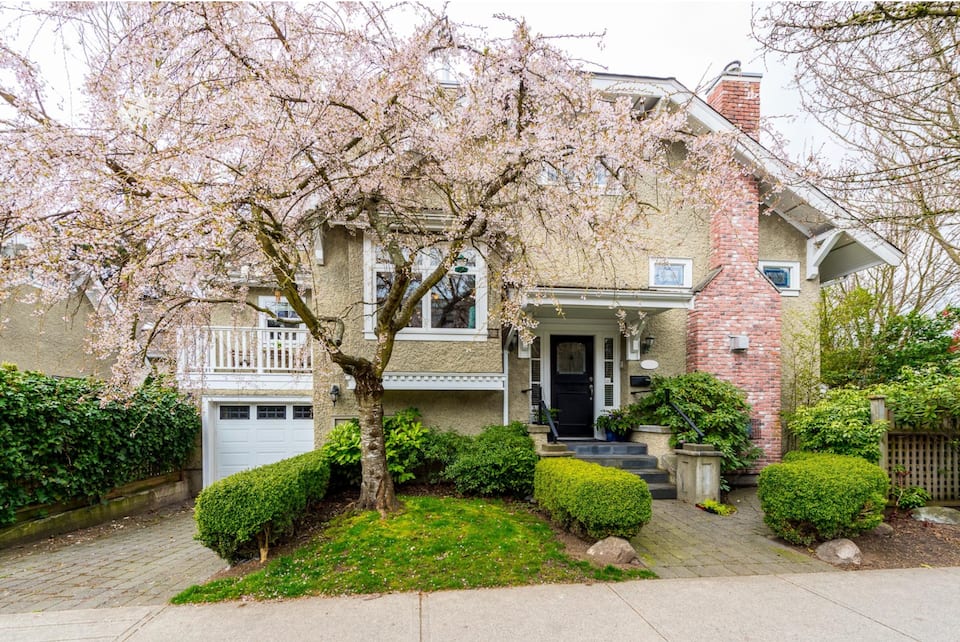 This cute house has a private suit to rent on Airbnb. This Vancouver rental is bright and airy and while it doesn't have a full kitchen, there's enough to make your morning coffee, and some quick simple meals.
Where: Super close to Kits Beach
Book here & more photos.
2 bed suite in a townhouse in Kits Point, Vancouver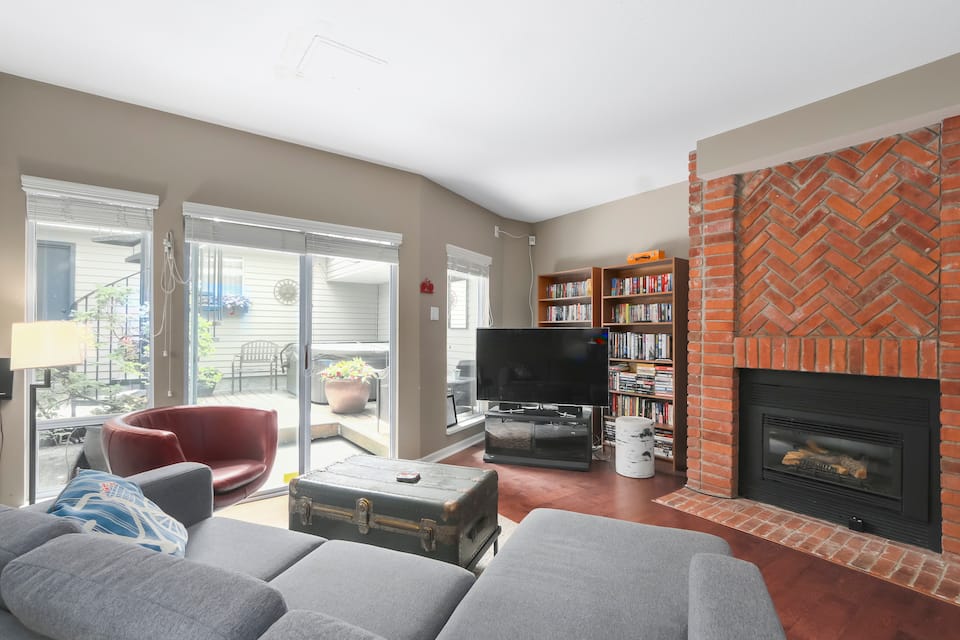 This 2 bedroom apartment rental in Vancouver sleeps 4 and is just steps from the beautiful Kitsilano Beach in Vancouver. You even have access to a private little courtyard.
Where: Kits Point
Photos, pricing and to book
Main Street/Mount Pleasant
This is one of the best neighbourhoods in Vancouver for hipsters!
There are coffee shops in abundance, vegan and vegetarian only restaurants, independent boutiques, no-waste stores and, in certain places, great mountain views.
Whilst you're further away from the beaches here you'll still find green spaces to relax in when the sun's out. There are also plenty of bus routes to get you downtown.
Who's it best for
Hipster couples and solo travellers
Where to stay on Main Street
There's a bit less choice here but here's a couple of Airbnb options for this part of Vancouver.
1-bed suite in Mt Pleasant
This Main Street apartment rental has beautiful furnishings (that fridge!) and is right next door to 49th Parallel which is one of the best Vancouver coffee shops.
Address: Main Street
Photo, prices & to book
Garden Suite in Mt Pleasant, Vancouver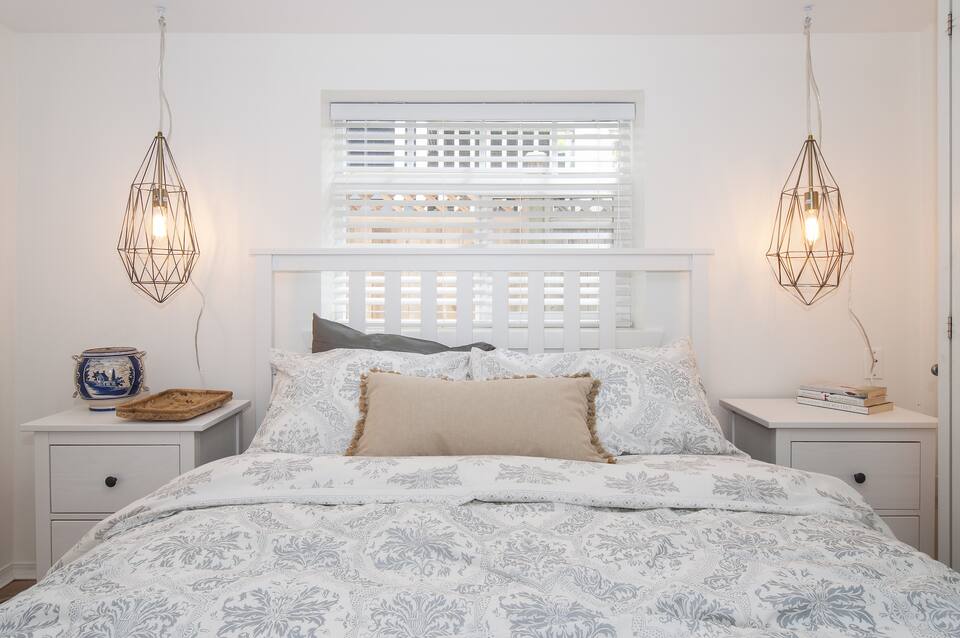 This garden suite is just a few steps from Main Street full of great restaurants and coffee shops.
You're on good public transit links to get to Stanley Park and around the city too.
Address: Main Street
Photo, prices & to book
Where to stay in Coal Harbour, Vancouver
If you're looking for a waterfront hotel in Vancouver, then staying in Coal Harbour is one of your best bets. This expensive area of the city is full of luxury hotels in Vancouver and so you'll need to be prepared to splash the cash.
Who's it for?
Business travellers or people who love a bit of luxury. You're close to downtown Vancouver and Stanley Park, but also the business district of the city.
Where to stay in Coal Harbour
Some of the most luxurious hotels in Vancouver are found in Coal Harbour. Here's my pick of the best.
The Westin Bayshore, Vancouver
This hotel has perhaps the best location and outdoor amenities. There's a gorgeous outdoor pool area with cabanas which is perfect for summer in Vancouver.
The rooms have an extremely comfortable bed and most have exceptional views of the city or mountains.
Address: 1601 Bayshore Drive
Book it
Loden Hotel
The Loden Hotel is a luxurious hotel in downtown Vancouver with so many facilities. There is an on-site spa as well as a restaurant which gets great reviews.
In your room you can expect a huge TV, floor to ceiling windows for plenty of natural light, designer bath amenities and even a yoga mat so you can take a stretch if you're coming off a long flight!
Address: 1177 Melville Street
Book it
Fairmont Pacific Rim, Vancouver
One of Vancouver's top hotels, the Fairmont Pacific Rim has its very own rooftop pool with firepits and a hot tub. It's a luxury hotel with a full-service spa and a huge gym on site.
The rooms can with all the luxurious you'd expect from a Fairmont hotel and it's in a great location too.
Address: 1038 Canada Place Way
Book it
Coast Coal Harbour Hotel by APA
When it comes to cool places to stay in Vancouver, this hotel has it all including a rooftop deck and swimming pool! Staying at this downtown vancouver canada hotel in Coal Harbour also means you'll get amazing views of the North Shore Mountains.
Rooms here include floor to ceiling windows, a 55″ flat-screen TV and a coffee maker amongst other amenities.
Address: 1180 West Hastings
Book it
*Prices are based on two people sharing a room