The district of Gastown, Vancouver is the oldest part of the city and one of the top areas to visit when it comes to what to see in Vancouver. It grew from a single pub founded by John 'Gassy Jack' Deighton in 1867. There's even a statue, the Gassy Jack statue, that's dedicated to him in Gastown today (though this was toppled in 2022 and you can learn why here).
Every visitor to Vancouver should spend an afternoon or longer in Gastown. There are so many things to do in Gastown from shopping to eating and some sightseeing too! If you're looking for free things to do in Vancouver then checking out Gastown should be one of them!
Gastown is one of the most picturesque neighbourhoods of downtown Vancouver. Sure, there isn't exactly a whole tonne of greenery like my home neighbourhood the West End. But there are cobbled streets, an old Steam Clock, vintage lampposts and independent shops aplenty.
Visiting Vancouver in Summer? Be sure to check out this guide to the top things to do in Vancouver in the summer
Or check out this guide to things to do in Vancouver in the winter!
Looking for somewhere to stay in Vancouver? Check out this guide to Vancouver's best hotels and find the best area of the city for you!
The best tours in Vancouver
Check out these tours with local guides in Vancouver for your trip. There are tonnes to choose from!
Where to stay in Gastown
Gastown can be a pretty expensive part of Vancouver to stay in. But there are a few budget hostels and hotels too. Here are my picks of the best hotels in Gastown Vancouver, BC.
Take a look at the full list of my pick of hotels in Vancouver here
What to do in Gastown, Vancouver BC
These 15 Gastown things to do will easily fill up one day in Vancouver. From shops to historical sights and plenty of delicious food and coffee in between! Wondering what is there to do in Gastown, Vancouver? Wonder no more!
1. Eat a porchetta sandwich from Meat & Bread
Meat & Bread is one of the best Gastown restaurants and it should definitely be on your list of things to do in Gastown. During weekday lunch this place is packed with office workers but the line moves quickly and it's well worth the wait anyway!
Whilst there are a few options on the menu, you can't visit Vancouver without at least one person in your group getting their classic porchetta sandwich that comes with salsa verde and crackling. It is so, SO good; add it to your places to go in Gastown list now.
2. Watch the Steam Clock in action
The Steam Clock is perhaps the most iconic landmark in Gastown (and also one of the best known in Vancouver). The main sight in Gastown and the item on everyone's 'what to see in Gastown' list is the Gastown Steam Clock. If you ask someone what to do in Vancouver, chances are they'll suggest you check the Gastown steam clock out. You couldn't possibly visit the city without taking a look at the steam clock and hanging around for it to burst into action.
Without ruining it too much, the clock isn't actually steam-powered (it's electric) but you'll still see steam come out.
Every 15 minutes the Gastown Steam Clock shows off a bit. It whistles and shoots steam from its five whistles in its own version of the Westminster Chime. On the hour it marks each hour with a toot from each whistle. Make sure you go at 12 pm for the best display!
3. Wander CRAB Park
I said Gastown wasn't particularly green but that doesn't mean there isn't any greenery: this is Vancouver after all! The best Vancouver activities often involve enjoying the outdoors and you can still do that in Gastown.
Head over to CRAB Park and stroll along the waterfront. There's a little beach here and you'll get great views of North Vancouver (especially good the day after it snows) and Canada Place too!
Looking for more Vancouver travel ideas?
4. Shop locally
Gastown is FULL of independent shops and Gastown, Vancouver shopping is one of my favourite areas for browsing. There are independent fashion shops, shoe shops, glasses, furniture and 'bits and bobs' shops. Some of my favourites are Parliament, Old Faithful Shop and the lifestyle section at Nettle's Tale Swimwear.
You could spend a whole day shopping in Gastown and I suggest you do!
See this post for where to go in Vancouver for independent stores
5. Drink great coffee
Vancouver as a whole is pretty great for coffee, but Gastown has some of the best cafes! Not only do they do great coffee, but they're super cute inside too! Make sure to check out Vancouver fave Revolver, drink from those pretty blue cups at Prado and pop into Birds and Beets for a cute interior!
6. Visit the Cacao 70 Dippery
The Cacao 70 Dippery opened up in Gastown quite recently and it's definitely worth a visit if you love chocolate! It's one of many fun things to do in Vancouver At the Dippery you can get ice cream and waffles (you guessed it!) dipped in chocolate! In the summer months, you should be prepared for a queue but these dips are great!
7. Admire the cobbled streets
One of the top free things to do in Gastown, Vancouver is to just wander the cobbled streets! Gastown's cobbled streets are what makes the neighbourhood stand out so much. Wander down Water Street taking time to pop in and out of shops. Even in the rain, this area is beautiful! These pretty streets are one of the best Vancouver attractions and they make cool things to do in Vancouver.
8. See Vancouver's very own Flat Iron building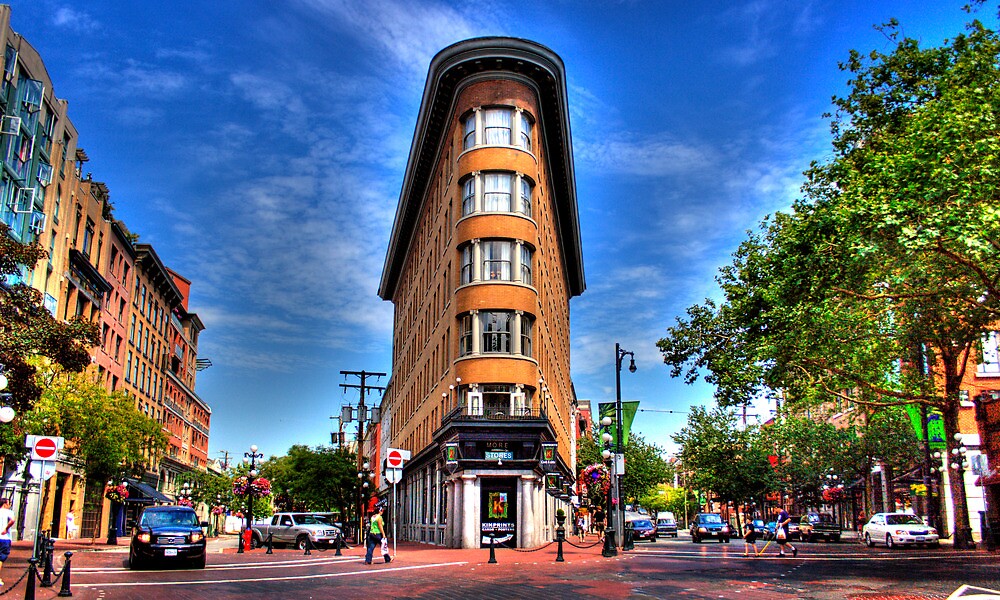 Another one for the what to see in Gastown, Vancouver list is the Flat Iron building. You may have seen the Flat Iron building in New York and maybe even the one in Toronto. The Vancouver flatiron building is one of the most iconic things to see in Vancouver. Sure, it's not as well known but it's still pretty cool to take a look at!
9. Pig out at 'appy hour
Is it weird to say one of the top Gastown attractions is to explore happy hour?! Vancouver loves happy hour. I think pretty much every pub and restaurant in the city offers a happy hour (often referred to as 'appy hour). Happy Hour is often between 3-6pm and some places have a second happy hour from 9 pm onwards. Some of the Gastown Vancouver restaurants are the best in the city!
During happy hour you'll be able to get cheap drinks AND cheaper food. It's totally worth it!
Some of the best happy hours can be found at The Greedy Pig, The Flying Pig, Six Acres and Peckinpah.
10. Gassy Jack
It's hard to miss this statue which stands on a semi-roundabout in Gastown. The statue is one of many Vancouver points of interest up there with the top things to do in downtown Vancouver and one of the main things to see in Gastown.
You'll learn a little more about Gastown by reading Gassy Jack's plaque and you can learn why Gassy Jack was toppled here.
11. Grab brunch (on several occasions)
There are some great places to go in Vancouver for brunch. And, if you're looking for a tasty brunch, Gastown is a great place to go. Some of the best brunch in Vancouver can be found in Gastown so it's definitely a thing to do in Gastown!
Here are a few suggestions on where to go in Gastown for brunch:
12. Take in the views of the city from the Vancouver Lookout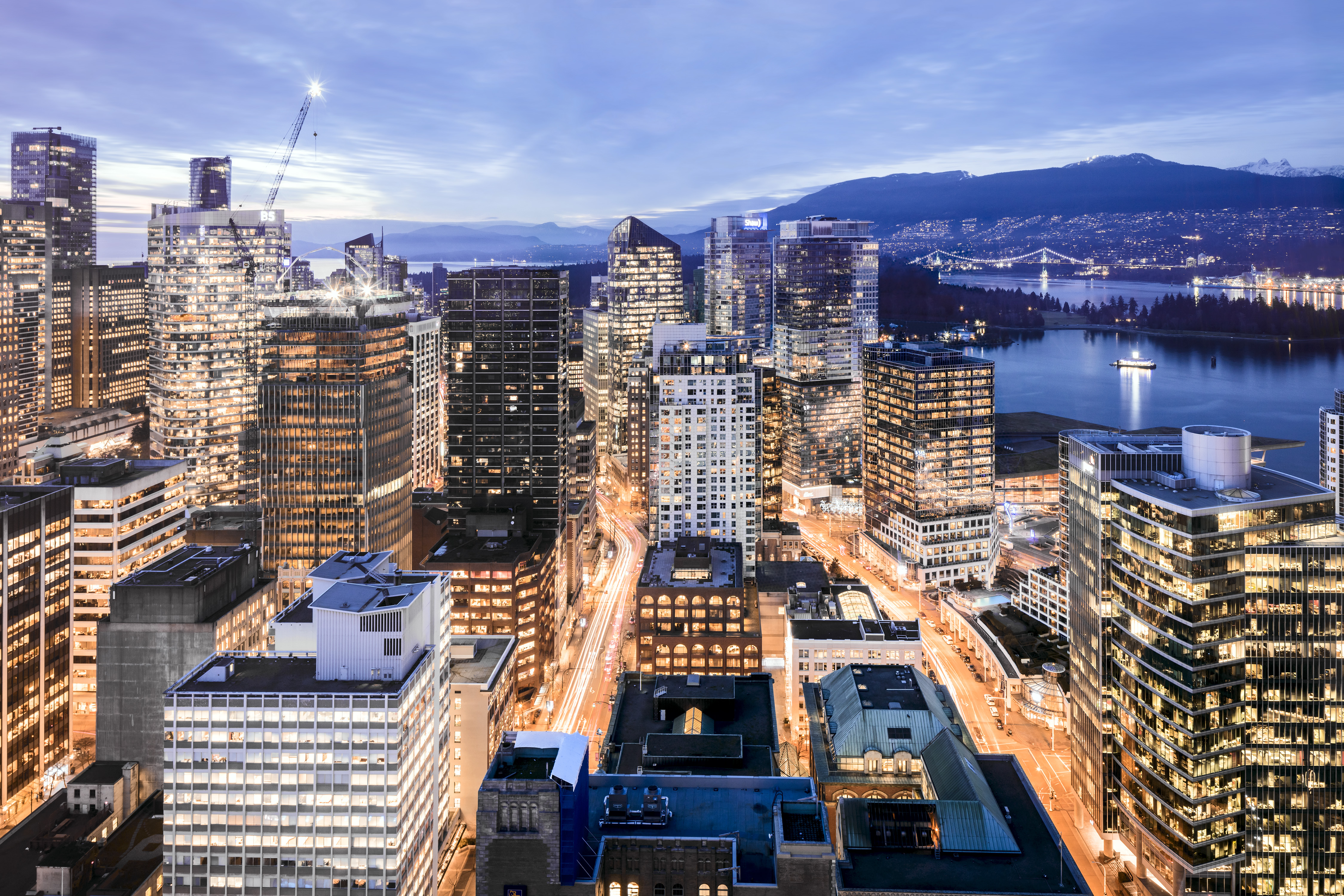 Another of the main Vancouver places of interest is The Vancouver Lookout. The lookout offers one of the best views of the city (unless you're planning on taking a seaplane – which is awesome!). One of my favourite Vancouver tourist attractions, you'll get a 360-degree view of the city.
You'll be able to see the snowy mountains to the north and (if it's super clear) you'll be able to see America to the south! Oh, and Stanley Park and the beaches of Kitsilano! It's one of the best places to visit in Vancouver and is great for getting in some Vancouver sightseeing.
Your ticket for the Vancouver Lookout lasts all day and coming back up at night is one of the best things to do in Vancouver at night, trust me!
13. Drink local beers
For a relatively small city, Vancouver has a TONNE of local breweries. There are so many awesome Gastown bars and loads of them do happy hour between 3-6.
You'll be able to find some local brews in most of the pubs and restaurants around the city. But, if you fancy a beer while you're in Gastown then you don't need to go far for a local drink! There's Steamworks Brewing Co, Postmark Brewing and Six Acres to name just a few.
14. Visit one of Gastown's great bookshops
Get a taste for local Gastown by visiting its fantastic bookstores. If you've been reading my blog for a while then you'll know I love a good bookshop. I seem to end up going into one whenever I travel (this one in Portland is especially good). If you too love a good bookshop then make sure to visit the bookshops in Gastown.
They're not on Gastown's two main streets (Water Street and West Cordova) but they're not far away! You're guaranteed to find some great books at The Paper Hound, McLeods and Albion Books in Gastown!
15. Visiting Vancouver in July? Watch the Global Relay Gastown Grand Prix
One of the strangest sights to see in Vancouver, perhaps, the Gastown Grand Prix sees hundreds of cyclists race around the streets of Gastown in an exhilarating bike race!