Looking for Okanagan rental cabins for your next ski or lake-side vacation? You're in the right place. I've searched for some of the best rental cabins in the Okanagan, BC and found some real gems. These Okanagan rental cottages and cabins include cute tiny homes, cosy wood cabins with hot tubs in the Okanagan and lakeside retreats. Whether you're looking for a romantic getaway or a trip with a few friends, you're sure to find the perfect Okanagan rental cabin in this list.
About the Okanagan, BC
The Okanagan, BC is a great holiday destination whatever the time of year. Visiting in winter? Hit up one of the many ski resorts in the area from SilverStar to Apex and everything in between. Visiting in summer? Well, make sure you cool off in one of the many beautiful lakes in the Okanagan or go for a paddle! Oh, and don't forget to explore the vineyards, home to BC's best wine!
I've visited the Okanagan many times since moving to Canada and there's so much to see and do whatever you're into. There's plenty of opportunity for adventure, be it mountain biking, skiing or hiking, but there's also plenty for those less-adrenaline inclined.
Where is the Okanagan, BC?
BC's Okanagan region is in the interior (the middle) of lower BC. It's generally considered to include the cities of Kelowna, Penticton, Vernon and (sometimes) Kamloops.
The distance from Vancouver depends on exactly which part of the Okanagan you're travelling to. For instance, it's about 390km from Vancouver to Kelowna which takes around 4 hours (traffic depending). Fortunately, once you've got past Chilliwack if you're coming from Vancouver, the traffic is usually much lighter.
If you're travelling to the Okanagan in winter, make sure to follow DriveBC on twitter for road updates and closures. The DriveBC webcams are also useful to check before heading out. There are quite often closures or traffic due to heavy snow and dangerous driving conditions.
Top things to do in the Okanagan
As mentioned above, there are tonnes of things to do in the Okanagan, BC. Here are some of my top picks for what to do in the Okanagan.
Go skiing: There are so many ski resorts to choose from with my favourites being Sun Peaks and Silver Star.
Try mountain biking: Kamloops is a great option for mountain biking as there are so many options. Harper Mountain has some fab trails that are suitable for all abilities. Alternatively, head to one of the ski resorts in summer to get lift-accessed biking.
Hiking: the Okanagan isn't exactly as mountainous in the same way as Vancouver and the surrounding areas but there are still plenty of beautiful views to be found. I recommend taking a look at AllTrails to find a hike for you.
Wine Tasting: The Okanagan is the place for wine tasting! Here's a recap of some of the best wineries in the Okanagan around Kelowna from a trip a few years ago.
Okanagan rental cabins
If you've tired of camping in the Okanagan and are looking for something a bit more luxurious, try these Okanagan Airbnbs!
Dog friendly lakeside cottage
One of my favourite cabins to rent in the Okanagan, this gorgeous cottage even allows you to bring your 4-legged friend with you!
Enjoy lakeside views and access to the resort's boats. The large living room has a great fireplace and there's plenty of space to hang out and chill too. If you're visiting in winter then you're a quick 30 minutes drive to the nearest ski hill and this place is just perfect to come back to after a long day's ski!
Forest cabin – luxury in the woods!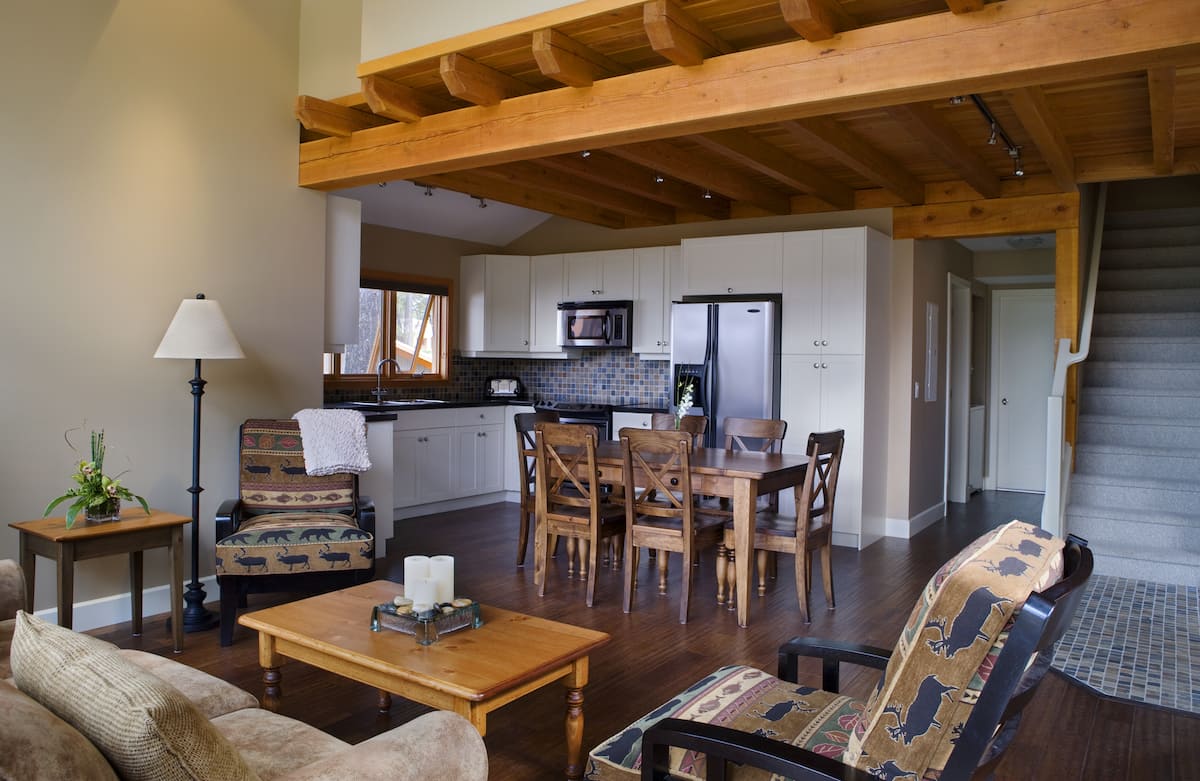 This fully furnished cabin in the forest has everything you need for a romantic getaway in the Okanagan. Enjoy being surrounded by the woods and come back after a day of exploring to a pool, hot tub and tennis courts!
See more about this cabin & book.
Wild Roots Farm Guesthouse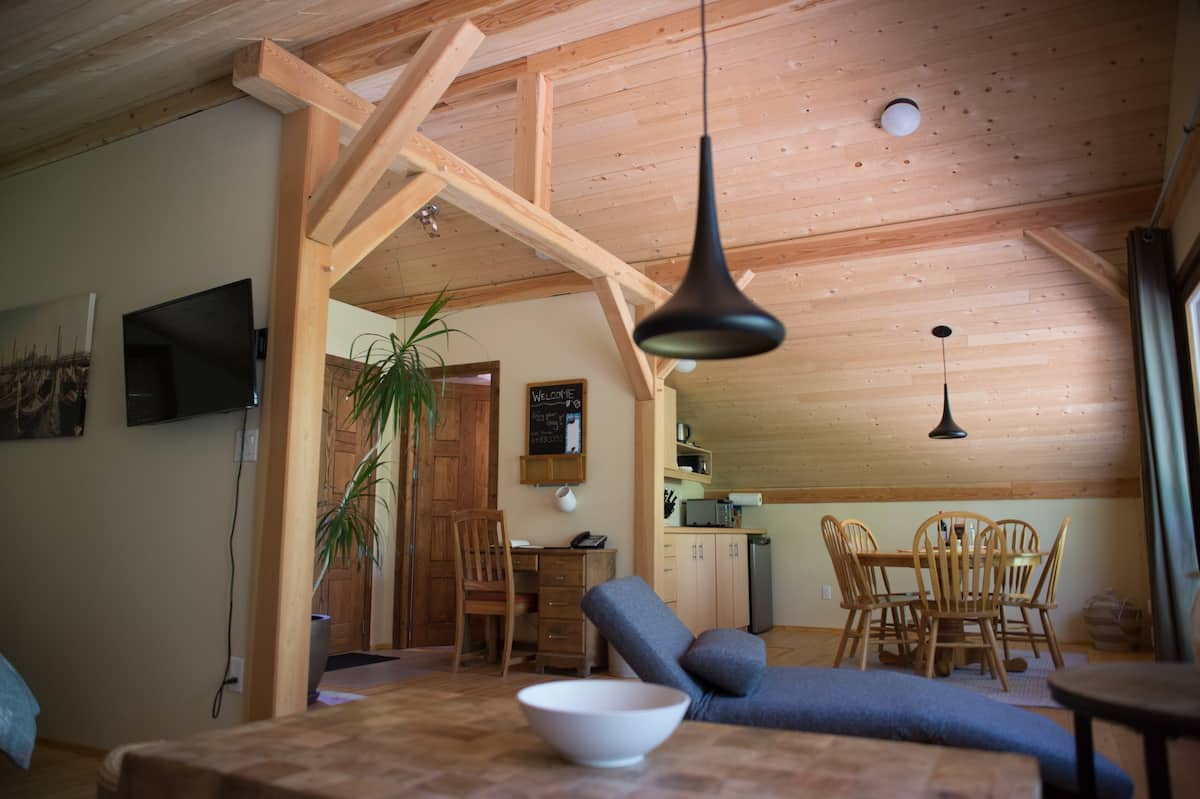 Located between Salmon Arm and Enderby this modern yet cozy, handmade, suite is the perfect getaway. You'll be surrounded by nature and can even visit your new neighbours: farm animals!
Lost Moose Cabin with hot tub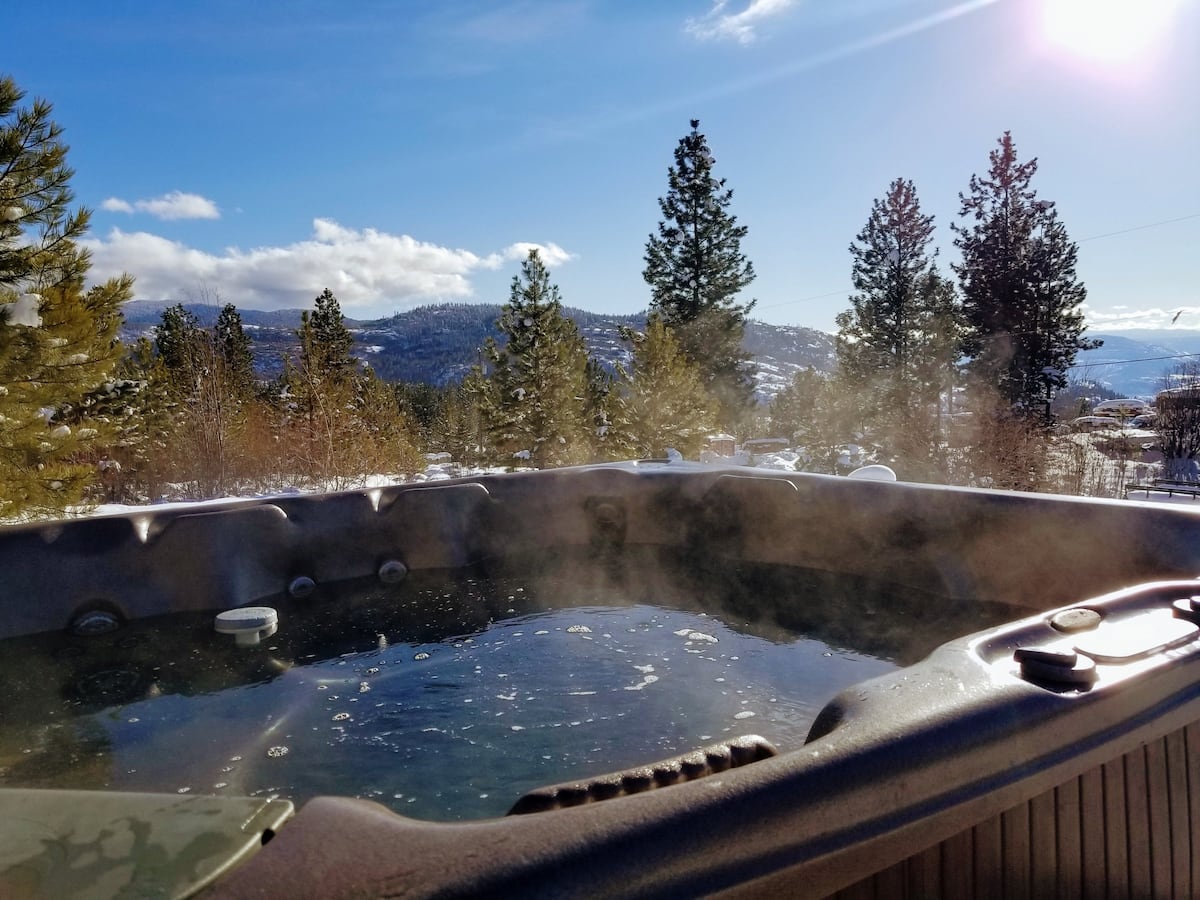 A cozy little cabin with everything you need for a relaxing Okanagan break.
Soak in the large hot tub, enjoy an evening around the fire and explore the endless walking and biking trails straight from your door. This dog friendly cabin in the Okanagan has everything!
The Home Place at Glen Robson, BC
Nestled in the mountains of south central B.C.this cabin in the Okanagan is surrounded by fantastic opportunities for outdoor adventure.
Go foraging, fish, hike, bike, ski and snowshoe then come back to relax in your off-grid cabin!
You can also arrange guided exploration to mountain tops, gold panning and wildlife viewing tours.
Beach Cottage on the water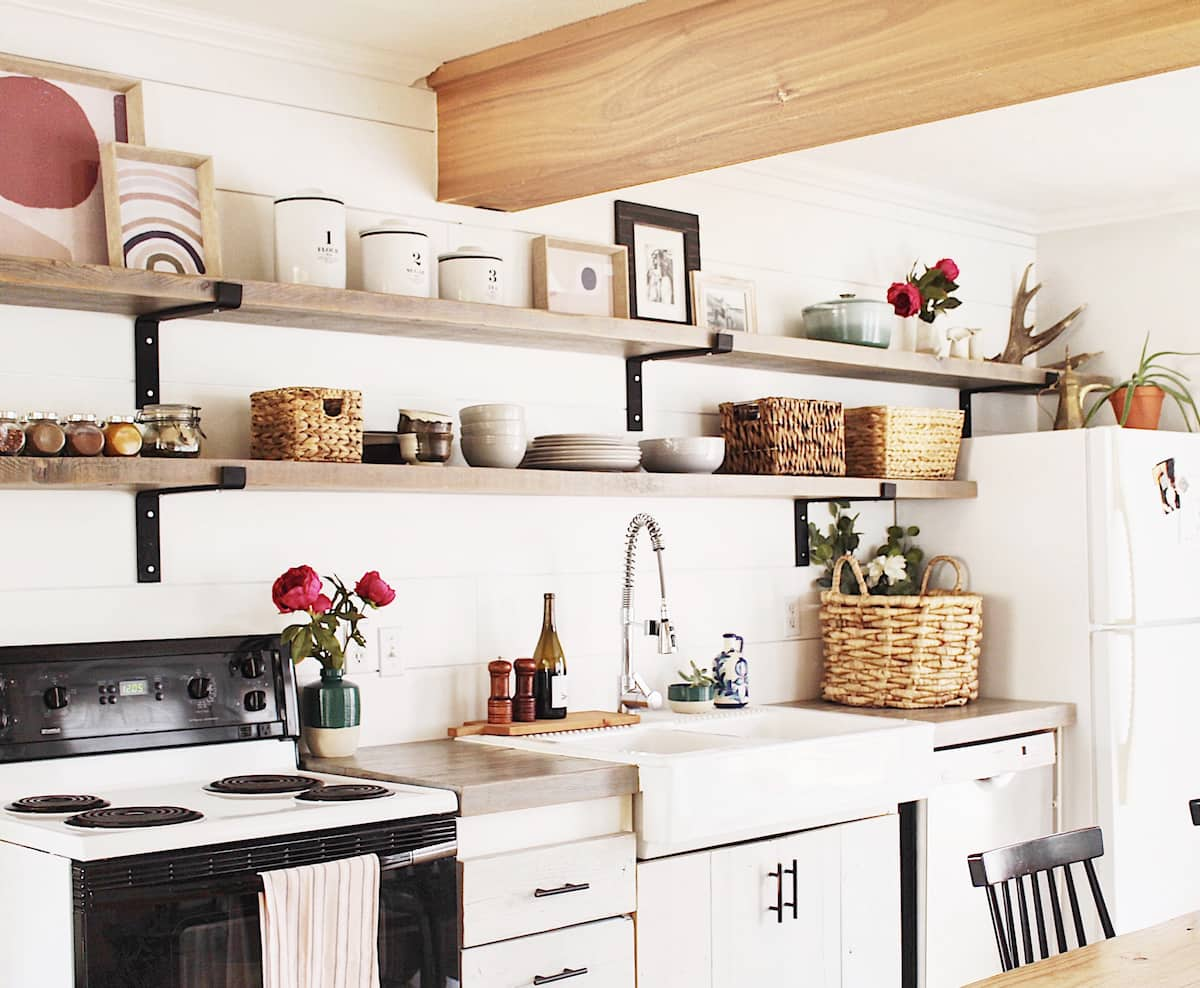 One of the cutest Okanagan cabin rentals on the list, this beach cottage is just 50m from Kaleden park, beach, and boat launch.
Bring your bike as you're super close to the Kettle Valley Rail (KVR) trail and just 10 minute's drive from Penticton and OK Falls.
Whitetail Hollow, Apex Mountain Cabin
This large cabin near Apex Mountain has a great open plan living area with a wood fire place and plenty of games and a foosball table to keep you entertained! Outsider, there's a hot tub so you'll never want to leave!
Big White Private Cabin for 2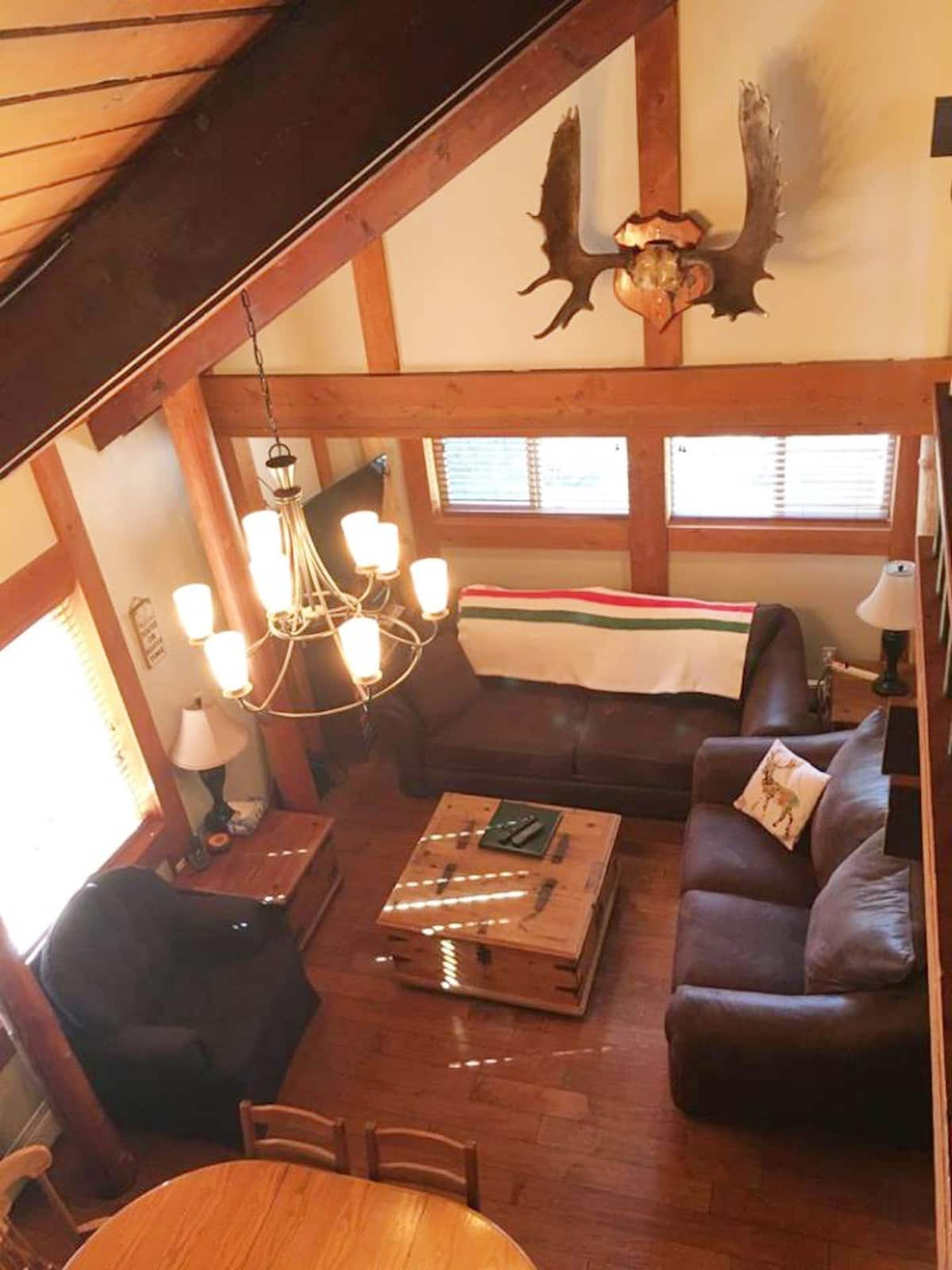 Another of the great cabins for rent in the Okanagan is this one.
Set back from the road among the trees is this cabin near Big White ski hill. This cabin is everything you need for the ski getaway of your dreams with a wood burning fireplace to warm you up after a fun day on the slopes.
Alpine Timbers Chalet at Big White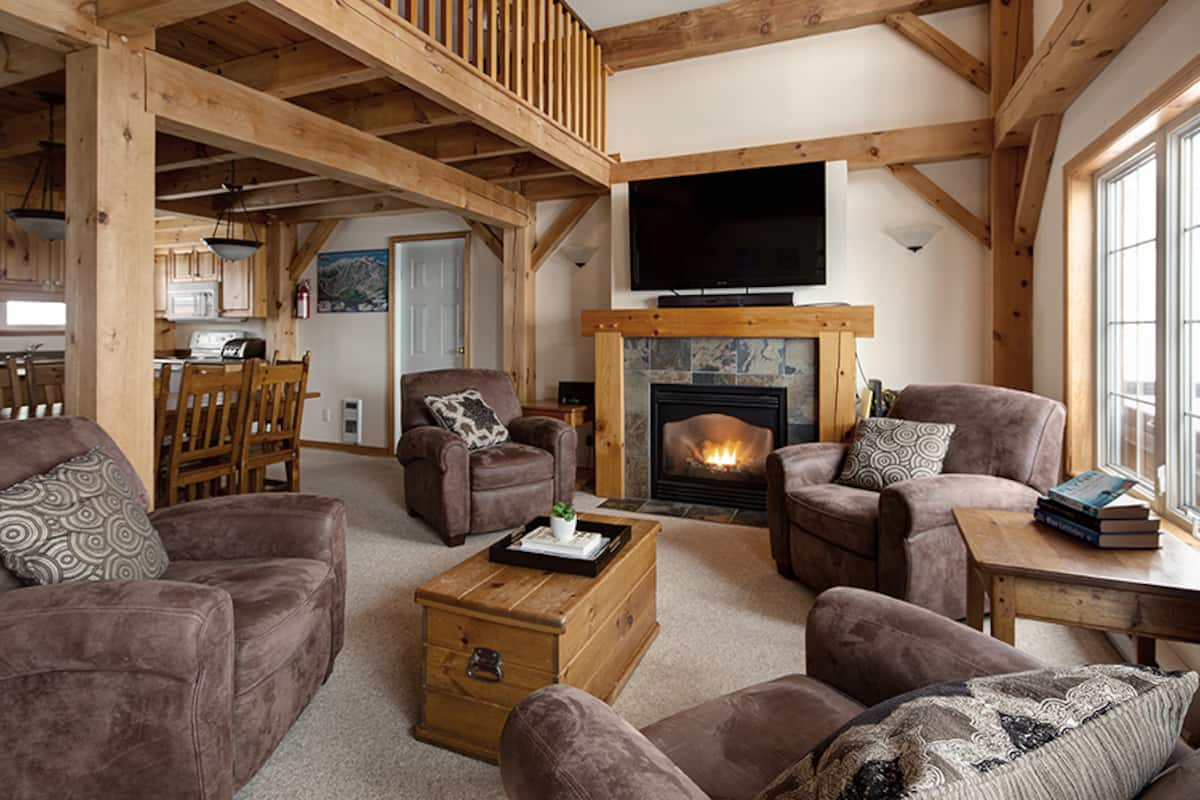 This huge ski chalet sleeps 12 and has its own private hot tub in the winter season. You're super close to the slopes for ski in/ski out access and it's a great place to rent with your family or a few friends.
Wild Rose Cabin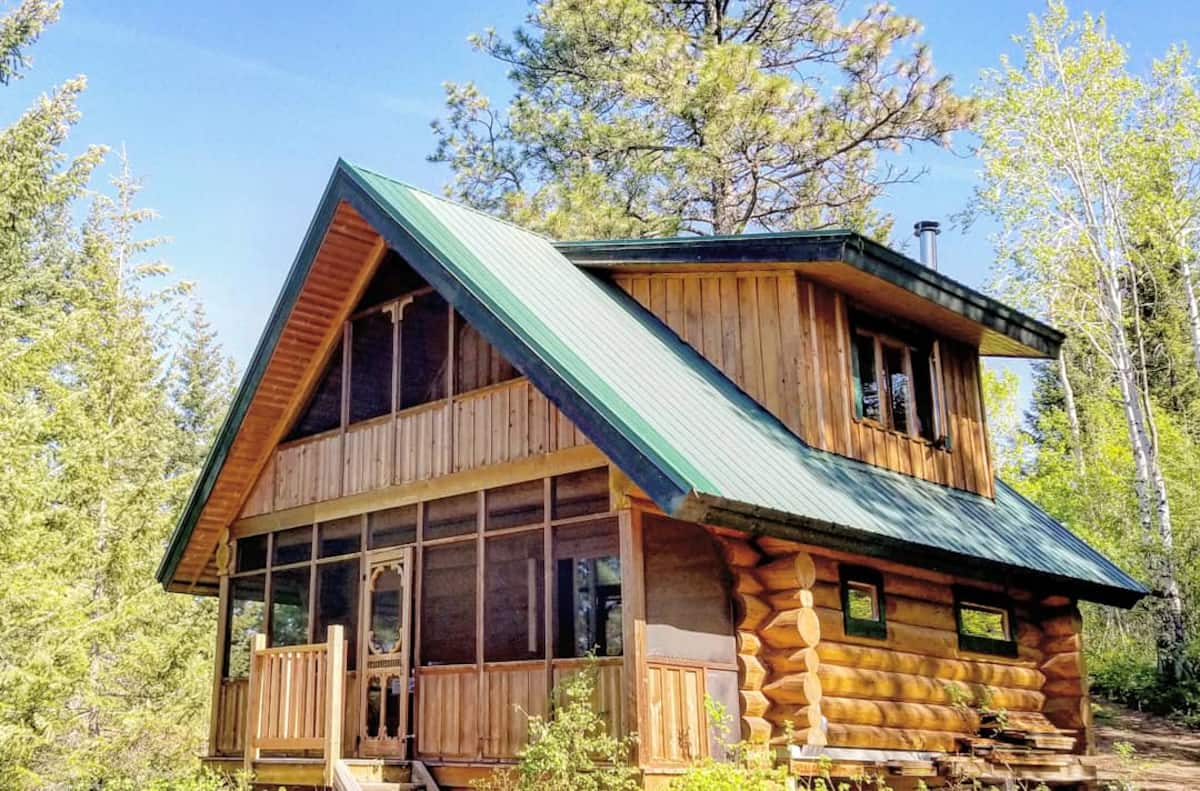 This beautiful little cabin in the woods is equipped with comfortable beds, a cozy fireplace and a private sauna! There's no electricity or running water (clean water is provided) at this cabin so it's more glamping than luxury but ideal if you're really wanting to get away from it all!
The 'Broken Tine' Cabin with hot tub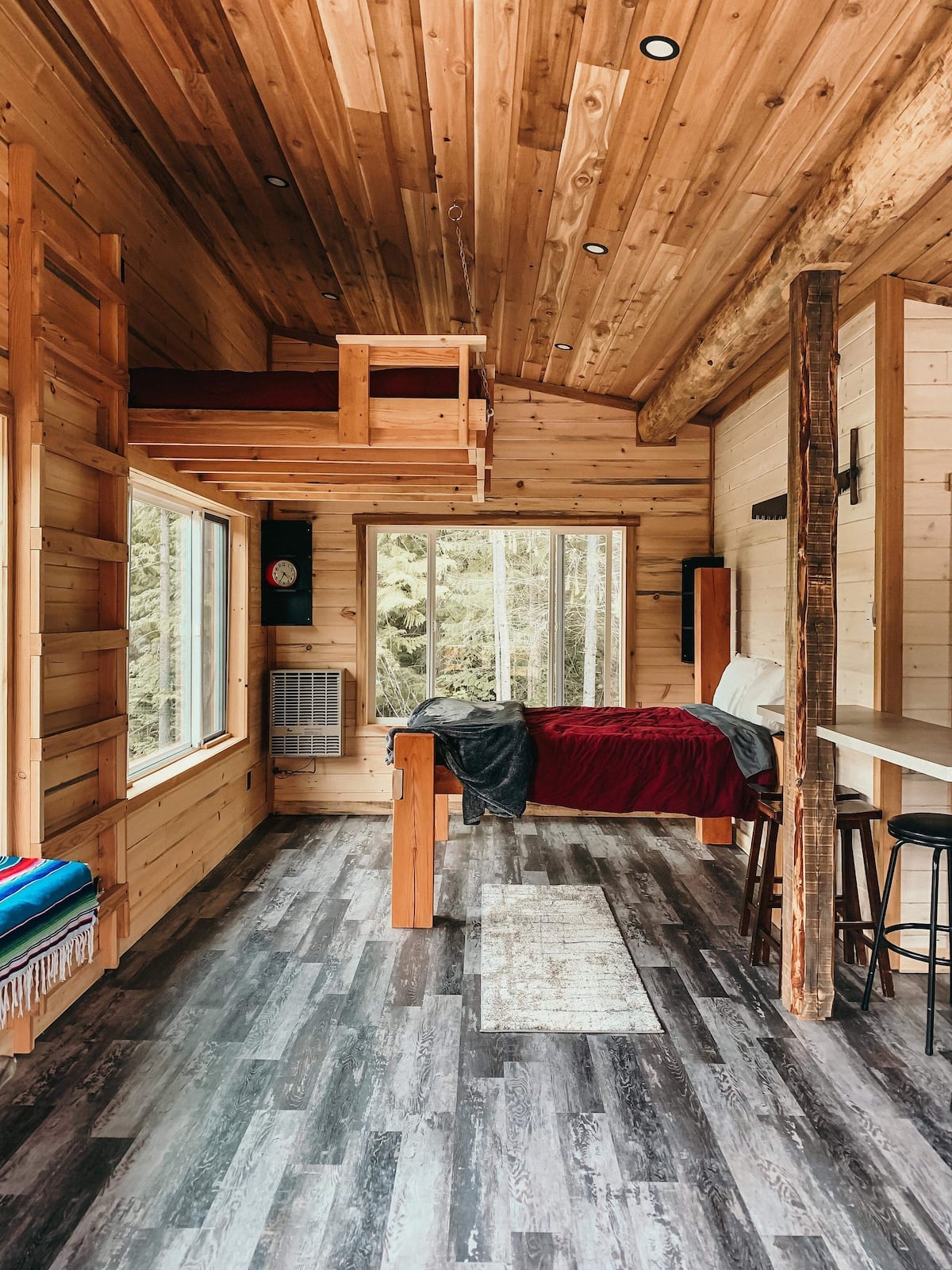 Enjoy your own private studio cabin nestled amongst the surrounding trees in the quiet neighbourhood of White Lake. Rustic wood interiors with large open windows make you feel like you're waking up in nature.
Head out to adventure then return to finish the day off with a soak in the hot tub!
Violet Cabin near wineries and x-country ski trails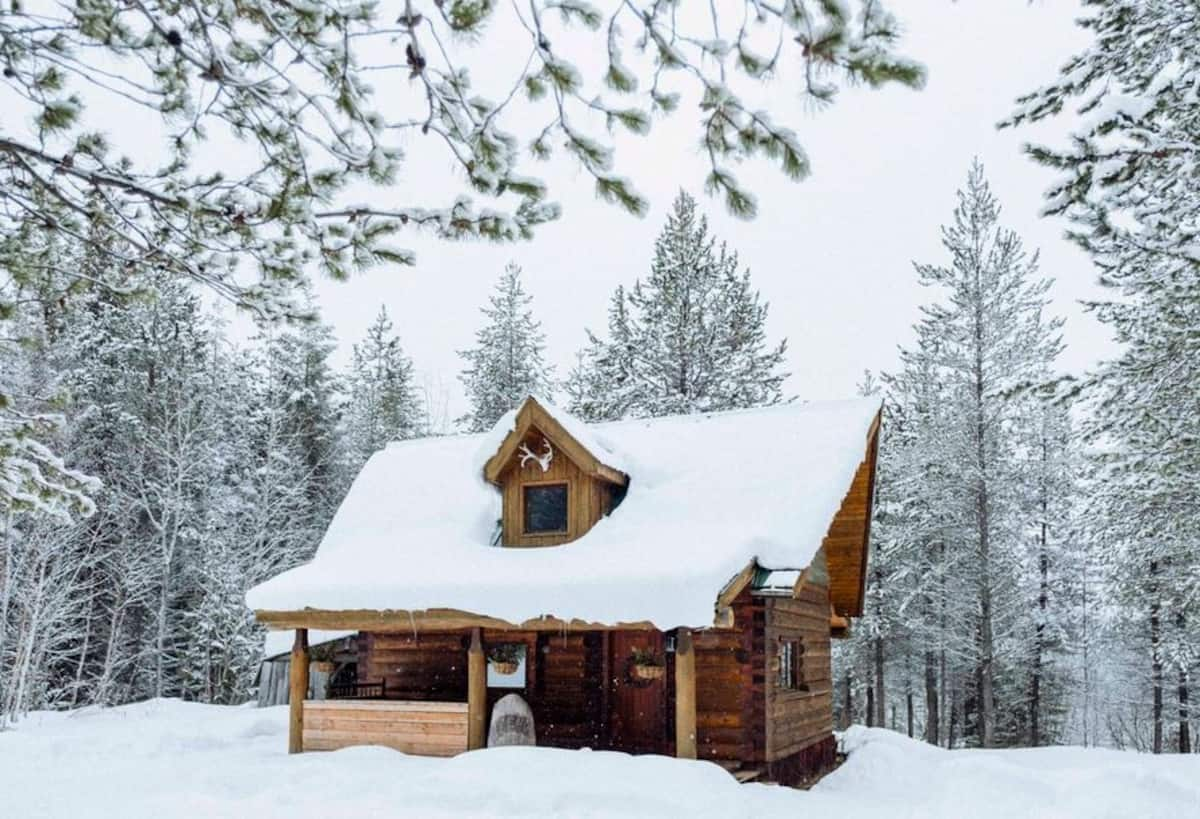 Violet Cabin is located in the Larch Hills, 25 min from Salmon Arm. Close to wineries, hiking trails and swimming in the Shuswap River. This is one of the best cabins rentals near Kamloops.
In the winter this Okanagan cabin is just as gorgeous with the snowy hills and x-country skiing just 10 minutes away.
Spend the evenings by a crackling fire or enjoy the wood-fired sauna!
Paddle Inn Cabin with Hot Tub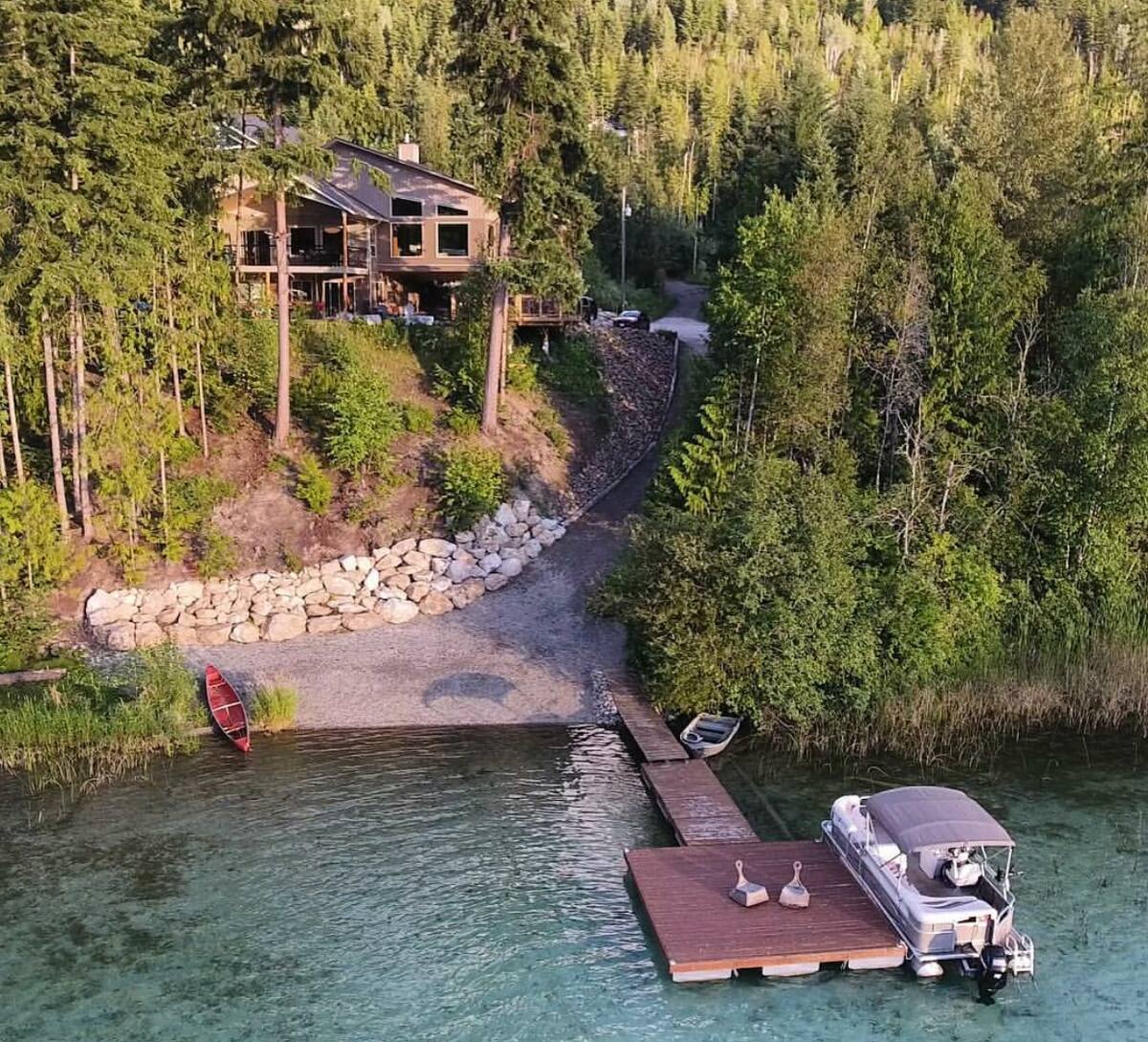 These Okanagan rentals are in such a picturesque location!
Paddle Inn Cabin is stocked with everything you need for a BC getaway. There are over 25 board games and over 100 DVD's for you to use during your stay too! There's also a hot tub in the winter season.
Come here to get away from the hustle and bustle of life and reconnect with yourself, your family + friends!
Book now. | Nearby Swim Inn Cabin on the same land.
Cabin in the forest
Enjoy a peaceful retreat at this private cabin near the creek surrounded by a cedar forest. Sit on the front porch and listen to the sounds of a creek running past or take a walk in the forest on the nearby trails.
Eagles Nest Cabin with hot tub and amazing view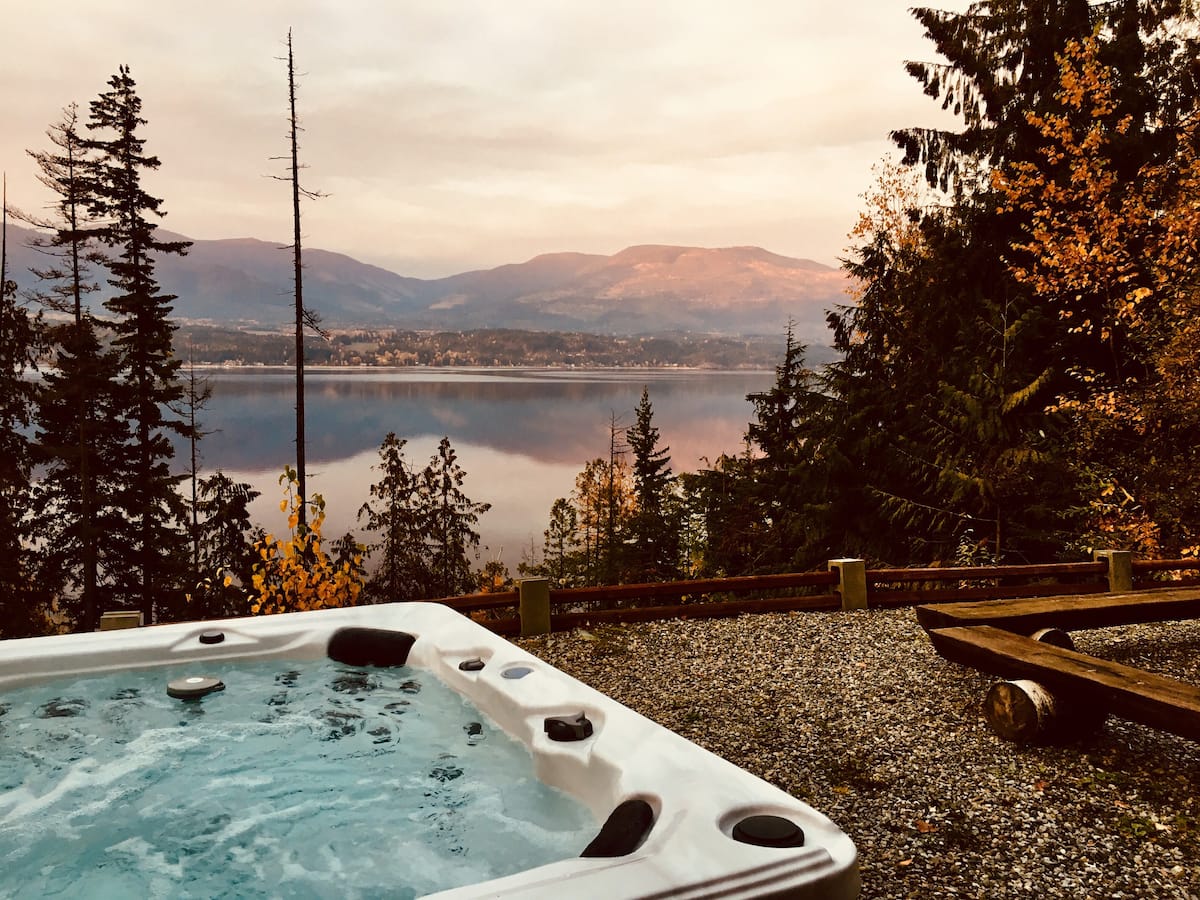 The views at this Okanagan cabin are something special! The Eagle's Nest offers the ultimate in relaxation and you'll be sure to enjoy the stunning views from every room of the cabin.
Relax with a cup of coffee around the fire pit, or soak in your own private outdoor hot tub overlooking the lake.
A short hike down the beautiful path that winds through the forest and you'll find the beach! It's pet friendly too!
Unique tiny house adventure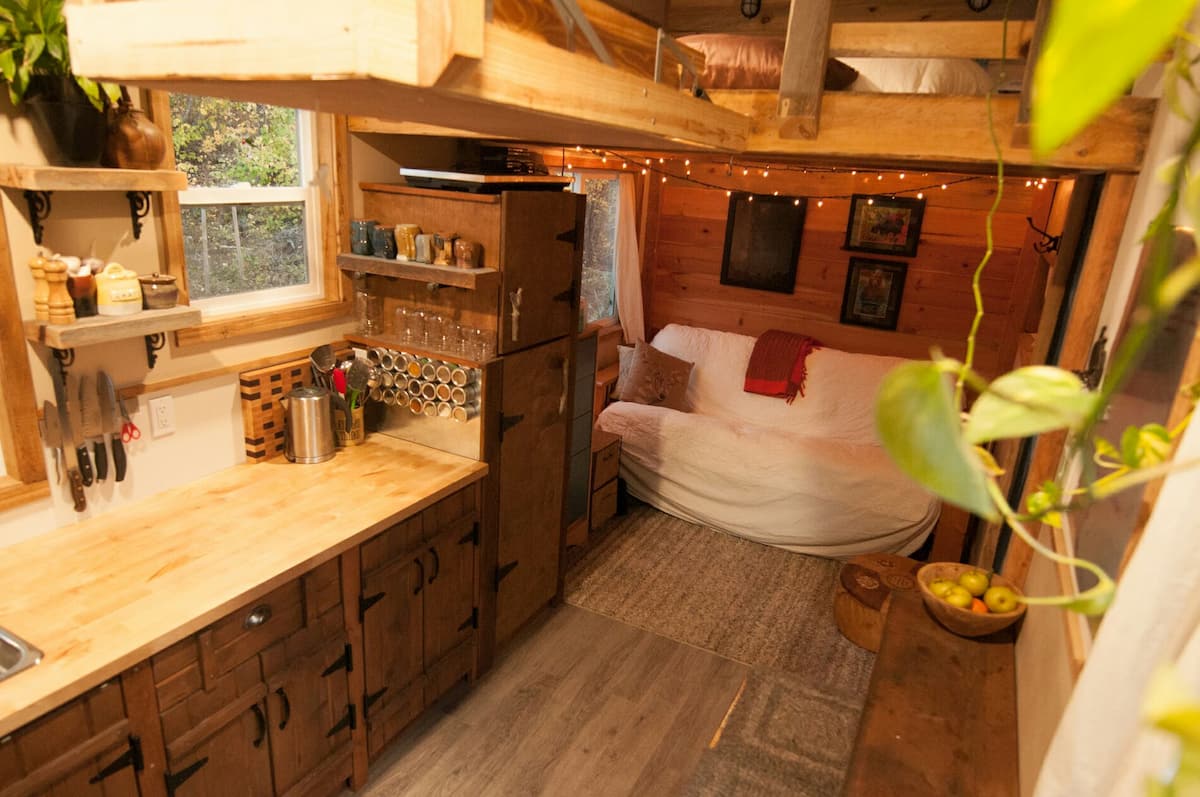 Stay in a real tiny house at Hummingbird tiny house with a view of Okanagan Lake.
Kalamlaka lake and Okanagan lake are only 15 mins away for summer adventures as is Silverstar Ski Resort full of biking and skiing adventures.
Cabin with hot tub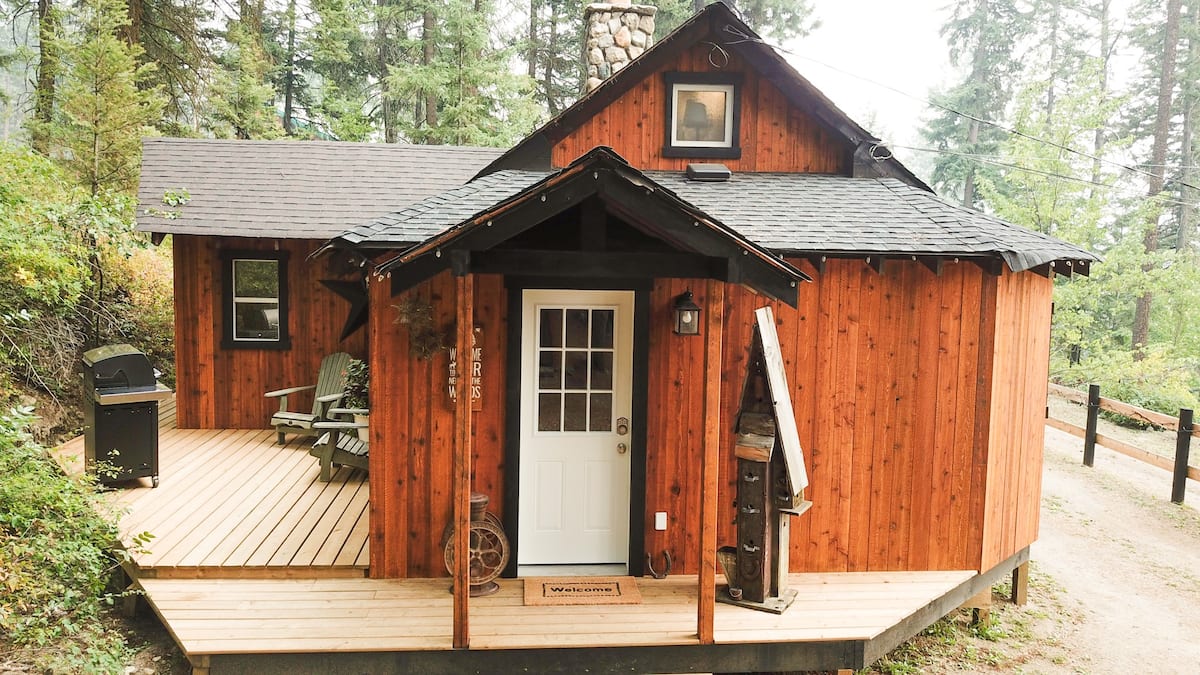 This little cabin is a special place to get away from everything. Read a book, play games, turn off the social media and melt into the private hot tub; it's up to you!
Enjoy your completely secluded and private deck where your private hot tub is located. Or, head out and enjoy unlimited hiking and biking trails.
If you want to hit the water, your hosts can provide boat rentals, or bring your own!
Little House on Pottery Road
This Little House is an artistic achievement! Combining the nostalgia of Pioneer days with the comfort of our modern era, it has all you need and all you want for wrapping yourself in the love and craftsmanship that has gone into this place.
Kekuli lake cottage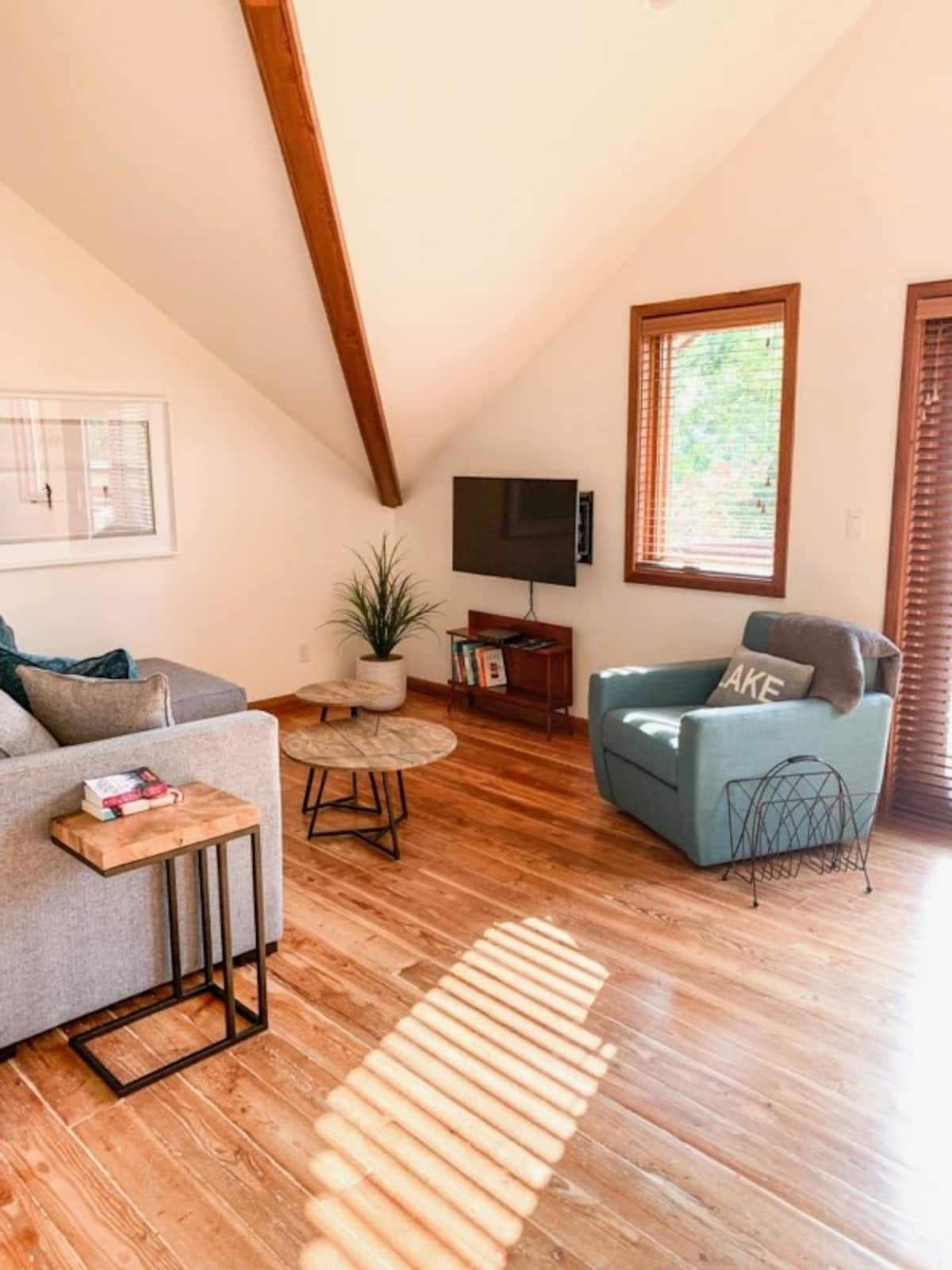 Kekuli Cottage is the ultimate "get away" place to enjoy the best of the Okanagan. The location has the best to offer in views, comfort, direct access to Kalamalka Lake and the Okanagan Rail Trail.
You're also close to plenty of Okanagan vineyards too so you can enjoy a taste of the Okanagan.