Vancouver is renowned for being a pretty city and there are many beautiful Vancouver views. You're surrounded by mountains, beaches, forests and Vancouver lakes. What's not to love about that? Whether you're visiting Vancouver or are a local looking for a new Vancouver viewpoint, this list of the best Vancouver views will help you out with snapping that new photo for the 'gram!
Want more Vancouver views? Check out these Instagram spots in Vancouver
Best Vancouver views
All of these viewpoints in Vancouver are downtown or just a short drive away. Many of them you can tick off by hiring a bike and cycling around Vancouver (which I highly recommend).
1. Queen Elizabeth Park, Vancouver
Often overlooked by visitors who favour the infamous Stanley Park, Queen Elizabeth Park has stunning views of downtown Vancouver and the North Shore mountains. From the top of the park, you can gaze out past the curated flowers and trees, across the water, and over to Grouse Mountain.
2. Granville Street Bridge
View this post on Instagram
Often a view in and of itself, Granville Street Bridge is a great place to capture photos looking either east or west. My personal favourite is to look west and capture Burrard bridge in a photo with Stanley Park and the Sunshine Coast in the distance.
3. Burrard Bridge
View this post on Instagram
From the middle of Burrard Street Bridge, you can get great views of False Creek as it meets the ocean. Head to the northern edge of the bridge and capture Sunset Beach, English Bay and Stanley Park in one photo.
Top tip: This spot is great at sunset!
4. Londsdale Quay
Over in North Vancouver, standing on Londsdale Quay offers amazing views of the Vancouver skyline. For a more unique view, take the seabus from North Vancouver to Vancouver and nab some photos of the skyline from the water while enjoying the Vancouver city view.
5. Harbour Centre Lookout
The Vancouver lookout, or Vancouver observation deck, takes you high up and offers a unique perspective of downtown Vancouver's high-rise buildings. Look south-east to see if you can see Mt Baker who is often visible on a clear day. For Vancouver mountain views it doesn't get much better than this.
6. Cypress Mountain Lookout
One of my absolute favourite Vancouver viewpoints is from the Cypress Mountain lookout on the way up to Cypress Mountain. Sunrise and sunset here offer spectacular views of the city down below.
7. False Creek (Olympic Village side)
Head over to Olympic Village in Vancouver and snap photos of Science World and the calm waters of False Creek.
8. Stanley Park Seawall (West End side)
Walk from English Bay to the second beach swimming pool and continue to follow the seawall around until you reach a point with a couple of benches. Then, look back to where you've come from and appreciate the views of downtown Vancouver and its beaches.
9. Stanley Park Seawall (Coal Harbour side)
In the morning, this area often turns pink and orange and offers a beautiful view of the downtown Vancouver skyline. I've often seen river otters swimming around here too! It also makes a great place to take in a Vancouver night view.
10. From a floatplane
Taking a seaplane from Vancouver harbour around the city is one of the best things to do in Vancouver. It offers such amazing views of the mountains and the city itself.
11. Capitol Hill, Burnaby
View this post on Instagram
One of the secret views of Vancouver, Capitol Hill Reservoir Park in Burnaby is easy to get to by taking the Skytrain. From this Vancouver viewpoint, you can take in views of Burnaby's Metrotown skyline as well as the Vancouver skyline in the distance and the North Shore Mountains.
12. Burnaby Mountain
Another awesome Burnaby viewpoint is Burnaby Mountain. Burnaby Mountain, home of the SFU campus, is a grassy hill with awesome views onto downtown Vancouver and even Lions Gate Bridge. I recommend this as a Vancouver sunset spot or taking in the Vancouver skyline at night.
Looking for things to do in Vancouver, BC? Here's a tonne of ideas!
13. Granville Island
On the western edge of Granville Island, where the seabuses come in to dock, you can enjoy great views of Burrard Bridge and downtown Vancouver.
14. Grouse Mountain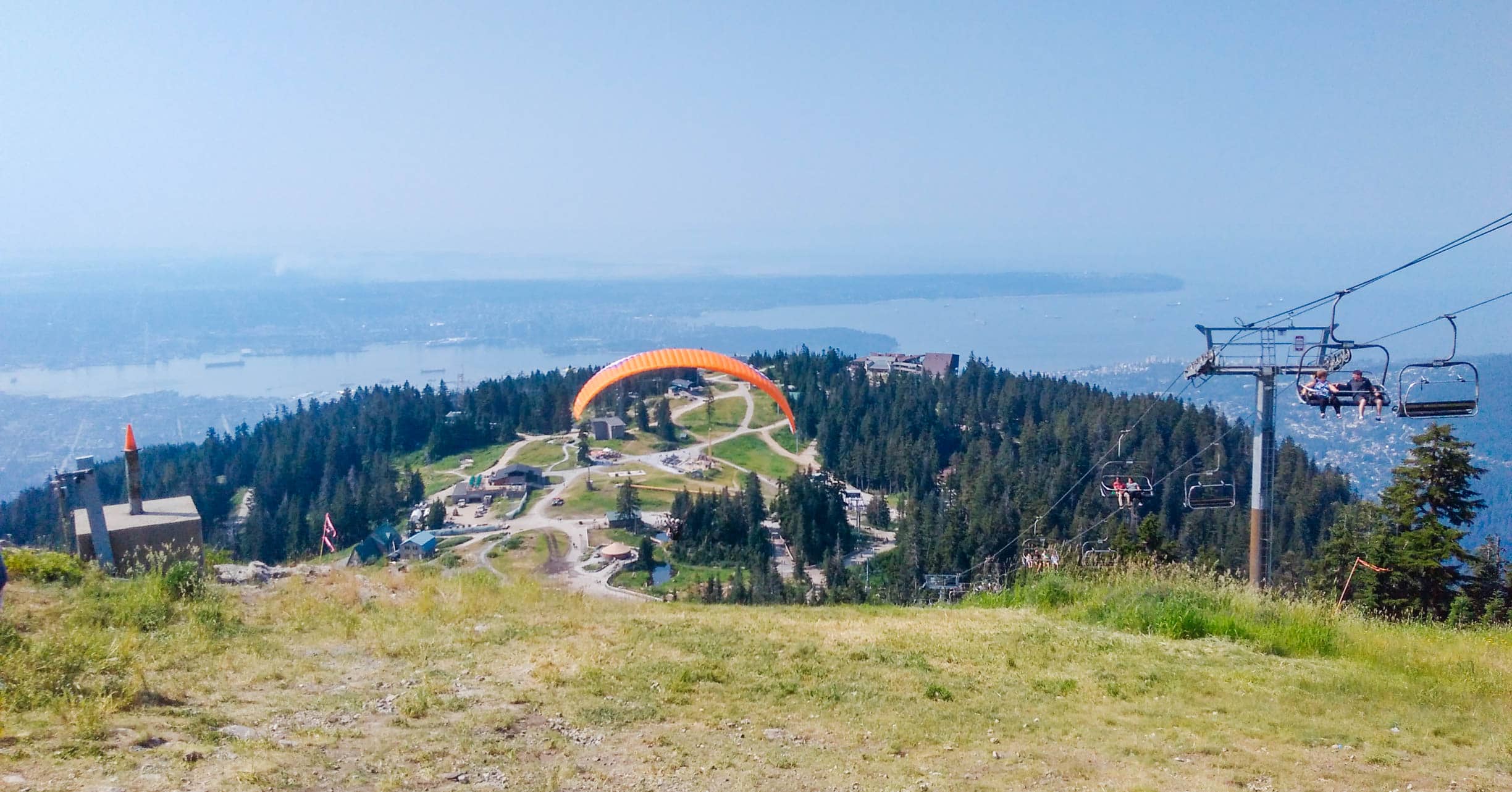 Sat in the middle of the North Shore's three main mountain resorts (Cypress, Grouse and Seymour), Grouse Mountain is one of the easiest to get to from downtown Vancouver. The Grouse Mountain view of Vancouver offers great views of the city, especially if you make your way up to the peak (either on foot or by chairlift).
Read this post for more things to do on Grouse Mountain.
15. Prospect Point
Prospect Point in Stanley Park is the place to go if you're looking to get a photo of Lions Gate Bridge. This point, high up in the park, gives you views of the North Shore mountains, the bridge and Burrard Inlet below.
16. Charleson Park
This beautiful grassy park on the southern side of False Creek is not only a great place to take your dog for a run (it's an off-leash park!), but it has sweet views of downtown Vancouver too!
17. Jericho Beach
Jericho Beach and Spanish Banks are two of the best beaches in Vancouver. Head over to Jericho Beach for sunset and enjoy watching the volleyball players as the sun dips down into the sea.
18. Ambleside Park, West Vancouver
View this post on Instagram
When we first moved to Vancouver we spent a lot of time in West Vancouver and it's easy to see why when you soak in the views from Ambleside Park.
Top tip: Get a pizza from Blaze pizza and take it down to the beach for dinner with a view in Vancouver!
19. Secret sunset platform, Vancouver
This sunset platform near Vancouver is my new favourite spot for watching the sunset in Vancouver but it's great at any time of day! Take some snacks and soak into the views.