I've lost count of the number of times I've gone on to Airbnb and searched for "cabins near Vancouver". There's just something about staying in a wooden shelter with a fireplace, blankets, a board game or a good book.
I spend an almost embarrassing amount of time searching for 'cabins near me' when I'm bored on rainy evenings.
Tell me I'm not the only one?
I've hiked around the cute log cabins in Vancouver on Cypress Mountain and have stayed at these cabins on Bowen Island several times
The list of cabins in BC that I want to stay in is endless, honestly, I think we've got some of the cutest cabins in Canada.
I've done my research when it comes to log cabins around Vancouver, cottages and A-frames near Vancouver, BC and here's my pick of the best cabin rentals in BC so you too can enjoy a weekend cabin getaway.
Wondering what to pack for a cabin stay? Check out my cabin packing list!
Best cabins near Vancouver, BC
Here's my pick of the cutest Vancouver cabins you can rent. These BC rentals are all within easy reach of Vancouver and are perfect for your next BC vacation!
Read more: Heading to the Okanagan? Check out these cozy cabin rentals in the Okanagan!
Table of Contents
Vancouver cabin rentals, Squamish cabin rentals & Pemberton
These cosy cabin rentals near Vancouver are perfect for a weekend getaway since they're only a couple of hour drive away (or a short ferry journey in the case of Bowen Island!).
1. Wildwood Cabins on Bowen Island
My husband and I have stayed in one of the Wildwood cabins on Bowen Island for two years in a row. We love them here so much and so many of our friends have stayed there now too!
The Wildwood Cabins are a collection of several cute log cabins in the woods on Bowen Island. All of them have beautiful interiors and views.
There's a yoga studio on site, and a wood-fired sauna that's free to use. Each cabin has a fireplace, a full kitchen and feels so incredible relaxing.
2. White Eagle 2-bedroom Bowen Island Cottage
Sip your coffee on the spacious sun deck overlooking Howe Sound and Cypress Mountain at this beautiful cottage on Bowen Island with 2-bedrooms. It's definitely one of the best Vancouver cottages.
Check out this complete list of the best Bowen Island accommodation
There's free parking and this is dog-friendly accommodation on Bowen too!
Only available during the summer season.
3. Deep Cove Creekside
Discover the beauty of Deep Cove Village just 25 minutes from downtown Vancouver.
This new cottage with a loft bedroom offers a peaceful and quiet creekside setting with water and forest views, steps from the Baden Powell Trail, Quarry Rock, and Deep Cove Canoe & Kayak Shop.
The loft bedroom has views of Deep Cove's harbour and a second bedroom overlooks the deck and creekside.
With access to two kayaks, TV, WiFi, and board games, you'll have everything you need for a perfect getaway.
4. Cabin in the woods on Bowen
This cabin on Bowen Island is the perfect escape with a fireplace for getting cosy in the winter and a grill for outdoor dinners in the summer.
You're just 15 minutes walk from Bowen Islands' museum and a short 5-minute drive from Crippen Park and other Bowen Islands trails.
5. Cape Carraholly Retreat, Port Moody
Escape to Cape Carraholly Retreat, a luxurious and stylish unit in British Columbia's old-growth, oceanfront rainforest, just a boat ride away from the hustle and bustle of Vancouver.
This water-access-only property offers stunning views of the ocean, forest, and wildlife (boat access is included with your stay).
Step out the back door and enjoy quick access to an abundance of outdoor activities, including kayaking, fishing, and swimming off the dock. Unwind to the sounds of nature while soaking in the sun and enjoying a nap in the hammock.
A hot tub is available for guests to enjoy under the starry night sky and there is a fully stocked kitchen and two comfortable bedrooms.
6. Hummingbird Oceanside Suites on Bowen Island ocean view accommodation
The Hummingbird Oceanside suites on Bowen Island are a collection of beautifully designed, ocean-view accommodations on Bowen.
Situated in Dorman Bay, these waterfront properties are in a fabulous location with incredible and expansive views to the North, East and South.
There's also a shared sauna and hot tub as well as a garden with garden games.
Book here:
7. Rustic Modern Beach Cabin, Sunshine Coast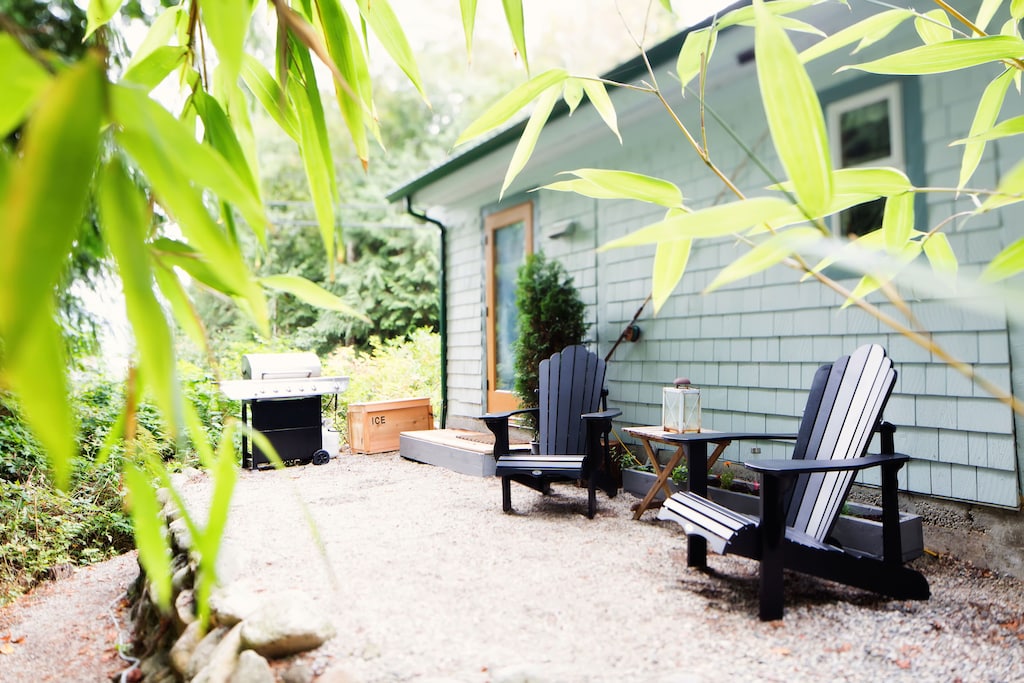 Enjoy ocean views and beach life in this one-bed Tuwanek beach cabin just steps from a gorgeous sandy swimming beach.
The calm waters of Sechelt inlet are perfect for swimming, SUP, kayaking, canoeing, fishing or relaxing!
8. Seaside cottage on the Indian Arm
Escape to the secluded paradise of the Woodlands area in North Vancouver with this 1 Bedroom Seaside Cottage rental which is one of the best cabin rentals near Vancouver BC.
This newly renovated 2-story, 650 sq ft building features stunning views of Indian Arm in Deep Cove, stainless steel appliances, and a wood stove.
Enjoy quick access to hiking, kayaking, and mountain biking while relaxing on the private deck, garden, or patio with a propane barbecue.
This rental is not pet-friendly or suitable for smokers, and not recommended for people with limited mobility.
9. Log cabin on the Sunshine Coast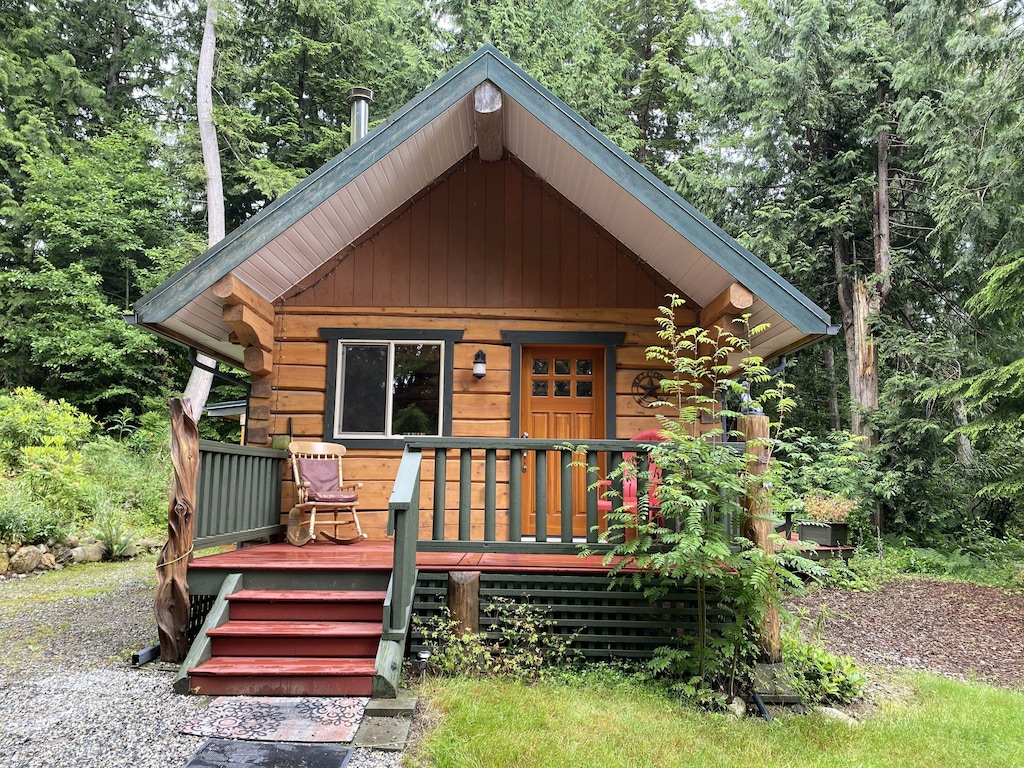 A cute little log cabin that will give you an experience of forest living close to the unique seaside community of Robert's Creek on the Sunshine Coast.
This cottage has everything you need for a relaxing getaway and this BC cabin has a double jacuzzi tub too.
10. The Nook on the Sunshine Coast, BC
Escape to a bohemian paradise at The Nook – Cozy Boho Cabin on the Sunshine Coast.
Nestled in Sechelt, this charming holiday home boasts stunning sea views and is surrounded by a lush garden. Explore the nearby hiking trails or play a game of tennis.
Relax in the cozy seating area or cook up a storm in the fully equipped kitchen. There's also a sauna and a hot tub in the wellness area.
The Nook is the perfect destination for a romantic getaway or a peaceful retreat with friends and family. Book your stay now and experience the magic of this cozy boho cabin.
11. Treehouse Cabin in BC, Sunshine Coast
This gorgeous secret cove treehouse in BC is a unique 1 bedroom cabin. Once you step inside this rustic yet very stylish cabin you'll immediately begin to relax.
Cosy up with a good book, or head out to nearby Smuggler's Cove Provincial Park to explore the trails and waterfalls.
12. Waterfront Cabin, Squamish
Forget lakefront cabin rentals in BC, how about oceanfront cabins near Vancouver?
I'm in love with the look of this cabin in Squamish. It's right in the cliffside with incredible views of the surrounding Squamish mountains and Howe Sound.
It's extremely well fitted out too with plenty of storage for bikes and skis as well as ski and bike tuning equipment and paddleboards and canoes that are free to use during your stay. Making it one of the best cabins in Squamish (the capital of adventure!).
The terrace looks like the perfect place for a coffee and a good book after all the adventuring!
13. Self contained Woodland Cabin on Bowen Island
This gorgeous 2 bedroom cabin on Bowen Island, British Columbia is within walking distance to working farms, an award winning cidery and specialty food shops. AKA some of the best things to do on Bowen!
Enjoy your morning coffee on the covered porch and your evenings at the fire table in your private garden.
14. Moon Dance cabin, Sunshine Coast
Escape to the charming Moon Dance Cabin, nestled in the heart of Madeira Park on the Sunshine Coast.
Enjoy the fresh air on the terrace or grill up a delicious meal on the barbecue.
The location of this cabin provides you with endless outdoor activities, including hiking and golfing.
With breathtaking views of the bay and a feeling of total seclusion, you can relax and unwind while still being just a short 10-minute drive away from Mediera.
15. Beautiful beach house on the Sunshine Coast
Sabie Seas is a fantastic cabin rental located steps away from the beach, offering breathtaking unobstructed oceanfront views and a true West Coast experience.
With a newly updated modern kitchen, hardwood floors throughout and a cozy fireplace, this spacious waterfront home is perfect for entertaining.
Explore nearby Gibsons or Sechelt, hike the protected trails or observe wildlife such as eagles, seals, deer and even orcas from your doorstep.
16. Joffre Creek Cabins
I've been following the owners of these mountain cabins for a while on Instagram and their cabins are the stuff of dreams.
These Pemberton cabin rentals come with open wood fires, incredible views and the cutest little details, these cabins are perfect for a weekend away near Pemberton.
There's a huge amount of hiking to do nearby, including the ever-famous Joffre Lakes trail. There's a Big Cabin and a Little Cabin for a special getaway.
17. Backeddy Cabins, Sunshine Coast
Backeddy Resort is an excellent BC cabin rental that boasts 200 yards of private shoreline on Sechelt Inlet on the Sunshine Coast.
You're just over a mile from Skookumchuk Narrows Provincial Park when you stay at this cabin.
Some of these cottages near Vancouver come with kitchenette facilities and a private porch and there are also geo-domes which offer more of a glamping experience.
Enjoy craft beers and wines at the restaurant and pub that overlooks the on-site marina.
18. Rockwater Secret Cove, Sunshine Coast
If you are looking for a luxurious getaway with breathtaking views, Rockwater Secret Cove Resort is the perfect place for you.
Overlooking the ocean, this cliff-side resort offers a full spa, a fine-dining restaurant, and on-site yoga classes.
Wake up to the sound of the waves and enjoy a cup of coffee while taking in the picturesque scenery. And the resort's spa offers massages, facials, and other treatments, making it an ideal place to relax and rejuvenate.
19. Tantalus View Retreat
For mountain cabin rentals in BC, check out this Cabin rental in Squamish.
This 3-bedroom cabin is the perfect place to rent out with your best friends. It's off-the-grid so there's no wifi and the cabin runs off renewable resources so it's super eco-friendly too.
You won't miss the wifi when you see the stunning panoramic vistas of the Tantalus mountain range (my favourite near Vancouver!) and its glaciers.
If the view wasn't enough, there's also an outdoor hot tub, a veranda which is perfect for snuggling up on with a book, and plenty of walking to do nearby.
It's one of the best cabins with a hot tub near Vancouver BC.
20. Sweetwater lane farm, Pemberton
Sweetwater Lane Farm is a great cabin rental option for those looking for a peaceful and comfortable stay in the scenic Sea to Sky area.
The property features a shared kitchen and guests can enjoy various activities nearby, such as skiing, golfing, and cycling.
The cozy rooms come equipped with coffee machines and free toiletries, and there's an onsite hot tub and sauna for guests to use too.
21. Porteau Cove cabins
As one of the best places to stop along the sea to sky highway between Vancouver and Whistler, Porteau Cove is the perfect place for a weekend getaway and cosy cabin stay.
The Porteau Cove Olympic Legacy Cabin have a kitchenette and a private patio. The rustic log-cabin decor adds to the charm of this peaceful retreat.
You can enjoy a BBQ outside or explore the nearby rocky beach.
The location is perfect for visiting the Britannia Mine Museum, or hiking in Stawamus Chief Provincial Park.
22. Sunwolf river cabins, Squamish
Sunwolf Riverside Cabins in Brackendale near Squamish are a great place to stay if you're looking for a peaceful retreat in nature.
Set on 5 acres of woodland at the confluence of two rivers, this pet-friendly resort offers stunning views of the Tantalus Mountains.
Each guest room features a gas fireplace and handmade pine furniture, with an en suite bathroom and seating area included.
You're also super close to Fergie's Cafe in Squamish which is one of my favourite places to eat in town.
Best cabins on Vancouver Island and the Gulf Islands
Wondering where to stay on Vancouver Island and the Gulf Islands? These cabin rentals on Vancouver Island ought to do the trick. Catch a ferry and head to Vancouver Island or the Gulf Islands for these pretty cabins to rent on Vancouver Island!
Whether you're looking for cabins with hot tubs on Vancouver Island or romantic getaways on Vancouver Island, these cabins should do the trick!
23. Waterfront Escape on Galiano Island BC
This stunning home with panoramic ocean views has an outdoor shower, and the main room is full of greenery and is lovely and bright.
You have access to swimming right in front of the home. It's on a 2-acre lot with plenty of hiking nearby.
I could imagine speanding several hours on that sofa getting distracted from my book by the view. Or walking down to the waterfront with a coffee in hand for a morning swim.
24. 3-Legged Bear Jordan River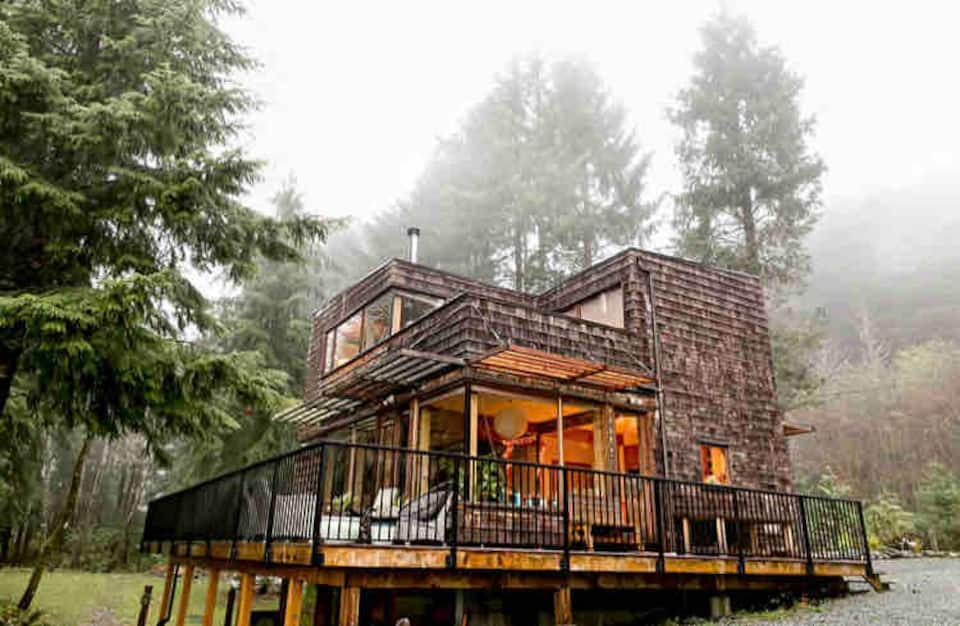 This oceanfront west coast custom timber framed house offers spectacular panoramic views of the Juan de Fuca Strait.
Old-growth forests and hidden beaches are easily accessible from this home. It's in a prime location for various outdoor activities: kayaking, paddleboarding, hiking, surfing & wildlife viewing.
It really is an idyllic place to relax or venture into the Pacific Northwest wilderness.
25. Wild Renfrew Seaside Cottages, Vancouver Island
Experience breathtaking ocean views and pristine natural surroundings at Wild Renfrew Seaside Cottages in Port Renfrew.
With a private beach area and hiking trails nearby, this resort is perfect for nature lovers and adventure seekers.
Indulge in delicious seafood cuisine at the on-site restaurant, which also offers vegetarian, vegan, and gluten-free options.
26. Sticks and Stones Cottage on Galiano Island
This Galiano Island cottage is super cute and has a patio as well as pretty garden views.
You'll have the whole 1-bedroom home to yourself and there's a wood burning fireplace should it be cold during your visit to Galiano Island in winter.
It's ideal for a relaxing stay and the hosts of this cottage are super friendly and willing to share their local tips and things to do on Galiano Island.
27. Jordan River Cabin, Vancouver Island
The jewel of Vancouver Island cabin rentals, this Jordan River Cabin is an incredibly beautiful cabin just outside Jordan River on Vancouver Island. If you're looking for the best places to stay on Vancouver Island then I think your search is over!
The cabin is full of natural light thanks to the floor-to-ceiling windows through which you can watch the acres of tall evergreens in the surrounding old growth orest.
There is a BBQ, wrap-around deck and wood stove that's supplied with kindling and firewood.
This is one of the cutest cabins Vancouver Island has to offer.
It sleeps 4 with 2 king-size bedrooms and there's a wood-fired cedar hot tub too! You won't need anything else for your getaway in Jordan River.
28. Sunset cabin on Galiano Island with hot tub
This absolutely gorgeous Galiano cabin is perfectly located for watching the sunset from your private hot tub. This mid-century modern cabin has spectacular ocean views of Montague Marina, Parker Island and out to Salt Spring Island.
29. Westover Bed And Breakfast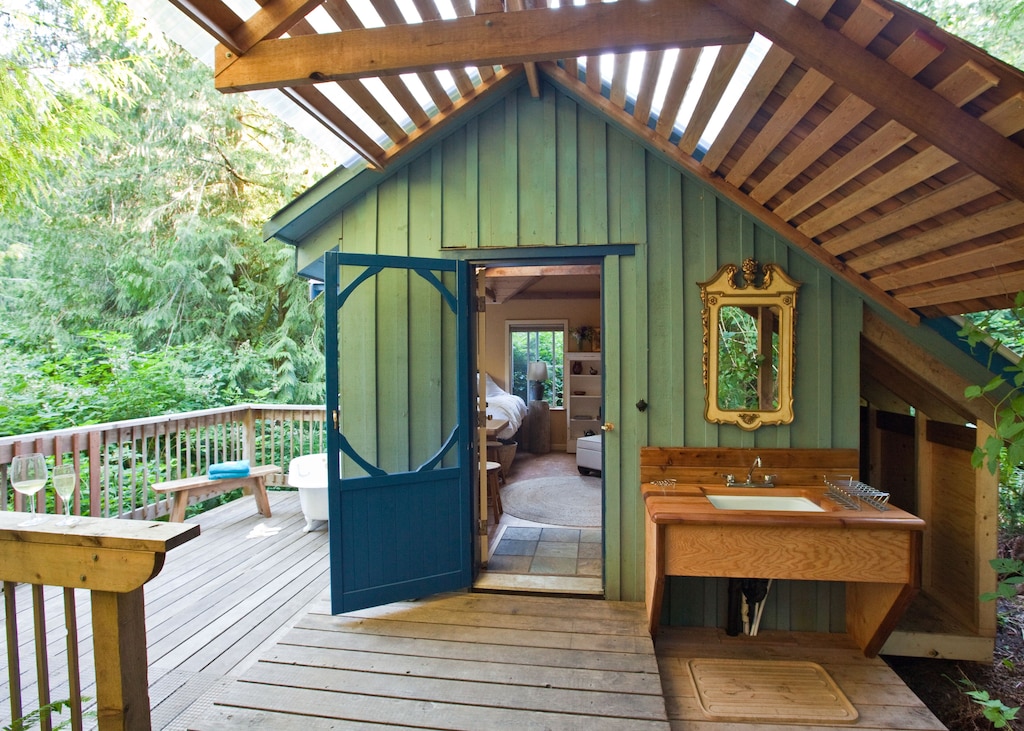 This cabin on Salt Spring Island is one of the best cosy cabins in BC. It's super cute and is nestled in amongst the trees which makes it feel super peaceful.
This 3-acre property is a 20 minute walk from Ganges and is made from many natural materials. It's accessed by cedar boardwalks and has an outdoor claw foot tub which I imagine would be perfect for relaxing in in the early evening!
30. A HappiNest up in the trees, a unique Salt Spring Cottage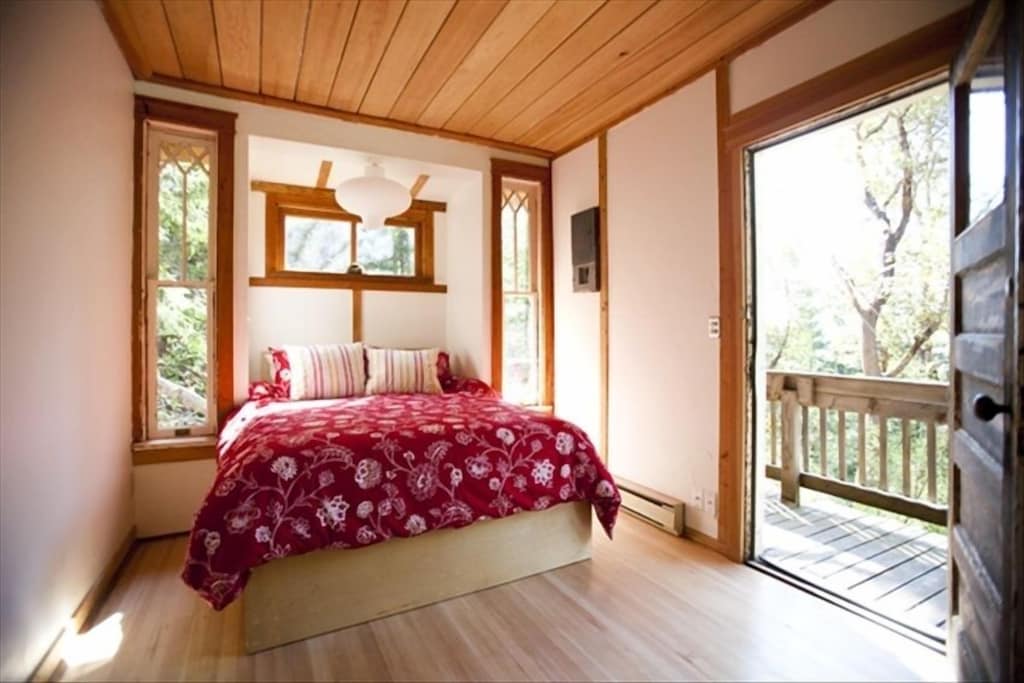 Stay in this bright and beautiful Salt Spring Island cottage surrounded by woodland.
It's the perfect place for relaxation on Salt Spring Island and not far from the trailhead to Mt Maxwell or beach areas either.
If you enjoy yoga, you're just a short walk from Salt Spring Island Yoga Centre and you can even get acupuncture treatments from the owner who is a certified acupuncturist.
31. The Sanctuary Retreat & Spa
This absolutely beautiful Salt Spring Island accommodation is a must if you're looking for the ultimate relaxation.
The Sanctuary on Salt Spring Island has beautiful ocean views, a terrace and an outdoor patio with mountain views.
The hotel is beautifully designed and is a wooden house which feels a bit like staying in a treehouse, albeit one that's far beyond your 5-year-old-self's wildest dreams.
There is a beautiful bath in the rooms with incredible views, a fireplace and even a telescope on the deck to fully see the night sky with.
You're just 3 minutes away from the main town on Salt Spring Island: Ganges, so you're well located for getting anything you need during your stay. It's easily one of the best hotels in Ganges, Salt Spring Island.
32. InTheBluff on Galiano
Located on Active Pass, the spectacular marine passage separating Galiano and Mayne islands, InTheBluff is located on Active Pass which means you get gorgeous views of Mayne Island and the ocean.
This VRBO on Galiano is a gorgeous log home surrounded by private woodland and plenty of opportunities to spot wildlife. You might even see humpback whales!
There's an amazing deck with an infinity-edge hot tub which I could imagine spending many evenings in.
33. The Cottages on Salt Spring Island
The Cottages on Salt Spring Island are right at the edge of Bullock Lake where you have access to hiking, biking, shopping and everything that's great about Salt Spring Island all within a just a few minutes of travel time.
Each cottage in this cottage resort on Salt Spting Island has a private deck where you can watch the birds or take a dip in the refreshingly cool water yourself.
The cottages have 1- or 2-bedrooms and there are 3-bedroom villas too. All accommodation has its own kitchen and you have access to a BBQ area and paddleboards to use during your stay.
34. Private Oceanfront Retreat, breathtaking water views on Vesuvius Beach
This gorgeous ocean retreat on Salt Spring Island has a private waterfront that is just steps from Vesuius beach on Salt Spring Island.
You'll enjoy views of the ocean from the deck, the bedroom and the living area.
With everything you need for a great stay on Salt Spring, you'll be able to cook tasty meals at home with produce from the Salt Spring market, fall asleep to the sound of the waves, and enjoy a morning coffee while watching them from the deck.
35. Designer Waterfront Home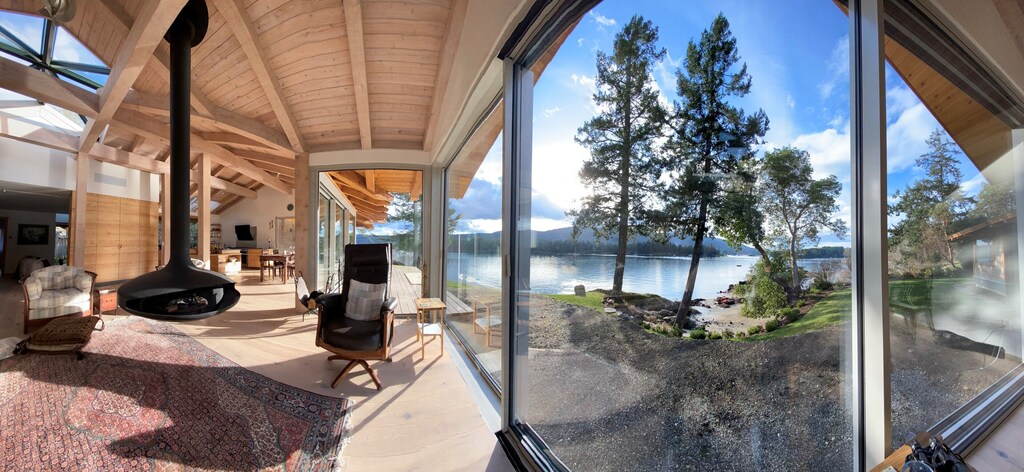 You can't really beat the views from this Salt Spring accommodation. I could easily sit in this bright living room by the fire and watch the ocean as it changes throughout the day.
If you do leave the house, you only need to walk a short distance down some stepping stones to a seclude private beach area.
Come nighttime, you can watch the lights come on in Ganges across the water and look up to enjoy the night sky full of twinkling stars.
36. Perfect Meadow Cabin, Pender Island
This unique-looking cabin is located near the ferry port on Pender Island so it's easy to get to using only public transport. There's no wi-fi which means it's perfect for a digital detox weekend.
Out of every window in the cabin, you can see the forest and you can often hear owls at night.
37. Rustic Cabin, Galiano
One of the best rustic cabins for rent in BC is this home on Galiano Island. This is one of the coolest Galiano Island cabin rentals and you'll find it nestled in the woods in the middle of Galiano Island.
This circular cabin has a loft bedroom, fire pit, fully equipped kitchen and an outdoor shower. You can walk the pebbled beach trails to the water or just snuggle up inside with a good book.
38. Dragonfly Cottage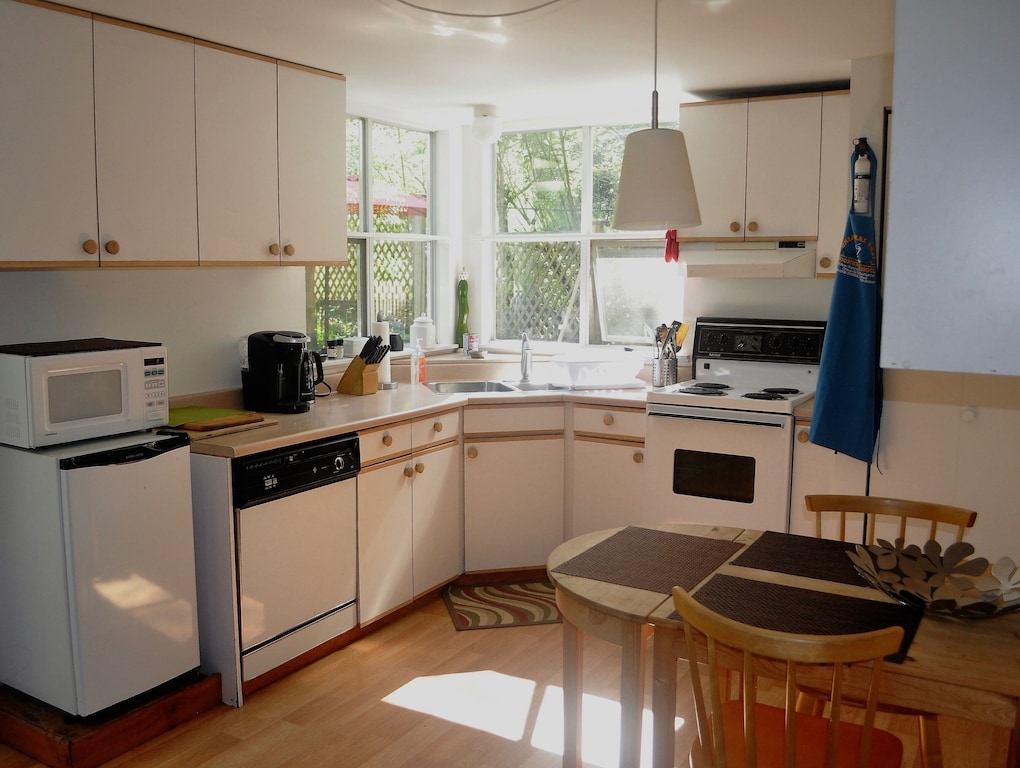 Dragonfly Cottage is a short 10-minute walk from the ferry so it's the perfect accommodation on Galiano Island if you're travelling to Galiano without a car.
This cabin is nestled amongst a woodland garden and has an open-plan kitchen and an enclosed deck. One of the bedrooms has a skylight to stargaze at night and there's a wood-burning stove which I imagine you'd get a lot of use out of if staying in Galiano in winter.
You'll also have access to a private dock for swimming.
39. Ocean Front Treehouse, Salt Spring
This oceanfront treehouse on Salt Spring Island couldn't have a better view! Your bedroom opens out right onto views of the water and there's a cozy nook in the window that's perfect for watching the eagles and seals from.
Head down to the beach to find oysters for a pre-dinner snack or watch the
How to book: Currently not available
40. Valhalla Cabins – The Loft (Oceanfront with hot tub)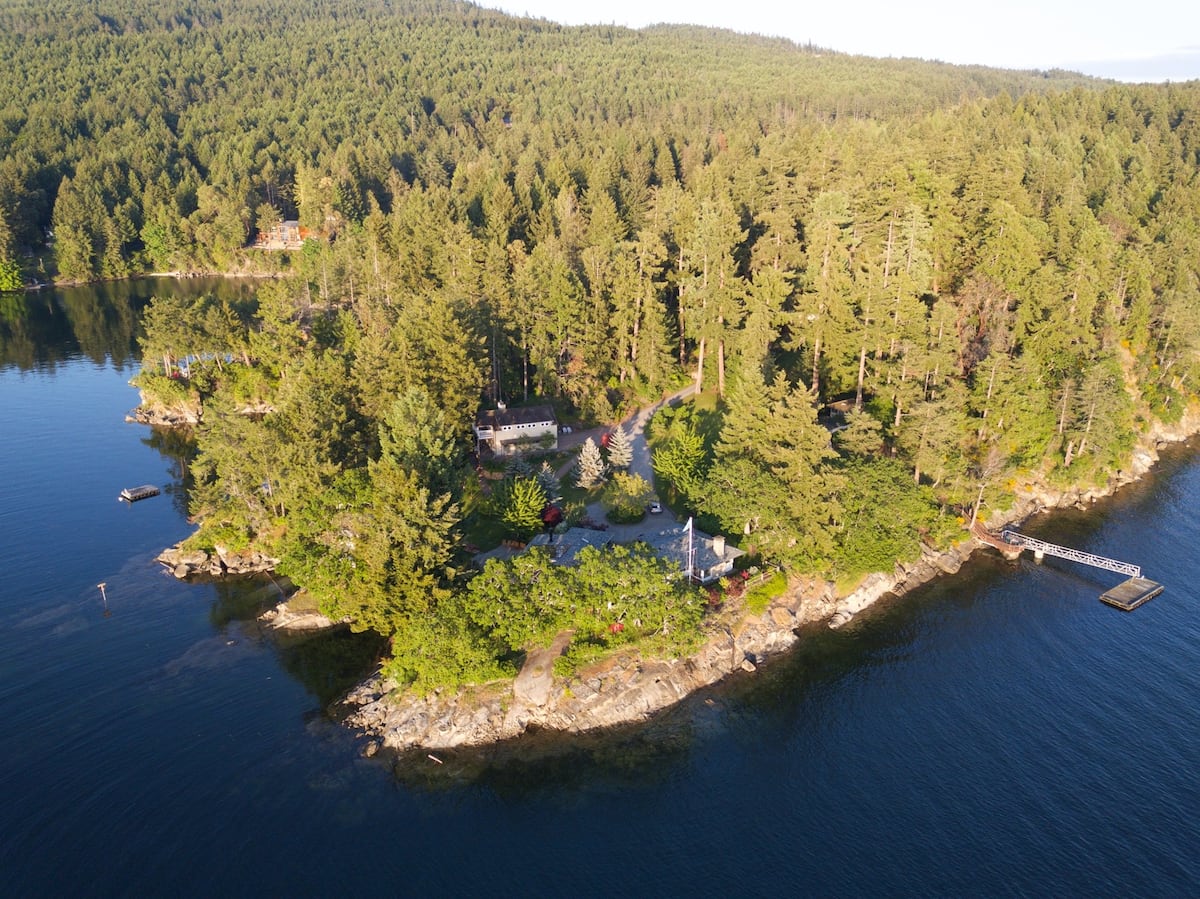 Looking for Salt Spring island cabins with hot tubs? Check out these cabins on Salt Spring! This cottage rental on Salt Spring Island has an exclusive dock, an exercise/media room, paddleboards and hiking trails right from the doorstep.
It sleeps four and even has its own orchard!
41. Rustic West Coast Cabin, Jordan River
How cute is this cabin on Vancouver Island? Jordan River seems to be full of cute places to stay! The rustic little cabin sleeps 4 comfortably and is nestled in a private, forested area just steps away from the ocean.
You'll be super close to beaches, surfing and hiking trails and you can hear the waves crashing from the loft bedroom.
At night, the fairy lights give the surroundings an even more magical look and there's a wood-burning stove inside to warm you up during the winter.
42. Owl's Perch Treehouse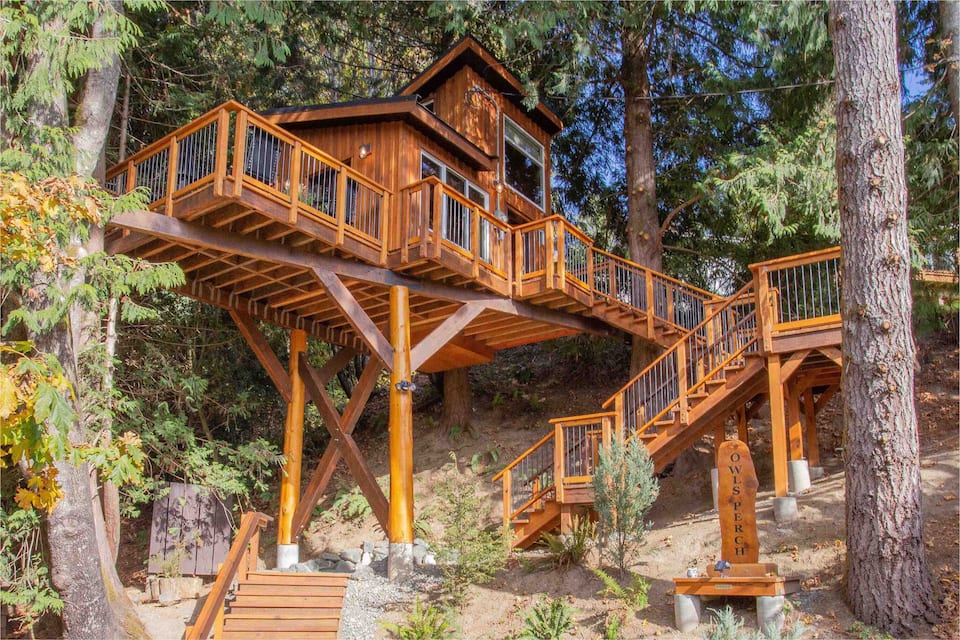 Looking for treehouse rentals in Vancouver Island? Check out Owl's Perch near Sooke!
This cosy treehouse sleeps 2 and is nestled between large cedars and a giant maple. You'll get great views across the Salish Sea to the mountains of Washington State.
The large deck is perfectly situated in the tree canopy and provides maximum privacy, it's ideal if you've been searching for cabin getaways near Vancouver.
43. The Cove House, Sooke
One of the unique places to stay on Vancouver Island is this cabin. We stayed here for a few nights for my birthday a few years ago and it was incredible.
You can't beat the views of this cabin in Vancouver Island which looks right onto the sea! The house can sleep 6 and it's seriously well equipped. There's a Bluetooth speaker, Netflix, a hot tub with the MOST incredible view, and a fireplace too.
You can walk right down to the sea from the cabin and in the summer there are bikes to use too. There are lots of easy trails here as well as the beautiful Sooke Potholes for swimming.
44. Ocean Village, Tofino
If you're looking for cool places to stay on Vancouver Island, check out Ocean Village which is home to some of the best cabins in BC.
Sure, Tofino is nice in the summer but visit in the fall or winter for some of the best storm-watching in British Columbia.
On top of that, the trails and beaches are emptier and nothing beats a windy walk along the beach before coming back to your cosy cabin in Tofino.
Ocean Village has super cute cabins on the beach at affordable rates which are perfect for Vancouver Island getaways.
45. Bodega Cove, Galiano Island
These British Columbia cabin rentals are surrounded by serenity on Galiano Island. They were built around 1969 and have been restored by the team into beautiful 1 and 2-bedroom cabins.
There are large windows, wooden walls, bathtubs and gorgeous interior design details.
We recently stayed here during a weekend on Galiano Island and the cabin was beautiful!
46. Woods on Pender, Pender Island
Pender Island is an easy journey from Vancouver with BC Ferries and at the Woods on Pender Island, there are airstreams, cabins, a Shasta Airflyte and the Woods Motel.
All accommodation is super cosy with a touch of luxury and they're some of the coolest cabins in British Columbia.
The cabins have hot tubs (some of the few cabins with hot tubs in BC), porch swings, fire pits and BBQs so there's everything you need for a lazy weekend trip from Vancouver.
Best Fraser Valley cabin rentals
47. Sasquatch Mountain log cabin rental, Harrison
Experience the ultimate mountain getaway at the 3 Bedroom + Loft Log Cabin with the best view of Sasquatch Mountain Ski Hill.
This beautiful log home sleeps up to 10 people with 3 private bedrooms, a kid-friendly loft, and two bathrooms.
It has everything you need for a relaxing stay, including WiFi, Netflix, and a large BBQ.
Whether you're unwinding in front of the wood fireplace after a day in the powder or seeking a quiet retreat, this cabin near Vancouver is the perfect place to be.
48. Abbotsford tiny home rental – The Nest
Experience the beauty of a tiny home with stunning views!
The Nest near Abbotsford is a cute rental with a fully stocked kitchen, a comfortable loft-style bedroom and everything you need for a relaxing break.
Unwind by your own outdoor fire pit, and take advantage of the many hiking and biking trails nearby.
Golf courses, wedding venues, restaurants, breweries, and shops are all just a short drive away. If you're seeking relaxation, this is the perfect destination!
49. Fraser River cabin rental
Experience the best of glamping at this serene woodland garden cabin overlooking the Fraser River, one of the best BC cabin rentals.
Sit on the deck and relax with locally made coffee or craft beer from a nearby brewery while watching for wildlife across the river.
Enjoy the peacefulness of the woods, fall asleep to the sounds of birds singing and wake up to a cozy, heated cabin with handmade wool-filled pillows and duvets.
End the day on the deck with a propane fire pit, watching the river flow by under the starry sky.
This unique experience is complete with the occasional train whistle, a reminder of the area's rich history and integral role in transporting goods through the province and the nation. Earplugs are available for light sleepers.
Best cabins to rent in Washington State
Head across the border for these super cute cabins in Washington State. As long as the borderlines aren't too long you can be at these cabins quicker than you can get to those on Vancouver Island!
50. Mountainview Lodge, Mt Baker
If you're planning a hiking trip to Mt Baker (like doing Heliotrope or Artist Point), then this is one of the coolest cabins to stay in. It's huge and sleeps 10 guests, but is very reasonably priced!
It's been recently renovated and has a large hot tub, gas fireplace and wi-fi.
The huge windows look out onto the mountains and there's a gas fireplace downstairs to keep things cosy, while upstairs has an air hockey table, karaoke, guitar, dartboard and TV w/ Netflix & Amazon Prime.
51. The Pacific Bin
If you're looking for a truly unique vacation home near Vancouver, BC, look no further than The Pacific Bin. It's a luxury container home located in Sultan, WA, and is one of the best cabins near Vancouver, BC.
Built from 5 intermodal containers, it offers 1600 square feet of indoor space and 900 square feet of outdoor deck space, sleeping 7 adults. It features a full-service kitchen, hot tub, steam shower, private hiking trails, and an outdoor fire pit. The cabin also has a helicopter landing zone, a Tesla car charger, and modern amenities such as a Lovesac smart couch surround sound system.
52. Tye River Cabins
You've surely seen these cabins on Instagram before, they're absolutely gorgeous! You'll find them in the Mount Baker-Snoqualmie National Forest near Seattle and each cabin comfortably sleeps 4-5 people.
They all have fireplaces, board games, Netflix and a fully stocked kitchen and 2 of them have hot tubs on the deck.
They get booked up quickly so this is one Vancouver weekend getaway in a cabin that you'll have to plan.
Final thoughts on the best Vancouver cottages + cabin rentals
Vancouver and the surrounding area including Vancouver Island and Washington State have so many beautiful and cozy cabin rentals for those seeking a getaway from the city.
When it comes to renting a cabin in BC, there's a lot to choose from.
From cabins to rent in BC with breathtaking ocean views to those tucked away in the woods, there is something for everyone. Whether you are looking for a romantic escape, a family vacation, or a solo adventure, these cabin rentals are sure to provide a memorable experience.
Last Updated on July 10, 2023 by Hannah
Hannah started That Adventurer after graduating back in 2013 and has documented all of her adventures since then. From backpacking South America to city breaks in Europe, a 3 month road trip across the USA in a self-converted van and 6 years living in Canada, you'll find posts on all of this.
Hannah specialises in active travel and on That Adventurer you'll find hiking, walking, biking, skiing and all sorts of active travel guides to allow you to see a destination in an adventurous way.
Now back in Europe, you'll find new guides as Hannah and her husband spend the next year 'digital nomading' from Norway to Portugal, Switzerland to Scotland and places in between.