Before we came to Vancouver I'd seen plenty of pictures of a suspension bridge high up in the forest above the city. In most cases this was Capilano suspension bridge, but not always. What I hadn't realised was that there's another, less busy, free(!) and equally awesome suspension bridge in North Vancouver: Lynn Canyon suspension bridge.While researching Capilano suspension bridge, I came across a free suspension bridge that was supposed to be pretty worthwhile. When I saw that Capilano suspension bridge cost a whopping $42.95 + tax AND you have to pay an extra $5 to park (basically my whole daily budget), we headed to Lynn Canyon suspension bridge instead.
Lynn Canyon Suspension Bridge is currently closed
Lynn Canyon suspension bridge is about half an hour away from downtown Vancouver. This makes it a great place to spend half a day. If there's one thing I love about Vancouver (there's actually way more than one!), it's how easy it is to go from the city to what feels like the middle of nowhere.
We got to Lynn Canyon at about 11am and the place was pretty quiet. There were a few people on the bridge but if you waited a few minutes you'd have it to yourself. I can't imagine the same can be said about Capilano suspension bridge; especially since there are even free shuttle buses leaving the centre of town throughout the day.
Parking at Lynn Canyon is free for three hours which is enough time to see the suspension bridge and take a walk through the forests as well.
Lynn Canyon suspension bridge
It's said that the suspension bridge in Lynn Canyon is one of the valley's best kept secrets. It's 50m high (the same height as my bungee jump in Australia!) and crosses a pretty fast flowing river down below.
Crossing the bridge is great fun – if not a little nerve racking – as it wobbles and bounces up and down with every step you take. That's especially true when there's a few of you on it!
The 30ft Pool
Once you've crossed the bridge (a few times so as to get the perfect photo) there are plenty of forest trails to explore. One of these trails takes you towards the 30ft pool which is a popular swimming hole near Lynn Canyon. However, it is absolutely freezing so don't expect to swim for long!
The water around there is a gorgeous emerald green colour. Whilst there will be a few other people around, it still feels a bit like you've stumbled upon a secret.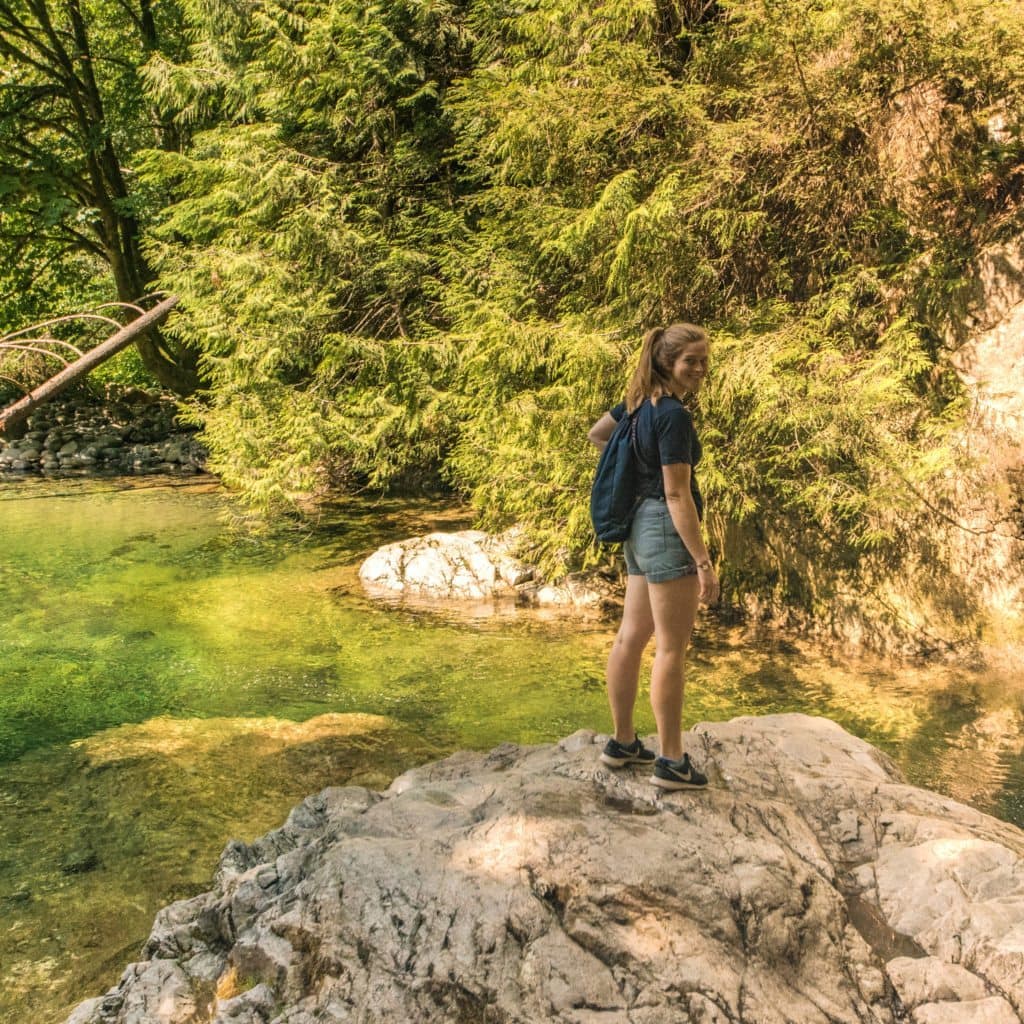 Once you're finished with the 30ft pool there's a huge stairway which takes you up to Pipe Bridge. Once over the bridge you'll come out onto Lynn Valley road where there's a great little general store called The End of the Line with fancy drink such as posh lemonades and locally brewed kombucha to cool you down.
Twin Falls Trail
If you fancy checking out some waterfalls once you've crossed the Lynn Canyon suspension bridge, then follow the Twin Falls Trail. This trail is to the east of the suspension bridge and you can follow it without even needing to cross the bridge if you want.
As the trail heads down towards the river it's just a short walk to the Twin Falls Bridge which has great views of the waterfall and the plunge pool below.
Most visitors to Lynn Canyon Park tend to visit the 30ft pool and not Twin Falls which means it's far quieter – a fantastic place to chill-out with a good book!
Other places & trails in Lynn Canyon Park
The Baden Powell Trail (can take this to Deep Cove)
Rice Lake
Lynn Headwaters
Sea to Sky Trail
Hike to Grouse Mountain