Summer is for hiking! Every spring I get super excited about summer hiking adventures but when I first started out I wondered "what do you wear to hike?" and what to wear hiking in summer. Well, if that's you, or you're just looking to update your summer hiking outfit, then check out this post below on what to wear hiking in the summer!
Before we begin, you do not have to have these items to go hiking. The items you do need are the 10 essentials for your safety, but these are just going to make you more comfortable.
Hiking can be expensive, but it doesn't need to be. Start with what you own and if you find you're going hiking a lot and your clothes are wearing out, then consider purchasing some of the items on this list of what to wear when going hiking.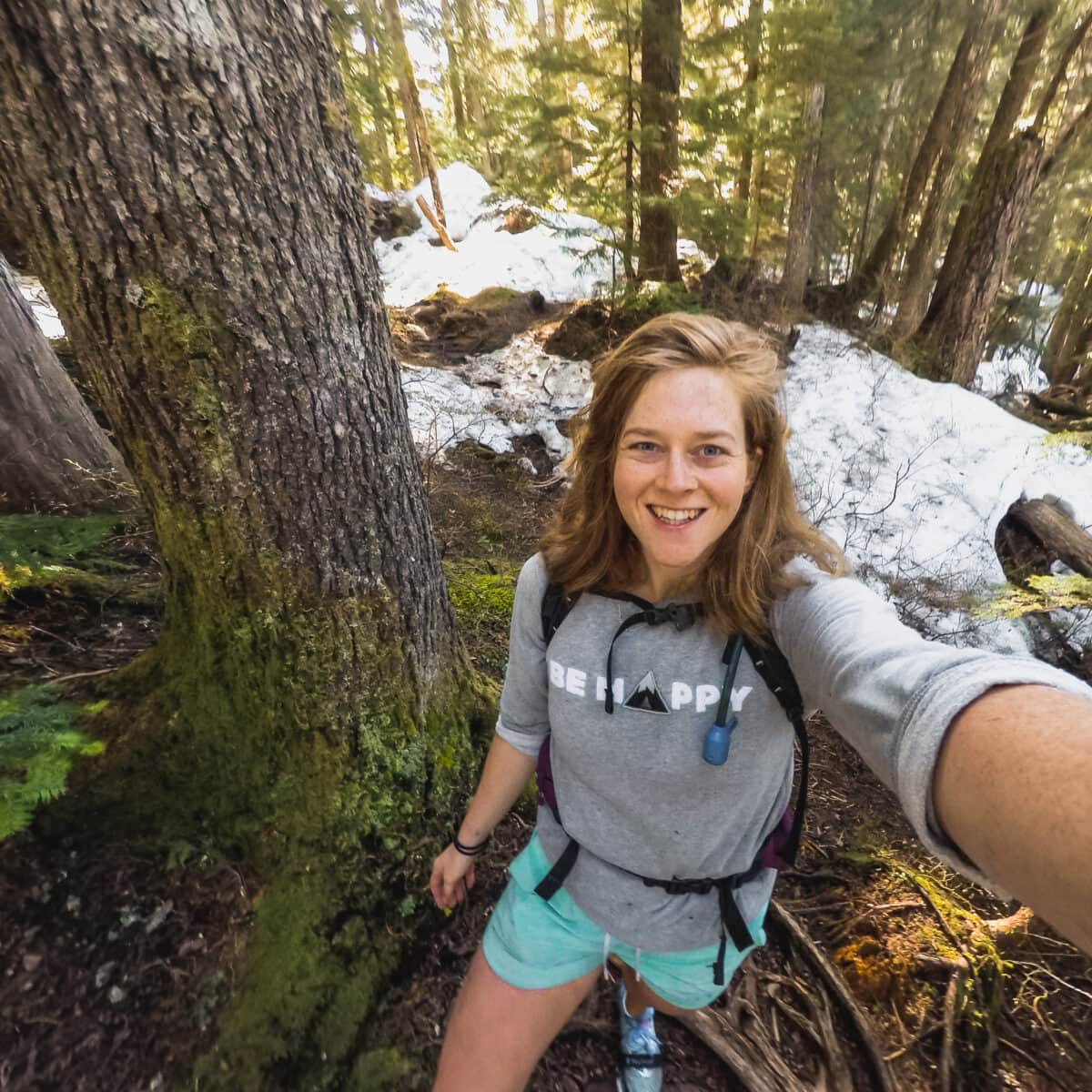 What to Wear for Summer Hiking
I have a big list about what to pack for hiking but this post focuses specifically on what to wear when hiking in summer.
Hiking Pants or Leggings
Let's kick things off with what to wear to go hiking on your bottom half when hiking in the summer.
There's a bit of a debate in the hiking community as to whether you can wear yoga pants for hiking (I think yes), hiking leggings or should always opt for hiking pants. I personally think you should wear whatever you have and if that's leggings then go for it!
However, there are some things to take into consideration when choosing what to wear for hiking in summer.
Hiking pants often provide better protection from the sun, bugs, bushes, brambles and boulders. When it comes to what pants to wear hiking, make sure they're moveable, breathable and have moisture-wicking qualities.
Leggings are in general more stretchy and I find them more comfortable so that's typically what I'll hike in.
See my pick of the best hiking leggings.
When I'm picking what to wear for summer hikes, I'll often opt for some shorts. My favourites are biker shorts as they're available in a range of lengths (I prefer longer) and colours.
I have both a pair of Lululemon biker shorts and Old Navy biker shorts and like my Patagonia shorts for hiking too. I had a $7 pair of shorts from Walmart that I wore for years previously so you definitely don't need expensive hiking shorts.
Hiking Shirts
There are a lot of different styles of hiking shirts, I typically wear a shirt I'd run in i.e. a cheap Old Navy active shirt that I'll get years of wear out of. I do also have a MEC merino wool long sleeve t-shirt which I'll wear first thing in the morning over the top of something else if it's chilly. They don't seem to make them anymore but these are similar.
Quick dry shirts: Almost all of my workout and running shirts are from Old Navy. They're great if you're looking for budget hiking clothes. When these are past it, I'll be getting some Patagonia Capilene t-shirts. These are known for being lightweight and quick-drying.
Merino wool shirts: Merino wool is quick-drying, moisture-wicking and naturally odour resistant. They can be expensive though so if you see them on sale snap one up!
In short, you ideally want a hiking shirt that isn't made of cotton. Cotton doesn't dry quickly so it'll just be like hiking with a wet t-shirt on – it gets heavy and gross!
Insulated Jacket and Layer
Sure, it may be summer but you should still bring an insulated layer with you! You never know when you're going to need it and even in summer, the mountains can have a chilly wind or still be snowy.
In summer I'll typically bring a super lightweight top (or a long sleeve t-shirt) and my down jacket. At other times of the year, I'll pack both a fleece or my Patagonia RI sweater and my down jacket.
Synthetic or Down Jacket: Down and synthetic jackets pack down really small (some even pack into one of their pockets) and they're also one of the items on the hiking 10 essentials. You should always pack a warm layer like this! I use my Patagonia down sweater hoody and I love it but one thing to consider is that down jackets are pretty useless when wet. This means if it's raining you'll want a really good waterproof jacket, and you should take it off as soon as your body heats up to avoid sweat.
Fleece Sweater: Again, I have Patagonia options for these (sensing a theme?). I love my Synchilla fleece and recently bought a slightly more lightweight insulated layer that I've added to my what to wear hiking list and also for ski touring. Mountain summits are chilly places and often windy so you'll need a warm layer too! The Patagonia Better Sweater is another option that works well as a mid-layer for hiking.
Rain Jacket and Rain Pants
Always, always pack a rain jacket when you're packing for hiking. You never know when it's going to rain and waterproofs are often very lightweight so you may as well have them with you!
My rain jacket of choice is my Arc'teryx jacket. The Beta range is a great option when it comes to a lightweight Goretex waterproof but they are pricey. The main thing is to try and get something that's Goretex as that'll offer you the best rain protection.
Water-resistant isn't the same as water-proof and trust me, you'll be grateful for spending a bit more money on a waterproof when it keeps you dry!
My rain pants are from MEC and I used to use them when cycling all over Vancouver in winter. I don't always pack them when I'm hiking in summer, but I do pack them if I'm going on an overnight hike in the summer.
The REI Essential rain pants are pretty similar if you're not based in Canada.
Hiking Socks in Summer
The socks I wear for hiking change depending on what shoes I've opted for. If I'm wearing trail runners or hiking shoes then I'll wear Stance running socks, if I'm wearing boots I'll wear longer hiking socks – usually by Darn Tough.
Wool socks will help keep your feet drier and more comfortable in changing weather conditions.
What shoes to wear when hiking in the summer?
Depending on the type of hike and your preferences, there are a few different types of shoes to wear for hiking.
Running Shoes or Trail Running Shoes
If you are just getting started hiking and are not doing strenuous or hikers longer than about 6km, then a pair of running shoes is okay. They should be proper running shoes though and not something like converse.
Ideally, if you're wanting to wear running shoes, they should be trail running shoes. Especially if you're hiking in areas where the ground is uneven and there are mud or slippery surfaces.
When it comes to what to wear while hiking, I'll typically go for my trail runners. I love Saucony running shoes – they just fit me well!
Hiking Shoes
Hiking shoes are what I used to wear before getting into trail running. They often have better traction and stability than running shoes and some have waterproofing to keep you drier.
Importantly, they have more cushioning than road running shoes so you won't feel sharp rocks underfoot.
Hiking Boots
For longer hikes and backpacking trips, I wear hiking boots; especially if I'm carrying a heavy backpack.
They offer better support and more waterproofing if you're crossing small streams. The downside is that they take longer to break in than hiking shoes and trail runners do. Remember this and don't try them out for the first time on a big hike as your feet may end up covered in painful blisters!
For hiking boots, I wear Keen Pyrenees. My feet are on the wider side and I find Keen is a bit more giving when it comes to that than some other brands.
However, you have to try hiking boots on before you buy them. If you're buying online, make sure the store has a good returns policy!
What to consider when it comes to what to wear hiking in summer?
When it comes to buying hiking clothing, there are some golden rules you should follow to keep you warm and dry.
Don't choose cotton and denim: Denim and cotton clothing aren't good for hiking in. They absorb moisture and become either sticky or heavy or both! And you won't want that extra weight when you're hiking! Plus, these materials take a long time to try whether they get wet from rain or sweat.
Layers are your friend: When it comes to hiking clothing, layers are key (see info below). Your body temperature and the weather will change quickly and so being able to layer down or up is important for staying comfortable. You'll want a base layer, a mid-layer and an outer layer for hiking.
What shoes to wear hiking?: Whichever style of shoe you go for make sure they're supportive. This can help prevent falls and injuries both in the short and longterm.
Be prepared: You should always pack your 10 essentials for hiking for safety and comfort. Also, make sure to check the conditions of where you're hiking. Lots of bugs? Long sleeves and bug spray are a good idea!
Safety: What you wear for hiking needs to keep you safe and when it comes to clothes safety means warm and dry!
Durability: Outdoor clothing isn't cheap, choose clothing that is durable to get the most for your money and look for reviews (or lists like this) when choosing what to wear hiking in summer.
Comfort: Next, you want your hiking clothing to be comfortable. It should allow for plenty of movement and not irritate your skin. As you do more hiking you'll better understand what works for you.
Budget: With the rise of activewear you can now get some good clothes for hiking without spending too much money. However, the more expensive options will typically be even better for hiking as they'll have features such as moisture-wicking or insect repellent.
Other things to wear when hiking in summer
Wondering what to wear hiking in hot weather? If you're wearing a tank top or short sleeve t-shirt remember to pack plenty of SPF. The main issue will be preventing heat exhaustion and heat stroke so you may want to consider the following when it comes to hiking attire in summer.
A hat: trucker or wide brimed
Sunglasses: Goodr are my fave!
Shorts
The best socks for hiking in summer should be thin wool socks
What to wear for hiking in the rain?
Living in the PNW, hiking in the rain is something I've become rather good at. It's still worth going for a hike in the rain, in my opinion, the mist can look super cool and the trails are usually quieter.
However, to enjoy it you'll likely want the following:
Hiking leggings or pants
Rain jacket
Rain pants
Waterproof hiking boots or shoes
Wool socks
What to wear hiking in the fall?
For what to wear for hiking in the fall, you'll want everything on this list; ESPECIALLY your waterproofs. Swap the t-shirt out for a long sleeve to make sure you're warm and opt for hiking leggings over shorts unless it's forecast to be very warm.
You may also want some lightweight gloves, my hands always start off cold!
What to wear hiking in cold weather?
All of the above plus a beanie or other woollen hat and some gloves! Fleece-lined hiking leggings may be a good option too. This will help you stay warm if you're not sure what to wear when hiking in cold weather
What to wear on hike date?
Going on a date and wondering what to wear on a hiking date? Fun!
If you're having trouble deciding what to wear for a date hike then use the formula above and just pick some nicer coloured hiking leggings or top.
Tying a plaid shirt at your waist over some black hiking leggings or shorts and a cute activewear top can look super cute.
Don't forget a small back for some snacks and water as you don't want your hiking date to become a disaster!
What's the difference between hiking clothing vs backpacking clothing?
It doesn't change that much, you'll just be carrying more of it!
Having said that, durable, quick-drying clothes are even more important when you're backpacking. You won't be packing a whole new outfit for every day, so you'll want to make sure that the clothes will dry out overnight.
Definitely don't forget your waterproofs either!
What do you wear hiking? Anything essential I've missed?