One of the best things about Christmas is the build up to Christmas. That time where the Christmas markets are in full swing, there are Christmas lights all over the city and everyone's just feeling very festive. If you're in Vancouver during Christmas and wondering what is there to do in Vancouver at Christmas then wonder no further.
There are so many Vancouver Christmas events downtown and nearby that are sure to get you feeling festive. And that's great since Vancouver winter can be dark, wet and pretty miserable. All this festive cheer does wonders to cheer everyone up!
Oh, and if you've yet to buy your Christmas presents for the outdoors lovers and Christmas presents for the coffee lovers in your life already, then get to it!
1. Peak of Christmas
View this post on Instagram
Grouse Mountain is one of the top Vancouver points of interest and the Peak of Christmas sees it turned into Vancouver's very own North Pole and it's one of the top Vancouver events at Christmas.
During the Grouse Mountain Christmas period you can meet Santa's Reindeer, go ice skating under the stars, take a sleigh ride, and go on a magical light walk around Blue Grouse Lake. The peak of Christmas opens from 23rd November – 6th January and should be on your list of things to see in Vancouver this winter.
2. Head to the Vancouver Christmas Market
View this post on Instagram
In November and December there's a German Christmas Market in Vancouver. It has more than 80 huts with German sweets, treats, and treasures in the Jack Poole Plaza in Coal Harbour. Eat pretzels, listen to carols and feel super Christmassy.
This has to be one of the most Christmassy of Christmas things to do in Vancouver, BC.
3. Take the Stanley Park Christmas train
Whether you're looking for things to do in Vancouver with kids or you're just a big kid, take a trip on the Stanley Park Christmas train this winter.
The train is part of the Bright Nights (another of the festive Stanley Park events) which see lots of Stanley Park lights making the park even more magical. Your carriage will sparkle with some of over 3 million lights which light up the train!
The Christmas Train, Vancouver runs from 29th November to 5th January and costs $12 per adult $9 for 13-18 year olds and children 3-12 are $8. Just to attend the Bright Nights event is free.
Looking for other things to do in Stanley Park, Vancouver?
4. Discover the Christmas version of Fly Over Canada
The Fly Over Canada experience at Canada Place is fun whatever time of year. It's also a great thing to do in Vancouver when it's raining since it's indoors. For Christmas they mix things up and you can help Santa find his elves as you fly over a snowy Canada.
5. See the Vancouver Christmas tree being lit
View this post on Instagram
Watch the Vancouver Christmas tree be lit up in early December. The Vancouver Christmas tree lighting event is usually combined with music, cookies and lots of festive cheer and is a great thing to do in Vancouver at night.
6. See the Santa Claus parade
View this post on Instagram

The annual Vancouver Santa Claus Parade takes place on 2nd December 2018 at 12pm. The parade starts at West Georgia and Broughton and travels east, then south along Howe and finishes at Howe and Davie.
7. Have Christmas in Kerrisdale
Celebrate Christmas in Vancouver's Kerrisdale neighbourhood. Every Saturday in December there are fun Christmas activities on West 41st between Larch St. and Maple St. Look forward to brass bands, carriage rides, Santa and more. Christmas at Kerrisdale runs from 12pm to 4 and it's just one of many free things to do in Vancouver.
8. Buy a Christmas tree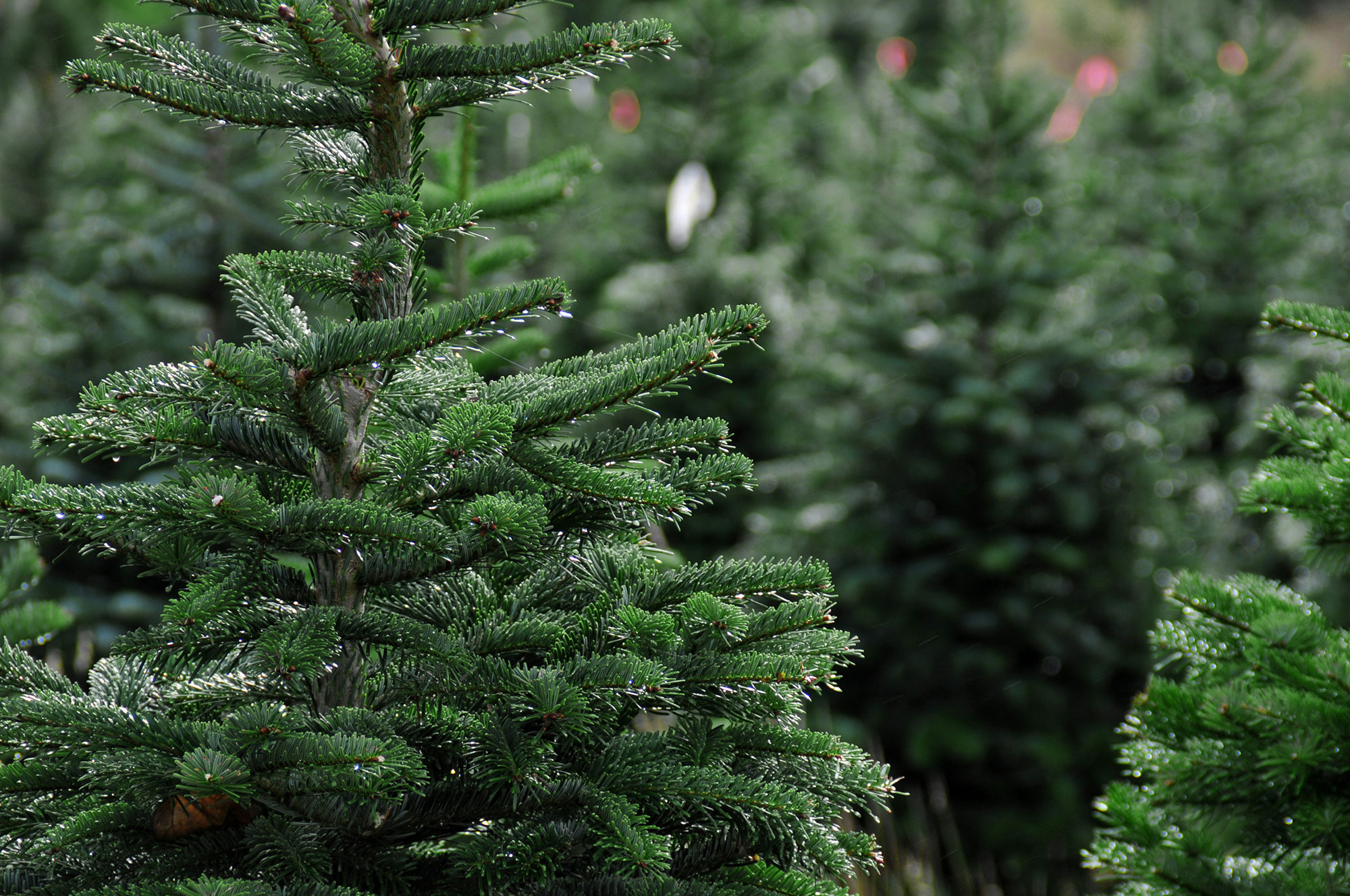 Make your home look Christmassy too and head out to a Vancouver garden centre of market to buy a Christmas tree.
If you fancy chopping one down yourself you can do so at many places in the Lower Mainland. Here's a great list of U-cut Christmas tree, Vancouver farms. A very fun thing for your 'what to do in Vancouver' list.
9. See the St Paul's hospital Lights of Hope
View this post on Instagram
Another one of the Christmassy things to do in Vancouver, Canada is to see the St Paul's Hospital Lights of Hope. This takes place every year during winter in Vancouver.
The front of the hospital on Burrard Street is lit up with lights and messages in stars from people who've donated to the hospital. Donations help support the hospital's work.
10. Visit the VanDusen Festival of Lights
View this post on Instagram
The VanDusen Festival of Lights features, amongst other attractions, a fireside lounge, dancing lights and a carousel. Van Dusen gardens at Christmas sees the garden completely transformed and it's very pretty. There's also some tasty food on offer too.
It sells out in the last week to Christmas so it's best to book in advance (you can save money doing that too!) so you can add this to your list of things to do for Christmas in Vancouver.
Looking for things to do in Vancouver in winter?
11. Experience CandyTown in Yaletown
Want Christmas things to do in downtown Vancouver? Here you go! CandyTown is a free festival in Yaletown that helps to kick off the holidays. It sees Mainland Street turned into a winter wonderland with lights, candy canes and costumed characters.
It's a great time to make a start on your holiday shopping as well as get in the festive mood. There's live music in the streets while you shop too!
12. Explore Gingerbread Lane at the Hyatt Regency Hotel
View this post on Instagram

Say "hello" to the sweetest lane in the entire city. Gingerbread Lane is an event put on by the Hyatt Regency hotel. It runs from November 30th to December 28th and involves over 30 gingerbread creations designed by local secondary schools.
The event raises money for charity and the creations are incredible!
13. Shop at the Circle Craft Winter Market
View this post on Instagram

The Circle Craft Christmas Market has over 300 artisans from across coast to coast.
This craft fair is one of those Vancouver activities that attracts thousands of people every year who are keen to get a head start on their Christmas shopping and it's a must do in Vancouver. You can shop everything from clothing to toys, jewellery, candles and more.
14. Go to Holidays at the Vancouver Aquarium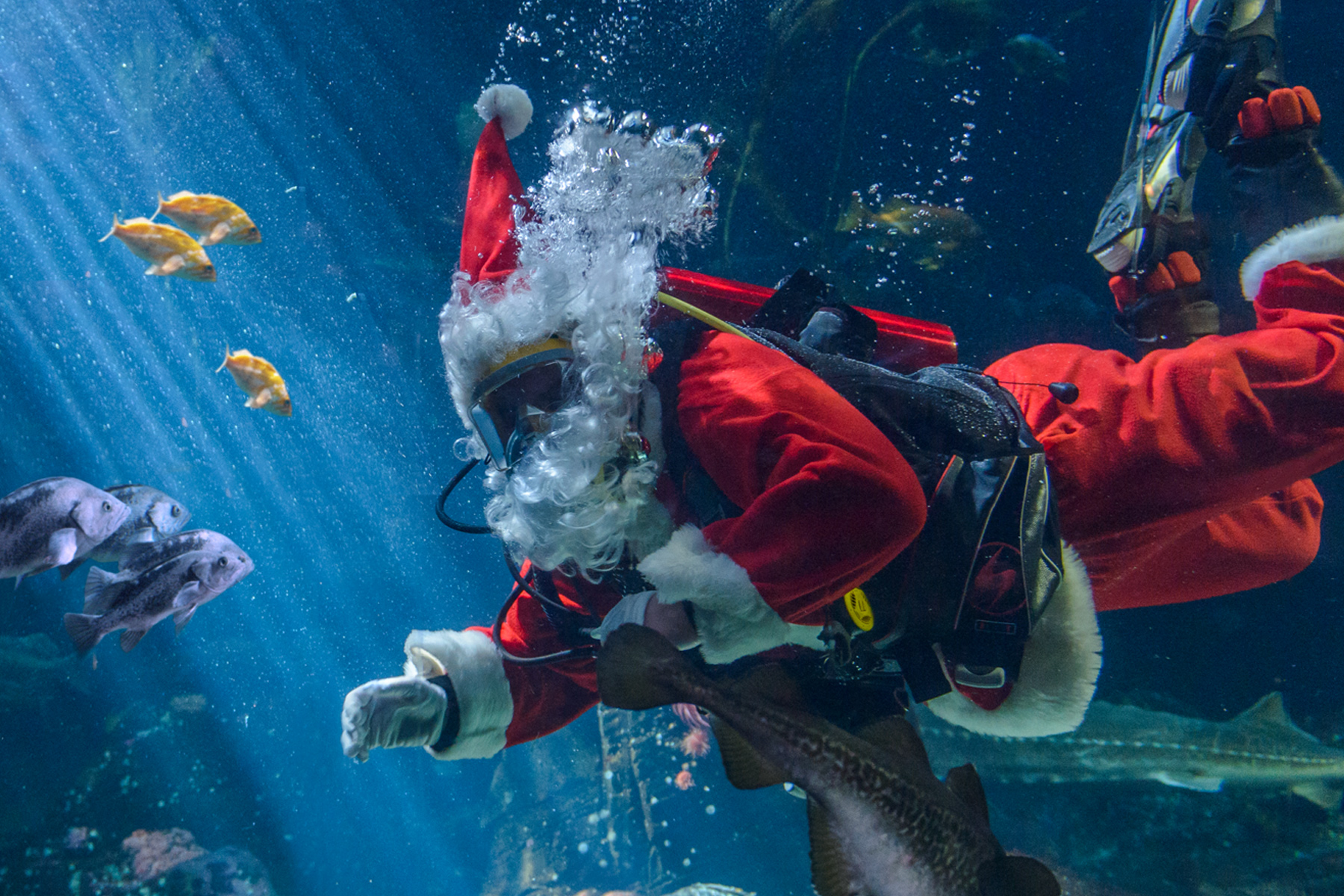 A trip to the Vancouver Aquarium is always a fun thing to do in Vancouver. And Christmas is a great time to visit the Vancouver Aquarium.
The aquarium is one of the most popular Vancouver places to visit and at Christmas many of the exhibits are given a festive overhaul. Not only can you see the amazing animals as usual but there's a few additional ones: Scuba Claus and special seasonal activities too.
The event usually runs from late November to early January.
15. The Karaoke Trolley Tour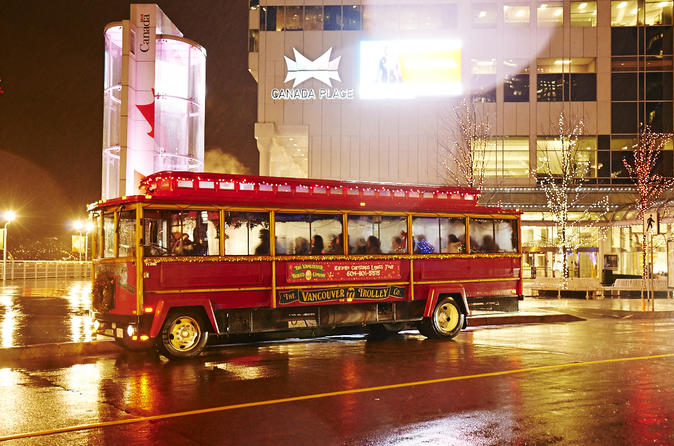 In winter the Vancouver Holiday Lights and Karaoke Trolley comes to town. There are two tour options: one round Bright Nights at Stanley Park, and the other to the VanDusen Festival of Lights. As you travel in the trolley there's fun musical karaoke so that you really get into the holiday spirit.
16. Timberline Country Christmas
Head to Maple Ridge for a Christmas in the countryside at Timberline Country Christmas. At a 73 acre horse ranch in Maple Ridge you'll find yourself in a Christmas wonderland. There are lights, festive music and more to get you in that festive mood. This Christmas event runs from December 1st to December 19.
17. Visit the Glow Gardens in Langley
View this post on Instagram
Over in Langley, the Glow Gardens run from November 22nd, to January 19th. There's a Christmas market, a magical light display, Food and drink and a chance to ride Glen the Glow-comotive! This is a great thing to do with children in Vancouver, or with your grown-up friends too. There's also a Glow festival in Vancouver for 2019!
The Vancouver Christmas market is also one of the great date ideas in Vancouver. They even have a special evening for it – add it to your Vancouver to do list!
Tickets are $23 for adults and $17 for children & seniors. Those 3 and under are free.
18. Lights at Lafarge
View this post on Instagram
There are lots of Christmas lights in Vancouver and this one in Coquitlam is impressive!
The Coquitlam Christmas lights, Lights at Lafarge, opens on November 24th with live music and the light display that encircles the 1.2km Lafarge Lake loop. Expect food trucks, roving performers, music and more. If you're wondering what to do in Vancouver, Canada this is one of the most magical Christmassy things.
19. Kitsmas on West 4th
View this post on Instagram
Vancouver's Kitsilano neighbourhood likes to get in on the festive action too. Kitsman is one of the top things to do in Vancouver at Christmas.
Kitsmas runs throughout the holiday season to December 24 and makes your shopping experience in this Vancouver neighbourhood all the more enjoyable.
There's even free valet parking on some dates making this one of the most cool things to do in Vancouver.
20. Eastside Flea Holiday markets
View this post on Instagram
The Eastside Flea Holiday markets are a very fun place to get a start on your holiday shopping.
The market takes place at 550 Malkin Avenue on November 16-17, December 1-2, 8-9, and 15-16 and are open from 11am – 5pm each weekend.
Not only are there plenty of local vendors but there are food trucks, festive drinks and a whole lotta fun awaiting you.
21. Weirdos Holiday market
The Weirdos Holiday Market brings Vancouver's most outlandish local artists and vendors together to showcase an eclectic array of all things unusual and unique.
This market in Vancouver is for those looking for unusual gifts – perfect if you have someone who's usually hard to buy for.
The Weirdos Holiday market is open on Saturday, December 8th & Sunday, December 9th at 1739 Venables Street.
22. Ugly Christmas sweater party
One of the best things about Christmas is getting to put on that ugly Christmas sweater again. Vancouver has its very own ugly Christmas sweater party and Christmas sweater dash.
The dates aren't yet confirmed but you can find out about this year's ugly Christmas sweater events in Vancouver here.
23. The Aurora Winter Festival
View this post on Instagram

The Aurora Winter Festival lets you escape into a hidden village by the North Pole right here in downtown Vancouver. It's filled with light displays and magical characters, market huts, food gardens, amusement rides, live entertainment, visit Santa's Workshop or lace up your skates on the Frozen River.
The festival takes place at Vancouver's Concord Pacific Place and from November 23rd to December 30th. It's the place to be this winter – make sure to book tickets in advance.
24. Discover the canyon lights

The Capilano Suspension Bridge is one of the top Vancouver tourist attractions and that doesn't change just because it's winter.
Capilano Suspension Bridge Christmas season is magical. Don't worry about the short days since the canyon is lit up during winter. The suspension bridges and forest are even more impressive at Capilano during this time of year! It's one of the best nearby places if you want to do some Vancouver sightseeing.
If you're wondering where to go in Vancouver at Christmas then head here! It's a romantic thing to do in Vancouver too (as long as it's not too busy)!
Where to stay in Vancouver
If you're looking for hotels in downtown Vancouver, BC then check out my post on where to stay in Vancouver