This post may contain affiliate links. This means that if you click an affiliate link and buy something, that website will give me a tiny bit of money to say thanks for sending you to them. There is NO extra cost to you at all.
Back in 2011 (years before I started this blog!) I visited Australia for the first time and spent a month going up the east coast from Sydney to Cairns with one of my best friends from university. Brisbane was one of the cities I remember the most (apart from Sydney!) and so I've put together a list of fun things to do in Brisbane. Whilst I didn't get the time to do all of them, it's a good excuse to go back one day!
Things to do in Brisbane
1. Walk the 15km route along the Brisbane River
This starts off a South Bank and finishes in the New Farm area. Cycling this route is also a great fun thing to do in Brisbane. You can either rent a bike from a rental shop in the city or use one of their city bikes which can be picked up and parked at various points. Make the walk or cycle even better by refuelling with a few drinks along the way!
2. Go Kayaking!
I love hitting the water as you get an entirely different viewpoint of a city. Rent a kayak and paddle up and down the Brisbane River.
3. Hike Mt Coot-tha
Put on those hiking shoes and head on a hike to the top of Mt Coot-tha. Time your hike to coincide with sunset for some incredible city views.
4. Do some sand tobogganing
Head over to Moreton Island which is just a short boat ride away from Brisbane for some sand-based fun. At Moreton Island you can indulge in some sand tobogganing which is just as fun as it sounds!
5. Hire a 4×4 and hit the dunes
Hire a 4×4 or take a tour and hit the dunes over on Stradbroke Island ('Straddie'). You'll be able to get to some incredible viewpoints from here and may even see some whales!
6. Bush walk to Simpson Falls
Simpson Falls is only 20 minutes from Brisbane city centre and it's well worth adding this walk to your list of things to do in Brisbane. It's along the scenic drive to Mt Coot-tha so you can combine the two in one day.
7. Go Scuba diving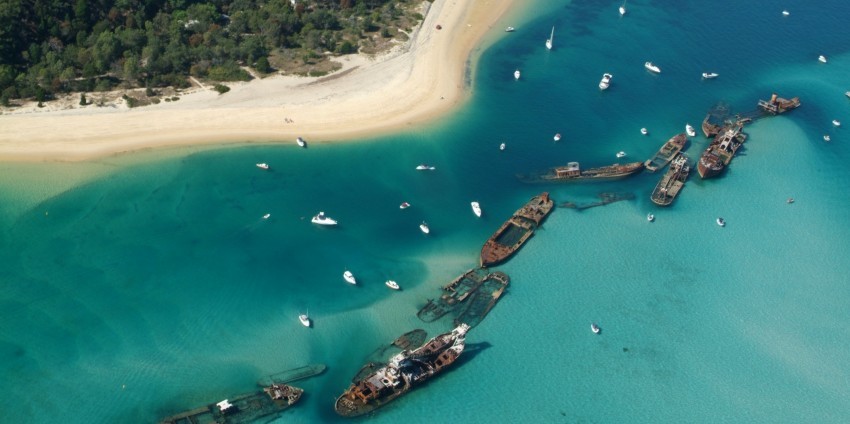 Explore what Brisbane has to offer under the water by diving amongst the Tangalooma wrecks just off of Moreton Island. There are all sorts of tropical fish down here – it's like a whole different world!
8. Practice yoga at one of Australia's most beautiful studios
If you're a yoga lover (or you're trying to be) then head to SoHo Yoga in Newmarket for a yoga session. This studio was voted one of Australia's most beautiful and it's easy to see why!
9. Go Skydiving
Ever wanted to do a skydive? Well, why not add it to your Brisbane itinerary? Plummet 12,000 feet to Earth with Skydive Brisbane and see if you can bring yourself to open your eyes to take in the coastal and city views.
10. Explore the forests
Take a hike through the glorious forests at the aptly named Mt Glorious. Just 45 minutes away from Brisbane this mountain road is spectacular with plenty of incredible look-outs to stop at. The village here is often covered in mist which makes it a great escape from the summer heat in the city.
11. Take a historical walk
Take a wander along the 4km long Cleveland Heritage Walk and embrace the history. You'll pass mid-19th Century buildings until you get to Queensland's first ever licensed pub. The Grand Hotel is the perfect place to reward yourself for a quick walk!
12. Explore Coochiemudlo Island
Take the 10 minutes ferry ride over to Coochiemudlo Island. Here you could try paddle boarding or kayaking. Both of which I love!
13. Go whale watching
Moreton Bay is one of the best places to catch the annual whale migration and if you happen to be visiting Brisbane from June to October make sure you book yourself on to a whale watching tour!
14. Visit the Koala Sanctuary
Brisbane is pretty famous for its koala sanctuary. If you've ever wanted to see a real life koala (and who hasn't?) then you'll see one at Daisy Hill Koala Sanctuary!
15. Get your laughs at Brisbane Powerhouse
On Friday nights you can enjoy some free comedy at Brisbane Powerhouse. It starts at 6pm and you'll have a super fun night in this cool location!
16. Dance to free live music
Brisbane is the home of Australia's largest free live music programme: City Sounds. Every week artists turn up at various locations throughout the city and play. And it won't cost you a penny!
17. Take a swim at Streets Beach
Streets Beach at South Bank is a massive man made beach where you can relax in the cool waters or chill out on the sand. It's a pretty cool spot!
18. Go sailing for free
Every Wednesday afternoon you can join the Wednesday Afternoons Go Sailing group that operates out of Manly near Brisbane and try out some sailing for free!
19. Walk to King Island
Get out of bed early one day during your visit to Brisbane and take a walk out to King Island. Make sure to go when the tide is low (otherwise you won't be able to walk it!) and leave plenty of time to get back.
At low tide there's a natural sand walkway and once you get the island you'll be able to relax amongst the mangroves.
Where to eat & drink in Brisbane
20. Enjoy a picnic at New Farm Park
Maybe add this to the end of your walk/cycle along the river. There are some huge fig trees which provide some shade and make a great place to cool off.
21. Try Eat Street Northshore
Eat Street Northshore is along the Brisbane River. There are so many different stalls and cuisines to try out here. A fun thing to do would be to get a starter, main and dessert from a different stall so you can try as many as possible!
22. Shop local
If you're in Brisbane during the weekend make sure you check out the Jan Powers Farmers Market. You can find these across the city so there's bound to be one near where you're staying in Brisbane!
23. Get some great Vietnamese
If you love Vietnamese Food then you'll want to head over to Trang Restaurant in Brisbane's West End. This restaurant is known for giving its customers a great deal on food. You'll leave satisfied in more ways than one.
24. Go on a pub crawl!
Round up some friends from your hostel or hotel and head out on a pub crawl through Burnett Lane. Make sure to stop off at Super Whatnot and Brew.
25. Grab a burger that does good at DA'Burger
DA'Burger in New Farm help disadvantaged youth in the local community. This means you can enjoy a delicious burger whilst also knowing you're doing some good simply by eating!
26. Spend your Sunday like a local
Many Brisbane locals spend their Sundays with a pizza and a beer at The Fox Hotel. There's a reason it's so popular!
27. Find comfort food
Craving some American comfort food? At Brooklyn Depot in Southbank you'll find ribs and wings for that BBQ fix that we all need now and again.
28. Grab street food with a side of live music
Head to Mt Gravatt Marketta on a Saturday night for live music, street food and a great atmosphere.
29. Eat great Greek
One of the highlights of my trip to Greece was the delicious food. If you have a craving for a yiros while visiting Brisbane then make sure you head to The Yiros Shop in Southbank and enjoy a delicious lunch!
30. Eat your heart out at Fritzenberger
Want more tasty burgers? Head to Fritzenburger for chips, burgers and beer (what else would you wash it down with?)!
31. Eat liquid nitrogen
I mean once it's been turned into some tasty ice cream! What better way to cool off than with a deliciously creamy dessert from Nitrogenie at South Bank in Brisbane.
Where to stay in Brisbane
I always use Booking.com when booking hotels, studios or apartments. Check out their options for Brisbane.
Want more Australia travel ideas & adventures?