The hidden gems Vancouver has to offer are pretty varied. You've got beautiful secret beach areas, bunnies, sunset spots, and more.
After 6 years of living in Vancouver (which has flown by), just when I think I know the city well I find out about another great hidden gem in Vancouver.
These Vancouver hidden gems are all over the city and coming across one always makes me smile.
These places in Vancouver are also some of the best secret places in British Columbia and include the Horseshoe Bay viewpoint.
So, if you've visited Vancouver before and are wondering where to go in Vancouver, or are looking for unique things to do in Vancouver, BC then check out these Vancouver secrets!
REMEMBER: When visiting these places (and anywhere) always pack out your trash with you. Don't ruin it for others!
Table of Contents
I haven't given the exact location for many of these hidden places in Vancouver because part of the fun is finding them for yourself!
I either stumbled across them while out walking or heard about them from someone else and did my own research to track them down; usually with some wrong turns along the way.
They wouldn't be cool things to do in Vancouver if you didn't have to put in a little bit of effort to find them.
1) Vancouver beach swing
One of the top-secret places in Vancouver is this beach swing!
Swings always bring back childlike feelings.
They're just so much fun! This secret Vancouver beach swing gives you great views of the ocean and West Vancouver (when it's not rainy like when I went!).
The Kits beach swing is best at low or 'mid' tide as otherwise, you're going to get your feet wet.
It's also best to go with a friend so they can give you a leg up – it's high off the sand!
Location: West of Kits beach
2) AmazingCo Mystery Picnic
If you're looking for a unique things to do in Vancouver, look no further than AmazingCo's mystery picnics!
This experience has you working as a team to solve clues and pick up food for your picnic from local producers that are hidden gems in the Mount Pleasant area of Vancouver.
The destination remains a surprise too until you've completed all the clues. Delicious food and an adventure?
Sounds like the perfect Vancouver activity to me!
3) Secret Horseshoe Bay sunset platform
This is one of the best secret spots in Vancouver!
Not far out of Vancouver is the sunset watching secret platform near Horseshoe Bay. The first time we tried to find the Horseshoe Bay secret platform we failed spectacularly.
Luckily, we found it on the second occasion.
This Horseshoe Bay hidden spot is best enjoyed on a sunny evening with some snacks and enjoy watching the sunset or the ferries coming in and out.
Without a doubt, the Horseshoe Bay viewing platform is one of the best places to go in Vancouver for sunset.
The Horseshoe Bay platform lookout does get busy on nice evenings, so don't expect to get it completely to yourselves.
Location of the Horseshoe Bay lookout platform: Near Horseshoe Bay
4) Alley Oop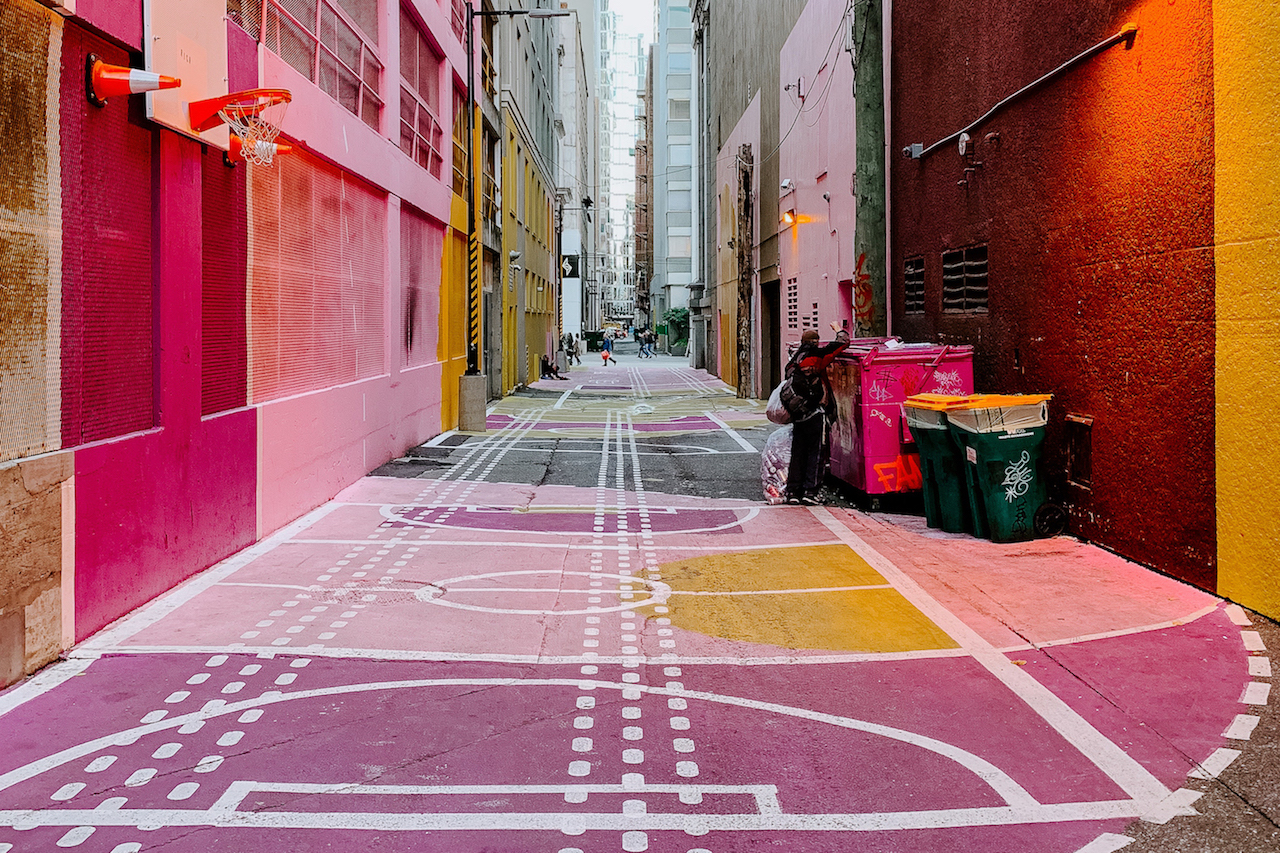 This is less of a Vancouver secret nowadays and there's even a festival held here every summer, but Alley Oop is still somewhere you're not likely to find in most Vancouver travel guides.
This brightly coloured alleyway in downtown Vancouver is an Instagram lover's dream. If you're looking for the best photo spots in Vancouver.
The walls and ground are covered in pink and yellow paint and there are basketball hoops too.
One of the top places to visit in Vancouver for something different downtown.
Location: Near Granville & Seymour Streets downtown
5) Second Narrows Bridge tree fort
One of the most unusual hidden spots in Vancouver is the Second Narrows tree fort!
This one of the hidden Vancouver spots to visit can be found near Second Narrows Bridge. Second Narrows Bridge is known by most as a busy, busy bridge with rush hour traffic in east Vancouver.
But did you know there's a tree fort here? On the south side of the bridge with views to the north, you can find a large treehouse that's a very cool place to hang out in Vancouver.
Wear sensible clothing and shoes since you'll have to climb a long wooden ladder to get up to this secret Vancouver treehouse!
6) Fraser River Park
With so much beautiful scenery nearby, it's perhaps no surprise that the Fraser River in Richmond was an area it took us longer to get around to exploring (though we'd visited Iona Beach many times).
But honestly, this place is lovely and there are plenty of open green spaces along it where you can hang out.
It's much quieter than the beaches downtown and is one of the coolest hidden parks in Vancouver.
We spent an afternoon hanging out along Fraser River Rd watching birds, the river, and walking along the beaches in Fraser River Park.
7) Secret beach hangouts
Looking for hidden gems near Vancouver, but a little out of the city? Check out this beach!
Instead of driving along the Sea to Sky right up to Squamish or Whistler, take the time to slow it down and enjoy the secret beaches and parks off of Marine Drive.
There are loads of spots around here that are great for a weekend picnic or a quiet chill-out spot.
Spending an evening here is one of my top recommendations if you're looking for the best secret things to do in Vancouver.
8) The West End gnomes
Looking for weird things to do in Vancouver? How about going on a gnome hunt? Yes, really!
There are many reasons I love the West End of Vancouver.
It's pretty, there are Stanley Park and the beaches and there are also random things like fairy houses in trees and little gnomes too.
Wander the streets of the West End and you'll come across these gnomes as well as little gardens, little libraries, and cute cafes.
I LOVE it here.
9) Arbutus Greenway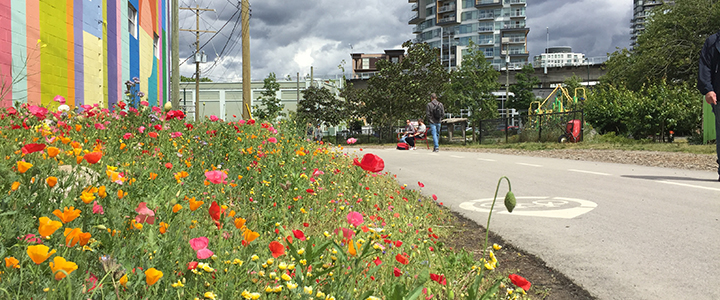 The Arbutus Greenway bike route is known to most locals but not many will have cycled the entire length of it.
The pathway used to be an old railway and now it's a great trail for walkers and cyclists that goes from near False Creek all the way to the Fraser River.
Be sure to check out the little farms along the section at West 6th Avenue!
10) Greenheart Treewalk
If you're not a student at UBC you probably don't know about the UBC Botanical Garden and the hidden gem in Vancouver that is the Greenheart Treewalk. It's possibly my favorite of the secret viewpoints in Vancouver.
The Greenheart Tree Walk at UBC is a 310-metre-long tree-top canopy walkway where you walk along the suspended walkways and tree platforms reaching 20 meters above the forest floor.
It's a great way to immerse yourself in the forest and get a new perspective and one of the cutest places to visit in Vancouver.
11) Stanley Park trails
So you might be thinking that I've got to be kidding with this suggestion but hear me out.
EVERYONE knows about Stanley Park but what most people mean when they say "Yeah, I went to Stanley Park" is "Yeah I cycled around the Stanley Park section of the seawall".
So few people make it inside the park to explore the trails and they're honestly my favorite part of this beautiful park. I still think it's one of those hidden gems in BC!
There are little streams and ponds, and so many birds, plants, and berries. It's peaceful and beautiful and definitely worthy of being called a Vancouver hidden gem!
12) Cardero Bottega
This cute little cafe is tucked away in the West End.
They do coffees, breakfasts, and lunches and have outdoor seating in the summer.
If you're visiting in the summer this is one of the coolest sights to see in Vancouver.
Location: Cardero & Nelson
13) Tuesday night drum circle
Another idea for places to visit in downtown Vancouver is the drum circle! Since 2006 people have been taking to the Third Beach in Stanley Park to hold a drum circle.
This free thing to do in Vancouver in summer happens on sunny Tuesday evenings and hundreds of people join in!
14) Cambie climbing tree
Another of the cool places to visit in Vancouver is the Cambie St climbing tree.
If you love climbing trees and are looking for a good new one to try, the Cambie Street climbing tree is a great hidden gem in Vancouver.
The branches are perfectly spaced out in such a way that it's relatively easy to get to the upper branches.
And, from there, you'll get great views of downtown Vancouver and the North Shore mountains.
Location: Near the "Queen" station of the Sky train then head South.
15) Donation only evenings at the Vancouver Art Gallery
The Vancouver Art Gallery in downtown Vancouver is not only one of the best places to visit in Vancouver for art, but it's home to one of Vancouver's best-kept secrets.
Every Tuesday evening between 5 pm – 9 pm, entrance is donation only! That means if you've been put off by entry prices, you can explore the galleries at a price that you can afford.
Location: Vancouver Art Gallery
16) Jericho Beach bunnies
When it comes to wildlife in Vancouver, it's not unusual to see a skunk or some raccoons hanging out by the Lost Lagoon.
What is more unusual is to see rabbits! In the UK I used to see rabbits and hares running across fields near home all the time, but it wasn't until recently while running along Jericho Beach that I saw rabbits here.
There's a whole load of rabbits that live in the Jericho Beach area and you can usually spot them hopping about. It's one of the cutest things to see in Vancouver!
Location: Usually near the Jericho Sailing Club
17) Main Street Murals
Every year there's a Muralfestival in Vancouver which takes place around Main Street and the surrounding side streets.
That means that every year there are more murals to discover. This is one of the best areas to find Vancouver street art.
Take a wander around the area and you're sure to find a new hidden gem in the form of a beautiful mural.
Main Street Vancouver is one of my favorite places in Vancouver to visit since it's always changing.
Location: Main Street and the side streets
18) Lighthouse Park Bunker
One of the more popular places to visit near Vancouver, Lighthouse Park in West Vancouver is known for its lighthouse and forest trails.
But, did you know about the secret Lighthouse Park bunker?
Not so many people do, making it one of the more unusual things to do in Vancouver BC.
The secret bunker at Lighthouse Park used to be home to a searchlight but now it's a little rusty and covered in graffiti.
Still, it's a cool place to check out if you're over that way.
Location: You can actually see it on Google Maps if you look closely. It's one of the best hidden photography spots Vancouver has to offer.
This guide to the best cool spots in Vancouver to visit has included a bunch of ideas for hidden viewpoints Vancouver has to offer, secret sunset spots like the bunker and the Horseshoe Bay platform, and plenty more hidden Vancouver gems that you can get out there and discover.
There are also some great West Vancouver hidden gems such as the beautiful secret beaches which are perfect for enjoying dinner, or going for a beach paddle in the ocean,
If you've enjoyed these nontouristy things to do in Vancouver BC, be sure to check out all my other Vancouver travel guides. You'll find the best things to do in each neighborhood as well as hiking guides and more!
Last Updated on October 12, 2023 by Hannah
Hannah started That Adventurer after graduating back in 2013 and has documented all of her adventures since then. From backpacking South America to city breaks in Europe, a 3 month road trip across the USA in a self-converted van and 6 years living in Canada, you'll find posts on all of this.
Hannah specialises in active travel and on That Adventurer you'll find hiking, walking, biking, skiing and all sorts of active travel guides to allow you to see a destination in an adventurous way.
Now back in Europe, you'll find new guides as Hannah and her husband spend the next year 'digital nomading' from Norway to Portugal, Switzerland to Scotland and places in between.