One of the top things to do at Mt Rainier is to take a hike. Pretty much all the hikes will offer impressive views of Mt Rainier and other mountains nearby, lots of them are also covered in wildflowers at certain times throughout the year and there are numerous clear lakes near Mt Rainier too. If you' plan to visit Mt Rainier National Park then make sure to make time for a Mt Rainier day hike. If you're looking for something longer, Mt Rainier National Park makes a great backpacking destination!
Where is Mt Rainier National Park located?
Mt Rainier National Park is in Washington State, USA. It's around 138 miles north of Portland and the distance from Seattle to Mt Rainier is between 55-90 miles depending on which of the Mt Rainier entrances you arrive at. Because of its location, it's possible to do a Mt Rainier day trip from Seattle without too much effort.
Mt Rainier National Park entrance fees
The Mt Rainier entrance fee costs $30. This gives unlimited entry for 1 vehicle over the course of seven consecutive days. If you're visiting by bike or on foot then a pass costs $15.
If you're planning on visiting a few US National Parks over the course of a year then consider buying the "America is Beautiful National Parks Pass.
You can also get an annual pass for Mt Rainier which costs $55 and is great if you think you'll be visiting the park more than once that year.
Best Mt Rainier hikes
With over 400km of maintained trails which lead through peaceful old-growth forest, river valleys and high subalpine meadows. You can immerse yourselves in the Mt Rainier forest, lakes and streams while enjoying the scents of wildflowers and the sight of ancient glaciers.
See my day hiking packing list here
Mt Rainier National Park maps
You should always carry a Mt Rainier trail map with you when hiking. While the easier, shorter hikes are usually pretty busy and well-marked this isn't always the case. The Mt Rainier Visitor Centre carrys basic trail maps but for moderate – strenuous hikes and especially backpacking, you should have your own trail map and a compass and know how to use it.
Things to consider before doing Mt Rainier National Park hikes
Best day hikes in Mt Rainier National Park
Looking for day hikes near Mt Rainier? Here are some of the best Mt Rainier day hikes with incredible views inside Mt Rainier National Park.
Easy day hikes in Mt Rainier
Whether you're short on time, visiting Mt Rainier with kids, or just fancy taking it easy, these easy day hikes in Mt Rainier National Park provide incredible views without leaving you too out of breath!
Nisqually Vista Trail
This is one of the more popular, easy trails to hike in Mt Rainier National Park. Here you can walk amongst the crowds in the Paradise Mt Rainier area. Depending on the time of year you visit you may see wildflowers and animals as well as impressive views of Mt Rainier and the Nisqually Glacier.
Distance: 1.9km (loop)
Duration: 45 mins -1 hour
Elevation: Minimal
Myrtle Falls viewpoint
This is another good option for Paradise Mt Rainier hikes. This Paradise trail takes you to the beautiful Myrtle Falls whilst providing views of Mt Rainier along the way too. If you're visiting in winter then it also makes a good snowshoeing trail and is a great hike for kids in Mt Rainier National Park.
Distance: 1.4km
Duration: 30 mins – 1 hour
Elevation: Minimal
High Lakes Loop trail
The High Lakes Loop trail is good for all hiking abilities and is near Paradise Inn in Mt Rainier. The Faraway Rock overlook has very impressive views and on a clear day, you get beautiful reflections on the lake.
Has a couple of steep inclines but nothing too strenuous.
Distance: 4km (loop)
Duration: 1-2 hours
Elevation: 157m
Dege Peak via Sourdough Ridge nature trail
This easy day hike in the Sunrise Mt Rainier area takes you through beautiful subalpine meadows with a gentle climb to a ridge top and Dege Peak. From the top, you'll have amazing views of Mount Rainier, Glacier Peak and Mount Adams.
When hiking this Mt Rainier trail make sure to stay on the trail so as to protect the fragile plants.
Distance: 5.5km
Duration: 2 hours
Elevation: 250m
Moderate to strenuous day hikes in Mt Rainier National Park
If you're a more experienced hiker looking to tackle a more difficult Mt Rainier hikes then take a look at these Mt Rainier hiking trails below.
Pinnacle Peak trail
The Pinnacle Peak is situated in the middle of the Tatoosh mountain range and has an elevation of 2,000m making it the second highest peak in the range.
This trail begins with a gradual ascent which quickly becomes steep as you reach the 1,800m saddle and the end of the trail. Keep your eyes peeled for marmots as you hike!
At the top, you'll get a close-up view of Mt Rainier and the Paradise area of the park, Mt Adams and Mt St.Helens to the south and even Oregon's Mt Hood on the horizon!
As with all hikes, always check the current Mt Rainier trail conditions and wear hiking boots as there's usually snow on this trail even in the summer
Distance: 4km
Duration: 2 hours
Elevation: 320m
Burroughs Mountain loop trail
The Burroughs Mountain loop trail is in the Sunrise area of Mt Rainier National Park. If you hike the trail in a clockwise direction you'll pass Shadow Lake and then climb steeply to an overlook on the White River and Emmons Glacier. After this section of the trail, you'll continue upwards to the wide, flat plateau of First Burroughs Mountain.
This is one of those trails with incredible views pretty much the whole way along!
Distance: 7.5km
Duration: 2.5 hours
Elevation: 274m
Tolmie Peak trail
This trail starts with driving 27km down a rough gravel road before reaching the trailhead.
You'll start along Mowich Lake before heading into the forest and slightly downhill before climbing steeply uphill to Eunice Lake. From here it's another steep climb up to Tolmie Peak Lookout where the view is well worth making the effort for. You'll get one of the best views of Mt Rainier from Tolmie Peak Lookout!
Distance: 10.5km
Duration: 3 hours
Elevation: 308m
Paradise Glacier trail
This out and back trail in Mt Rainier National Park is one of the quieter trails in Mt Rainier National Park making it a great choice if you want to escape the summer hiking crowds. Looking south from the top gives you views of Mt St Helens and Mt Adams on a clear day as well as numerous smaller peaks in every other direction.
Distance: 6.4km
Duration: 2-3 hours
Elevation: 353m
Skyline trail, Mt Rainier
The Skyline trail is a popular hiking trail in Mt Rainier National Park and is a loop which is often hiked in a clockwise direction. Along the trail you can enjoy subalpine wildflowers, a closer view of Mt Rainier and the Nisqually Glacier. On a clear day, you can also see Oregon's Mt Hood!
Distance: 9km
Duration: 4.5 hours
Elevation: 518m
Camp Muir Route via Skyline
This day hike is quite a long one and it takes you to Camp Muir which is the main base camp for those doing the Mt Rainier summit trail. This hike is only recommended for experienced hikers due to the length and elevation profile.
Distance: 15km
Duration: 4.5 hours
Elevation: 1,404m
Best Mt Rainier backpacking trails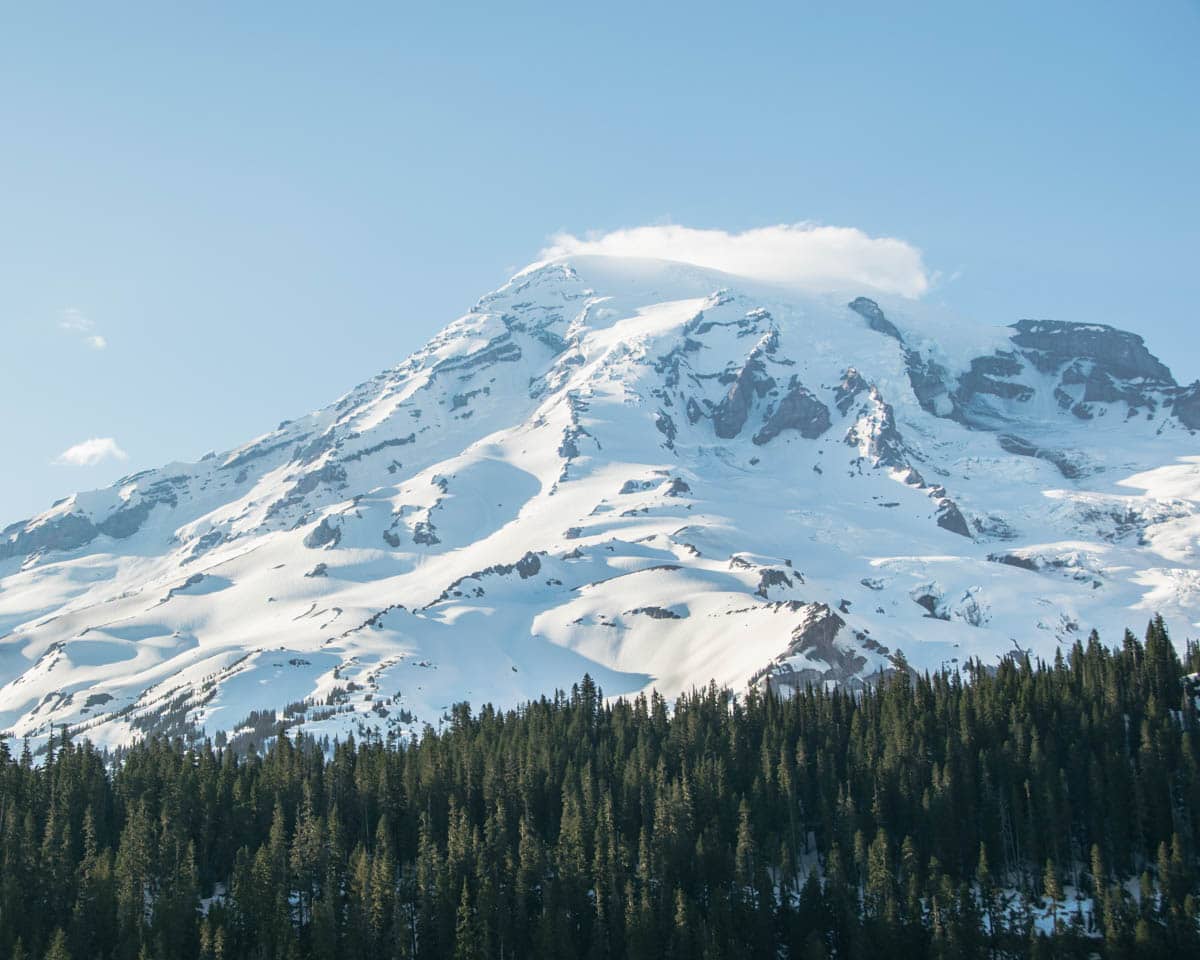 There's lots of backpacking to be done in Mt Rainier National Park but before you go, make sure you read up on the regulations regarding food storage and wilderness permits on the National Parks Service site.
Backcountry permits for Mt Rainier National Park
If you wish to explore the backcountry hiking trails in Mt Rainier National Park and do some overnight Mt Rainier camping, you'll need to get a wilderness permit.
It's recommended that you make a reservation to get a wilderness permit which reserves you a specific wilderness camping site for the night. The permits available to reserve fill up quickly during summer. About 70% of permits are allocated for reservation and 30% are kept back for first-come, first-served customers.
Reservations open in March each year and The Wonderland Trail, in particular, is extremely busy. Because of this, reservation requests are usually not accepted after 1st April.
It costs $20 to make a reservation request and this is non-refundable whether you are successful or not at securing a Mt Rainier National Park backpacking permit
You can find more information about wilderness permits for Mt Rainier here.
Backcountry hikes in Mt Rainier National Park
Here are a few popular backcountry routes in Mt Rainier National Park for some inspiration.
Wonderland trail
The Wonderland Trail is 150kms long and encircles Mount Rainier. It's a strenuous hike with lots of elevation changes through forests, valleys and high alpine and subalpine areas but it's undoubtedly one of the best hikes around Mt Rainier and one of the best hikes in Mt Rainier National Park.
You'll need to apply for a permit to do this hike and permits go very quickly. It's important to know your hiking skills and abilities when applying for a permit and before hiking this trail as you'll need to book campsites in advance.
Hiking the Wonderland trail takes around 9 days. Each day will be full of incredible views making it well worth taking the time off to do this hike!
Find out more about hiking the Wonderland trail in Mt Rainier National Park
Mt Rainier summit hike
Climbing Mt Rainier is a once in a lifetime experience for experienced mountaineers with glacier and avalanche knowledge. Reaching the top of Mt Rainier on a summit climb is usually a four-day expedition that'll push and challenge you as you climb over 2,700m to the summit of Mt Rainier.
If you're interested in doing a Mt Rainier summit hike but don't have the knowledge to hike it solo then take a look at RMI guides who run expeditions and are great Mt Rainier guides.
Mowich Lake to Mystic Lake
The Mowich Lake to Mystic Lake trail is a 36.7km backpacking trail which takes you past Mowich and Mystic lakes and offers panoramic views of Mt Rainier and the Carbon Glacier.
It's not an easy hike but it's very rewarding and you'll see the famous Spray Park, Mowich and You'll see on this hike, the famous Spray Park, Mt. Rainier up close, lakes and more.
Along the way, you'll cross a variety of terrain including the Carbon River suspension bridge which takes you over the lowest glacier in the U.S., The Carbon Glacier. Up you go again along the glacier to the beautiful meadows at Moraine Park.
More US National Park hikes