Scotland, and the highlands in particular, is famous for its numerous castles. Many of them were home to the clans that ruled Scotland getting in numerous, bloody battles several hundred years ago. Nowadays visitors to Scotland, whether history lovers or not, love exploring these beautiful castles in Scotland whether they're in ruins or have been lovingly restored.
Here is my pick of the best castles in Scotland but I'm sure there are more! Do you have a favourite?
1. Dunvegan Castle
On the northwest shore of the beautiful Isle of Skye is Dunvegan Castle. Believed to be the longest continuously inhabited castle by one family in Scotland, Dunvegan Castle has been owned and operated by the MacLeod Clan for the last 800 years!
Not only is it beautiful but it's packed full of history.
Dunvegan Castle is perched on the shores of Loch MacLeod and casts an imposing shadow. Inside the building there are relics, medals and antique furniture whilst outside there are 42,000 acres of grounds to explore! You can also take a boat trip on the loch and spot the grey seals that live there.
2. Dunnottar Castle
Dunnottar castle sits atop a cliff overlooking the northeast coast of Scotland. A medieval fortress, it's now in ruins but has a rich history and is connected to people such as William Wallace, Mary Queen of Scots and Charles II.
It's perhaps most well known as the location in which a small group held out for 8 months against Cromwell's army and succeeded in protecting the Scottish crown jewels!
If you're visiting just prepare yourselves for the step walk and the steps you need to climb to get up there.
3. Eilean Donan
Meaning 'Island of Donnan', this castle is on a small tidal island located in the western Highlands of Scotland. The castle was first founded in the 13the century and in 1719 it was partially destroyed and fell into ruin. However, after being fully restored the castle is now joined to the mainland by a bridge.
Located in the Highlands, Eilean Donan is considered one of the country's most romantic castles. It's absolutely stunning at sunset! It's also appeared in several films including Highlander and The World Is Not Enough.
4. Glamis Castle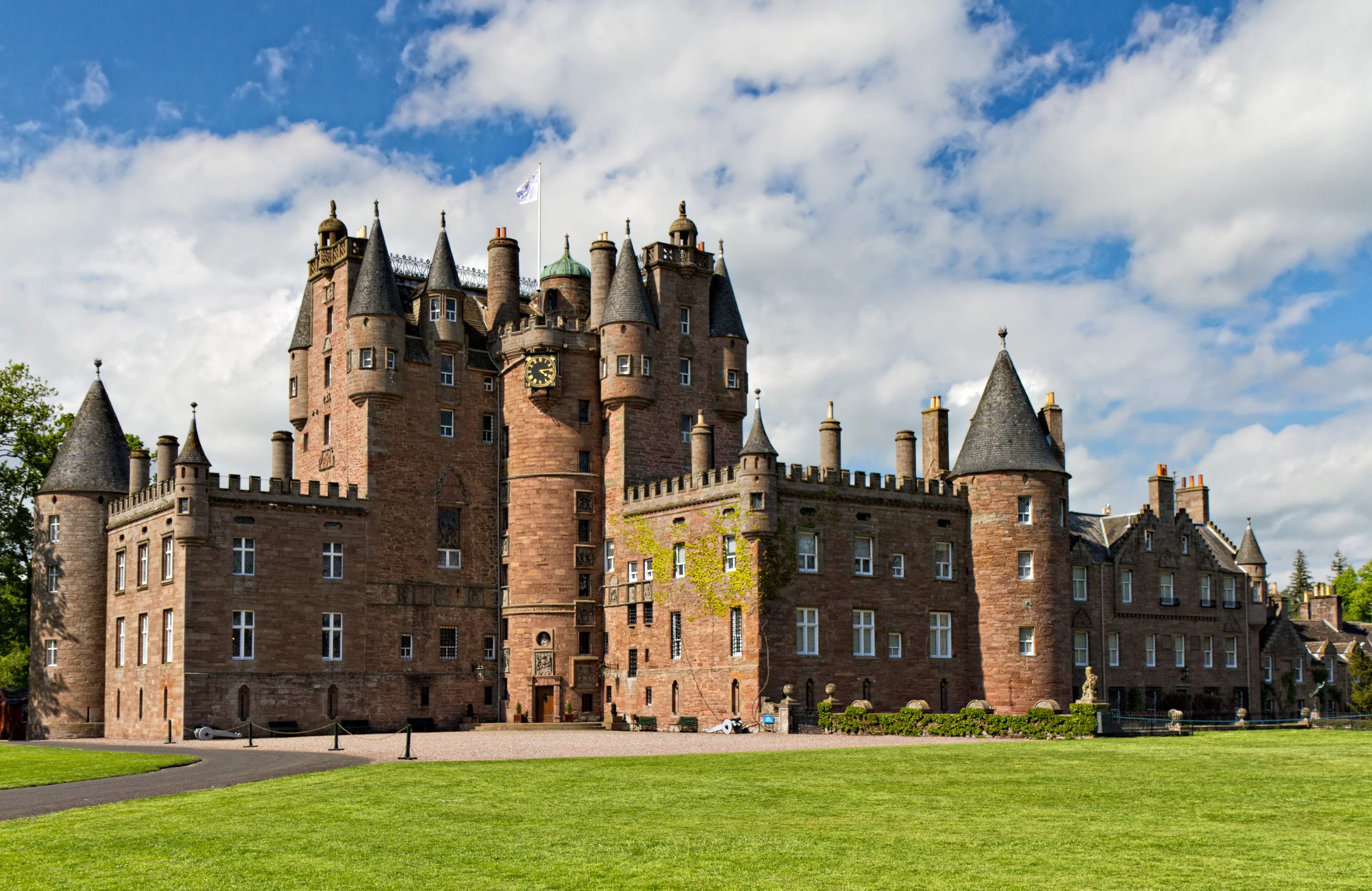 Glamis Castle is often considered to be one of Scotland's most beautiful castles. This Scottish castle has towers at the front and modern parapets and it also has a small chapel. Glamis Castles can also boast royal connections as it was the childhood home of the Queen Elizabeth's Mother and the birthplace of Princess Margaret.
5. Culzean Castle
The former home of Clan Kennedy and previous accommodation of President Eisenhower, Culzean Castle is a sight to behold. The Castle sits on the Ayrshire Coast with stunning views out to sea. The Castle has also featured on the back of the Scottish £5 note since 1987.
Now owned by The National Trust, you can book out a room to experience what it's like to live in a castle. See my experience of doing so here.
Culzean Castle is also home to one of the world's largest collections of swords and pistols. However, you may want to refrain from seeing these until after you've spent the night if you're easily scared. It's rumoured the castle is haunted and it once featured on a Most Haunted… TV show.
6. Edinburgh Castle
Undoubtedly one of Scotland's most famous castles, Edinburgh Castle dominates the city's skyline from atop an old volcano called Castle Rock.
Edinburgh castle has been in occupation since the Iron Age and has been considered a royal residency from the 12th century to the 17th century where it was then used as a military barracks. It is now one of Scotland's most visited tourist attractions with a colourful history and domineering structure.
7. Stirling Castle
Scotland's Stirling Castle is surrounded by 3 steep cliffs which helps its former inhabitants to protect the River Forth from invasion in the late 1900s. Containing a mixed history the castle has some buildings that date as far back as the 14th century but the majority of the castle was constructed in the 15th and 16th centuries.
Several Scottish Kings and Queens were crowned here including Mary, Queen of Scots. Literary buffs will be interested to find out that Stirling Castle is also famous for being the location where Robert Burns chose to write a large amount of his poetry.
8. Inveraray Castle
On the shore of Loch Fyne in western Scotland is Inveraray Castle which dates back to the 18th Century. It's considered a must see, especially if you're on Scotland's west coast. The castle took 43 years to be constructed and then fell victim to a fire in 1877. Thankfully the fire did not destroy the entire building and Inveraray Castle still retains its magnificence.
9. Balmoral Castle
What started out as a hunting lodge for King Robert II in the 14th Century became the infamous Balmoral Castle. Balmoral Castle is possibly the most famous castle Scotland has to offer (more so than Edinburgh Castle!) given that it's the preferred holiday residence of Queen Elizabeth II.
Located in Aberdeenshire the castle dates back to the 14th century where is began as a hunting lodge. Nowadays Balmoral Castle is home to a variety of landscapes and some rooms have been opened to the public when the Queen isn't in residence.
10. Urquhart Castle
Loch Ness isn't just famous for the mysterious monster that may or may not be living within it. It's also where you can see which is deeply connected to the Wars of Scottish Independence.
It's believed Urquhart Castle was once one of Scotland's largest castles but unfortunately there's really just the tower house left standing today. But let's not put it down too much. There are stunning views of Loch Ness from here and it's said that more people have seen the Loch Ness Monster from this location than any other on the loch!
11. Duart Castle
On the Isle of Mull, just off Scotland's west coast, is Duart Castle which dates back to the 13th Century. It started out as a rectangular stone wall surrounding a courtyard and transformed into a beautiful building.
The ruined castle overlooks the Sound of Mull and has been used as a film location multiple times for productions such as Entrapment. The castle is said to be the ancestral home of the Maclean family who have been working hard to restore the castle for the last 20 years.
12. Cawdor Castle
Cawdor Castle has strong links to Shakespeare's tragedy, Macbeth. However the poet and playwright's telling of Macbeth being crowned as Thane of Cawdor is pure fiction. The castle was actually built hundreds of years after the play was set.
The current home of the Dowager Duchess of Cawdor, the castle is now open to the public for several months of the year. Upon visiting you can see impressive, lived-in interiors and have access to historical rooms such as the old kitchen, a bedroom, dining and drawing room.
13. Craigievar Castle
Aberdeenshire remains the place in the United Kingdom with the highest density of castles, ruins and stately homes; the count is over 300. If you follow the designated castle trail, soon enough you'll come across Craigievar Castle.
Located in the picturesque countryside Craigievar Castle has pink-tinted stone and has more of a fairytale style. Recently restored, the castle sits between the rolling Aberdeen hills and boasts a large collection of family portraits, original plaster ceilings, Jacobean woodwork and antique furniture.
14. Drum Castle
Drum Castle near Drumoak in Aberdeenshire was home to the chief of the Clan Irvine for centuries. The original 13th century tower of Drum Castle is believed to be one of the three oldest tower houses in Scotland (and notably unaltered).
Today, the castle is owned by the National Trust and is open during the summer months. Many visitors enjoy strolling in Drum Castle's gardens, which include a rose garden and arboretum containing trees from all regions of the 18th century British Empire.