I've quickly learnt that Hawaii is one of the main getaways for Vancouverites. It's not too far away from here and it guarantees some sunshine to escape the Vancouver rain. Not only is Hawaii an adventurers' playground full of volcanoes, mountains and beaches but there are a tonne of gorgeous holidays homes in Hawaii (think pools and palms) which makes a change from Vancouver's high rise apartment blocks.
Of the eight main islands that make up Hawaii, Kauai is usually deemed the best for hiking adventures. It's even called the 'Garden Island' thanks to the emerald valleys, mountain spires, waterfalls, rivers and cliffs that cover the island. Some parts of the island are only accessible by sea or air. It's because of this that it's one of the lesser developed islands in Hawaii.
If you're planning on visit Hawaii head to the 'Garden Island' and try some of the best hikes in Kauai.
Kuilau Ridge Trail
The Kuilau Ridge Trail is one of the best hikes in Kauai. Not only is it fairly short (especially compared to some of the hikes in Hawaii), but the views are beautiful.
From the trailhead at the end of Kuamoo Road at Keahua Arboretum, you'll ascend gradually on the east side of the Makaleha Mountains. The start takes you along the tracks of an old forest road and opens up to views of Mount Waialeale. You can also see Mount Nounou which is more commonly called "Sleeping Giant" thanks to the ridgeline's similarity to a sleeping body.
Towards the end of the trail there's an ironwood grove with incredible views of the Makaleha range's highest peak: Kapehuaala. I hope you remembered to pack a lunch as this is a beautiful spot for a picnic!
Head back the way you came and, if you have time, take a dip in the cool waters of the Keahua stream to wash off that trail grime.
Distance: 4.5 mile round trip
Time: 2.5 hours
Difficulty: Easy/moderate
Trailhead: End of Kuamoo Road at Keahua Arboretum
Hanakapiai Falls Trail
This hike features amongst the best hikes in Kauai as it gives you the chance to get a taste of the multi-day Kalalau Trail even when you're short on time.
This Hanakapiai Falls trail begins on the Kalalau trail for two miles before taking a turn inland at Hanakapiai Beach. Hike this trail in summer when Hanakapiai Beach is all white sand for the best views! From here you'll hike into the valley forest which is super muddy but the end result is just what you'd expect of one of the best hikes in Kauai. You'll come face to face with green cliffs of more than 2,000ft high and see the beautiful 300ft Hanakapiai Falls!
Distance: 8 mile round trip
Time: allow up to 12 hours
Difficulty: Easy/moderate
Trailhead: End of Kuhio Highway (Route 560) at Kee Beach
Awaawapuhi Trail
The Awaawaphuhi trail hike takes you through a wind and mist chilled forest canopy before coming out at the top of a Napali coast cliff face. From here you'll be able to see the depths of the Awaawaphuhi and Nualolo Valleys and the Pacific Ocean.
You'll gain a pretty impressive 1,600ft as you hike but make time to stop on the way to see dozens of species of endemic Hawaii rainforest flora.
Distance: 6.5 mile round trip
Time: 3-5 hours
Difficulty: Moderate
Trailhead: Off Kokee Road (Route 55) in Kokee State Park, just after mile marker 17
Kalalau Trail
You can't write about the best hikes in Kauai without including the Kalalau trail. This is perhaps the most popular backpacking trail in Hawaii!
It gives you the chance to explore the stunning Napali Coast as you climb cliffs, cross beaches and pass five valeys from Kee Beach to end-of-trail Kalalau Beach and Valley.
You need at least two days to trek the entirety of the Kalalau Trail (one to hike in, one to hike out) and a camping permit too from the Division of State Parks (hawaiistateparks.org), but it's totally worth it!
Distance: 22 mile round trip
Time: At least two days
Difficulty: Hard
Trailhead: End of Kuhio Highway (Route 560) at Kee Beach
Hoopii Falls
If you want a hike in Kauai that takes you to some beautiful waterfalls, this hike is for you. The trail head isn't exactly well marked but it is now on Google which makes things a little easier!
It's a relatively short hike that takes you along the Kapa'a Stream and up close to two waterfalls which are both known as Ho'opi'i Falls. You'll hear the upper Hoopii Falls before you see it crashing down in front of you!
Distance: 2.2 mile
Time: 2 hours
Difficulty: Easy (but navigation can be hard)
Trailhead: In a residential area – pay attention to private property & parking signs
Sleeping Giant (Nounou) trail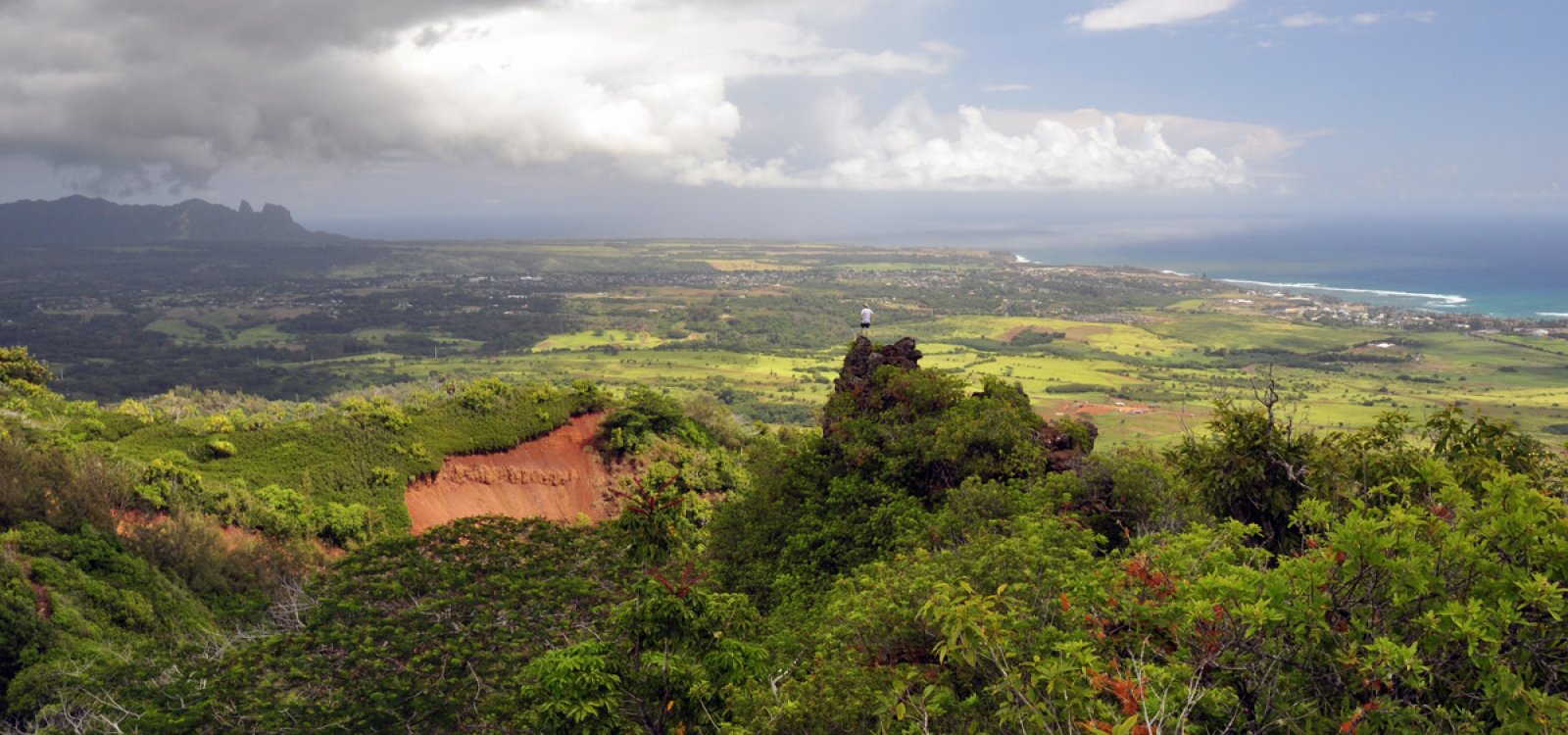 One of Kauai's landmarks, the Sleeping Giant mountain, is a must climb when you're staying in Kauai. This hike takes you across the chest of the Sleeping Giant himself. It begins with several switchbacks through a forest of guava and ironwood. As you continue you'll get stunning views of Kapaa and Waipouli.
At one point in the trail you hike over some lava outcropping and then begin some more switchbacks up the mountain with views of Kalepa Ridge, Wailua Bay, and the Hoary Head Mountains. At the top you'll find that the giant's head is the only thing that stands between you and a 360° view of Kauai. If you are very sure footed, you can hike onward via a brief but very precarious trail onto the Sleeping Giant's face! The path is very narrow though so be extremely careful!
Distance: 4 miles
Time: 2-5 hours
Difficulty: Easy/Moderate
Trailhead: Top of Haleilo Road near the water pump station
*This post was written in collaboration with luxuryretreats.com