This post may contain affiliate links. This means that if you click an affiliate link and buy something, that website will give me a tiny bit of money to say thanks for sending you to them. There is NO extra cost to you at all.
I hadn't even heard of Key West and the Florida Keys until about 18 months ago when, at a blogging conference, there was a PR rep for the area. It looked amazing. Clear blue waters glistening in the sunshine and plenty of colourful fish swimming about in the warm waters of the Gulf of Mexico.
What I hadn't appreciated was that the drive down Hwy 1 to Key West was just as spectacular as the destination. As you leave mainland Florida 113 miles of road lay ahead of you until you reach Key West. At Key West you're so far south you're actually closer to Cuba than you are to the USA!
There are turquoise waters either side of the road, palm trees and the occasional turtle crossing the road along the drive. This adds up to make it pretty spectacular to drive.
It's essential that you stop off pretty regularly along the road. Sure it makes the drive longer, but you can't afford to miss the views! Fortunately, stopping on the side of the road is easy on Hwy1 as there are plenty of little lay-bys in which to stop the car and get your camera out.
I've listed my favourite stop offs from our drive down the Florida Keys below.
John Pennekamp Coral Reef State Park
This is one of the first places you'll come across as you leave mainland Florida and begin the drive down to Key West. The John Pennekamp Coral Reef State Park was the first undersea park in the whole of the United States. Together with the Florida Keys National Marine Sanctuary next to the park, there are 178 nautical square miles of coral reefs, seagrass beds and mangrove swamps. It's also the ONLY living coral reef in Continental US.
It costs $9 per vehicle (based on 2-4 people per car) to enter the park. With that ticket you can come and go all day (although if it's too busy you'll be refused reentry).
Once you're there you can enjoy snorkelling, swimming, go scuba diving, take a wildlife hike or simply relax.
Good to know: These aren't golden sand beaches so be prepared for rocks!
Seven Mile Bridge
Just after the 7 mile bridge (if you're heading south) is a parking space where you can get great views of both the new and old bridge that ferry people across the various islands of Florida Keys.
The old bridge was destroyed in a storm but part of it still stands. You can walk along this for about half a mile out into the ocean, if you wish.
View of the Old Bridge
For an even more impressive view, carry on driving for about 5 minutes south until you se the old bridge again on your left. There's a parking spot to the left of the road. From here, take a short walk to the cliff which the old bridge used to attach to.
A few metres in front of you you'll see what's left of the old bridge. It's so close you could almost touch it! But I recommend you don't!
Additional Stops (Places I researched but didn't end up stopping at)
Anne's Beach
Just at the end of Lower Matecumbe Key is Anne's Beach. This Beach is more sandy than those at the John Pennekamp Reserve and you can relax under the canopy created by the mangroves and take a short walk along the sea or on a nature trail.
It would be better to visit this fairly early on in the day as parking is said to be limited.
Long Key State Park
Long Key State Park at mile market 67.5 was once the home of a luxury resort. The resort was destroyed during a hurricane in 1935 and it was never reopened. Whilst you can't stay in luxury here anymore, you can camp over night at the campground. Or, if it's just a day trip you're after, go fishing, hike, kayak, swim, snorkel, bird watch, or picnic!
Bahia Honda State Park
At mile marker 37 in the Florida Keys is Bahia Honda State Park. The park is made up of over 500 acres and some offshore islands. The islands are said to be home to some of the best snorkelling and beach combing in all of Florida. By this point a lot of people have whizzed on down to Key West, so it's a bit quieter than some of the other stops too!
Fort Zachary Taylor Historic State Park
Florida's southernmost state park, Fort Zachary Taylor Historic State Park was originally built for defence purposes but is now popular with tourists to Florida Keys. You can take a guided tour of the fort or enjoy the beach and bicycling within the park.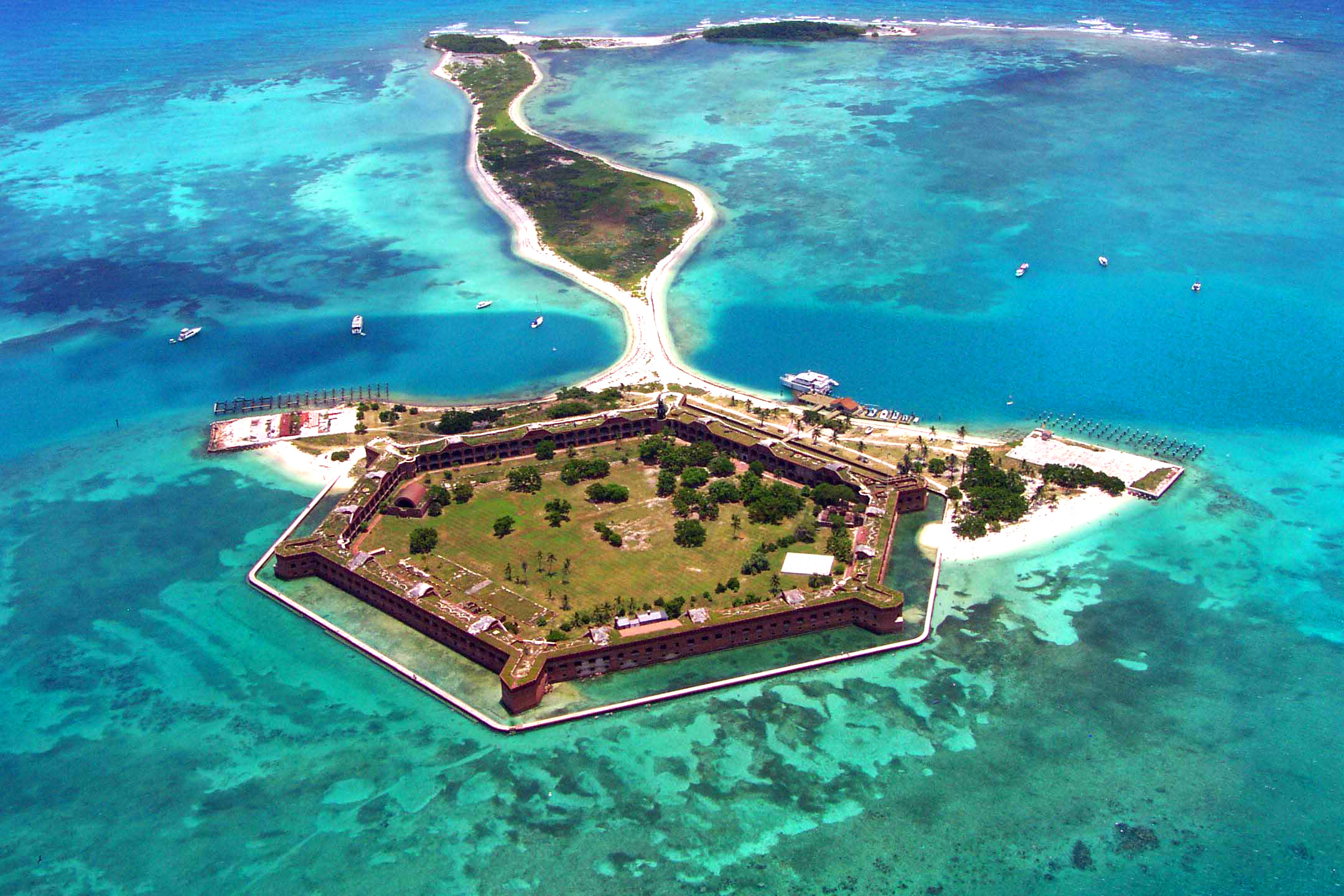 Dry Tortugas National Park
Almost 70 miles west of Key West is the very remote Dry Tortugas National Park. At a whopping 100-square miles, this huge park has plenty of open water with 7 small islands to explore. You can't drive to this one though, you'll have to park your car up in Key West! Take a boat or a seaplane and explore Fort Jefferson, the picturesque blue waters and incredible coral reefs and marine life.