I've mentioned before that I've been keeping travel journals on every big backpacking trip since the age of 14 and travel journal prompts really help in knowing what to write. The first one was during my week hiking in the mountains of Turkey.
Since then I've documented 3 months around South America, a month in the Indian Himalayas and 2 weeks on the Trans Siberian Railway. Even though I've been running this blog since 2014, I still keep a separate travel journal from my big trips and I usually make a travel scrapbook too. The next one I'm planning will detail our Vancouver/Canada adventures such as our Banff and jasper road trip from Vancouver as well as just our life here and the cool spots we've found.
I love having these and although reading back through my journal is sometimes a bit cringy, it's funny to be reminded of things I'd forgotten about, or see what I thought was important to document at the time (usually it's the food I ate…).
If you're looking to start a travel journal and are looking for travel journal examples or are wondering how to make a travel journal then you're in the right place!
I've included some useful travel writing prompts that will help you document your journeys. Whether you plan to use these travel journal ideas as prompts to write a fuller article, or just to jog your memory when looking back, I hope you find them useful.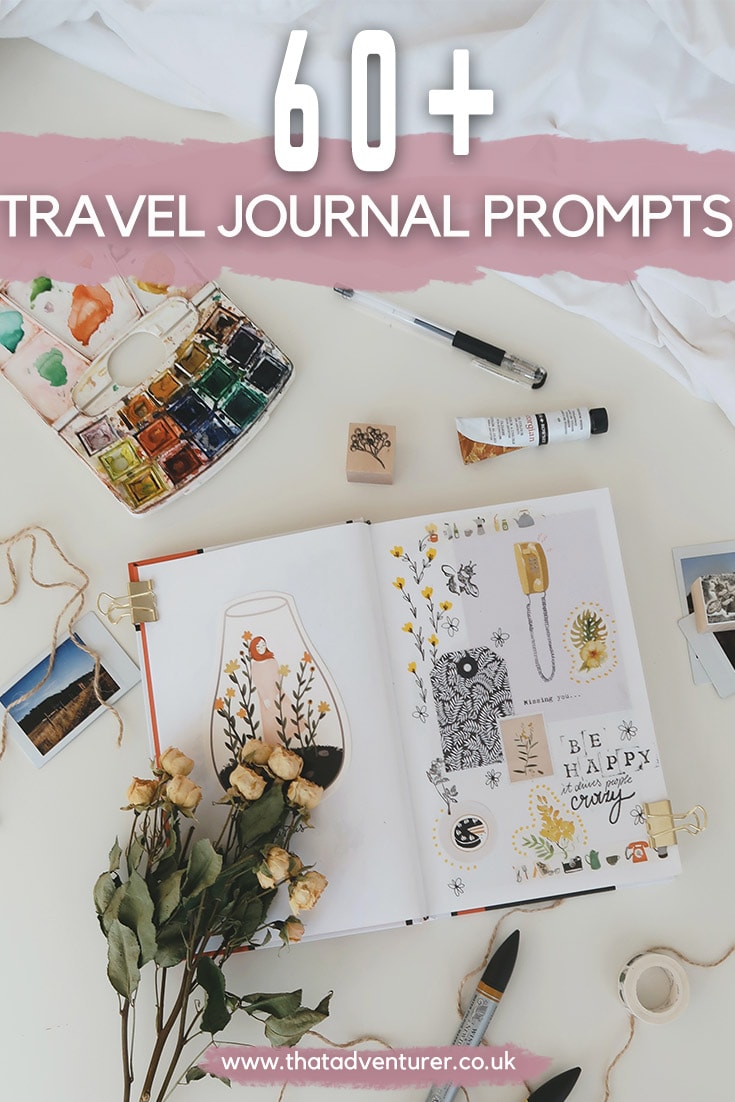 Travel journal prompts
Keeping a travel journal is different for everyone. Perhaps you have a bullet journal that you want to write about your journey in, or maybe you want to keep a journal specifically for this trip. It doesn't matter what you use (but I've listed some great travel journals with prompts prewritten inside below).
What matters is that you stick to it so that you don't come back from travelling with only one thing written in it – that's not much of a travel journal now, is it?
I find that writing before I go to bed, or first thing in the morning is an easy habit to stick to. Sometimes I'll forget or just won't find the time, and in that case, I'll catch up while on a long train journey or bus trip.
This means my writing is usually a little skew-if but I think that adds to the personality of the travel journal and makes it special. There's no correct way when it comes to how to set up a travel journal, but this post may help.
These travel journal prompts and travel writing ideas will help you think of what to write before, during and after your trip. You by no means need to include them all, just see which ones inspire you to write.
They may even make you think of including something else which I haven't mentioned. But, above all, have fun writing; a travel journal truly is the best souvenir.
Need a travel journal? Check out these travel journals!
If you don't own something you could use as a travel journal (really it can be any old notepad!), or you just want a nice new one, check out these travel notepads including a travel journal with prompts already included!
Before you go travelling
If you use a travel journal to plan your adventure or keep a travel bullet journal, then you can include some journalling in that before you leave. I like to write packing lists and lists of things to do in my journal before I go. If you're stuck on how to write a travel journal these travel journal ideas of what to include before you leave for your trip should help.
What are your expectations for this experience?

What's your must-do list for this destination?
What part of this trip have you enjoyed planning for the most?
Have there been any pre-trip disasters? (visa issues, packing problems?)
Why did you choose this destination?
Are you worried about anything?
What advice have you come across about your destination?
What have you had to do to prepare? (vaccinations, new gear?)
What are you most excited about?
What

souvenir do you want to bring home?

What do you want to learn about during this adventure?
How have you saved up for this trip?
What are some interesting facts you have researched about your destination?
What do you need to pack?
What have you had to book in advance? (hotels, flights, transport?)
What food are you excited to try on my trip?
If there's a new language, write down some common phrases you'll need to use.
What to write in a travel journal while travelling
This is usually going to be the biggest section of your travel journal, especially if you're keeping a travel diary during a big backpacking adventure. Remember to try and write things down soon after the fact – it's surprising how quickly you forget things!
What happened today?
Record timings during travel days (if you're spending a day taking buses, write what time you had to get up, how long the bus was, what times it stopped)
Write down the cost of things (Activities, accommodation, transport and food)
What did you buy today?
Do you have any regrets? (Did you pack too much/not enough? Is there anything you wish you'd had more time for?)
List everything you lost during the trip (hopefully this list isn't super long!)
Is there anything you're missing from home? What is it? Sometimes it's surprising!
How have your expectations differed from reality?
Document the plants and wildlife you've seen, especially if they differ from home.
Write the highs and lows of each day.
Keep track of the books you've read and any movies you watched.
Write about interactions you've had with others (was it in another language? Could you understand? What did you talk about?)
Bullet point your typical day (when do you usually wake up, what do you eat, how did you travel and how much money did you spend?)
Have there been any major news events either where you are or back at home?
Keep track of the weather (you could draw this at the top of each entry daily)
Document your feelings.
What words have you learnt? Even if it's the same language, what words are new to you?
People watch and notice things about the locals (what are they happy to see or what do they eat? What are they talking about?)
Interview your travel partner (how are they feeling? what's been their best memory so far?)
Don't forget to include the lows, they're some of the best stories in the end!
What type of music did you hear (did you like it? Who was the band? What instruments were used?)
Did you see something unusual (people dancing in the streets, a funny mode of transport?)
Add drawings to illustrate your journalling. I can't draw well but it's fun to try!
What are you wearing each day and why? (Perhaps you're wearing modest clothing, a big chunky sweater in cold climates or something else)
Write about something new you've tried whether food or an activity.
What have you been eating, is it different to back home? See if you can find out how it's made. In Peru we watched the chef make some milkshakes we'd spent a week enjoying, I got the recipe and wrote about it here!
What was the first thing you noticed upon arriving? (Were you hit by the heat? The different styles of clothing? Smells? Crowds of people?)
Consider the senses and write about them. What do you remember feeling, seeing, touching, smelling or hearing?
Write down some interesting facts or history about your destination.
Keep ticket stubs from your travels (transport tickets, attractions and more) and keep them amongst the pages of your travel journal.
Prompts for travel writing after the journey
I don't often write in my travel journal once I've returned home, but I have done on occasion. Especially when I returned from South America and experienced a bit of reverse culture shock after being away from home for three months! Use these travel prompts to reflect on your travels and what it's like to be home.
Write about coming home. What was it like, what were you grateful to get back to?
What are your 10 ten things you'd recommend to someone else planning a similar trip?
Do a comparison of your expectations vs reality.
What was the funniest/scariest/best moment from your trip?
Where was your favourite place?
What food did you most enjoy while travelling?
What was one thing you wish you'd done but didn't get to do?
Did you learn something about the destination, yourself, or both?
Was there anything you missed from home while travelling?
How did you feel about coming home? Were you excited or sad?
Do you have any advice for yourself before going away again?
If you returned, what one place would you definitely go back to?
Were you pleased with your planning, or would you change something in your itinerary?
Where do you want to go next and why?
Is there a new food, or tradition from the trip that you are going to bring into your everyday life?
Travel journal examples
If you're still stuck on what a travel journal might look like, check out these travel journal examples. They're also useful as even more travel journal writing prompts.