No matter how long you're visiting Vancouver for you should definitely make time for a trip with plenty of stops on BC's Sea to Sky Highway. Otherwise known as the 99, this route winds it's way up from sea level in Vancouver to the mountains of Whistler. It's absolutely stunning and there are beautiful vistas or Howe Sound, the islands and forests.
Not only is it a beautiful drive, but there are also plenty of places to stop off at between Vancouver and Whistler. Here are some of the best places to stop on BC's Sea to Sky Highway.
Where to stop on BC'S Sea to Sky Highway
Vancouver
My home. Since you'll likely be starting your trip on the Sea to Sky highway in Vancouver, you may as well spend some time exploring the city!
I'd recommend you visit; Gastown which is the oldest part of Vancouver, Yaletown if you want some fancy juices, Sunset Beach and English Bay, Granville Island and, of course, Stanley Park (see below).
Looking for more Vancouver travel ideas? Look no further!
Stanley Park
At just over 1,000 acres (1,001!), Stanley Park is one of Vancouver's top attractions. It's home to about 1/2 a million trees, many of which have been around for hundreds and hundreds of years.
It's a great place to explore, have a picnic or relax on one of the beaches with a good book. I recommend hiring a bike from one of the places on nearby Denman Street and cycling around the Sea Wall (anti-clockwise!) to take in views of Lions Gate Bridge, West Vancouver and, on a clear day, Vancouver Island.
Check out these posts on things to do in Stanley Park
Lions Gate Bridge
You'll drive over Lions Gate Bridge as you leave Vancouver and start your journey up to Whistler. Lions Gate Bridge is Vancouver's answer to the Golden Gate Bridge and is impressive whatever time of day you travel over it (although maybe not so much at rush hour, or the Sunday evening gridlock).
If you're the passenger on this road trip then definitely make sure to enjoy the impressive views on either side!
Ambleside Park, West Vancouver
West Vancouver is home to fancy houses and some of the best views of Vancouver, Stanley Park and Lions Gate Bridge that you'll find. Head down to Ambleside Park for an evening stroll. Take a dip in the water and keep your eyes peeled for beavers – we've seen a few here at sunset!
Lighthouse Park
When I took Thom on the seaplane for his birthday we spotted this lighthouse from the air. Then we researched how to get to it. It turns out it's pretty easy since the lighthouse forms part of a park in West Vancouver.
The park is free to explore and has plenty of wooded trails. Whilst you can't get close to the lighthouse there are several parts where the trails open up and give you views of the lighthouse and across the waters to Vancouver.
Kew Beach Park
There's not much to do here exactly other than take in the views. On a clear day you can see over to Vancouver and Bowen Island. When we stopped off here there were a few people scuba diving so if you have the kit then dive right on in!
Horseshoe Bay
Horseshoe Bay is the main port for getting the ferry over to Vancouver Island. There's a few shops and places to grab some food (mainly fish and chips!). It's nice for an hour or so watching the ferries come and go and admiring the beautiful scenes at the bay.
Whytecliff Park
Slightly to the west of Horseshoe bay is Whytecliffe Park. It's a free, provincial park and has a few trails in the woods, a small beach and is very popular with boaters on a nice day. It's a great spot for a picnic lunch!
Porteau Cove
Porteau Cove is beautiful especially in the winter when the clouds roll in creating mesmerising scenes. Pull over your car and take in the views before continuing on north to your next stop on BC's Sea to Sky Highway.
Shannon Falls
Shannon Falls are the third tallest waterfalls in the whole of British Columbia. There's a short, paved and easily accessible trail to a viewing point for the falls. Parking is free but you may have to wait a few minutes to get a spot. Luckily, since if doesn't take too long to see, cars leave fairly regularly.
Sea to Sky Gondola
Just 2km from Shannon Falls is the Sea to Sky Gondola. Although it's a little pricy it's worth doing if you've never done it before.
From the gondola you'll get sweeping views of Howe Sound, coastal forest and mountains. Once you're at the top there's plenty more adventure to have. You could go hiking, take on the Sky Pilot Suspension Bridge, try rock climbing and much more!
Stawamus Chief
The Stawamus Chief is the name given to the rock that towers above the town of Squamish. You'll get views of Howe Sound and the mountains in Garibaldi Provincial Park. If you're super keen to get lots of hiking in you can complete all three peaks of the Chief in a day or just do the shorter trip to the South Peak.
The best views are at sunset or sunrise when the light is less harsh but just remember to pack a torch if you're planning on hiking back down after sunset!
Squamish
Squamish is known as a town for adventurers. It's a great base for a fun weekend as there's plenty of mountain biking, hiking, climbing and kayaking to be done.
Alice Lake Provincial Park
Alice Lake is a great place for camping swimming, fishing and hiking. The four lakes; Stump, Fawn, Edith and Alice are connected by a pretty trail that's not too strenuous. There's also a large beach area and camping spaces – just make sure you reserve in advance to secure a spot!
Garibaldi Lake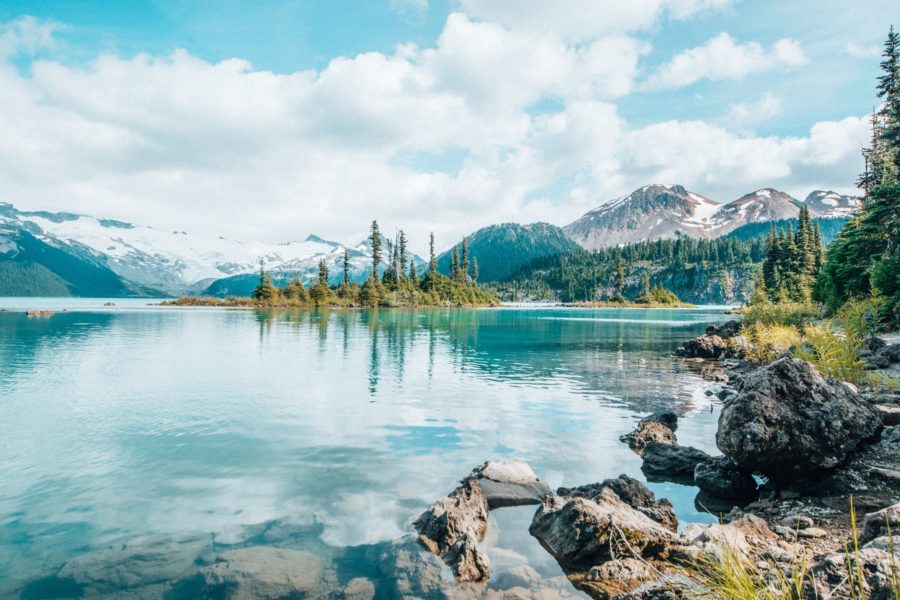 This lake is stunning. Seriously. Whilst it's a pretty tough hike (involving about 6km or uphill slog) the views are more than worth it.
Read my guide to hiking Garibaldi Lake here.
You can make a weekend of it by camping up by the lake (make sure to reserve!), or give yourself about 6-8 hours for the round trip hike if you don't want to camp overnight.
Brandywine Falls Provincial Park
Brandywine Falls is a perfect stop on BC's Sea to Sky Highway. It's a short 0.5km walk from the car park where you'll cross a covered wooden bridge and train tracks before seeing Brandywine Falls in front of you. The falls drop from a height of about 70m so whilst it's not the tallest waterfall you'll even see, it's still pretty to look at.
Whistler Train Wreck
Just outside of the Function Junction part of Whistler is the Whistler Train Wreck. A short walk through the forest and over (another) suspension bridge and you'll arrive at the train wrecks.
These colour carriages are thought to have been here for a few decades. They're now covered in graffiti and make interesting photo subjects!
Whistler
Whistler isn't all about the skiing. It's a pretty large town in its own right with plenty of shops, cafes and restaurants. In the summer many people visit Whistler for the mountain biking and hiking.
However, there are plenty of festivals and events happening to that'll keep you entertained.
Whistler isn't the place to go if you're looking for a quiet, hidden resort: it's large and noisy. But you've got to see it at least once! And hey, at least you can get a tasty meal after your drive and hikes around some of the best stops on BC's Sea to Sky highway!
Extend your drive
If you want to carry on driving past Whistler here are some pretty nearby stops that are worth the extra miles.
Nairn Falls Provincial Park
Just 20km north of Whistler is Nairn Falls Provincial Park. The main attraction here is the 60m waterfalls but you'll find plenty of hiking and mountain biking trails nearby too.
Pemberton
Despite being so close to the mammoth resort that is Whistler, Pemberton still retains an outdoorsy, small town feel. If you fancy staying somewhere quieter and more charming than Whistler on your journey of the Sea to Sky highway then Pemberton is a great choice.
Joffre Lakes
Joffre Lakes is one of those incredibly blue-green lakes that seem to exist only in Canada. The round tip hike is about 10km and, compared to some of the hikes nearby, it's not too tough!
It's worth a visit if you're looking for something a bit easier than Garibaldi but with equally impressive views.