I've been lucky enough to spend many family holidays in Italy and ticked off some of the items on this Italy bucket list. We started off camping in Italy and then progressed to hiring out a Tuscan villa. During our Italy vacations, we'd spend days travelling to Italian towns, cities and hilltop villages tasting parmesan and olive oil and (when I was older) the wines. I've put together this Italian bucket list full of amazing things to do in Italy. Of course, there's much more to do than this in Italy, but these are some of the highlights of a great Italy trip.
Italy bucket list
This Italy travel bucket list covers many of the most popular things to do in Italy as well as a few lesser know places to visit in Italy. Some I've done and others I haven't. But rest assured, next time I visit Italy they'll be getting ticked off.
I hope you enjoy this bucket list for Italy!
Visit the Colosseum
Everyone's first trip to Italy should include a trip to the country's capital: Rome. This city is packed full of history and perhaps one of the most famous parts of this history is the Colosseum. The Colosseum in Rome is one of the must-dos in Italy. You can view it from the outside and see the 'gladiators' posing for photos, or buy a ticket for a tour inside the Colosseum to feel like a Roman gladiator yourself.
Buy a walking tour ticket of the Colosseum!
Explore the beautiful hilltop towns of Tuscany
Tuscany is one of the most beautiful regions in all of Italy. This area is full of old hilltop towns with cobbled streets and castles as well as delicious wine and food. Spend a few days discovering these beautiful hilltop towns in Italy.
Wander around the colourful Cinque Terre
The area known as Cinque Terre is made up of 5 centuries-old seaside villages set into the rugged coastline of the Italian Riviera. Each of the villages has colourful houses and harbours full of fishing boats that just makes it incredibly picturesque and an absolute must-visit in Italy.
Spend a few days in Lake Como
Lake Como is a relaxing place to stay not far from the city of Milan. The lake is gorgeous, there are luxurious hotels and spas around it and you can either sit by the lake, or take boats across it.
Check out this post of the best things to do in Lake Como!
See the ruins of Pompeii
One of my first memories of my first ever holiday abroad was wandering the ruins of Pompeii. This was back in the day that they actually let you wander into the houses rather than keep you behind a rope. Visiting the ruins of Pompeii is both fascinating and emotional but I highly recommend it as one of the top things to do in Italy.
Get advance tickets or tours from archaeologists!
See the
historic Trulli homes of

Alberobello in Puglia
These beautiful historic houses are truly unique. So unique in fact that they're been designated a UNESCO World Heritage Site; one of many throughout Italy!
Visit Venice
Venice is another must-visit city for your Italy bucket list. This city is built on over 100 small islands in a lagoon in the Adriatic Sea in north east Italy. There are no roads in Venice, just canals and the maze of streets is fun to explore. Some of the things to add to your Venice bucket list include: taking a gondola ride and visiting the piazza!
Spend autumn hiking in the Dolomites
The Dolomites in Italy are beautiful at any time of the year but the colours truly come alive in autumn.
Eat SO much gelato
Italy is famous for its ice cream and for good reason. The only downside is HOW to choose which flavour to try!?
Finish dinners with a taste of limoncello
Another Italian treat is limoncello. This lemony tasting liquor is absolutely delicious as an after-dinner tipple.
Visit the Blue Grotto in Capri
Capri's Blue Grotto is a sea cave on the coast of the island of Capri in southern Italy. As sunlight passes through the underwater cave, it shines through the seawater and creates a stunning blue reflection that lights up the cave.
Get tickets for a boat trip to the Blue Grotto!
Ski powder in the Italian Alps
I feel as though the Italian Alps are often overlooked when it comes to skiing with many skiers sticking to France or Austria. However, the Italian Alps are home to some great powder skiing that you should check out!
Soak in the hot springs in Saturnia
Saturnia in Tuscany has some beautiful hot springs that are a relaxing way to pass an afternoon. They're just two hours south of Siena by car so definitely do-able as a day trip from Siena!
Hike to the top of Mt Vesuvius
Another of my early Italy holiday memories is hiking up Mt Vesuvius when I was about 6. I didn't make it to the top (I blame the heat and the unsuitable shoes!), but my younger sister and Dad did. We still joke about her being super impressed by the "hotness" coming out of the volcano's crater.
Next time I'm in the Naples area I'll be reaching the top!
Book a tour in the Vesuvius area.
Go hiking in the Alpe di Siusi
Also in the Dolomites mountain range, the Alpe di Siusi plateau in South Tyrol is stunning and perfect for hiking. Plan a multi-day hike stopping off at the refugios for the night.
Take a scenic drive through Tuscany's Val d'Orcia
Perhaps the most scenic drive you can take in Italy, a drive through the stunning hills of Tuscany's Val d'Orcia should feature on everyone's Tuscany bucket list.
Explore the island of Capri
The island of Capri Capri in the Bay of Naples is famed for its rugged landscape, luxury hotels and shopping. It's the perfect place for a sun-soaked getaway or to try some sailing.
Go shopping in the markets of Florence
Add shopping to your Florence bucket list!
There are many markets in Florence whether you're looking for food or clothes. Perhaps one of the most famous markets is the leather market where you can get all sorts of leather goods from bags to shoes. Splash out on some real Italian leather that will last you for years to come!
Watch the Palio di Siena
The beautiful city of Siena has a major event that takes place every year: the Palio di Siena. During this event, hundreds of horses and their riders race in circles around the centre of the city.
It's an unusual horse race to watch and tickets to see it sell out super quick. It's a great option if you're looking for unique things to do in Italy.
Even if you don't visit during the race, you'll see plenty of postcards and pictures of it as you wander around the streets and shops.
Toss a coin in the Trevi Fountain
The Trevi Fountain in Rome has recently undergone renovations to be restored in all its beauty. It's tradition to throw a coin into the Trevi Fountain and make a wish and you shouldn't mess with tradition! Definitely add this to your Rome bucket list.
Take the Capri chairlift
Ride the chairlift in Capri to the top for 10 euros. You'll be treated to spectacular views from the top and as well as great views the entire ride up.
See Florence's Santa Maria del Fiore
Often said to be one of the most beautiful cathedrals in Itlay, Florence's Santa Maria del Fiore is extremely impressive. Built with a gothic style, the orange roof and the striped walls are incredible to see in person.
Hire a Vespa on the Amalfi Coast
Where else can you ride a Vespa if not in Italy? Rent a Vespa and take a trip down the Amalfi Coast; stopping off to admire the coastal views of this beautiful part of Italy. It's certainly a cool thing to do in Italy.
Eat your weight in pizza
Pizza! If that's not a great reason for visiting Italy, I don't know what is. Naples is said to be the birthplace of pizza but you'll find great pizza through the country.
Top tip: Don't eat in the restaurants surrounding popular tourists attractions. Instead, wander a few streets back from these to find better, cheaper Italian food.
Visit the Uffizi Gallery in Florence
The Uffizi Gallery in Florence is perhaps one of the most famous art galleries in the world. Home to many world-famous paintings and sculptures, you could spend days wandering this gallery.
Make sure to book your ticket in advance!
Explore Roman architecture in Fiesole
Just outside of Florence, and easily accessible by public transport, the town of Fiesole is well worth a visit for its ancient architecture and great views of the city of Florence.
Snap photos with the Leaning Tower of Pisa
You know what type of photo I mean! Either one where you're 'holding up' the tower, or one where you're emulating the lean.
Get tours and tickets for your trip to Pisa.
View the colourful houses of Burano
Burano used to be Venice's best-kept secret but it's become more popular over the last few years. Nevertheless, it's often still much quieter than Venice in the summer!
Take the ferry (vaporetto) from Venice to the island of Burano and spend a day exploring the colourful houses along the streets.
Take a day trip to Burano from Venice.
Stroll down the Ponte Vecchio in Florence
A trip to Florence isn't complete without strolling down the Ponte Vecchio at sunset!
Check out this list of things to do in Florence!
Explore the food scene in Emilia-Romagna
Pasta and pizza aren't the only culinary delights that Itlay has to offer. Italian cuisine differs depending on which region of Italy you're visiting and one of the best places in Italy for food is the Emilia-Romagna region. You can expect parma ham, ragus and more!
Take a visit to Juliet's balcony in Verona
The inspiration for Juliet's balcony is believed to be from this balcony in Verona. If you take a visit you can pretend to be Juliet herself, or add a love letter to the wall.
Go shopping in Milan
Milan is famous for fashion and shopping. If you're big into fashion you simply can't visit Italy without a trip to this city! Shopping the designer stores and boutiques should definitely be on your Milan bucket list!
Explore Positano on the Amalfi Coast
Positano is another beautiful cliffside village on southern Italy's Amalfi Coast. It's a well-known holiday destination with a pebble beachfront and steep, narrow streets lined with colourful houses and looks beautiful.
Learn Roman history at the Forum in Rome
Another of Rome's top attractions is the Forum. This area is where the ruins of several very important government buildings from the Ancient City of Rome lie. It's an interesting historic sightseeing stop on a visit to Rome.
Learn more about the history of these ruins with a small guided tour.
Take a road trip in Sardinia
Sardinia is a large Italian island in the Mediterranean Sea off the coast of Italy and has almost 2,000km of coastline. There are sandy beaches and mountains offering plenty of hiking.
Hire a car and take a road trip around the island, stopping off to hike and discover some of the mysterious Bronze Age stone ruins shaped like beehives.
Experience Carnival in Venice
At the beginning of February for two weeks, Venice comes alive for carnival. There are masks, costumes and plenty or fun things going on.
Visit the sunflower fields
If you're in Italy during the summer, take a drive to the surrounding areas outside of Siena in Tuscany and admire the fields full of sunflowers!
Visit Lago di Braies
The insta-famous Lago di Braies is a magical spot that's become incredibly popular over the years. This lake with a mountain backdrop is stunning!
Tour historic Lecce
In the southern region of Apulia, Lecce is known for its baroque buildings including the Cattedrale di Liecce and the beautiful Piazza del Duomo.
Take an Italian cookery class
Italian food is delicious, I don't know anyone who would disagree. Learn how to make some traditional Italian dishes by taking an authentic Italian cookery class (or several!).
This cookery class in Florence gets great reviews.
Visit Camogli
Sometimes referred to as the lesser-known Portofino, Camogli is a fishing village on the west side of the peninsula of Portofino with equally beautiful scenery.
Take a truffle hunting tour
Pasta is made even more delicious with a little shaving of truffle on top. Italy is home to truffles but you've got to hunt for them and the best way to do that is to take a tour with an experienced truffle hunter!
Stay in this incredible Airbnb in Florence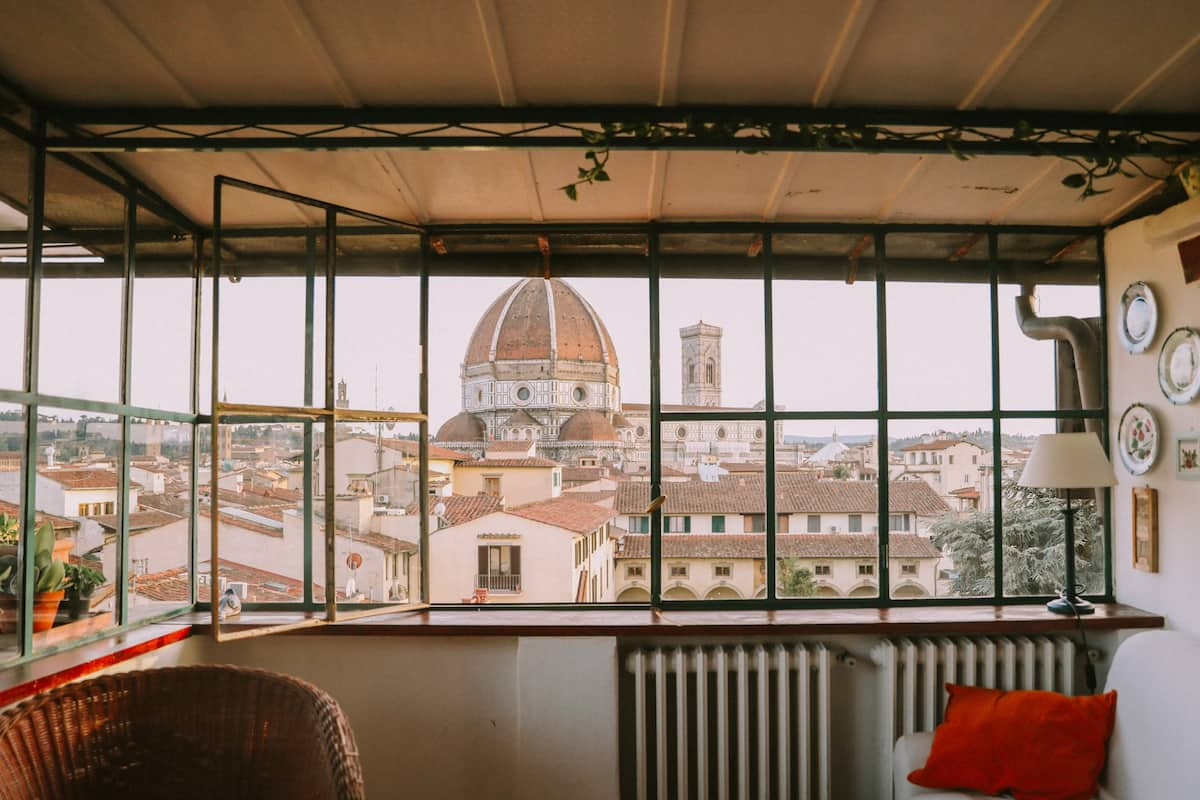 Italian Airbnb's don't get much better than this one in Florence with an incredible view of the Duomo!
See the statue of David
Spend a day exploring Galleria dell'Accademia in Florence and find the statue of David. This world-famous statue is masterfully crafted.
Just make sure to book your tickets in advance!
Relax at Lake Garda
Lake Garda in northern Italy is known for its crystal clear in northern Italy, is known for its crystal clear water.
Watch the world go by in Piazza San Marco
Piazza San Marco in Venice is a beautiful place to watch the world go by while sipping on a glass of wine or Aperol.
Tour the UNESCO site of Genoa
This history port city of Genoa in the Liguria region in northwest Italy is a UNESCO World Heritage Site with a beautiful cathedral. The Cathedral of San Lorenzo has a black-and-white-striped facade and frescoed interior that you simply have to see!
Visi the city of Assissi
The birthplace of one of Italy's patron saints, St. Francis (of Assissi), this town has is home to the magnificent Basilica of St. Francis. Set over 2 levels, the 13th-century church has beautiful paintings displaying the life of the patron saint of animals.
Gaze in awe at Michelangelo's masterpiece in The Sistine Chapel
Visit The Sistine Chapel to see Michaelangelo's masterpiece for yourself!
Save time by booking your tickets before you go.
Discover the Aeolian Islands
A new UNESCO World Heritage Site, the Aeolian Islands off the north coast of Sicily are a volcanic archipelago named after the demigod of the winds Aeolus. They're the perfect place to relax or enjoy some outdoor adventure from swimming to sailing or hiking the volcanoes!
Hike Portofino to San Fruttuosso
This short hike (just under 5km), takes you from Portofino to San Fruttuosso passing beautiful emerald green water and colourful buildings along the way. It's an absolutely stunning hike to do in Italy!