Thom and I are big fans of Breaking Bad. We started watching it when we travelled around South America a few years ago. It took us more than the 3 months that we were travelling to complete all the series. Now that the Breaking Bad film, El Camino, released on 11th October, is coming out, we're reliving our tour of the Breaking Bad filming locations in Albuquerque.
Then, when we moved to London I snapped up tickets to the Breaking Bad cocktail experience (it's held in a replica RV from the show and is amazing. See a video of it here). So, when we decided to travel around the US before settling in Canada, we knew that Albuquerque (where the show is based) would be on our hit list.
We didn't know much about Albuquerque other than the fact that Breaking Bad, and the spin-off show, Better Call Saul, were set there. Turns out it's quite a nice town to explore. The old town, in particular, is very nice.
But, the real reason you're here reading this is for Breaking Bad so let's get to it! I've also included a Breaking Bad self guided tour map so you can see where all these places are. If you're looking for Breaking Bad locations to visit then you're in the right place!
Breaking Bad tours in Albuquerque
There are several companies who run Breaking Bad tours throughout Albuquerque but, to our surprise, there are very few other companies cashing in on the show. There was a doughnut store making Breaking Bad doughnuts (they have blue icing and blue 'meth' (sugar)), and a shop selling just the blue sugar, but not much else at all.
The tours range a lot in price and length. Some last all day and even take you out to the desert locations. If you'd like to take an organised tour of the Breaking Bad film locations then take a look this Albuquerque Breaking Bad city tour, where you see the filming locations while riding in an RV like Walter White's.
Otherwise, it's easy enough to organise and plan your own self-guided breaking bad tour in Albuquerque. Here are some of the film locations to add to your list when you head out on your Breaking Bad driving tour.
Your self guided Breaking Bad tour
PLEASE NOTE: These are real businesses and real peoples' homes. In most cases, only the outside of the building was used in the show. Do not walk all over their property and don't hang around for ages. Drive past, get your picture, reminisce (briefly) and move on. You'll notice that at Walter White's House, the couple who live there sit outside on their lawn all day. Apparently, the woman gets a little angry when people get out and take pictures on their Breaking Bad self tour…
Breaking Bad tour map in Albuquerque
Add this map of my Albuquerque Breaking Bad tour to your phone to do your own self-guided Breaking Bad tour in Albuquerque. This Breaking Bad Albuquerque map has the top filming locations you've got to see.
By adding it to your Google Maps app you can see the Breaking Bad locations map while you're driving around.
Walter White's House
One of the main stops on a Breaking Bad Albuquerque tour is Walter White's house. The two owners sit outside the house all day, every day so don't make this an extended stop. Their anger is understandable when you know that people have thrown pizza up on to their roof and tried to peer inside. Only the exterior was used in Breaking Bad and, although it's been painted since, you should recognise it pretty clearly.
If you drive past slowly as we did you should get away without any abuse thrown at you.
You'll find the Breaking Bad house address in the map above.
Hank and Marie's House
Hank and Marie's house is in a pretty plush area. There are big houses and lovely desert views. This Breaking Bad self guided tour stop also has some nice hikes at the back of it for a good view of Albuquerque. If you're keen on visiting the houses then add this to your Breaking Bad house tour!
Twisters – Los Pollos Hermanos
In real life, Los Pollos Hermanos is called Twisters. It doesn't sell fried chicken either, but burritos. There are a few Twisters around Albuquerque but the one used as a Breaking Bad filming location is the one I've marked out on the map below. If you're hungry pop in! There's a huge Los Pollos Hermanos mural on the wall.
The Breaking Bad Car Wash
Who knew a car wash could have such a seedy secret? In Breaking Bad Walt and Skyler use their A1A car wash to hide their cash influx. You can pull in here for a wash or just snap some photos from the outside during your DIY Breaking Bad tour.
Casa Tranquila
Casa Tranquila is the nursing home and assisted living facility where Hector "Tio" Salamanca lived after his nephew Tuco Salamanca was killed. It was the location of the bombing that killed Gustavo Fring, Hector Salamanca, and Tyrus Kitt.
The Laundromat – Delta Linen Supply
I don't think there's a super meth lab underneath this laundry, but who knows? This is the location that set the stage for tense moments in season 4 of Breaking Bad when Walt used the basement as his meth lab.
Hooligans Tavern – Saul Goodman's office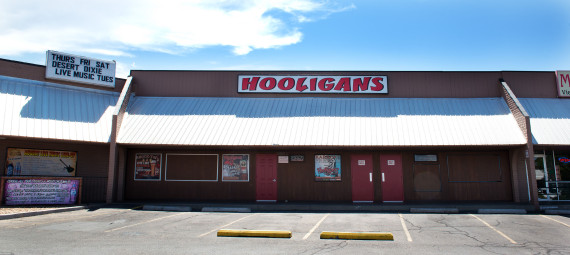 This was where the exterior of Saul's office was shot and no Breaking Bad tour would be complete without a nod to Saul Goodman. You'll find his office filming location at Hooligan's Tavern. Why not pop in and grab a beer whilst paying your respects to the sleaziest lawyer in the Southwest.
Jesse Pinkman's Home
This is the location of Jesse Pinkman's first home where we saw hydrofluoric acid, a dissolving body in the bathtub, and a heap of fleshy bits all over the hallway. The location changed during the second series of Breaking Bad – but the second location is not too far away on 16th Street.
Java Joe's
Tuco's headquarter's stands out thanks to the art on the side of the building. Java Joe's is really a local coffee shop that serves up great breakfast food, baked goods and some live music from time to time.
To'hajiilee Reservation
Start or end your self-guided Breaking Bad tour here, this is where Walter and Jesse first parked their RV meth lab and where important final scenes were filmed. The dry, rocky terrain of the To'hajiilee Reservation is both isolated and beautiful.
La Palomita Park
Another of the top Breaking Bad tour stops is this quiet, peaceful park. This is the park where Mike takes his Granddaughter to play many times throughout the show. There was no one else there when we went and it's a great spot to chill for a while.
Zen Nail Spa
Saul suggests Jesse buy this nail spa in Breaking Bad series 3. You can actually get your nails done by Saul Goodman's real pedicurist at Zen Nail Spa. The nail techs here were extras in the scene and their pedicures are said to last for weeks!
BONUS Breaking Bad locations in Albuquerque
Here's a couple more Breaking Bad, Albuquerque sites to add to your list. They're not quite Breaking Bad filming locations, but these Albuquerque Breaking Bad sites are good spots to get some Breaking Bad inspired treats.
The Candy Lady
The Candy Lady has cashed in on Breaking Bad's success. She makes blue meth sugar which you can buy for yourself and fellow Breaking Bad fans. Apparently, the sugar was even used as props on set!
Rebel Donuts

Grab yourself a tasty blue meth doughnut. These doughnuts are covered in blue icing and blue meth sugar. They're delicious!