This post may contain affiliate links. This means that if you click an affiliate link and buy something, that website will give me a tiny bit of money to say thanks for sending you to them. There is NO extra cost to you. This applies to Amazon links, as well as others, and as an Amazon Associate I earn from qualifying purchases.
Visitors to Vancouver will notice our city is flanked by mountains to the north. One of these mountains is Grouse Mountain (you can usually make out the wind turbine on the top!). Grouse sits between Cypress to the west and Seymour to the east and is just 15 minutes from downtown Vancouver. Whilst it's a popular local skiing destination in the winter, there's just as many things to do on Grouse Mountain in Summer: if not more!
Whilst I'm sometimes quick to dismiss it as just a 'tourist attraction' both times I've been up there I remember just how much it has to offer. If you're visiting Vancouver, here are some of the top things to do on Grouse Mountain in summer
The History of Grouse Mountain
Vancouver's Grouse Mountain was named by the first recorded hikers to make it to the top way back in 1894. Whilst hundreds of people a day say they've climbed Grouse Mountain after having completed the Grouse Grind, in 1894 it would take 3-4 days of hiking to reach the top.
There was no bridge from what we now know as Downtown Vancouver to the North Shore and no roads either. The mountain got its name as the climbers hunted Blue Grouse along the way.
Soon after this ascent, more hikers took on the challenge and this saw the building of cabins until eventually it became the Grouse Mountain of today.
Best things to do on Grouse Mountain in the summer
Here are some of the best things to do up on Grouse Mountain.
Ride the Peak Chairlift
Your mountain admission ticket comes with a free ride on the Peak Chairlift. This is the chairlift that takes you up to the peak of Grouse Mountain. Of course, you can also hike up to the top too.
The views from up here are awesome on a clear day; make sure to look east to spot Mount Baker!
Go Mountain Biking
Grouse Mountain opened up some scenic mountain biking trails this summer (2018)! They have pedal-assist bikes which help you get to the top of the trails with much less effort so you have plenty of effort for the downhill.
See the bears
Grouse Mountain is home to two very special residents: Grinder and Coola.
Grinder and Coola were rescued as young bear cubs in 2001 and have lived their whole lives in the habitat up at Grouse Mountain.
In the spring and summer once they're out of hibernation you can see them cooling themselves off in the pond, or searching for food that's been left out for them.
Do FREE Yoga
On Saturday mornings at 10am in the summer at Grouse Mountain there are free 60 minute yoga classes open to everyone. You can either catch the Skyride up or get do the Grouse Grind and then cool down and stretch it out with yoga.
Free yoga at Grouse Mountain runs from July 1st to September 2nd.
Go Paragliding
We did this this year for Thom's birthday and it was so much fun. You make your way up to the the top of the peak and meet the instructor who will be getting you down the mountain safely.
He'll give you a quick briefing, wait for the wind, and then you're off!
Watch the birds
The Birds in Motion show at Grouse Mountain is well worth watching. They'll introduce several birds to the audience, tell you a few facts and you'll get to watch them fly and swoop around.
You'll have a whole new appreciation for birds after this demonstration!
Take in the views
Whether you've taken the Skyride or hiked the Grind, make sure you take time to sit and take in the views of the city.
Complete the Grouse Grind
If you're a keen hiker visiting Vancouver, or live here and have never done the Grouse Grind, then make sure you take on the challenge! The Grouse Grind is definitely a grind (so many steps) but you'll get a great sense of achievement once you reach the top.
Go on other hikes in the area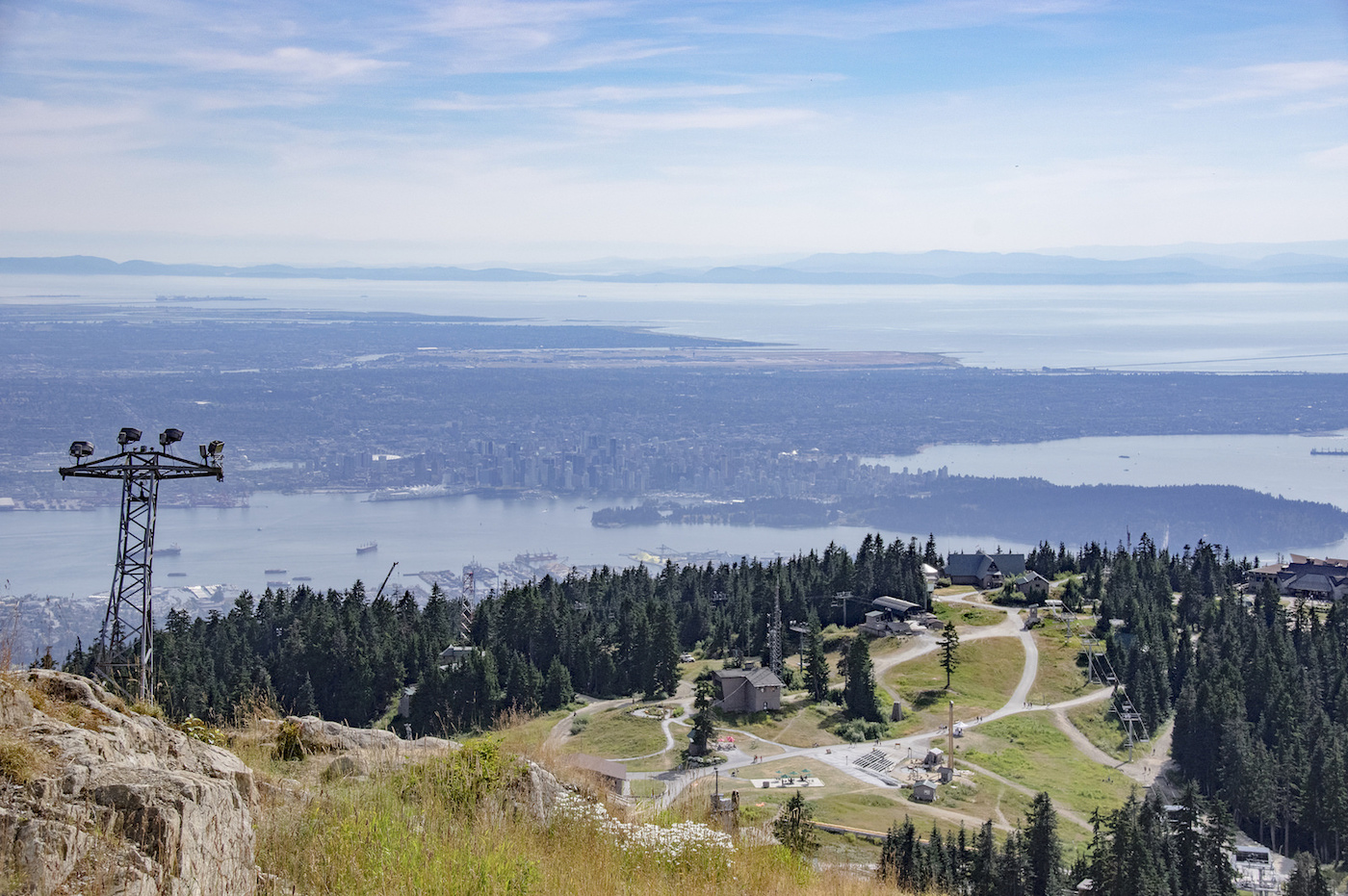 Grouse Mountain isn't just about the Grouse Grind when it comes to hiking. You can also do the BCMC Trail up to the top, hike the Cleveland Park to Lynn Valley part of the Baden-Powell Trail (and then catch the Skyride), or take on the trickier Goat Mountain Trail!
Try zip lining
You can go zip lining up Grouse Mountain in the summer and do their 3 or 5-line circuits. You'll go across the peaks and canyons of Grouse and Dam Mountains.
Try the Ropes Adventure
If ziplining and paragliding is a bit too much for you then the ropes adventure might be just the right amount of adrenaline.
Navigate rope bridges and more as you climb through the treetops of Grouse Mountain this summer.
How much does Grouse Mountain Cost?
A visit to Grouse Mountain isn't one of the cheapest things you can do in Vancouver, but you can easily spend a whole day up there.
Unless you're opting to do the Grouse Grind then you'll need to buy a Mountain Admission Ticket to get to the top. This includes access to the Skyride (gondola up the mountain), Peak Chairlift, Lumberjack Shows, Birds in Motion Demonstrations and Ranger Talks at the Bear Habitat.
An adult ticket costs $56, children between 5-16 are $29 and under 4s are free. You can also buy a family ticket (2 adults, 2 children) for $149. All prices exclude tax.
BC Residents get a local's discount. With this adult tickets are reduced to $49, children to $22 and a family ticket to $124.
Do I have to take the cable car?
Yes, unless you are planning to hike up the Grouse Grind or the BCMC trail.
Note, you're not advised to walk down either or these trails due to number of people, trail maintenance and steepness.
You can purchase a reduced ticket for $15 which lets you get the Skyride down the mountain.
When does the Skyride open?
The Skyride runs from 8.45am – 10pm everyday.
If you're up early to complete the Grouse Grind you can catch the first downhill Skyride at 7:30am.
Is there any food on Grouse Mountain?
There are a few places you can get food at Grouse Mountain ranging from a quick snack to a fancy lunch or dinner.
For snacks head to The Grizzly Lookout Cafe and The Grouse Grind Coffee Bar. Here you'll get muffins, sandwiches and coffees.
For something more substantial try Altitudes Bistro with views over the city, The Rusty Rail BBQ & Beer Garden (only summer) or the Skydeck which is perfect for some evening cocktails.
Getting to Grouse Mountain
Free Shuttle Bus
For visitors to Vancouver, the easiest way to get to Grouse Mountain is to take the free shuttle bus that leaves from Canada Place in downtown Vancouver. The bus leaves every 20 minutes in summer (June to early September)
Public transit
You can also take the Seabus from the Waterfront Station downtown over to Lonsdale Quay in North Vancouver and then take bus #236 to Grouse Mountain.
Driving
Driving from downtown Vancouver is easy but parking can be difficult, especially during the weekends in summer.
To drive from Downtown Vancouver head over Lion's Gate Bridge/Stanley Park and then bear right towards north vancouver. The first junction after the bridge is signposted Capilano/Grouse so just follow signs from here.
Parking costs $8 for 3 hours, or $10 for a full day. Oh, and if you have a Volvo then parking is free!